Blueberry Lemon Ricotta Cookies
This post may contain affiliate links. Please read my disclosure policy.
Blueberry Lemon Ricotta Cookies made with fresh lemon juice, lemon zest and juicy blueberries and covered in a lemon coconut icing.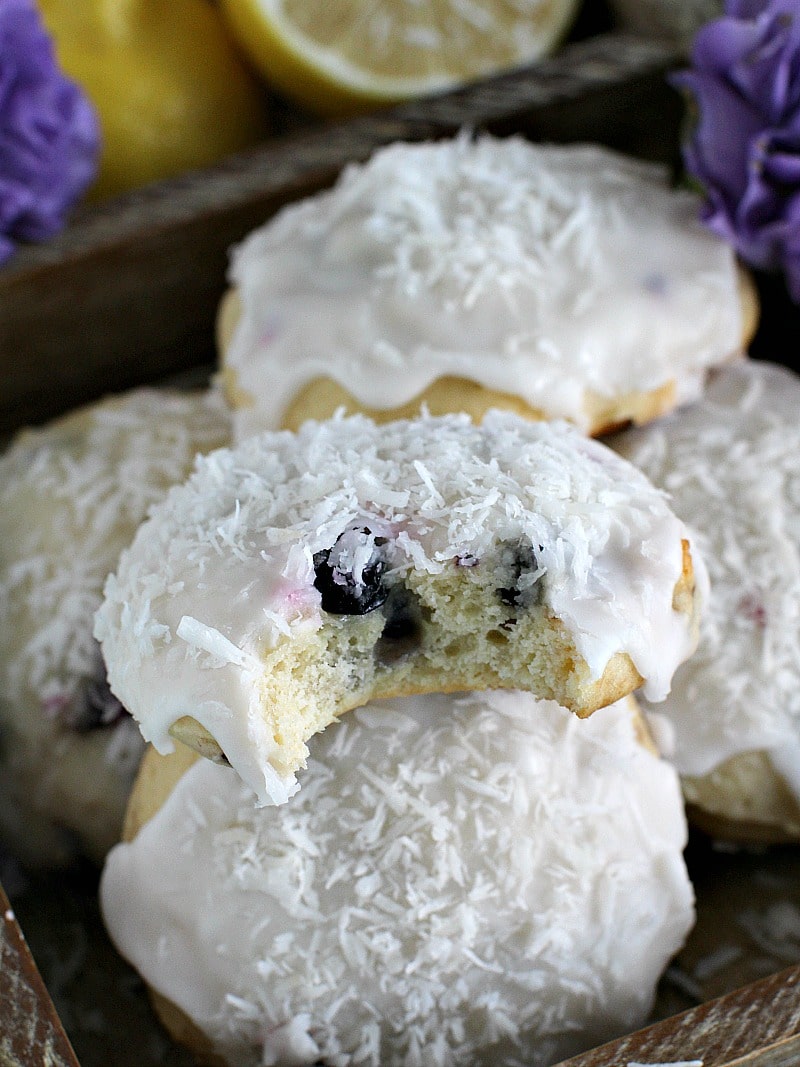 Blueberry Lemon Ricotta Cookies are the perfect companion to your morning coffee. They are also perfect during any season, their soft and fluffy texture is reminiscent of a muffin top. Loaded with juicy blueberries and tons of lemon zest.

These Blueberry Lemon Ricotta Cookies are incredibly easy to make, and you can dress them up or down. I personally prefer a touch of lemon icing on mine, while my husband and toddler prefer theirs loaded with icing and covered in coconut, which reminds me of a fluffy snowball.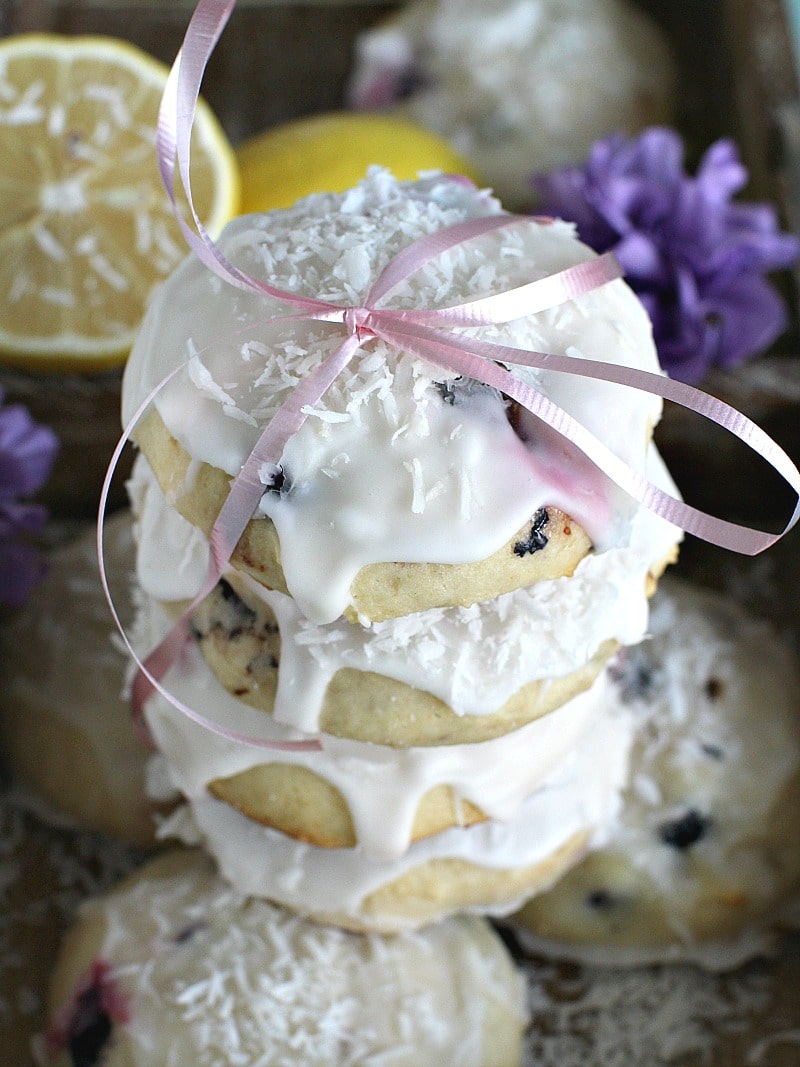 Fresh lemon juice, vanilla extract and fresh lemon zest are added to the Blueberry Lemon Ricotta Cookies for an outstanding fresh flavor. The juicy blueberries, burst with  juice and complement the citrusy flavor. These cookies are perfect for those who prefer a soft and flavorful bite.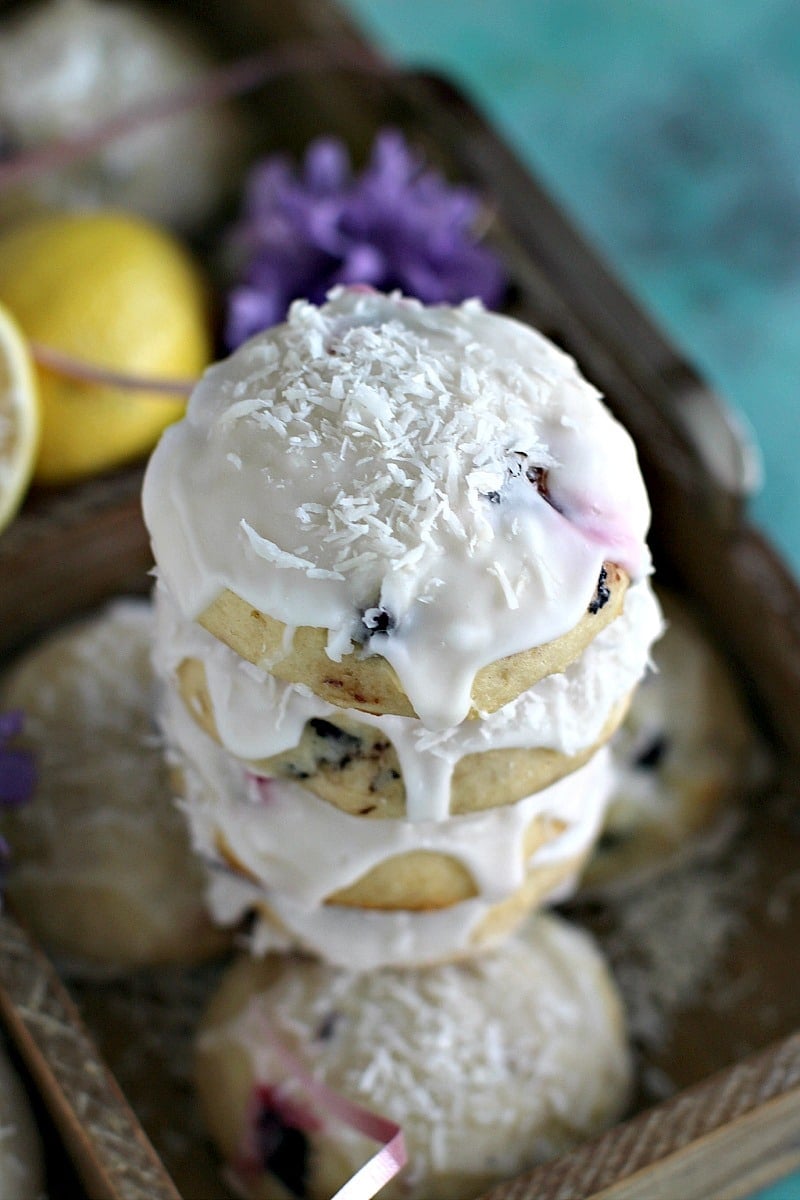 Tall, soft and fluffy these cookies are delicious served with milk, hot tea or coffee. They can be stored in a covered container at room temperature for 4-5 days.

MY LATEST VIDEOS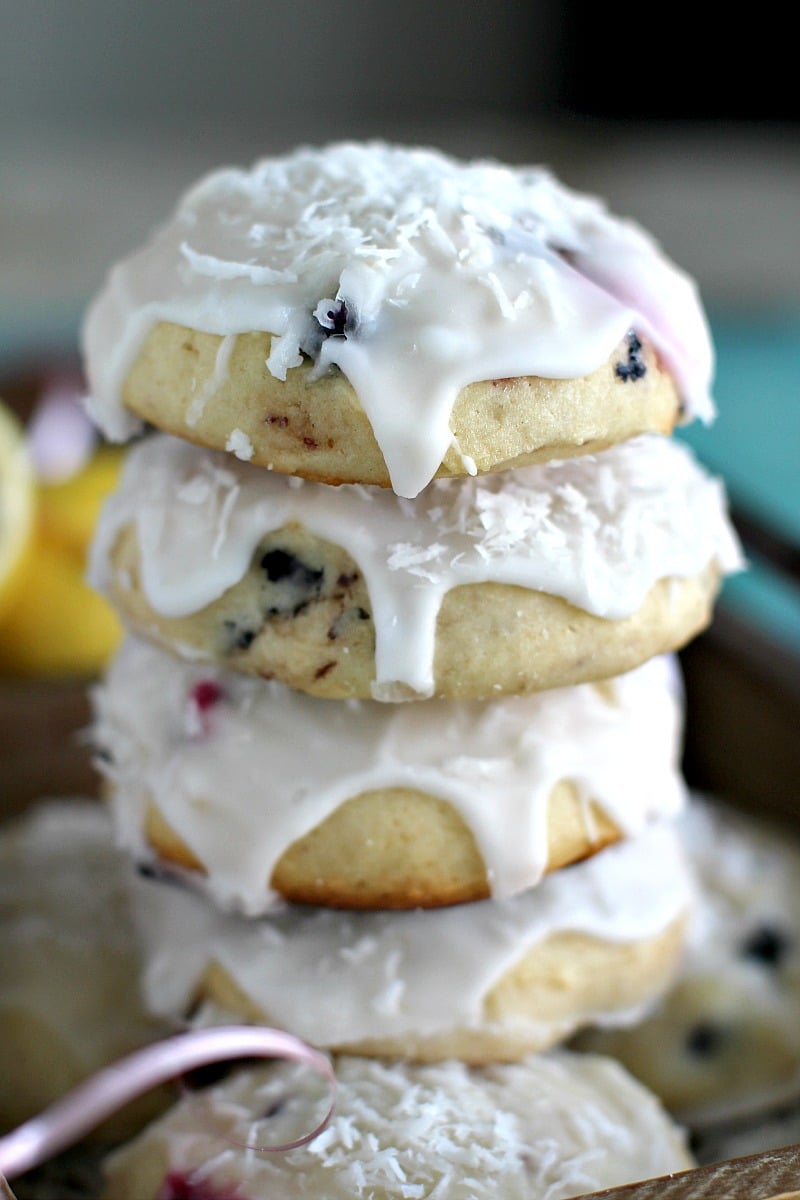 Check that center: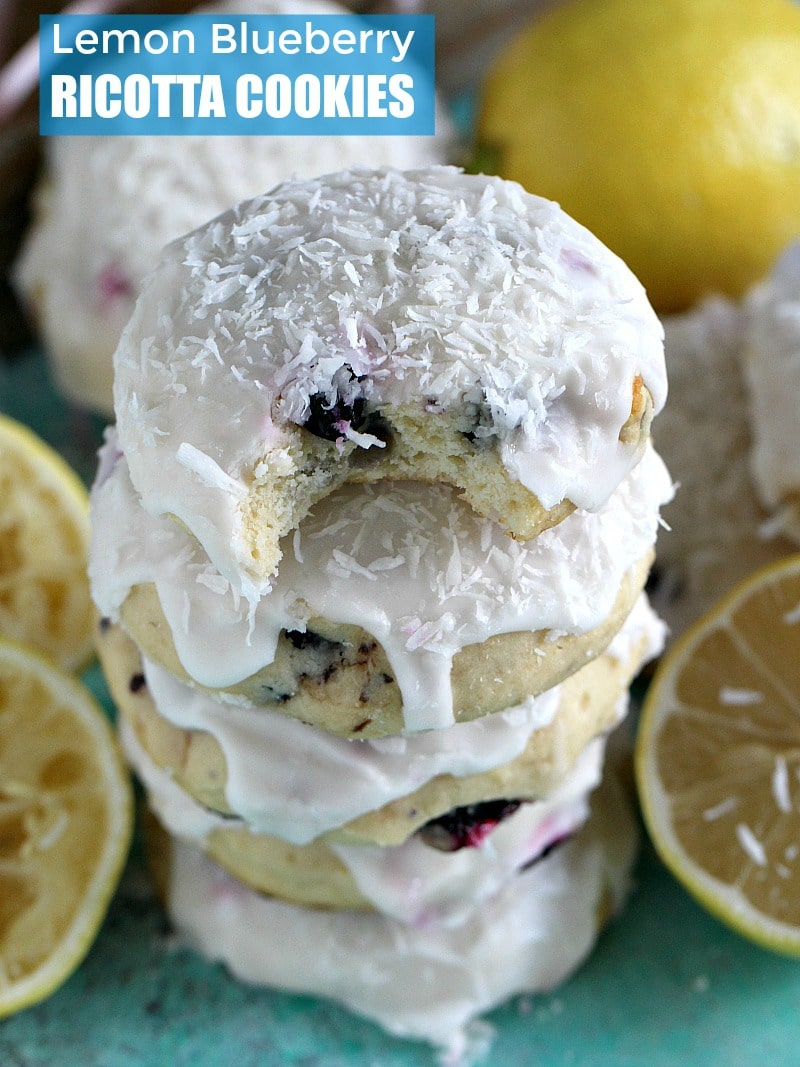 These Blueberry Lemon Ricotta Cookies have such a soft and moist crumb, they melt in your mouth. I am so in love with them! You can see it, since I took a 1000 photos!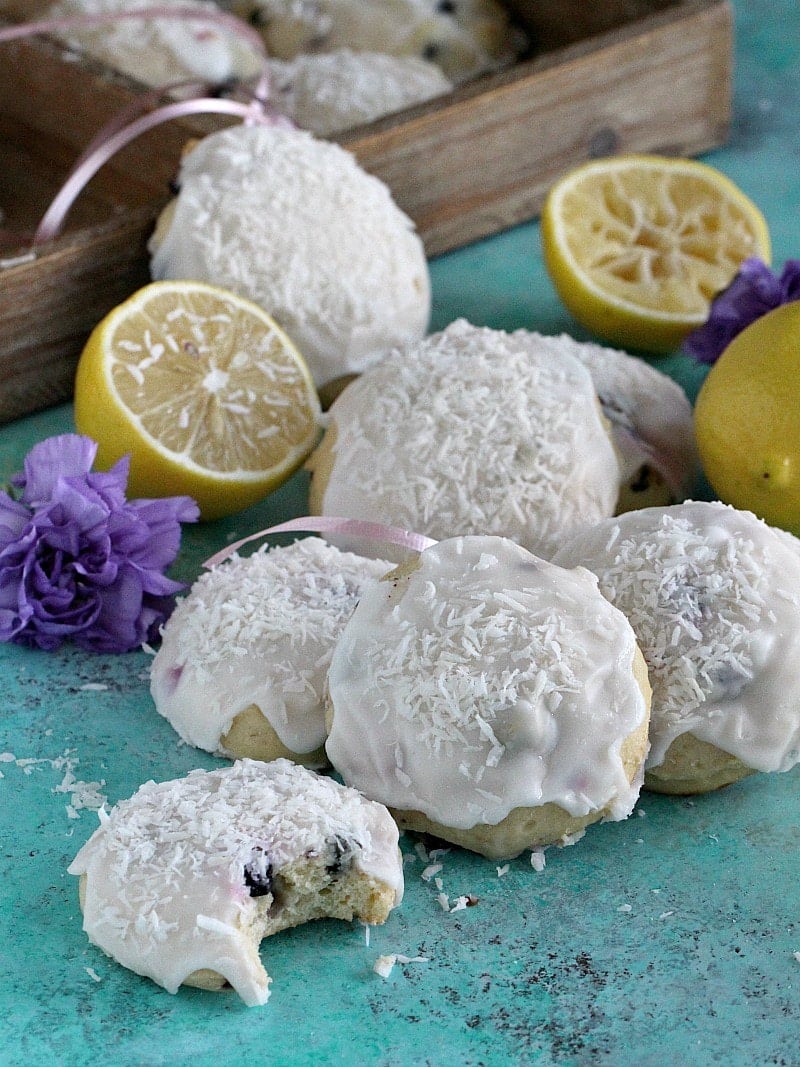 Blueberry Lemon Ricotta Cookies
Blueberry Lemon Ricotta Cookies made with fresh lemon juice, lemon zest and juicy blueberries and covered in a lemon coconut icing.
Author:
Katalina Kastravet
Ingredients
3 cups all-purpose flour
1 teaspoon baking powder
pinch of salt
1 stick (113 grams) unsalted butter, at room temperature
2 cups granulated sugar
2 eggs, room temperature
2 cups whole-milk ricotta cheese, room temperature
1 tablespoon vanilla extract
2 tablespoons of freshly squeezed lemon juice
zest of 1 lemon
1 cup fresh blueberries
Icing:
3 cups confectioners sugar
7-9 Tablespoons freshly squeezed lemon juice
shaved coconut for garnish
Instructions
Preheat the oven to 375°F.
Line two cookie sheets with parchment paper and set aside.
In a medium bowl, combine dry ingredients: flour, baking powder, and salt and set aside.
In the bowl of an electric mixer fitted with the wire whisk, beat the butter and granulated sugar until light and fluffy, about 3 minutes. Add the eggs, 1 at a time, beating until incorporated. Add the ricotta cheese, lemon zest, vanilla extract and lemon juice, beat until all combined.
Using a spatula, stir in the dry ingredients and lastly, gently stir in the fresh blueberries.
For flatter cookies, spoon 2 tablespoons of dough for each cookie and place onto the baking sheet. For taller, more muffin top like cookies, use an ice cream spoon to scoop the dough onto the baking sheets, 1 scoop per cookie. Line the cookies 1.5 inches from each other as they will expend.
Bake for 15 - 20 minutes until slightly golden at the edges.
Mid baking switch and rotate the trays: the upper one goes onto the lower rack and vice versa.
Once baked, remove from the oven and let the cookies rest on the baking sheet for 30 minutes before transferring to a wire rack.
In a medium bowl combine the confectioners sugar and lemon juice and stir until smooth. Spoon about 1 tablespoon of the glaze onto each cooled cookie and using the back of the spoon spread it to the edges. Top immediately with shaved coconut.
Let the glaze harden for about 2 hours before packing the cookies in an airtight container.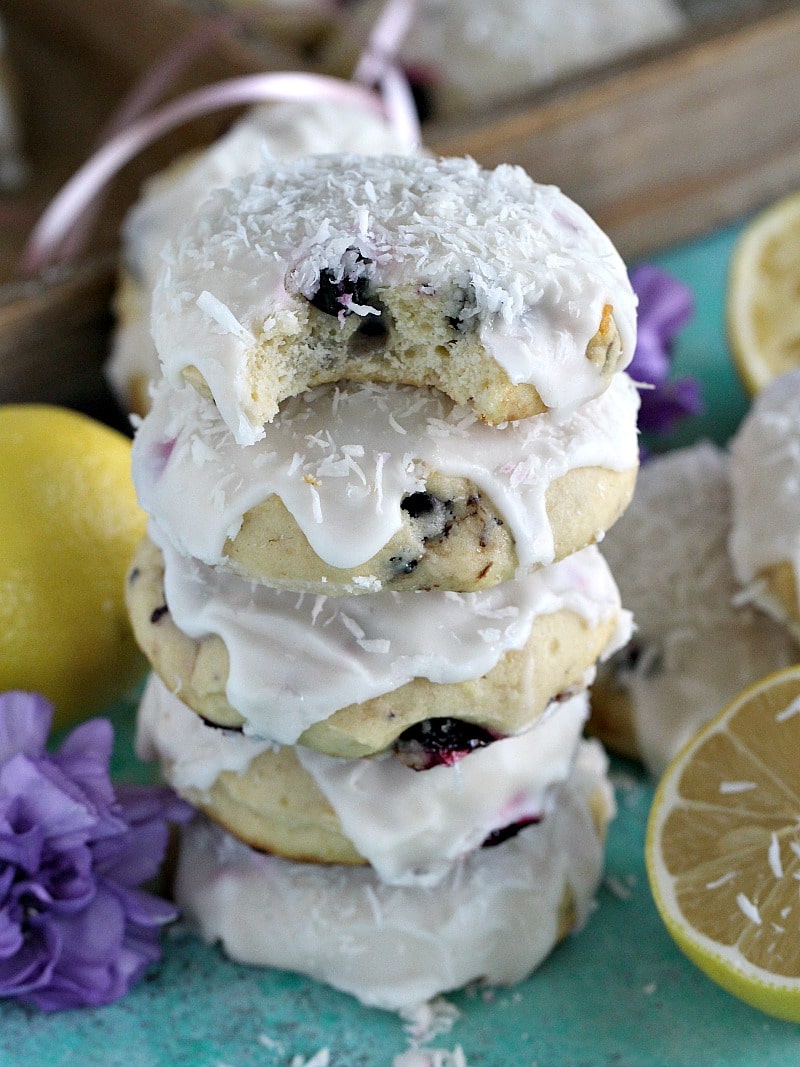 YUM!

Peas and Peonies, LLC. owns the copyright on all images and text and does not allow for its original recipes and pictures to be reproduced anywhere other than at this site unless authorization is given. If you enjoyed the recipe and would like to publish it on your own site, please re-write it in your own words, and link back to my site and recipe page. Copying and/or pasting full recipes to social media or personal blogs is strictly prohibited. Sharing this recipe is very much appreciated and encouraged. Read my disclosure and privacy policy. This post may contain affiliate links.