White Chocolate Lemon Raspberry Cookies
White Chocolate Lemon Raspberry Cookies are tender and buttery that they melt in your mouth. Loaded with white chocolate chips, lemon zest, and sweet raspberries.
We love making easy and delicious cookies like Blueberry Lemon Ricotta Cookies, Cranberry Pistachio Cookies, and Flour Less Peanut Butter Cookies. In this recipe, we are combining two flavors that always go hand in hand, raspberry and white chocolate.

White Chocolate Lemon Raspberry Cookies
White Chocolate Lemon Raspberry Cookies are so flavorful from all the fresh lemon zest. Raspberries and lemon were meant to be paired in this incredibly easy sweet treat. The white chocolate chips add a nice amount of sweetness and just enough crunch.
With a soft, tender and buttery texture, these cookies will melt in your mouth, while bursting with flavor. They are the perfect treats to enjoy any time of the day or week! Also, they are great to make for birthdays, Valentine's Day, or any other occasion. Once you try one, you will find yourself reaching out for seconds and thirds…
Why You'll Love These White Chocolate Lemon Raspberry Cookies:
Very easy to make, a classic cookie recipe that was taken to a whole new flavor level
Incredibly fresh and aromatic
Tender and buttery, the cookies melt in your mouth
Would make for some pretty darn cute hostess gifts
Lemon, raspberry and white chocolate are just perfect together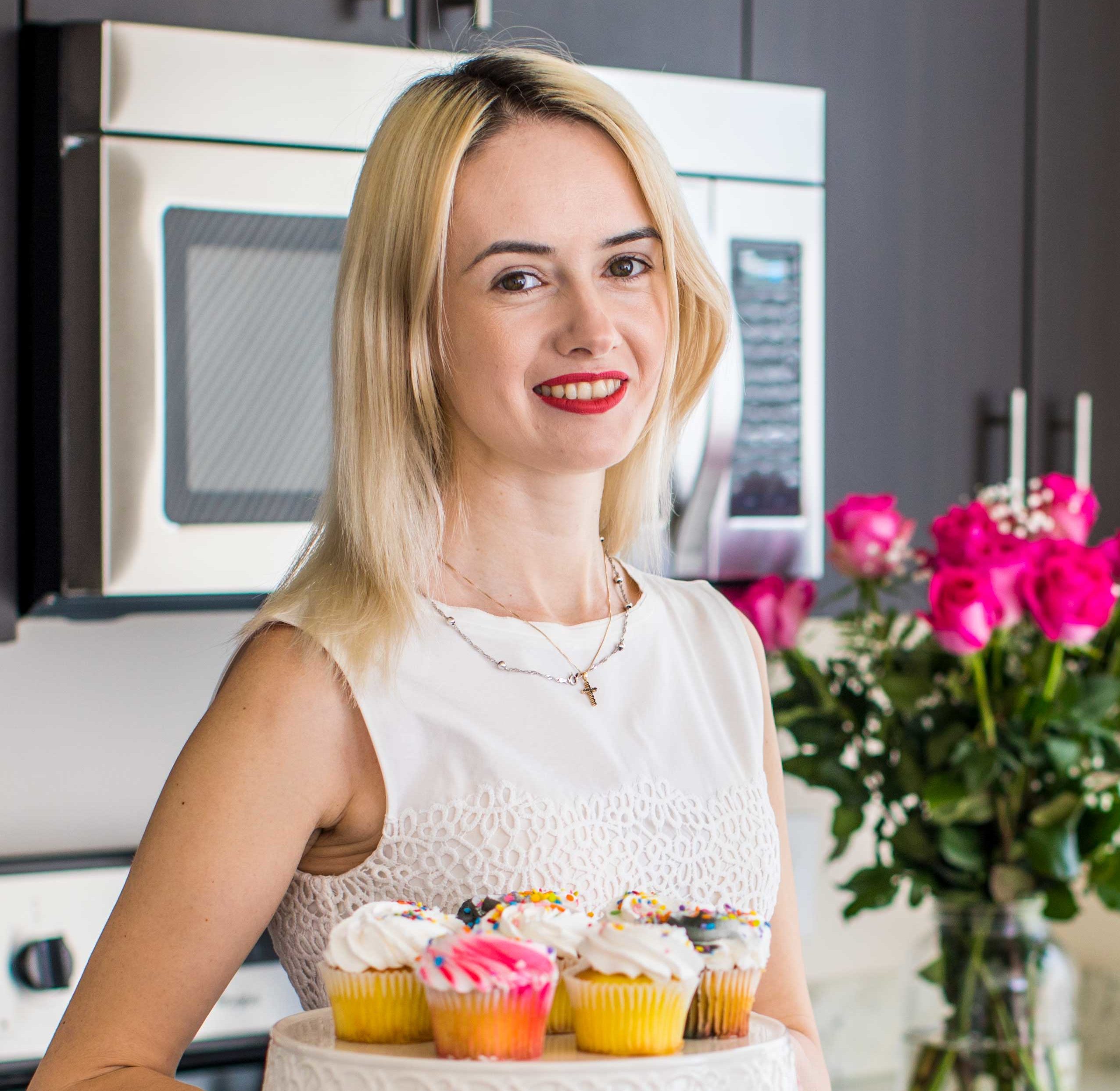 Follow us on Pinterest for more delicious recipes!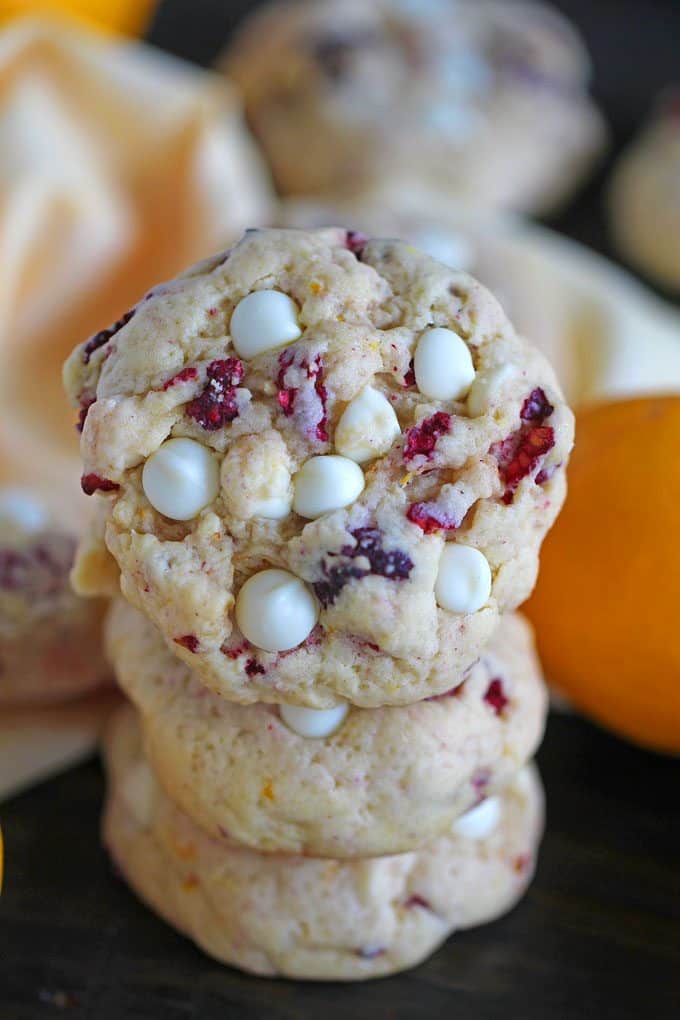 White Chocolate Lemon Raspberry Cookies Recipe Tips:
Using fresh lemon juice and lemon zest will add the most amazing and refreshing flavor to your cookies
The secret to getting those flawless chocolate chips on top of your cookies is to actually press them into the cookies right after baking when the cookie is still hot and soft
Use freezer dried raspberries – I have only made this recipe with freeze-dried raspberries, I like that they don't add extra moisture to the batter
Make sure you don't over bake the cookies, you are looking for a golden hue on the sides of the cookies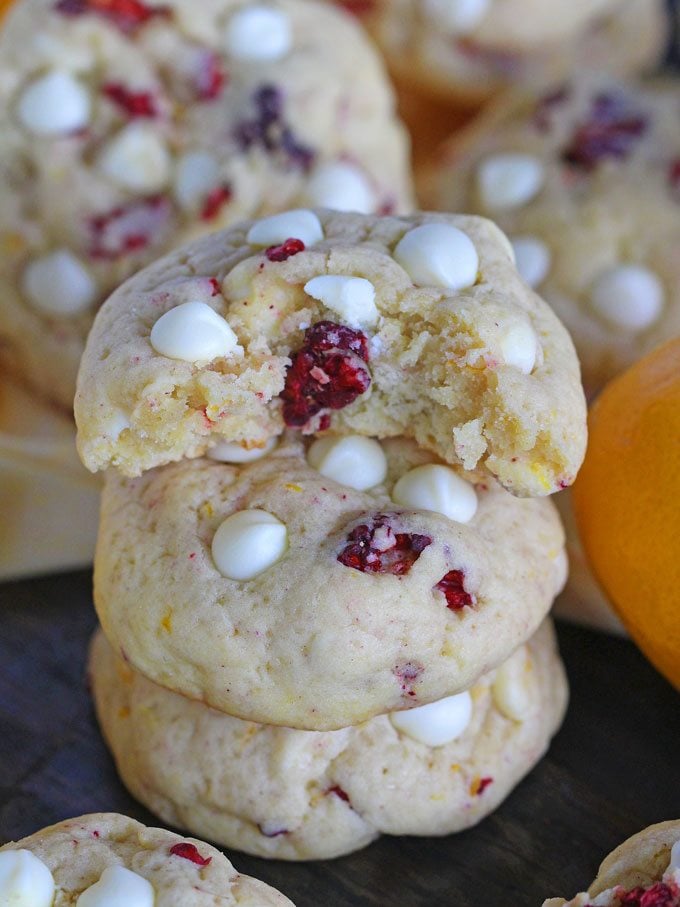 How to make lemon zest?
Follow the easy steps below:
Rinse the lemon.
Set your tool over a cutting board. A microplane produces a very fine zest, perfect for baking and cooking. If you don't have a microplane, use the smallest holes on an ordinary grater.
Grate the yellow skin of the lemon only. Grate just enough to get through the yellow skin, this way you can avoid the bitter white pith underneath.
Rotate the lemon and repeat. Once the white pith is exposed, rotate the lemon and zest the next strip of peel. Repeat until most of the peel is removed, or until you have enough zest for your recipe.
How long will Lemon Raspberry Cookies stay fresh?
The Cookies can be stored wrapped in plastic wrap at room temperature for about 5-7 days.
How to freeze Lemon Raspberry Cookies:
Absolutely! Cool the Lemon Raspberry Cookies completely and fully wrap it in plastic wrap, tightly. After that wrap in aluminum foil. Freeze for up to 2-3 months. Defrost before serving.
Tools/Ingredients I used to make these White Chocolate Lemon Raspberry Cookies:
Food Processor – I have a small one and it's so handy in so many recipes, from chopping veggies to pulverizing freezer dried fruits
Freezer Dried Raspberries – these are perfect to snack on and absolutely amazing in cookies and truffles, I also love adding them to Raspberry Buttercream without making it too runny
White Chocolate Chips – I use these all the time, they taste great
Save Recipe
White Chocolate Lemon Raspberry Cookies
Author: Catalina Castravet
Serves: 25 cookies
Prep time:

15

minutes
Cook time:

10

minutes
Total time:

25

mins
Ingredients
½ cup 1 stick/113 grams unsalted butter
½ cup 1 stick/113 grams shortening
½ cup light brown sugar
½ cup white sugar
1 egg
1 egg yolk
3 teaspoon fresh lemon juice
zest from 2 lemons
2½ cups white all purpose flour
½ teaspoon salt
1 teaspoon baking powder
1 cup white chocolate chips
1 cup freezer dried raspberries
Instructions
Place butter in a microwave safe bowl, and melt, but not entirely, you should still see a few chunks.
Add almost melted butter to a large bowl with the shortening. Add white sugar and brown sugar and beat on medium-high speed until well combined. Stop once to scrape the sides and bottom of the bowl with a spatula.
With the mixer on low-medium speed, beat in the egg, egg yolk, lemon zest, and lemon juice.

In a separate bowl combine dry ingredients: flour, salt, and baking powder, whisk until just combined.

Add dry ingredients to the mixer and beat on low just until combined. Do not over-mix.
Using a spatula, gently stir in the white chocolate chips and freezer dried raspberries.
Cover the bowl tightly and chill for 2 to 8 hours.
Preheat oven to 325F.
Line a pan with parchment paper.
Scoop 1½ tablespoon of cookie dough, roll into a ball and slightly flatten it with your hand. Place cookie on the prepared sheet, 6-8 cookies per pan so they have plenty of room.
Bake for 10-12 minutes, making sure you don't over bake, better to under bake for a cookie-dough like center. Look for a golden hue on the sides of the cookies.
Optional: after removing the cookies from the oven, press a few chocolate chips onto the top.
Cool cookies for 5-7 minutes on the baking sheet after that transfer to a cooking rack.
Enjoy!
Calories: 192 Carbohydrates: 22 Protein: 2 Fat: 10 Saturated Fat: 4 Cholesterol: 25 Sodium: 58 Potassium: 65 Fiber: 0 Sugar: 12 Vitamin A: 135 Vitamin C: 1.5 Calcium: 31 Iron: 0.7
Save Recipe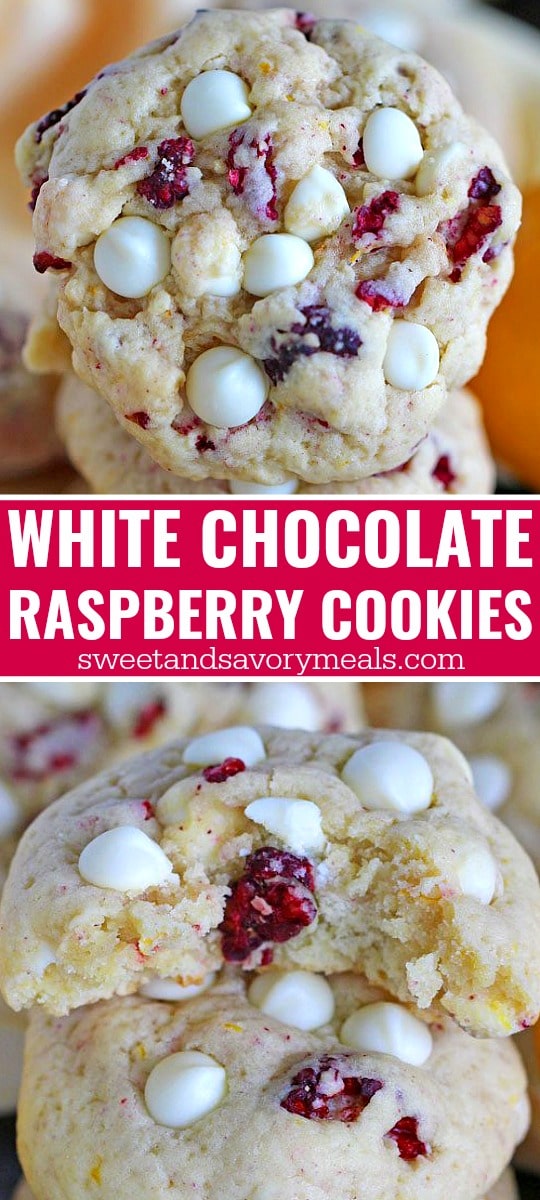 More recipes you might love