Flourless Peanut Butter Cookies
Flourless Peanut Butter Cookies are soft, dense, thick, and are loaded with Reese's cups, peanut butter M&M's and dipped in chocolate.
I am in love with peanut butter, and making easy and delicious peanut butter desserts is somewhat of a quest for me. After making Dark Chocolate Peanut Butter Cupcakes, Peanut Butter Cheesecake and Peanut Butter Cookie Dough Cups, I decided to indulge you with these easy and delicious Peanut Butter Cookies.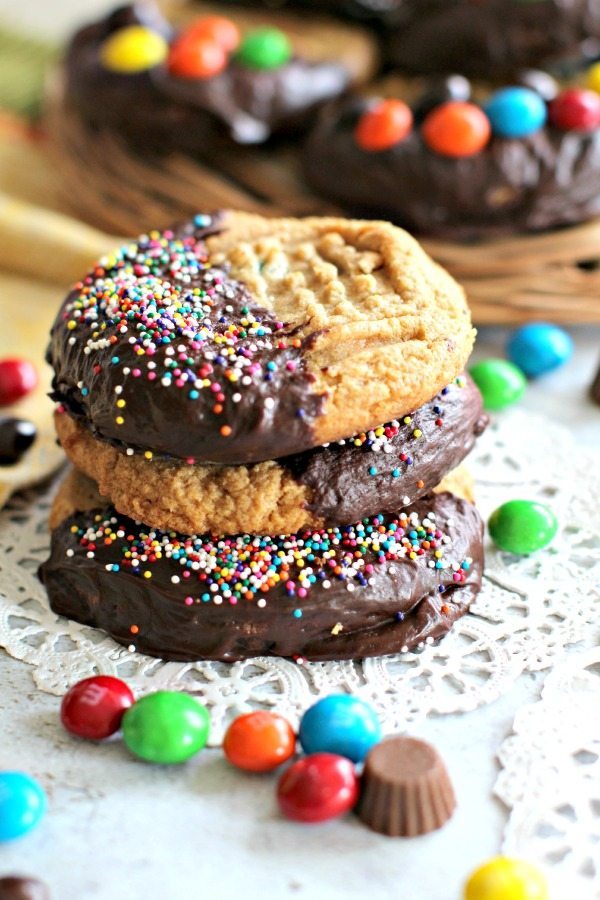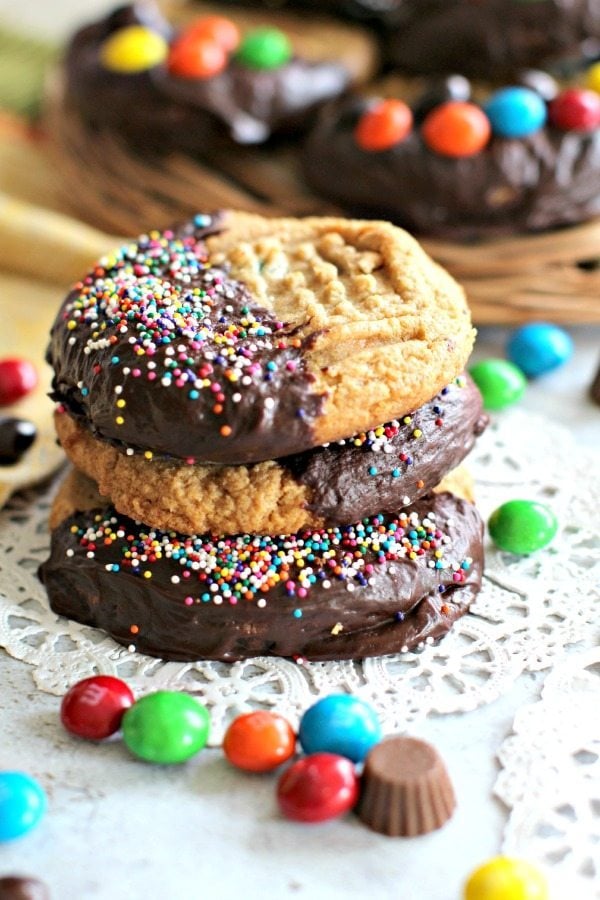 Flourless Peanut Butter Cookies
Flourless Peanut Butter Cookies are one of the best peanut butter cookie recipes. Let's start with the obvious fact that these are flour less, that the recipe calls for 5 ingredients only! The cookies are a breeze to make, you will need to clean only one bowl, and you can trash them up with so many mix ins and toppings.
Ready in 30 minutes from start to finish, you may need another 30 minutes to just eat all of them without sharing a crumb, they are that good.
Are Flourless Peanut Butter Cookies Gluten-Free?
Yes, if you will be making this recipe, the cookies will be gluten-free. They are made entirely without flour.
Why You'll Love These Flourless Peanut Butter Cookies:
The cookies are naturally gluten free.
Also, the peanut butter flavor is front and center.
In addition, they can be made in 10 minutes and baked in another 12 minutes.
Perfect hostess gift.
Similarly, the kids and grownups love them.
Foolproof, easy to follow recipe.
No mixer needed, just 1 bowl.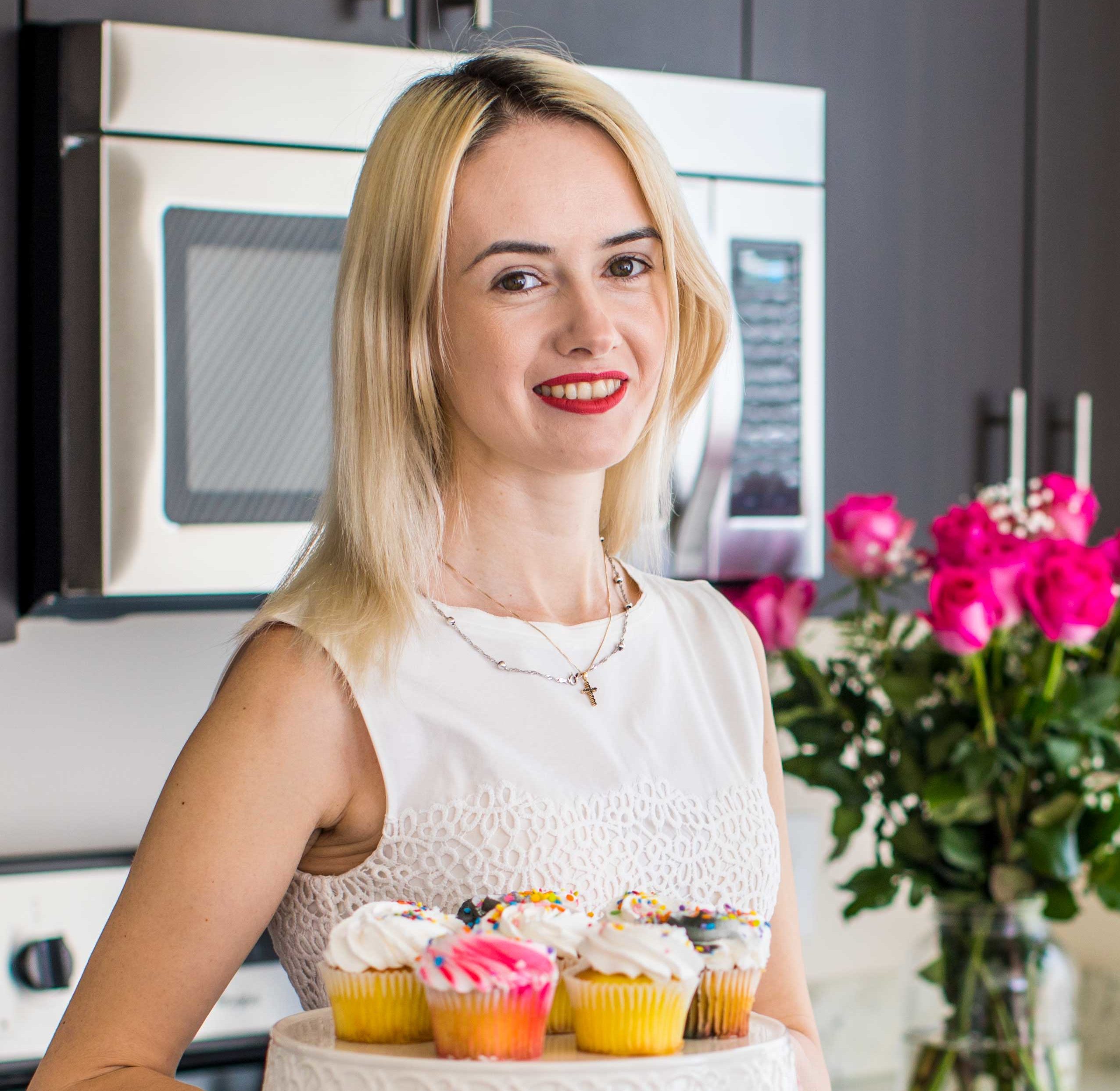 Follow us on Pinterest for more delicious recipes!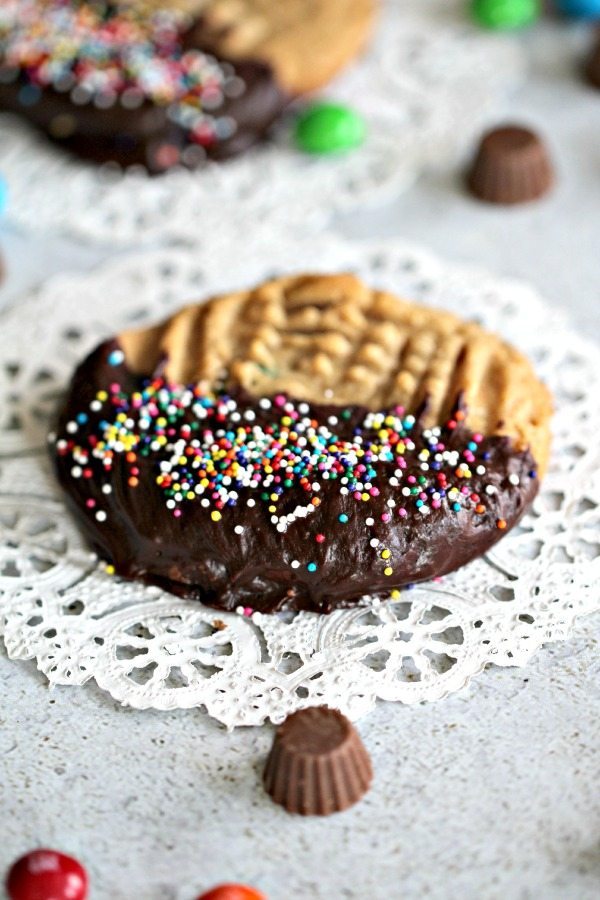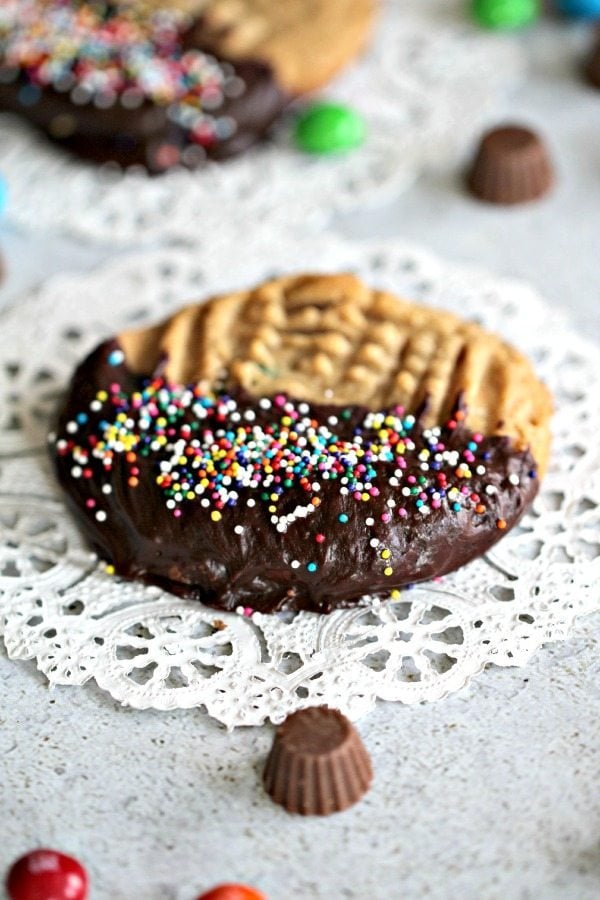 Tips for perfect Flourless Peanut Butter Cookies:
First, try to use creamy peanut butter as works best in this recipe.
Similarly, I would say regular, store bought peanut butter is best. The homemade peanut butter may be too thick and you may have to add an extra egg yolk.
Ingredients should be at room temperature.
In addition, you can skip the mix ins and just have a regular peanut butter cookie.
I did that making these thicker helps them holding they shape better.
Let the cookies cool on the baking tray, when you remove them from the oven they are very soft, they will harden once they cool.
The mix ins are up to you, you can choose from chocolate chips, chopped peanuts, Reese's pieces, M&M's and any other things that come to your mind.
Can you freeze the Peanut Butter Cookies?
Yes. Wrap cookies tightly with aluminum foil or plastic freezer wrap, or place in heavy-duty freezer bag. Properly stored, it will maintain best quality for about 2 to 3 months.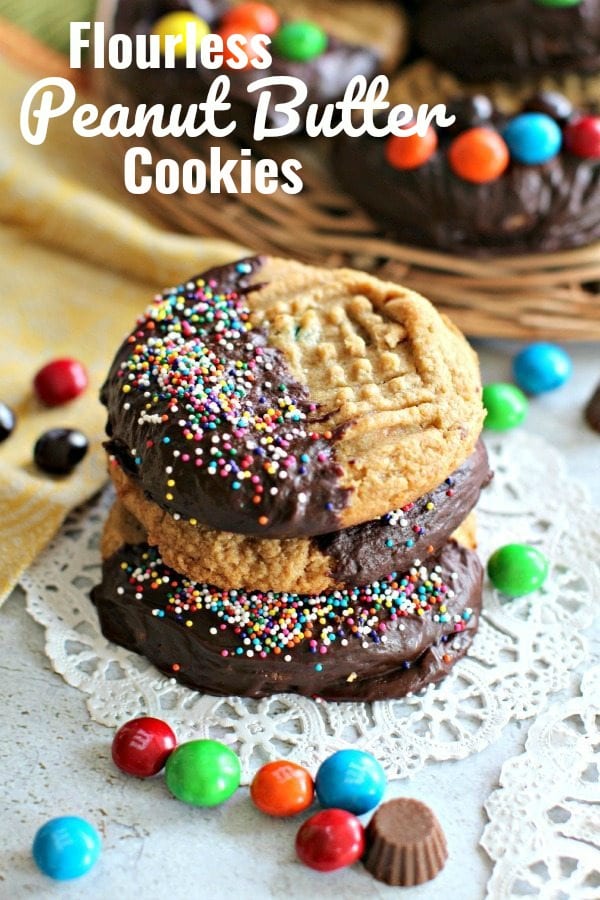 Tools/Ingredients I used to make these Flourless Peanut Butter Cookies:
Peanut Butter – creamy and delicious, I always have some on hand
Cookie Pan – I have these and I like that they come in 3 sizes
Cooling Rack – perfect to cool and baked goods, transfer the cookies to the rack 10 minutes after baking, so they don't continue to bake from the residual heat coming from the pan
Peanut Butter M&M's – omg delicious!
Mini Reese's Cups – creamy and peanut buttery, these make for a great mix in
Dark Chocolate Melts/Wafers – I love using these for the chocolate mixture as they are so easy to melt
Save Recipe
Flourless Peanut Butter Cookies
Author: Catalina Castravet
Serves: 18 cookies
Prep time:

15

minutes
Cook time:

14

minutes
Total time:

29

mins
Ingredients
Optional Mix ins
Chocolate Coating:
Garnish:
Nutrition information
Calories: 414
Carbohydrates: 44
Protein: 9
Fat: 23
Saturated Fat: 7
Cholesterol: 20
Sodium: 560
Potassium: 291
Fiber: 3
Sugar: 38
Vitamin A: 50
Calcium: 36
Iron: 1.6
Save Recipe
More recipes you might love