Peanut Butter Cheesecake with Brownie Bottom and Reese's
This post may contain affiliate links. Please read my disclosure policy.
A decadent and irresistible, easy to make Peanut Butter Cheesecake with Brownie Bottom, loaded with Reese's and covered in silky smooth chocolate ganache.
When I moved to United States, I remember on one of my lunch breaks, I saw a girl eating an apple with peanut butter, I was so intrigued and excited to taste it since it looked so good! After work I told my husband and we went straight to the grocery store to get some creamy peanut butter. Once home I tasted it…and totally hated it to my big disappointment. After that experience I couldn't even envision myself making a peanut butter cheesecake loaded with Reese's Cups.
Three years have passed and I haven't touched another dessert or jar of Peanut Butter. One day, I woke up and to my surprise I was craving Reese's, I didn't even know how they tasted since I had never had one! All I could think about that faithful morning were REESE'S! On my way to work I stopped by at CVS and got my first Reese's cup! It was love at first bite, it tasted like heaven, on that day I have joined the PB lovers club and never looked back. Now, I keep a jar of PB at home all the time, I love the PB & banana sandwiches, and I have Reese's cups almost on a daily basis. The king size are the best.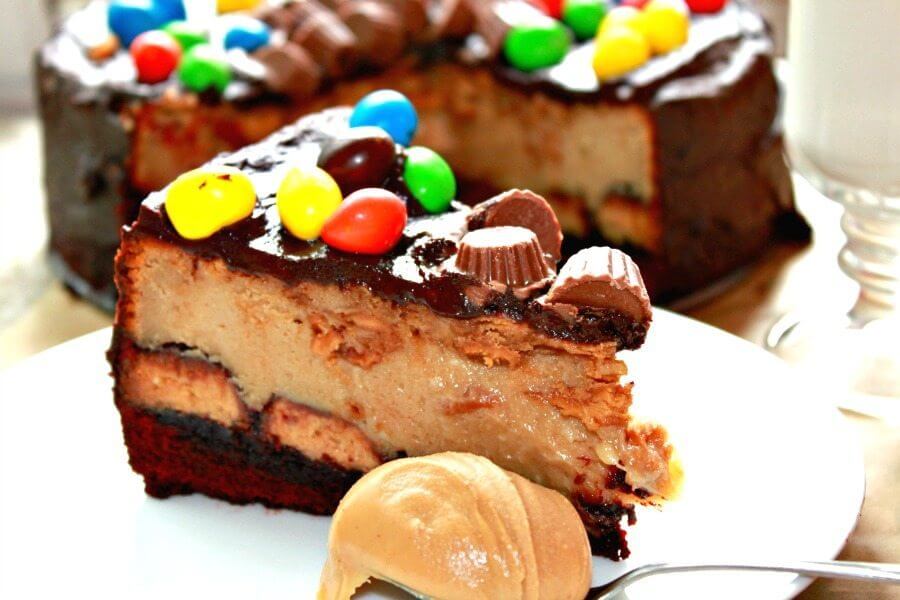 This peanut butter cheesecake with a chocolaty brownie bottom is like nothing you have tasted before. The first layer is made of gooey chocolate fudge brownies. What follows is a layer of Peanut Butter Eggs – so perfect to use those Easter chocolates. Finally a thick, dense and creamy layer of Peanut Butter Cheesecake that is topped with chocolate ganache. Peanut M&M's and mini peanut butter cups are used to garnish the cake.

MY LATEST VIDEOS
This cake is a peanut butter lover dream come true. It is also really easy to make, just read and see for yourself. I was short on time since I was baking on a Monday at 9PM, so for the brownies I used a box mix to save some time and effort. The cheesecake filling comes together in a few minutes, and what I loved most is that it didn't crack in the oven.
The brownies and the cheesecake taste amazing together, very rich, chewy and creamy. Chocolate and peanut butter were meant to be served together. Also, every bite has a peanut butter cup to make it even better. I hope you enjoy this dessert as much as we did. You really need this peanut butter cheesecake in your life if you consider yourself a peanut butter lover.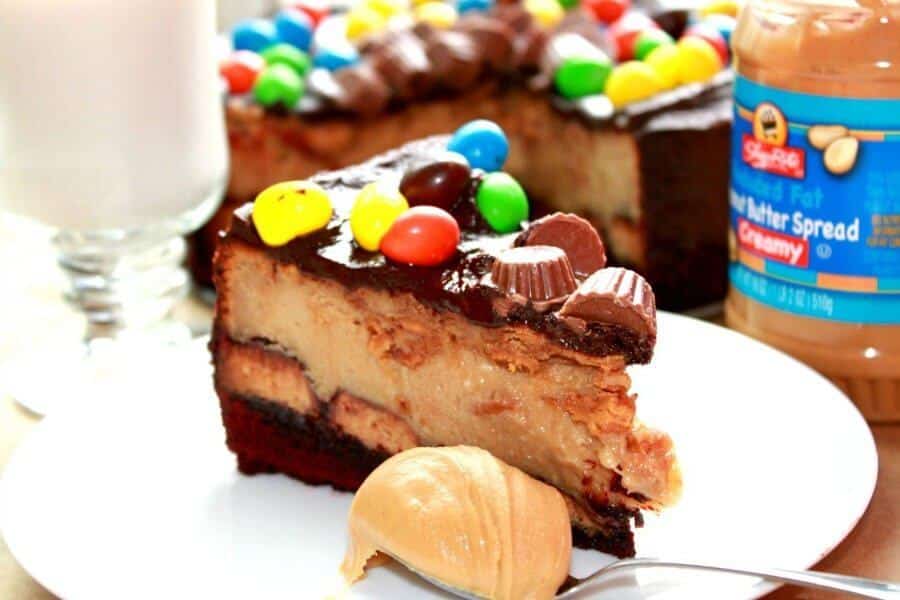 Just look at those layers and layers and layers of pure bliss and this peanut butter cheesecake brings so much happiness!

Peanut Butter Cheesecake with Brownie Bottom
A decadent and irresistible, easy to make Peanut Butter Cheesecake with Brownie Bottom, loaded with Reese's and covered in silky smooth chocolate ganache.
Author:
Katalina Kastravet
Ingredients
For the brownies:
1 package of Duncan Hines Decadent Brownie Mix
15 peanut butter eggs or cups
For the Cheesecake:
16oz cream cheese, at room temperature
3 eggs
1 cup of sugar
2 cups creamy peanut butter
1 tbsp. vanilla extract
For the Chocolate Top:
1 Bakers Semi Sweet Chocolate Bar
Toppings:
2 small packages of peanut M&Ms
1 small package of mini peanut butter cups
Instructions
Preheat the oven to 325 degrees F , butter a 9″ springform pan and set aside.
To make the brownies: follow the instructions on the box, once the batter is prepared pour it into the pan and cover with a layer of peanut butter cups (I used peanut butter eggs).
To make the cheesecake: beat the cream cheese and peanut butter together on medium speed until smooth. Add the sugar, vanilla extract and continue to beat on medium speed until well combined. Reduce the speed to low and add the eggs one at a time, beating until combined after each addition. Using a spatula, scrape the bowl and mix on low for another 30 seconds. Pour the cheesecake filling on top of the brownies & PB cups.
Bake for 45 minutes to one hour or until the sides of the cheesecake are set and the middle just slightly jiggles. Turn of the oven, open the door slightly and let the cheesecake cool inside for one hour. Transfer the cake to a wire cooling rack and cool at room temperature for 2 hours.
Melt the chocolate: Bring a medium saucepan half filled with water to a boil. Place chocolate in a medium bowl set over the saucepan of simmering water, let it melt, stirring just a few times. Make sure the bowl doesn't touch the boiling water, to avoid overheating. Remove bowl from heat and pour the chocolate on top of the cheesecake, using a spatula distribute it evenly. Decorate with mini peanut butter cups and peanut M&M's.
Refrigerate the cheesecake before serving for at least 4 hours or overnight, until thoroughly chilled.
Peas and Peonies, LLC. owns the copyright on all images and text and does not allow for its original recipes and pictures to be reproduced anywhere other than at this site unless authorization is given. If you enjoyed the recipe and would like to publish it on your own site, please re-write it in your own words, and link back to my site and recipe page. Copying and/or pasting full recipes to social media or personal blogs is strictly prohibited. Sharing this recipe is very much appreciated and encouraged. Read my disclosure and privacy policy. This post may contain affiliate links.