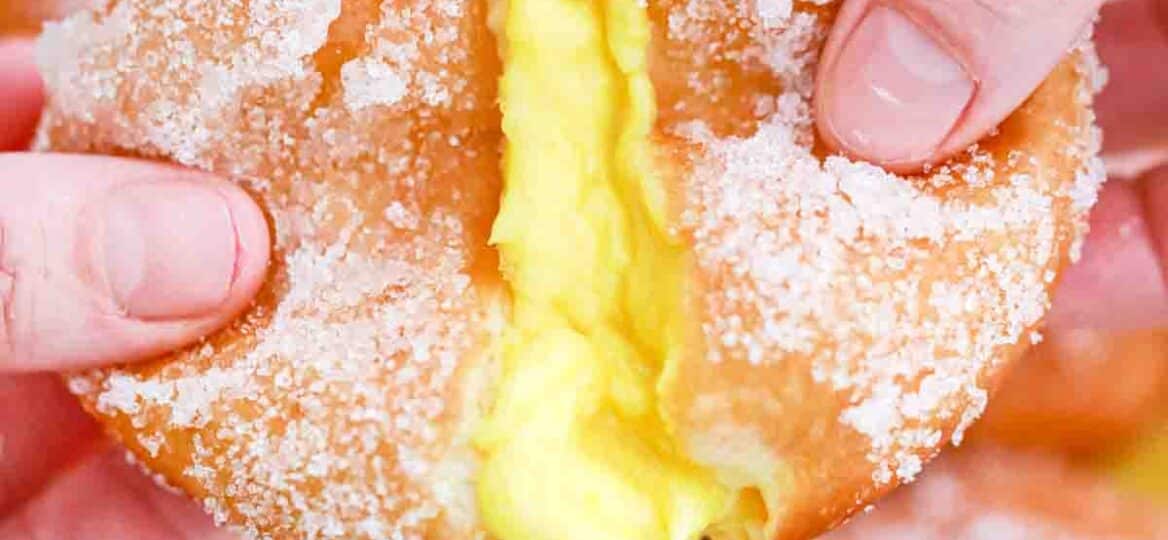 Lemon Curd Filled Donuts [Video]
Lemon Curd Filled donuts are filled with homemade lemon curd made from scratch and coated with a crispy sweet sugar glaze. The fluffy donuts are made like classic fried donuts without removing the donut holes and the tart lemon curd filling balances out the sweetness nicely. So instead of going to the bakery make your own donuts.
If you want to try making your lemon filling a different way, try our recipe for Instant Pot Lemon Curd with just five ingredients. All you need is lemon zest, lemon juice, sugar, butter, and eggs. For even more lemony goodness, these Lemon Thumbprint Cookies are sweet and crumbly shortbread cookies topped with a dollop of homemade lemon curd. They are easy to make and done in less than 45 minutes!
On average, each American consumes over 30 donuts per year! But donuts are a popular breakfast cuisine all over the world. But they are known by different names, and some are made with different ingredients.
The an-doughnut from Japan is filled with red bean paste and the Berliners from Germany are filled with chocolate, jam, or cream, similar to this recipe. Mexico has the popular crunchy churros, France has their beignets, and Africa has what they call puff-puffs.
You may see these homemade donuts referred to as lemon custard-filled donuts, lemon-filled doughnuts, or lemon curd doughnuts. Whatever you call them, they are delicious. For this yummy lemon curd filled donuts recipe, you only need simple items you may already have in your kitchen.
The tangy lemon curd is made with lemon zest, eggs, sugar, butter, and milk and the donut dough is easy to make with flour, sugar, and a few other ingredients.
Do you love baked donuts? Our lemon lime mini bundt cakes are amazing and made with lemon seltzer, mascarpone, and lime zest. Or you can try our easy recipe for a chocolate cake baked donut. All you need for these is chocolate, eggs, and butter! And you can top them with whatever you like from vanilla glaze to chocolate ganache.
Ingredients needed:
To make these delicious homemade lemon curd donuts, you will need the ingredients listed here. Then, go down to the bottom of the page to find the measurements and instructions on our handy printable recipe card.
Lemon custard ingredients:
Milk: We used whole milk.
Lemon peel: We recommend organic lemons.
Large egg: At room temperature.
Egg yolks: Also at room temperature.
White granulated sugar
Cornstarch: Sifted.
Fine sea salt
Unsalted butter: At room temperature.
Donut dough ingredients:
Instant yeast
White granulated sugar
Unsalted butter: At room temperature.
Warm milk: We used whole milk.
Large egg: At room temperature.
Bread flour
Fine sea salt
How to make lemon curd filled donuts from scratch?
To make the lemon curd:
Heat the lemon and milk: First, add the milk and lemon peel to a heavy medium saucepan and heat on medium-low until it starts to steam. Do not let it boil. Remove it from the heat and let it sit for at least 10 minutes.
Whisk the egg mixture: While you wait, whisk the eggs and sugar together for one minute. Sift salt and cornstarch before adding them to the egg mixture. Whisk again for five minutes or until it is light yellow.
Combine and whisk: After 10 minutes, remove the lemon peel and add a ladle of hot milk to the egg mixture while whisking continuously. Keep adding milk gradually while whisking until all the milk is gone.
Heat until thick: Next, pour the mixture into the saucepan and heat over medium-low as you whisk continuously for five minutes until it is thick but do not let it boil. Remove it from the heat to cool for three to five minutes.
Add butter: Now, cut up the butter and add two tablespoons, whisking until it is completely mixed before transferring it to a medium bowl or glass dish.
Cover and chill: Cover with plastic wrap and let it cool for 15 to 20 minutes. Make sure the wrap is touching the cream. After 20 minutes, put it in the fridge until you are ready to use it.
To make the donuts:
Prep the yeast: Using the bowl of a stand mixer, whisk together milk and egg before you add the yeast. Mix again until it dissolves.
Mix in the dry ingredients: After, add the sugar, flour, and salt to the yeast mixture, letting it beat on low speed until it pulls away from the sides of the bowl.
Knead the dough: Next, use a dough hook to knead the dough until it is combined. Add the butter and work it in gently before kneading again for two or three minutes.
Let it rise: Then, make the dough into a smooth ball and place it in a greased bowl. Cover the bowl with plastic and set it in a warm place for about two hours until it has doubled in size.
Cut and cover: Afterward, cut the dough into six pieces and roll them into balls. Place them on a prepared baking sheet covered in parchment paper and cover them with plastic wrap to rest for 35 to 40 minutes.
Fry donuts: Next, add oil to a deep skillet and heat to 350 degrees F. Cook dough balls a few at a time until they are golden brown on one side. Flip and continue frying donuts until golden brown on the other side.
Let donuts cool: Remove each fried donut with a slotted spoon and let them cool on a wire rack for several minutes. Be sure to put paper towels underneath to catch the oil.
Dip the donuts: Now, fill a medium bowl with one cup of sugar and dip the fried donuts in the sugar to coat.
Fill donuts and serve: Last, fill a pastry bag fitted with a small tip with lemon curd and poke a hole in the side of each donut. Fill each donut with lemon curd before serving.
Recipe variations:
No whole milk: You can use 2% milk if you want or plant-based milk if you are lactose intolerant.
Other oil: Feel free to use canola, olive, or vegetable oil for frying. You can use whatever you prefer.
Fluffier donuts: Try adding a teaspoon of baking powder or soda for fluffier donuts.
Lemon juice: Add a tablespoon of lemon juice to the curd mixture for an extra lemony flavor.
Lemon sugar: To make them even more lemony, mix lemon zest into the sugar glaze before coating.
Vanilla extract: For even more flavor, add a teaspoon of vanilla extract.
Powdered sugar: You can use powdered sugar instead of granulated sugar for the coating.
How to serve:
These classic fried donuts filled with homemade lemon curd are easy to make and delicious to eat any time of the day. Not just for breakfast! Try one of these serving ideas or one of your own.
Top with a spoonful of whipped cream for an even creamier treat.
To make this a supreme dessert, add a scoop of ice cream next to your donut. Try our easy and delicious no-churn pineapple ice cream recipe.
For a child's party, why not make filled-from-scratch donut holes instead? Simply make everything exactly the same except make smaller balls instead of large ones. And remove donut holes in just one or two minutes because you fry donut holes for a shorter time. Use a piping bag fitted with a thinner tip to fill each donut hole. You will be able to make a lot more donut holes than donuts so you can have plenty to serve to the kids.
You can also fill your donuts with pudding, chocolate ganache, or your favorite fruit preserves. Try our delicious and tangy cherry pie filling recipe.
In fact, you can top your donuts with fruit as well. Use your favorite jam, jelly, or fruit preserves.
Sprinkle candy toppings on your donuts or donut holes for a more festive look.
These donuts go great with a cup of coffee or hot chocolate.
Frequently asked questions
Is there another way to shape these donuts?
Instead of making balls out of the dough, you can use a cookie cutter or biscuit cutter. Just roll the dough out onto a lightly floured surface until it is about 1/2 inch thick. Use a round cookie cutter or biscuit cutter to make the donuts. Then put them on your prepared baking sheet and cover them with plastic wrap to let rest for 30 to 35 minutes.
Do I have to make yeast donuts?
Yeasted donuts will rise better than those made without yeast, but you can make cake donuts if you would rather not use yeast. You will have to add baking powder to the recipe though and adjust the amounts of liquids, fats, and flour. For this recipe, cake donuts will not work as well because they will likely fall apart when you try to fill them.
Who invented the donut?
The official donut recipe did not become noticed until 1847 when Hanson Gregory devised the holey recipe when he was a teenage galley worker on a ship. But some say it was the Dutch settlers to the US who first made fried caked and called them oliebollen (oil balls). These round cakes were more like donut holes than donuts, but they were made of the same ingredients and coated with powdered sugar.
What are the nutrition facts in this recipe?
Each donut contains 358 calories, 114 mg cholesterol, and 14 grams fat with 8 grams saturated fat. It also has 54 mg carbs, 29 grams sugar, and 90 mg sodium. But on the good side, you get 8 grams protein, 2 mg iron, 2 grams fiber, 6 mg vitamin C, 445 units vitamin A, 41 mg calcium, and 122 mg potassium.
How to store leftovers:
Store: Any leftover remaining donuts should be put in an airtight container and refrigerated. You can keep them for three or four days.
Freeze: Freezing is not recommended.
More lemon desserts to try:
Baking tips:
Make sure your ingredients are at room temperature.
Shorten your prep time by using store-bought lemon curd instead of making your own.
Go one step further and use store-bought donut mix but make sure you get the kind with yeast in it.
Another way to save time is to use a stand mixer fitted with a dough hook to knead the dough.
Use a saucepan with a heavy bottom for best results. If you do not have one, you can put water in a regular saucepan and place a heat-proof bowl on top of it.
Be sure to whisk continuously while heating.
To get the sugar to stick to the donuts better, brush them with melted butter first.
Use medium-low to medium heat to prevent the eggs from curdling.
Strain the curd through a fine mesh sieve to remove any lumps.
Lemon curd can be made ahead of time but should be used within three days.
If you do not have a pastry or piping bag, use a zipper baggie with the corner cut off.
No parchment paper? That's okay. Lightly flour the baking sheets instead.
Lemon Curd Filled Donuts
Ingredients
Donuts:
2 1/4

cups

bread flour

1

large egg

room temperature

1/2

cup

+ 2 tablespoons milk

warm

3

tablespoons

unsalted butter

room temperature

5

tablespoons

granulated sugar

1

teaspoon

salt

1

envelope Instant Yeast

7 grams
Lemon curd:
2

cups

milk whole

1

lemon

washed and peeled

1

egg

room temperature

2

egg yolks

room temperature

1/2

cup

granulated sugar

3

tablespoons

cornstarch

sifted

1/8

teaspoon

salt

2

tablespoons

unsalted butter
Instructions
Yeast mixture:
In a large bowl, whisk the warm milk with the room-temperature egg, once combined add the instant yeast. Whisk fully until dissolved.
Donut dough:
Then, add sugar, flour, and salt to the yeast mixture. Use a spatula to mix until combined and after that knead with your hands until all flour has been incorporated.

Next, add the softened butter and work it in with your hands until the dough is smooth.

Transfer the dough onto a flat, lightly floured surface and knead for two to three minutes.

After that, transfer the sticky dough ball into a large lightly oiled bowl and cover it with plastic wrap. Place it in a warm place and let it rise for a few hours until it is about two to three times its starting size.
Homemade lemon curd:
Place a medium, heavy bottom saucepan, over medium heat, and add the milk and lemon peel.

When the milk starts to steam, please remove it from the heat, not allowing it to boil. Let stand for 10 minutes for the lemon peel to infuse the milk.

Meanwhile, in a large bowl, whisk the eggs and sugar until pale and combined.

Sift cornstarch and salt together, and add them to the egg mixture. Whisk on medium-high speed for about 5 minutes or until the mixture becomes pale.

Remove the lemon peel from the milk and discard it. Make sure the milk is still hot, do not let it cool.

While whisking continuously, pour the milk in a very slow stream into the egg mixture to tamper it. Gradually add all the hot milk while whisking.

Transfer the mixture to the saucepan over medium heat, and cook it whisking continuously for about 5 minutes. The mixture will thicken, but do not allow it to come to a boil.

Once the mixture has thickened, please remove it from the heat, and let it cool down for a few minutes. After that stir in the butter until fully incorporated.

Transfer the mixture to a glass bowl, and place a piece of plastic wrap in direct contact with the surface of the custard, to prevent a custard skin from forming.

Allow it to cool to room temperature for 15-20 minutes and then refrigerate until ready to use.
Shape the donuts:
In the meantime, punch the dough and then transfer it to a lightly floured surface. Fold it a few times and divide it into eight equal pieces.

Shape each piece into a ball and place it on a baking sheet covered in parchment paper. Repeat with the remaining pieces. Make sure they are not too close to each other on the baking sheet. Cover them with plastic wrap and let them rest for 30 to 40 minutes.
Deep frying donuts:
Place a large, deep pan with about 1 1/2 - 2 inches of oil over low-medium heat. Bring the oil to 350 degrees F. Add a few donuts at a time and fry them for 1-2 minutes on one side, or until golden brown. Flip and repeat.

Remove them from the oil with a slotted spoon and place them on a wire rack to cool.
Fill:
After the donuts have cooled completely, poke a hole, using a long rounded object, like a chopstick. Place a bowl with about one cup of sugar next to you. Then roll them in sugar until covered on both sides.

Transfer the lemon custard into a pipping bag, cut a small hole at the end, and fill the donuts with custard until you have just a little ball of custard on the surface.
Deliciousness to your inbox
Enjoy weekly hand picked recipes and recommendations