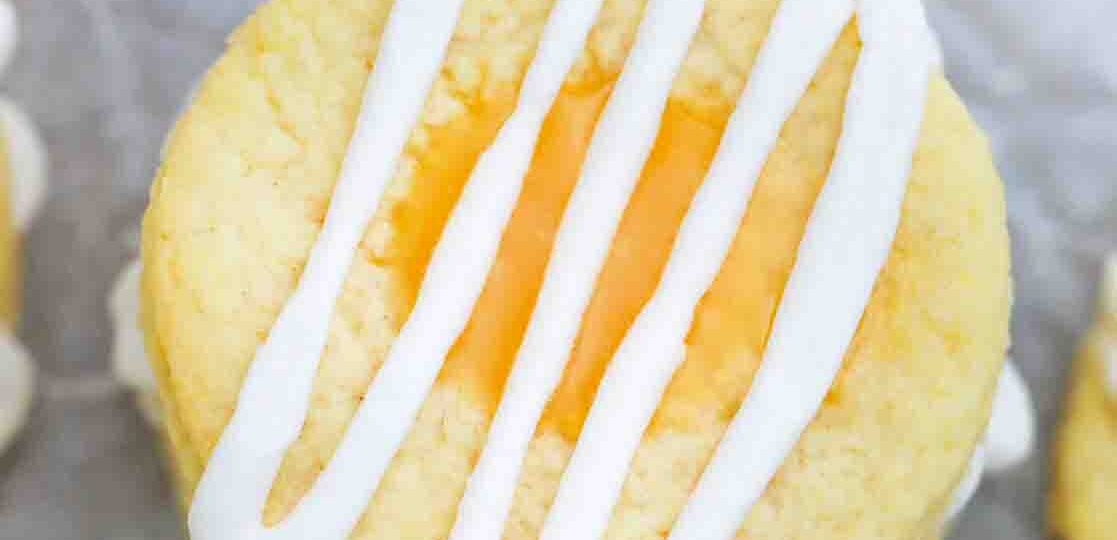 Lemon Thumbprint Cookies Recipe [Video]
Lemon Thumbprint Cookies are buttery, tart, and sweet, made with lemon curd, lemon zest, and lemon juice. Whether you are looking for holiday cookies or just a sweet treat for the family after dinner, these lemon cookies are a hit with everyone who tries them. You can make them as Christmas cookies too, adding some holiday sprinkles.
If you are interested in more cookie recipes, we have what you want. First, try our strawberry version of thumbprint cookies. These Air Fryer Strawberry Cookies are easy to make with strawberry jam and vanilla glaze. Our Hershey's Kiss Cookies are sensational and each one is topped with a Hershey's kiss.
Thumbprint cookies began in Sweden, but they were called hallongrotta. It means raspberry cave in Swedish because that is the first fruit used in these delicious cookies. Thumbprint cookies are basically just shortbread cookies with an indent filled with some kind of fruit jam.
They are also known as just thumbprints and can be filled with just about anything you like from fruit to chocolate or even peanut butter.
These lemon curd thumbprint cookies, also known as lemon curd cookies, are made with homemade lemon curd made from our lemon curd recipe. They are perfectly round with a thumbprint in the middle filled with ooey-gooey lemon flavor. You can even add your own touch to make this recipe your own.
Looking for more recipes to make for the holidays? If you want more lemony goodness, lemon squares are also a delicious holiday treat. These air fryer lemon squares can be ready to eat in 20 minutes.
Follow us on Pinterest for more delicious recipes!
Ingredients needed:
All you need to make these delicious lemon thumbprint cookies are a handful of ingredients listed below. When you are ready to start making them, find our recipe card at the bottom of the page for the instructions and exact measurements.
Unsalted butter: Softened butter at room temperature.

Powdered sugar: Or confectioners' sugar.
All-purpose flour
Lemon juice
Lemon zest
Lemon curd: Store-bought or make your own from our lemon curd recipe.
Glaze:
Milk
Powdered sugar: Or confectioners' sugar.
How to make lemon thumbprint cookies from scratch?
Preheat the oven: To begin, preheat your oven to 375 degrees F and cover a baking sheet with parchment paper, and set it aside.
Cream it: In the meantime, cream sugar and butter with a stand mixer fitted with a paddle attachment until it is light and fluffy, and then mix in the flour.

Add the lemon: Next, add the lemon zest and lemon juice. If the dough is too sticky, add about two or three more tablespoons of flour. You want the dough to be a little crumbly so do not overmix.

Chill the dough: Then, form a large ball out of the dough using your hands. Wrap it in plastic wrap and refrigerate it for at least 10 minutes.

Make the balls: After, unwrap the cookie dough and divide it into 16 equal dough balls. rolling each one to make a smooth ball. Then put each one on the prepared cookie sheet.
Make and fill imprint: Next, use your thumb to make an indentation in the center of each ball. Fill each one with a spoonful of lemon curd.

Bake cookies: Finally, make the cookies for 8 to 10 minutes or until they are lightly golden brown on the edges.

Let them cool: Last, transfer baked cookies to a wire rack to cool completely before adding icing.

Make the glaze: While you wait for the cookies to cool, mix the glaze ingredients in a small bowl until it is smooth. Drizzle on top of each cookie and let it set before serving.
How to make air fryer lemon thumbprint cookies from scratch?
Beat it: To begin, mix sugar and butter with a hand mixer in a large bowl until it is creamy before adding the flour.
Add wet ingredients: Now, add in the lemon zest and lemon juice. You can add an additional two or three tablespoons of flour if the cookie dough is too sticky. It should be a little bit crumbly.

Chill: Next, roll it into a ball and wrap it with plastic wrap. Chill in the fridge for at least 10 minutes.

Make the cookies: After, divide into 16 dough balls and place them on a cookie sheet. Press an indent into each one with your thumb and fill them with the lemon curd.

Line the air fryer: Then, line the air fryer basket with parchment paper but leave two inches on the sides for proper heat and circulation.

Air fry the cookies: Now, put the cookies in the basket and cook at 330 degrees F for 8 to 10 minutes. They should be just browning on the edges.

Let them cool: Remove the cookies carefully and let cookies cool completely on a cooling rack before you add the glaze.

Mix the glaze: Meanwhile, mix the milk and sugar to make a glaze and drizzle it on top of the cooled cookies.

Set and serve: Once the glaze has set, you can serve your lemon thumbprint cookies.
Recipe variations:
Another flour: For gluten-free cookies, use gluten-free flour like almond flour.
More flavor: For more flavor, add a teaspoon of vanilla extract to your cookie dough.

Make them rise: For more rise, make a flour mixture of flour and baking powder.
White chocolate: Instead of glaze, melt some white chocolate to drizzle on top of your cookies.

Brown sugar: Instead of powdered sugar, use brown sugar for a richer and chewier cookie.

Add nuts: A handful of chopped pecans would be great in these cookies.

Chocolate chips: Or you could add chocolate chips for the chocolate lover in the family.
How to serve:
Baking and serving these lemon thumbprint cookies is easy and fast so you can make them any time you want. In fact, you can have them for dessert tonight. Here are some great ideas to try or you can share your own in the comments section.
Add a drizzle of chocolate syrup with the glaze on top for extra sweetness.

You can sprinkle granulated sugar on top for extra sweetness. Or make lemon sugar by mixing lemon zest with one cup of sugar.
These cookies are delicious with a cup of our easy homemade eggnog.
You could also enjoy some lemon thumbprint cookies with a glass of icy cold milk.
Serve with a big bowl of vanilla ice cream!
Top each thumbprint cookie with a few mini-chocolate chips for chocolate lovers.
Another way to top these yummy cookies is with our cream cheese frosting.
Frequently asked questions
Why are my thumbprint cookies falling apart?
Even though these are easy to make with just five ingredients, you have to make sure you measure the flour correctly. If you are scooping your flour into measuring cups, you will have way too much flour, causing your cookies to crack or crumble. Also, make sure the butter is soft but not melted when you use it.
Can I keep lemon curd at room temperature?
Any kind of homemade lemon curd needs to be refrigerated. Store-bought lemon curd is shelf-stable and can be left out until it has been opened because it has been processed. But once you open it, you will need to refrigerate it also. It can stay fresh in the fridge in an air-tight container for about a week.
How do I make lemon zest?
There are several ways to make your own lemon zest. You could use a microplane or grater. Just move the lemon gently over the grates, rotating it as you go. Make sure you do not get any of the white pith. It is very bitter. To use a citrus zester, put the zester at one end and push it into the fruit, pulling it down on the other end.
What are the nutrition facts in this recipe?
Each serving has 94 calories, 13 grams of carbs, and 5 grams of fat with 3 grams of saturated fat, 1 gram of trans fat, 1 gram of monounsaturated fat, and 1 gram of polyunsaturated fat. It also has 11 milligrams of cholesterol, 40 milligrams of sodium, and 8 grams of sugar. But you also get 1 milligram of iron, 1 milligram of fiber, and 144 units of vitamin A as well as 1 gram of protein and 21 milligrams of potassium.
How to store leftovers:
Store: Store cookies in an airtight container in the fridge for up to three days.

Freeze: To freeze these cookies, it is best to flash freeze them on a cookie sheet first, so they do not stick to each other. Then, place them in a freezer-safe container where they will stay fresh for up to three months.

Thaw: Thaw cookies overnight before serving for the best flavor.
More cookie recipes to try:
Baking tips:
To save time, you can use bottled lemon juice instead of fresh lemon juice.

Be sure not to overmix your cookie dough.
Instead of your thumb, use the end of a wooden spoon to make the indent.

When making the lemon curd, you should be stirring constantly as it cooks in a pot.

Instead of a stand mixer, you can use an electric mixer in a medium bowl at medium speed.

Use the middle oven rack for the best results.

You can store extra lemon zest in the fridge in a tightly covered container for future recipes.

If your phone has a cook mode, you can use this to prevent the screen from going dark as you cook.
For more dessert cuisine and other delicious recipes, check out our food blog.
Lemon Thumbprint Cookies
Ingredients
6

tablespoons

unsalted butter

room temperature

1/4

cup

powdered sugar

3/4

cup

all-purpose flour

or use gluten-free flour that measures 1:1

1

teaspoon

lemon juice

1

teaspoon

lemon zest

1/3

cup

lemon curd
Glaze:
1/2

cup

powdered sugar

1

teaspoon

milk

1

teaspoon

lemon juice
Instructions
Preheat the oven to 350 degrees F.

Prepare a cookie sheet by lining it with parchment paper and set it aside.

In a large bowl, using a hand mixer, cream butter, and sugar until light and fluffy.

Add the flour and mix to combine. Make sure to scrape the sides and bottom of the bowl as needed.

Next, add lemon juice and zest.

If the dough is too sticky add 2-3 tablespoons of flour. The dough should be a bit crumbly but should stay together when pressed with your fingers, do not over-mix.

Using your hands bring the dough together to form a ball. Cover with plastic wrap and refrigerate for 10 mins or more.

When ready to bake, unwrap it and divide it into 14-16 equal 1-inch balls, try to make them perfectly round.

Just slightly flatten them, and use a ½ teaspoon measuring spoon to create a perfectly circular well in the center.

Arrange the cookies onto the baking sheet 2 inches apart.

Bake the cookies for 8 to 10 minutes. Remove cookie sheet from oven. If indentations look shallow, further define them again and fill each one with about 1/2 teaspoon of lemon curd.

Bake for an additional 3 to 4 minutes, or until curd melts slightly and the edges of cookies are lightly golden.

Dust with powdered sugar, if desired, or mix the glaze ingredients until smooth, and drizzle on top of the fully cooled cookies.