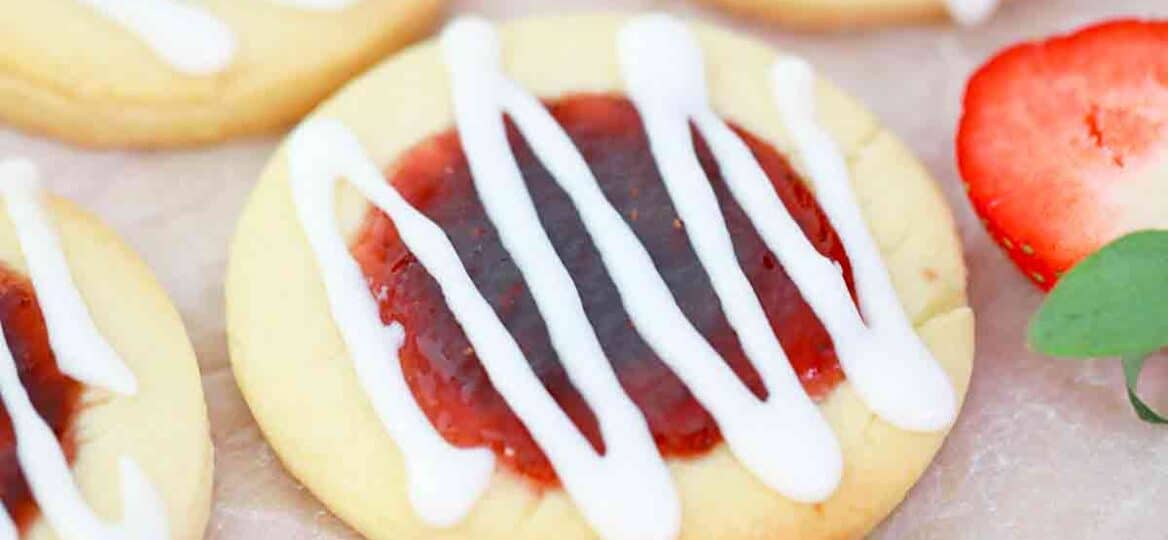 Air Fryer Strawberry Cookies Recipe
Air Fryer Strawberry Cookies are buttery and tender thumbprint cookies filled with sweet strawberry jam and finished with a simple glaze. The melt-in-your-mouth cookies are the perfect finish to any meal or add them to your holiday cookie tray for everyone to enjoy.
Peanut butter lovers will fall in love with our Peanut Butter Cookies made with chocolate chips. You can also make this delicious Falafel to enjoy as a savory snack. And our Gingerbread Bars with cream cheese and maple syrup are perfect for the holiday season or whenever you crave some gingerbread.
Also known as strawberry thumbprint cookies, this is one of those air fryer recipes that make it so worthwhile to have this device.
Baking is simple and fast, and you do not have to use cookie sheets. In fact, it is one of the easy dessert recipes you can make in just minutes.
The combination of zesty lemon with fresh strawberry jam makes them perfect to serve any time when you just need a little bit of sweetness.
These make a great Valentine's Day gift or a simple, yet refined hostess gift.
Follow us on Pinterest for more delicious recipes!
Ingredients needed:
These are the simple ingredients for our strawberry cookies but you can scroll down to the bottom of the page to get the exact measurements from our recipe card.
Cookie ingredients:
Butter: At room temperature.

Powdered sugar: Or confectioner's sugar.
All purpose flour: Or your favorite gluten free flour.
Strawberry jam: Make your own with our strawberry jam recipe or use our delicious strawberry sauce.
Lemon juice: Freshly squeezed for best results.
Lemon zest: Make your own by scraping the yellow coating off your lemon.
Glaze ingredients:
Milk: Any kind will work for this.

Powdered sugar
How to make air fryer strawberry cookies recipe?
Mix: To begin, in a large bowl with your stand mixer, mix the sugar and butter until it is light and fluffy.
Make a ball: Then, add your flour and mix until combined before adding lemon zest and juice. The mix will be crumbly so use your hands to form a ball.

Wrap: Immediately, wrap the dough in plastic wrap and let it rest for five minutes in the fridge.

Remove: Take the cookie dough from the refrigerator and divide into 16 parts when ready to bake.
Jam them: Next, roll each part into a ball and make an indention with your thumb. Put a tablespoon of jam into each indent until you fill them all.

Prepare: Then, line your fryer with parchment paper, leaving two inches of room around the outside so the air can circulate.

Fry: Lastly, put the cookies in the air fryer basket and cook at 330 degrees F for eight to 10 minutes. Let them cool in the fryer for five minutes before transferring them to a cooling rack or baking sheet to drizzle glaze on top.
Serve: Finally, let them set for five minutes before serving.
Recipe variations:
Sugar: For a super sweet tooth, roll the balls in granulated sugar before indenting.
Chocolate lovers: Toss some chocolate chips in the dough for air fryer chocolate chip cookies. Or you can use white chocolate chips.
Cake mix: To make it easier, try making air fryer cake mix cookies. Just combine cake mix per the directions on the box in a large mixing bowl before following the rest of the recipe.
Brown sugar: Replace granulated sugar with brown sugar for a richer and chewier cookie.

Make these into a pan cookie recipe. Just roll out the cookie dough and put it into a cake pan. Make thumbprints in even rows and add some jam before air frying for 10 minutes.

Low carb: Use artificial sweetener like Splenda, sugar free jam, and skip the icing for a low carb dessert.
How to serve:
These small cookies are the perfect dessert for an afterschool snack or quick dessert. Or try one of these ideas:
These cookies go great with a scoop of vanilla ice cream.
Top with our sweet homemade cream cheese frosting instead of glaze for sweeter cookies.

You can also serve them with a small bowl of fresh strawberries.
All cookies are perfect with a glass of ice-cold milk, including these.

Alternatively, try a few cookies with a mug of red velvet hot chocolate.
Frequently asked questions
Can I make other cookies in my air fryer?
Besides these strawberry cookies, you can also make other types of cookies like chocolate chip, peanut butter, or oatmeal cookies.
In fact, almost any kind of cookie can be air fried. However, avoid those with gooey toppings or sugar on top because they can burn before the bottoms are done.
Can I use parchment paper in the air fryer?
There is nothing wrong with using parchment paper but you will need to put holes in it so the air will be able to circulate.
Just poke some holes with a toothpick or other sharp tool. You can also buy parchment paper with holes specifically for the fryer.
What accessories do I need for my fryer?
You really do not need any accessories specifically for air frying but there are some things that can make cooking easier.
Liners, grill pans, and cooking racks are great for helping the air circulate. Also, there are certain small cake pans or baking pans you can buy that work well.
How to store leftovers:
Store: Let your cookies cool to room temperature before putting them in an airtight container in the fridge for up to five days.
Freeze: Or you can freeze them if you have way too many. Wrap these delicious cookies in plastic wrap and then put them in a freezer bag. They will stay fresh for several months in the freezer.

Thaw: Thaw your air fryer cookies overnight in the fridge before serving for best results.
More cookie recipes:
Cooking tips:
For firmer dough, put it in the fridge for 10 minutes to chill.
In addition, warming the jam in the microwave for 10 seconds before using makes it easier to spoon.
If you do not have any lemon zest or juice, you can make these without.
The easy way to drizzle on the glaze is to use a spoon and just wave it back and forth over the cookies.
One of the important things to remember to reduce cracking, make the dough balls as smooth as possible.
If you have an older air fryer oven, the cooking time may vary.

You can also make these into smaller cookies if you like.
Air Fryer Strawberry Cookies
Ingredients
6

tablespoons

unsalted butter

1/4

cup

powdered sugar

3/4

cup

all-purpose flour

or use gluten free flour that measures 1:1

1

teaspoon

lemon juice

1

teaspoon

lemon zest

1/4

cup

strawberry jam

or any jam
Glaze:
1/2

cup

powdered sugar

1 - 2

teaspoons

milk
Instructions
In a large bowl, using a hand mixer, cream butter, and sugar until light and fluffy.

Add flour and mix to combine.

Add lemon juice and zest. If the dough is too sticky add 2-3 tablespoons of flour. The dough should be a bit crumbly, do not over mix.

Using your hands bring the dough together to form a ball. Cover with plastic wrap and refrigerate for 10 mins or more.

When ready to bake, get the dough from the fridge, unwrap it and divide it into 16 equal balls.

Roll each dough ball between your palms, slightly flatten it, make an indentation with your thumb and put some jam in the indentation. Repeat till each dough ball.

Line air fryer basket with non-perforated parchment paper leaving at least 2 inches of room on the edges to ensure proper heat and air circulation.

Transfer the cookies to the air fryer basket, so they do not touch each other, if needed cook them in batches.

Bake at 330 degrees F for 8 to 10 mins or until lightly golden on the sides.

Let the cookies cool slightly in the air fryer for about 5 mins before transferring to a cooling rack.

Cool completely before adding the icing.

Mix the glaze ingredients until smooth, and drizzle on top of the cookies.

Once the glaze has been set, you can serve them.