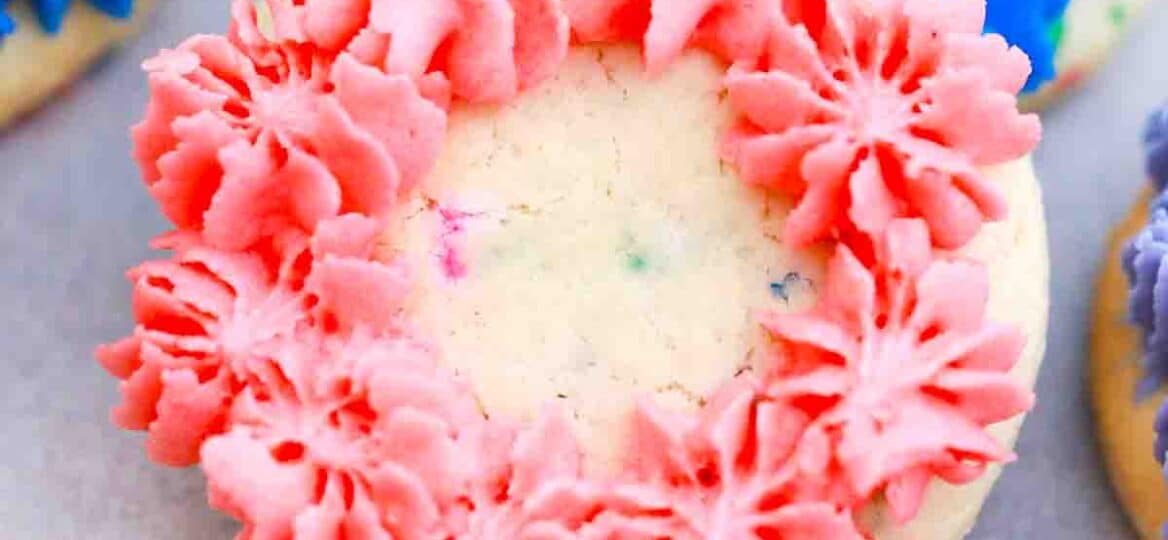 Funfetti Cookies Recipe [Video]
Funfetti Cookies are delicious as well as festive with rainbow sprinkles in the cookies and colorful cake batter frosting on top. These soft and chewy funfetti cookies taste great and make any day special, even if it is just another day. If you like sugar cookies and cake batter, this recipe is perfect for you! The best part is that you only need a handful of ingredients and a few minutes to make them!
If you like this cookie recipe, try our soft and chewy Cake Mix Cookies that you can make four different ways from one recipe! For a similar dessert try this easy Sugar Cookie Truffles recipe made with white cake, white chocolate wafers, and Christmas sprinkles.
Originally made in 1989 by Pillsbury, Funfetti Cake coined the name and trademarked it as their own and it became an overnight success. Since then, there have been plenty of other cakes that have rainbow sprinkles that are called confetti or sprinkle cakes. Some other companies took advantage of the popularity and made other baked goods and desserts with sprinkles like the Betty Crocker Dunk-A-Roos and others like rainbow chocolate chips and frosting.
Funfetti soft and chewy sugar cookies are easy and fun to make with confetti sprinkles, a chewy sugar cookie base, and bright pink frosting. The colorful sprinkles make these homemade funfetti cookies unique and the cake batter icing gives them a nostalgic funfetti flavor. Happy baking!
Just looking for a new recipe for cake? This rainbow sprinkles birthday cake recipe is kept moist with buttermilk and shortening and covered in thick buttercream icing. Want something more extravagant and full of chocolate? Our Cheesecake Factory chocolate blackout cake recipe is layered with chocolate pudding and topped with dark and dreamy Belgian chocolate icing.
Ingredients needed:
Here are the basic ingredients for this delicious and easy funfetti cookie recipe. Scroll down to our recipe card at the bottom of the page for the complete instructions and exact measurements when you are ready to begin.
Cookie dough:
All-purpose flour
Vanilla extract
Large egg: At room temperature.
Extra fine granulated sugar
Unsalted butter: Softened to room temperature.
Rainbow sprinkles
Kosher salt
Baking soda
Baking powder
Cornstarch
Cake batter frosting:
Confectioners' sugar: Or powdered sugar.
Dry vanilla cake mix
Unsalted butter: Softened to room temperature.
Vanilla extract
Pink food coloring
How to make funfetti cookies from scratch?
Preheat oven: First, preheat your oven to 350 degrees F and line two cookie sheets with parchment paper.
Whisk the dry ingredients: While you wait for the oven to heat up, whisk flour, salt, baking soda, baking powder, and cornstarch in a medium bowl.
Mix the wet ingredients: Then, in a stand mixer affixed with a paddle attachment, beat sugar and butter until it is creamy. Mix in the egg and vanilla extract.
Add the flour mixture: After, add the flour mixture slowly and beat it until it is all well combined. Then fold in the rainbow sprinkles.
Roll the balls: Next, roll dough balls and use the bottom of the glass to flatten them into thick discs. Continue with the remaining dough.
Bake cookies: After, bake the cookies for 10 to 12 minutes or until the edges are light golden brown and set. The middle will still look soft. Remove baked cookies from the oven and let them cool completely on the baking sheet on a cooling rack.
Make the frosting: While the cookies bake, use the same mixer with the paddle attachment to beat the butter until it is creamy. Then add the dry cake, vanilla extract, powdered sugar, and food coloring. Continue to beat for about two minutes or until it is smooth.
Frost the cookies: Once the cookies are completely cooled, use a piping bag with a star piping tip to frost the edges of the cookie.
Serve or store cookies: Finally, after the frosting is set, serve or store cookies immediately.
How to make air fryer funfetti cookies from scratch?
Combine dry ingredients: To begin, combine the dry ingredients in a medium bowl.
Cream and combine: After, in another bowl or a mixer with a paddle attachment, mix the wet ingredients until it is smooth and creamy before adding the flour mixture.
Add sprinkles: Finally, fold in the rainbow sprinkles and shape the dough into flat disks.
Air fry cookies: Place cookies in the air fryer basket and cook at 350 degrees F for five to seven minutes. They should be slightly browned and still a bit doughy in the middle.
Make the frosting: Meanwhile, to make the frosting, beat the butter in a medium bowl before adding the rest of the ingredients. Mix until it is smooth, for about two minutes.
Frost and serve: Remove cookies and let them cool completely on a wire cooling rack before frosting and serving.
Recipe variations:
White sugar: Regular white sugar will do instead of the extra fine type of granulated sugar.
Cake flour: Regular flour will give these cookies plenty of texture but if you want cakier cookies, use half cake flour instead of just all-purpose flour.
Gluten-free: Use coconut or almond flour for gluten-free cookies.
Rainbow sprinkles: Any kind of rainbow jimmies or colorful sprinkles will work here.
Brown sugar: Swap 1/2 the granulated sugar for dark or light brown sugar for richer and chewier cookies.
More flavor: Use birthday cake dry mix instead of white for extra flavor.
Add chips: Add regular or white chocolate chips to the mix to make them even more delicious.
No frosting: For less sugar or fewer calories, skip the frosting.
More frosting: On the other hand, if you love frosting, go ahead and frost the whole top of the cookies instead of just around the edges.
Add nuts: Make these crunchier funfetti sugar cookies by adding chopped pecans or walnuts.
Dried fruit: Another great add-in would be dried fruit such as cranberries, blueberries, or raisins.
Chocolate: Use chocolate cake for the frosting and add cocoa powder to your cookie dough for chocolate funfetti cookies.
How to serve:
These funfetti sugar cookies are perfectly chewy and deliciously sweet and the versatile recipe lets you customize your treats. Try one of these serving ideas or one of your own:
Put a scoop of vanilla ice cream between two cookies and you will have a decadent ice cream cookie the kids will love.
All cookies go great with a glass of ice-cold milk. Or try these with a cup of hot cocoa.
Sprinkle cookies with extra rainbow jimmies for more festive flavor.
Instead of this frosting recipe, try using our delicious cream cheese frosting recipe instead.
For Valentine's Day treat, you could use red sprinkles instead.
Or use Christmas colors for Christmas, green for St. Patrick's Day, etc.
You can also top these with your favorite fruit preserves or use our recipe for sweet and tangy strawberry sauce.
Before baking, insert a craft stick or cake pop stick in the side of the dough to make lollipop funfetti cookies.
Frequently asked questions
Why are my cookies tough and dry?
If you use too much flour, your cookies will be dry. Use the scoop and scrape method as described in the tips below. Also, overmixing can make your cookies tough and dry. Only mix the batter until the dough is just combined. Then, fold in the sprinkles with a spoon or spatula.
Why should I wait until the end to add the sprinkles?
If you add them before, they will break down and blend into the cookie dough. Then, you will not have funfetti cookies, you will have streaks in your cookies instead. Also, mixing too much will make your cookies dry and tough, as stated above. After you mix in the flour just enough, so the streaks of white are gone, fold in the sprinkles with a spoon or spatula.
Why should the butter and eggs be at room temperature?
There are several reasons why you want your baking ingredients to be at room temperature. The first reason is that you want all the ingredients to be at the same temperature so they will cook evenly. Also, room-temperature butter holds more air, so it gives your funfetti cookies a nicer texture. And cold eggs will make the butter stiffen up, making it chunky and hard to combine.
What are the nutrition facts in this recipe?
These numbers vary depending on the size of the serving and the ingredients you use. However, in this recipe, each serving has 228 calories, 44 carbs, and 17 grams of fat with 9 grams of saturated fat and 160 mg of sodium, 26 grams of sugar, and 55 mg of cholesterol. But you will also get 1 mg of iron, 18 mg of calcium, 1 gram of fiber, 220 units of vitamin A, 2 grams of protein, and 22 mg of potassium.
How to store leftovers:
Store: You can store your leftover funfetti cookies in an airtight container or a gallon-size zipper baggie and refrigerate them for five days.
Freeze: You can freeze funfetti cookies if you have too many. Just wrap them in plastic or place parchment paper between them to keep them from sticking and put them in a freezer-safe bag or container. They can stay in the freezer for up to 90 days.
Thaw: Be sure to thaw them in the fridge overnight before serving for the best results.
More cookie recipes to try:
Baking tips:
Instead of regular cake mix, use funfetti cake mix for extra sprinkles in the frosting.
For less spreading, chill the funfetti cookie dough balls on the cookie sheet before baking.
Use a cookie scoop to make evenly shaped dough balls.
To shorten prep time, use already prepared cake batter frosting.
In fact, to really shorten your prep time, use boxed cake to make the cookies. You can use any kind, even red velvet or carrot cake.
To make sure you do not have too much flour, use the spoon and sweep method. Simply use a spoon to fill the measuring cup and then use the back of a knife to sweep away the extra flour on top.
You only need one egg for these funfetti cookies but make sure it is at room temperature or it can cause the cookie dough to split.
If you do not have a piping bag, just use a plastic bag with the corner cut off.
Be sure to fold in the sprinkles by hand with a rubber spatula or wooden spoon.
You could also use a cookie cutter to shape the dough.
If you use salted butter, omit the salt from the recipe.
Funfetti Cookies
Ingredients
1 1/2

cups

all-purpose flour

1 1/4

tablespoon

cornstarch

1

teaspoon

baking powder

1/2

teaspoon

baking soda

1/4

teaspoon

salt

1/2

cup

unsalted butter

room temperature

3/4

cup

granulated sugar

1

large egg

room temperature

1

tablespoon

vanilla extract

2/3

cup

rainbow sprinkles
Buttercream:
1

cup

unsalted butter

room temperature

1/4

cup

vanilla cake mix

dry

2 1/2

cups

powdered sugar

1

teaspoon

vanilla extract

a few drops pink food coloring

a few drops violet food coloring

a few drops blue food coloring
Instructions
Preheat oven to 350 degrees F.

Line two large baking sheets with parchment paper, and set them aside.

In a medium bowl, whisk together flour, cornstarch, baking powder, baking soda, and salt. Set aside.

In a stand mixer fitted with the paddle attachment (or in a large bowl using a hand mixer) beat butter and sugar until creamy.

Add the egg and vanilla extract, and beat for a few seconds. Gradually, with the mixer on low speed add the flour mixture, beating until well combined. Stop to scrape the sides and bottom of the bowl a few times.

Using a rubber spatula, fold in the rainbow sprinkles.

Take 2 tablespoons of dough and roll it into a ball. Using the bottom of a glass, lightly press and flatten the cookie into a thick disk.

Bake for 10 to 12 minutes, until the edges are slightly golden. The centers will still look soft, but the cookies will firm up while cooling.

Remove from oven and let cool completely on the baking sheet.
Buttercream:
Place the cake mix on a baking sheet covered with parchment paper, and bake for 5-7 minutes at 350 F. Let it fully cool before using in the buttercream.

Beat butter until creamy. Add the cake mix, powdered sugar, and vanilla extract, and beat until smooth.

If you are using one food color, add a few drops of food coloring, and beat until incorporated. Or divide the buttercream into a few bowls and use different colors to color it.

Using a piping bag with a star piping tip, pipe frosting around the edges of the cookies.

Let the cookies stand for 30 minutes, or chill a bit, for the frosting to set before serving.