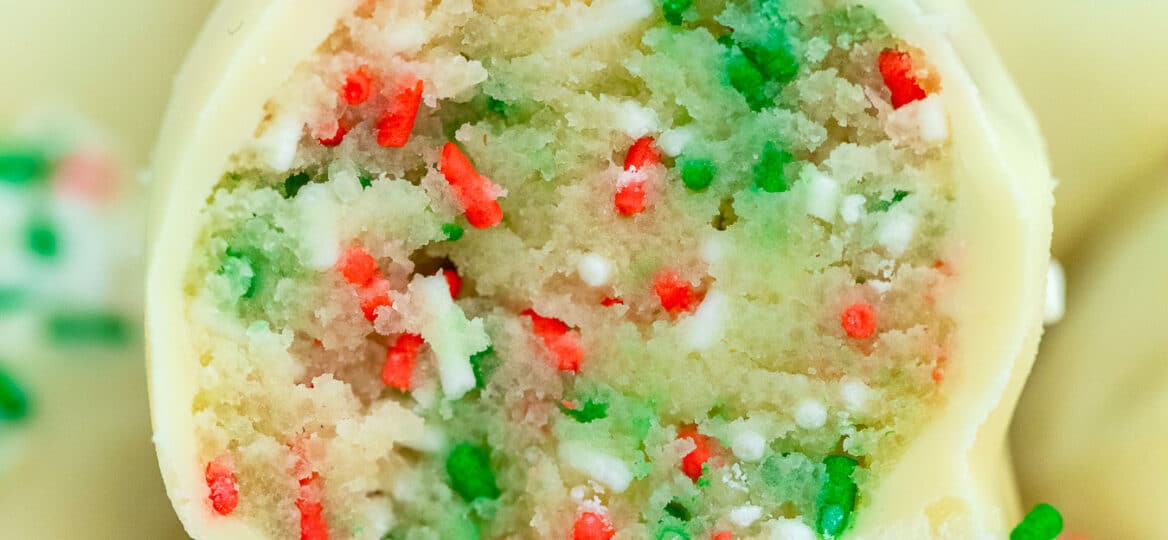 Sugar Cookie Truffles Recipe [Video]
Sugar Cookie Truffles are made with cake mix and coated in delicious white chocolate, topped with Christmas sprinkles. A perfect treat to enjoy during the Christmas holidays!
This no-bake dessert goodness is super festive and easy to make. For this holiday season, you can also try our Mexican Wedding Cookies, Red Velvet Cheesecake Bites, and Reindeer Noses.
Easy Christmas Sugar Cookie Truffles
Holidays are all about enjoying some quality time with friends and family, eating good food, and indulging yourself with some sweets! And there is nothing more appropriate and better than making these Sugar Cookie Truffles.
They are very easy to make, look festive, and are the perfect treat to have during the holidays!
We make them with butter, cake mix, cane sugar, and vanilla. Then, we roll them into individual balls and dip them into white chocolate, and top them with sprinkles. They are delicious in every single way, and both kids and adults adore them.
Also, you could make them in various shapes, and colors. If dark chocolate is your preference, feel free to coat them in dark or even mint chocolate.
For more holiday-related desserts, check our list of some of the BEST CHRISTMAS COOKIES.
Should I heat treat the cake mix?
Absolutely! In this recipe, we went ahead and heat-treated the cake mix. Just like flour, cake mixes should not be consumed raw but should be heat-treated to make sure salmonella or other bacterias are not consumed.
What is the best white chocolate to use?
White chocolate can be tricky to use, especially when melting it. Therefore, we strongly suggest using white chocolate wafers. Also, you could use the melting wafers. Both have a nice and rich consistency and work perfectly in this recipe.
HOW TO MELT WHITE CHOCOLATE?
Simply, place wafers in a microwave-safe bowl and melt in the microwave at 50% power level for about 30 seconds. Then, stir it, and microwave for another 20-30 seconds, or until you get a nice and smooth texture.
Can I make Sugar Cookie Truffles in advance?
Yes. These treats are ideal to make in advance as they can be easily stored. Once you roll them, simply put them in an airtight container, and refrigerate for up to 2 weeks. They can stay fresh for quite a long time, so feel free to make a larger batch and enjoy them for days to come!
Also, you could freeze them. Just transfer them to a freezer-safe dish. Then, refrigerate for up to 6 months. Defrost overnight in the refrigerator or counter prior to serving.
Looking for more holiday truffles?
Recipe Tips:
Not a fan of white chocolate? Then, substitute it with milk or dark chocolate.
Also, for even easier dipping, use two forks, and use them to dip into melted chocolate.
Use any cake mix that you like, chocolate, yellow cake, or even funfetti.