Devil's Food Cake Truffles
Devil's Food Cake Truffles are easy to make and no bake, loaded with chocolate cake mix and Oreos. They are then dipped in white chocolate and topped with Oreo crumbs.
These Truffles are a perfect treat for the upcoming fall and winter season. Like Raspberry Jam Cakes, Raspberry Angel Cake and Chocolate Lemon Raspberry Cookies, they are a huge hit on our blog.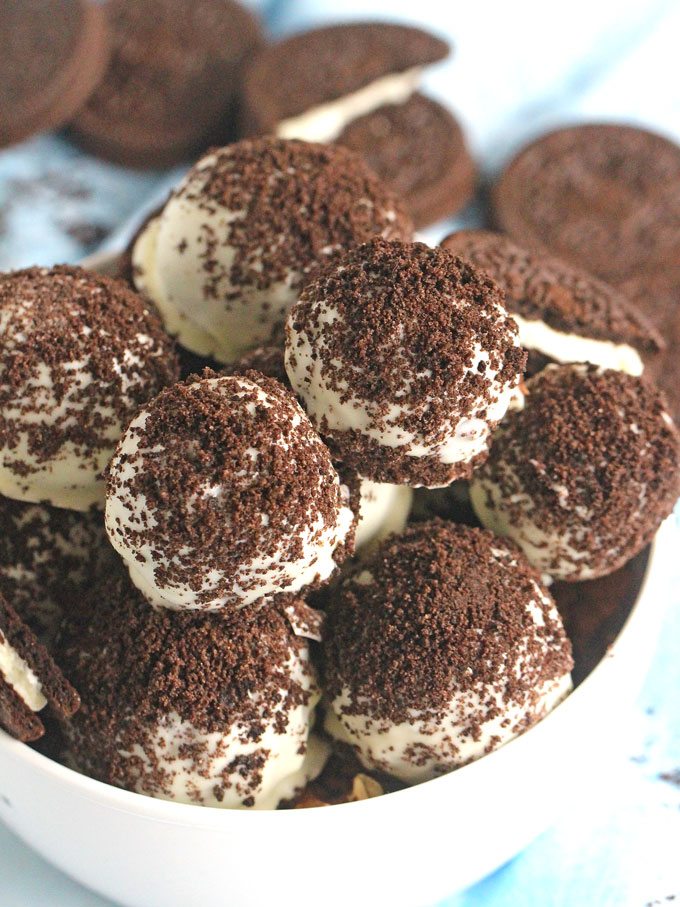 Devil's Food Cake Truffles
Oreo Devil's Food Cake Truffles are the latest creation to feed my truffle obsession. These delicious truffles are incredibly easy to make and require just a few ingredients. Start to finish you need under 30 minutes to make these chocolate truffles.
They are the perfect dessert to make for birthday parties, holidays, or special events. You can make as many as you love, simply double the ingredients. Also, this would be a great project to make with kids, as they will enjoy rolling and decorating the balls. They are a delicious combination of crumbs that are transformed into a rich and chocolaty truffle. The truffles are coated in white chocolate and topped with additional Oreo crumbs.
Why You'll Love These No Bake Oreo Devil's Food Cake Truffles:
Firstly, they are very easy to make and no-bake.
Also, tender and buttery, they remind me of chocolate cookie dough.
Would make for some pretty darn cute hostess gifts.
In addition, they are great to make together with kids!
Egg-free so can eat as much batter as you want.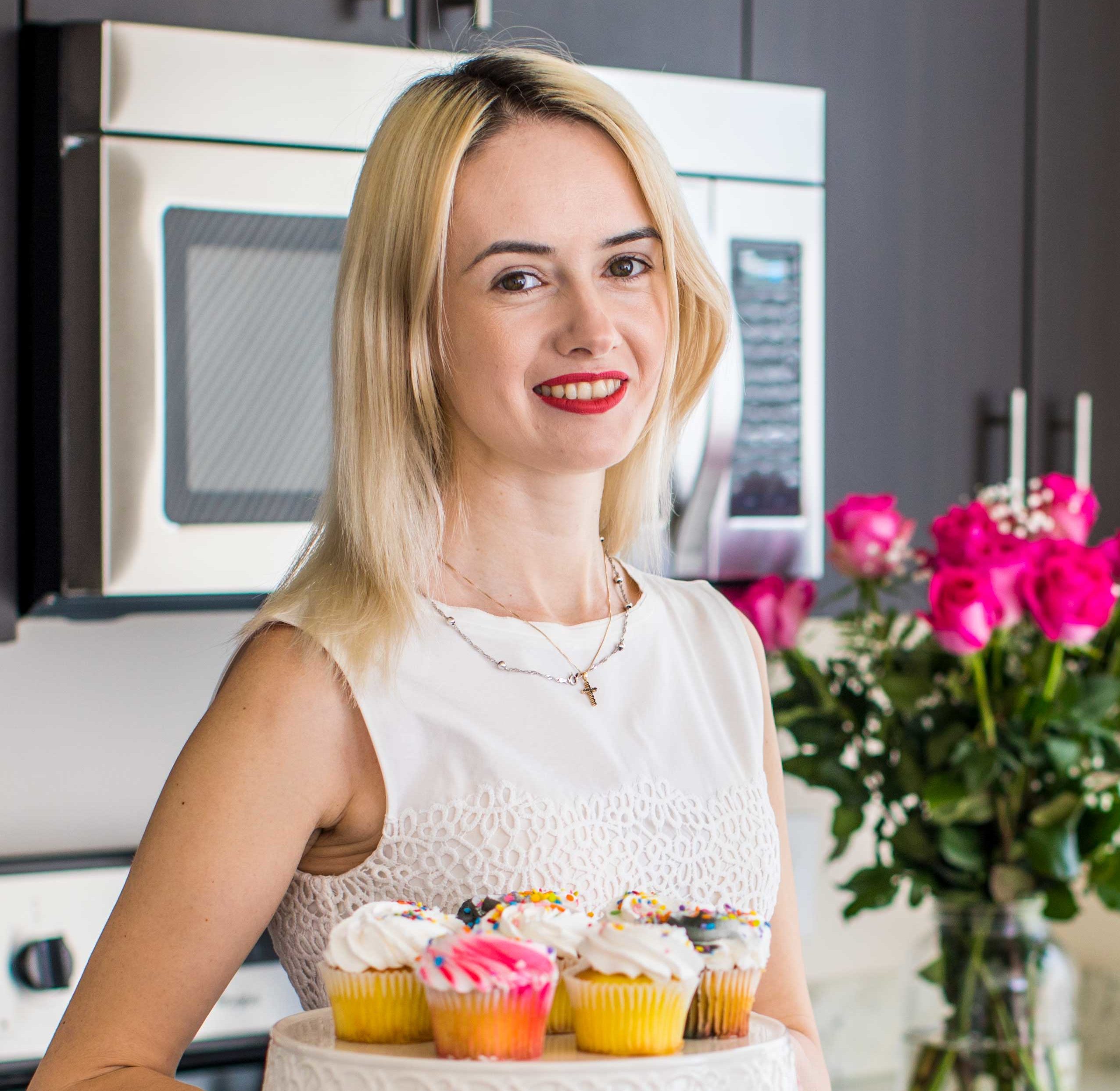 Follow us on Pinterest for more delicious recipes!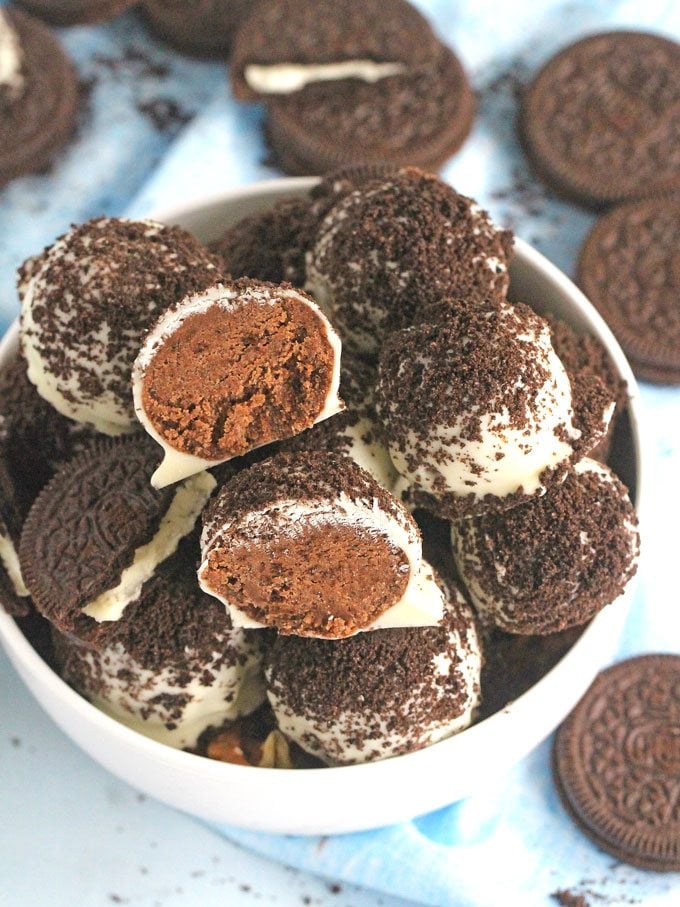 Devil's Food Cake Truffles Recipe Tips:
Using Devil's Food Cake mix is best as it adds a delicious flavor. You can also use regular chocolate cake mix if you don't have Devil's Food Cake mix on hand.
Also, the unsalted butter must be room temperature. Not greasy and oily, at that point, the butter is way too melted.
Be careful when melting the white chocolate as it tends to separate. Start by melting for 30 secs and stir well, and after that melt in 15 secs increments. Also, stir well as the residual heat will melt the remaining chocolate chunks.
Use a food processor to finely ground the Oreos, you want them to have a corn flour consistency for the truffles to have a smooth texture.
Tools/Ingredients I used to make these No Bake Oreo Devil's Food Cake Truffles:
Save Recipe
Oreo Devil's Food Cake Truffles
Author: Catalina Castravet
Serves: 16 truffles
Prep time:

30

minutes
Total time:

30

mins
Ingredients
Truffles:
8 tablespoons (1/2 cup, 1 stick, 113 grams) unsalted butter, softened at room temperature
1½ cups Devil's Food Cake mix
½ cup cane sugar
10-14 Oreo cookies
1 tablespoon vanilla extract
¼ cup rainbow sprinkles
White Chocolate Coating:
10 oz. white chocolate wafers or chopped chocolate
Oreo crumbs
Instructions
Cover a large, flat plate with waxed paper and set aside.
Truffles:
Add Oreo cookies to a food processor and ground until you get a corn flour consistency. Transfer Oreo crumbs to a small bowl. Set aside.
Slice butter into 8-10 pieces and add it to a large bowl, add Devil's Food cake mix, sugar, ½ cup of the Oreo crumbs and vanilla extract.
Using a fork, work the butter into the Oreo and cake mix until fully combined and it resembles smooth cookie dough. To make the process easier, mix with the fork and after that use your hands to combine all the ingredients.
Measuring 1 tablespoon of truffle batter or using a 1 tablespoon scoop, scoop dough and using your palms roll it into a ball. Place truffle balls onto the prepared baking sheet. Place in freezer for 10 minutes before coating with white chocolate.
The amount of truffles you will get depends on how large or small you make them.
White Chocolate Coating:
Add white chocolate to a microwave safe bowl and melt for 30 seconds. Stir well and microwave for another 20 or 30 seconds, stir well with a spatula and if there is still chocolate that did not melt, microwave for another 15 seconds and stir well.
Using a fork, dip each truffle ball into the melted white chocolate and place on the prepared plate, top with the remaining Oreo crumbs immediately.
Place truffles in the fridge for at least 20 - 30 minutes or until the white chocolate coating hardens.
Store truffles in the fridge, preferably in an airtight container for up to 7-10 days.
Serve and enjoy!
0 Carbohydrates: 48 Protein: 4 Fat: 13 Saturated Fat: 8 Cholesterol: 15 Sodium: 355 Potassium: 103 Fiber: 1 Sugar: 38 Vitamin A: 175 Calcium: 67 Iron: 1 Calories: 303
Save Recipe

More recipes you might love