RASPBERRY ANGEL FOOD CAKE
RASPBERRY ANGEL FOOD CAKE IS TENDER, AIRY AND SOFT, WITH SWEET FRESH RASPBERRIES AND A REFRESHING RASPBERRY LEMON GLAZE.
Raspberry Angel Food Cake is such a beautiful and delicious dessert. This cake is perfect for summer picnics, baby showers, Valentine's Day and anytime you are looking for a light dessert. You see how gorgeous this Raspberry Angel Food Cake is? It's totally worth sifting that flour and sugar! The vanilla bean seeds add beautiful, tiny specs thru the cake. The raspberry lemon glaze is so refreshing and gorgeous, such an easy way to dress up your cake. The citrus, vanilla and raspberries create an unbelievable flavor that is just perfect with the tender texture of the cake. This cake is one of the most popular recipes on the blog and always gets rave reviews!
Love Raspberry Desserts? Me too! Check these out:
Tips and Tricks To Make The Perfect Raspberry Angel Food Cake:
I prefer using a silicone bundt cake pan when baking bundt cakes, it just makes the removal process so much easier and its guaranteed that the cake won't stick to the pan
The recipe was made using all purpose flour, not cake flour, as traditional angel food cake is made. I like the convenience of making it with all purpose flour, as I almost never have cake flour on hand. The recipe will work with cake flour as well.
The egg whites need to be at room temperature, this is very important so please plan ahead of time so the egg whites can stay for 1-2 hours to get to room temperature.
Vanilla Beans can be substituted for 1 teaspoon of vanilla paste or 2 teaspoons of vanilla extract
Sift! Sift! Sift! Yes, don't skip the sifting, its what will make your cake texture airy, soft and cloudy
Only use fresh berries in this cake, frozen ones will add extra water and ruin the recipe
Dry your berries! You don't want extra water in your cake! Make sure they are dry! I can't stress this enough.
Yes, you have to use caster sugar, granulated sugar will work, but the cake won't be as airy, so please don't make the switch
If you will be using a silicone bundt cake pan consider that it heats up quicker than a regular pan, so check for doneness a few minutes earlier
When making the raspberry glaze, if you want it more solid like an icing, add more sugar, and make it less watery. If you want the glaze to be more liquid, like a raspberry sauce, add a little more lemon juice.
You can strain the glaze if you want to remove the raspberry seeds, I personally like how they look.
The cake can also be made with blueberries and blackberries, juts don't add too many, 6oz is the norm.
Why You'll Love This Raspberry Angel Food Cake:
Festive and colorful the cake is perfect for a special occasion or birthday party
Beautiful and refreshing flavors
One of the most popular recipes on the blog!
You can use your favorite berries: blackberries, raspberries or blueberries
Tools/Ingredients I used to make this Raspberry Angel Food Cake Recipe: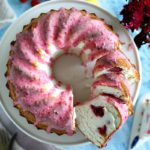 RASPBERRY ANGEL FOOD CAKE
Raspberry Angel Food Cake is tender, airy and soft, with fresh raspberries and a refreshing raspberry lemon glaze.
Ingredients
12

egg whites

at room temperature*

1¼

cup

cake flour

or all purpose flour*

1¼

cups

caster sugar

¼

teaspoon

salt

1

teaspoon

cream of tartar

3

vanilla beans

seeds only*

6

ounces

raspberries

minus six
Lemon Raspberry Glaze:
1

cup

powdered sugar

6

raspberries

1

tablespoon

lemon juice

more if needed
Instructions
Preheat the oven to 350 degrees F.

Spray a bundt pan (I used a silicone one) with cooking spray VERY, VERY light and set aside.

Over a large bowl, sift together flour, ½ cup of the sugar and salt. Repeat the sifting process 3 times.

Add the egg whites to the bowl of a stand mixer fitted with the whisk attachment and beat on medium speed until frothy, then add in the cream of tartar and vanilla bean seeds. Beat on medium-high speed until soft peaks form. Gradually add in the remaining sugar a few tablespoons at a time and beat until incorporated.

Using a spatula, manually and slowly fold in the flour mixture in three additions by turning over the egg whites consistently until the flour is fully incorporated.

Spoon half the batter into the prepared pan, evenly distribute the raspberries and top with the remaining batter, level off the top with a spatula.

Bake the cake for 35 to 40 minutes, or until golden on top and spongy. Remove cake from oven, let it stand for 5 minutes then invert the cake on a cooling rack and allow it to cool completely.
Lemon Raspberry Glaze:
In a small bowl combine all the ingredients and mix until well combines, the mixture must be glossy with no lumps, with a thick consistency, but still pourable. If the mixture is too think add 1 teaspoon of lemon juice. Pour the mixture over the cooled cake and let it stand for 15 minutes for it to settle.

Serve and enjoy!
Recipe Notes
*I usually make this cake with all purpose flour, as I rarely have cake flour on hand, and it works well.
*Make sure the egg whites are at room temperature, this is very important for the cake.
*Substitute with 1½ teaspoon vanilla extract if you don't have vanilla beans on hand.
Nutrition Facts
RASPBERRY ANGEL FOOD CAKE
Amount Per Serving
Calories 193
% Daily Value*
Sodium 99mg 4%
Potassium 124mg 4%
Total Carbohydrates 42g 14%
Protein 5g 10%
* Percent Daily Values are based on a 2000 calorie diet.