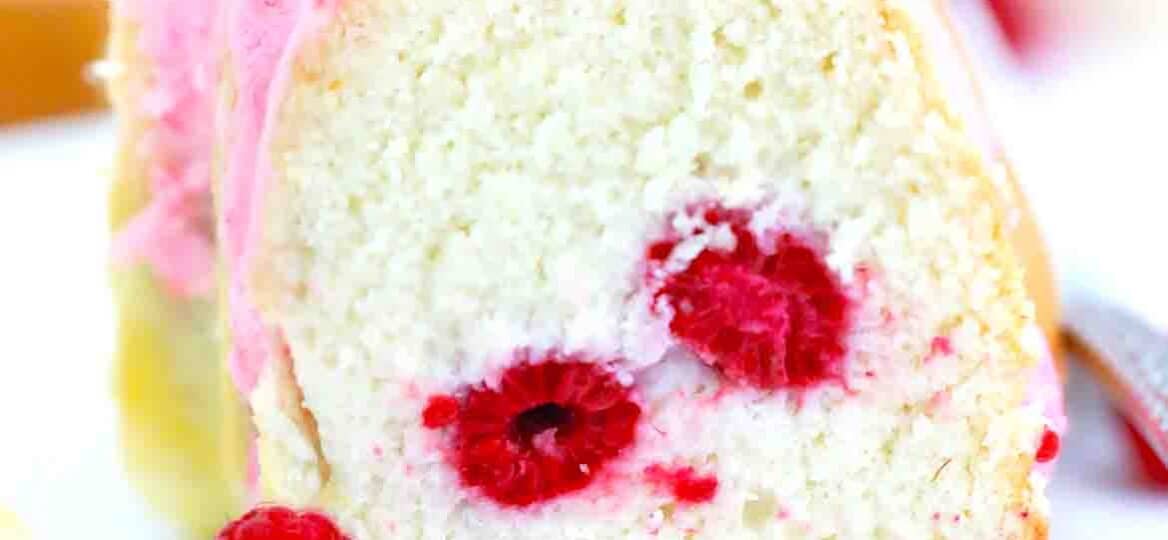 Raspberry Angel Food Cake [Video]
Raspberry Angel Food Cake is a light and airy cake filled with scrumptiously sweet and tangy fresh raspberries and topped with a raspberry lemon glaze. The soft cake is filled with juicy berries, with a burst of different flavors in every bite.
If you like berries, try our Blueberry Buckle recipe flavored with brown sugar, cinnamon, and fresh blueberries. Another fantastic dessert you can enjoy with the family is this three-ingredient Pink White Chocolate Fudge made from white chocolate, sweetened condensed milk, and pink food coloring.
So, why do we have angel food cakes and devil's food cakes? Angel food cake got its name in the 1800s for being so light that an angel can eat it and still fly. The Dutch consider it to be blessed by angels and use it as a wedding cake.
On the other hand, devil's food cake is moist and dark with cocoa powder and melted chocolate. The name comes from the reference to it being sinfully delicious.
Whether you love raspberry desserts or angel food cake, this delicious recipe is perfect for both these cravings. The light fruit flavor and fluffy cake made with a dozen egg whites will make your whole family fall in love with this kind of dessert.
You can top this homemade angel food cake with our raspberry lemon glaze, your own favorite frosting, or no topping at all. Either way, this cake is delicious.
If you are looking for other berry desserts, check out our raspberry jam cakes made with vanilla yogurt and raspberry jam or this decadent instant pot raspberry cheesecake with an Oreo cookie crust and milk chocolate ganache. Another fantastic berry dessert is this raspberry mousse cake with lemon filling.
For a really special occasion, make our magical Unicorn Cake with white cake mix, white chocolate chips, and vanilla.
Follow us on Pinterest for more delicious recipes!
Ingredients needed:
All you need for this light dessert recipe is a few basic ingredients. For the detailed directions and measurements, scroll down to our recipe card at the bottom of the page.
For the cake batter:
Egg whites: At room temperature.
Cake flour: Or all-purpose flour.
Caster sugar: Also known as superfine sugar.
Salt: We used kosher salt, but you can use what you have.
Cream of tartar: This is important for making stiff peaks form and hold their shape.
Vanilla beans: You only need the seeds.
Raspberries: Set aside six berries for the glaze.
Lemon raspberry glaze:
Powdered sugar: Or confectioners' sugar.
Raspberries: Six raspberries from the container.
Lemon juice: Use more if needed.
How to make raspberry angel food cake from scratch?
Preheat: To begin, preheat your oven to 350 degrees F and spray a bundt pan (or tube pan) very lightly with non-stick cooking spray.
Sift the flour mixture: While you wait for the oven to heat up, sift the salt, flour, and half the sugar three times over a large bowl.
Whip the egg whites: Then, put egg whites into the mixing bowl of a stand mixer (or an electric mixer) and beat on medium speed with the whisk attachment until it is frothy. Add the vanilla bean seeds and cream of tartar to the whipped egg whites. Beat on medium-high speed until soft peaks form as you gradually add the remaining sugar a few spoonfuls at a time.
Finish the mix: Next, carefully fold in the flour mixture to the beaten egg whites a little at a time using a rubber spatula, turning the egg whites until it is all completely incorporated.
Make the cake: After, gently spoon half the cake batter into the prepared cake pan before sprinkling in the raspberries gently on top of the bottom half. Then, top with the remaining batter and level off with the top of your spatula.
Bake and cool: Finally, bake for 35 to 40 minutes until spongy and golden brown on top. The top should spring back when lightly touched. Remove the cake and immediately invert pan over a wine bottle and let it completely cool. When ready, remove the cake by running a knife around the sides of the pan.
Make the glaze: Meanwhile, mix all the ingredients of the glaze in a small bowl until it is glossy, and all the lumps are gone. It should be thick but easy to pour. If it is too thick to pour, add a teaspoon of lemon juice. Pour over the cooled cake and let it stand for 15 minutes.
Serve: Lastly, serve the cake on a cake stand topped with fresh raspberries.
How to make instant pot raspberry angel food cake:
Fill the pot: First, add one cup of water to the bottom of your instant pot.
Make the cake: Then, use half the ingredients to make this angel food cake in the instant pot. Combine cake ingredients in a bowl and spoon half into the bottom of a seven-inch bundt pan.
Add the berries: Next, sprinkle the raspberries and then cover with the remaining batter. Put aluminum foil on top to keep the condensation from dripping onto your cake.
Cook the angel food cake: Cook on high pressure for 25 to 30 minutes. Then do a slow release before removing the cake.
Cool, glaze, and serve: Let it cool completely on a cooling rack before removing it. Then add the glaze and berries or another topping before serving.
Recipe variations:
Another extract: Add 1/2 teaspoon of almond extract to the glaze mix for a subtle nutty taste
Gluten-free: Use special gluten-free flour so everyone can enjoy this yummy cake.
Chocolate chips: To make our angel food cake a big hit with chocolate lovers, add a cup of chocolate chips to the batter and drizzle chocolate syrup on top.
Lime juice: Instead of lemon juice, try lime juice for a unique flavor.
No vanilla beans: Instead of vanilla beans, you can use 1 ½ teaspoon of vanilla extract.
Egg whites: Alternatively, you can use liquid egg whites from the grocery store. One-quarter cup equals two egg whites so you will need 1 1/4 cups of liquid egg whites.
How to serve:
It does not have to be a special occasion to serve this light and fluffy cake. The fresh swirl of fresh raspberries infuses the batter so you can taste the tart fruit throughout the entire cake. Try one of these fun serving ideas or share one of your own.
Fill the middle of the raspberry angel food cake with our homemade whipped cream. Use the remaining whipped cream on top.
A nice layer of raspberry sauce on top makes this cake even more delicious.
Our raspberry angel food cake tastes scrumptious with any kind of ice cream like this strawberry or blackberry ice cream.
Add pink or red food coloring to the cake batter and serve this delicious treat at your next Valentine's Day party.
Another delicious fruity topping for this light and fluffy angel food cake is our blueberry pie filling, tangy strawberry sauce, or this tart cherry pie filling.
Turn these into angel food cupcakes using a muffin tray.
Drizzle some caramel sauce on top for a decadent homemade angel food cake.
Frequently asked questions
What is caster sugar?
Caster is a popular fine sugar found in the United Kingdom. Although it is not as popular in the United States, you can find it in specialty grocery stores under the name superfine sugar, baker's sugar, or ultrafine sugar. It is much finer than granulated sugar but not as fine as powdered or confectioners' sugar.
How can I keep my berries from sinking to the bottom of my cake batter?
Anytime you use frozen fruit when baking, you run the risk of it all ending up at the bottom of the cake. The easiest way to prevent this common issue is to coat them in a flour mixture before adding them to your batter.
Just two or three tablespoons to coat the berries should be enough. Then, gently fold it into the batter and the flour will absorb the moisture that the berries release as they heat up.
What is cream of tartar?
With such a misleading name, the purpose of this kitchen staple (potassium bitartrate) is not what you may think. For instance, it is not creamy, and it has nothing to do with tartar sauce.
It is a powdered by-product made from the fermentation of grapes into wine and is used for helping your egg whites become giant peaks of fluffy foam.
What are the nutrition facts for this recipe?
Angel food cake has zero fat and cholesterol so that is a big bonus. In addition, this recipe has less than 200 calories per serving, 40 grams of carbs, 100 milligrams of sodium, and 30 grams of sugar. You also get 8 milligrams of calcium, 5 milligrams of vitamin C, 5 units of vitamin A, and 5 grams of protein.
How to store leftovers:
Store: This delicious cake will keep well in the fridge for about seven days. Just place it in an airtight container after it is completely cool.
Freeze: You can freeze angel food cake for up to three months wrapped in plastic wrap and placed in a container or freezer bag.
Thaw: Remember to put your frozen leftovers in the fridge to thaw overnight before serving.
Reheat: If you want your cake warm, reheat it in the microwave for 30 seconds. However, you will need more of the glaze if you do this.
More cake recipes:
Baking tips:
If you use frozen berries, coat them with a few tablespoons of flour to keep them from sinking to the bottom of the cake.
Be sure to dry the berries first to prevent excess moisture in the cake.
Use a silicone bundt pan to make the cake removal easier.
Sprinkle the berries carefully between two layers of cake to make a subtle swirl.
Make sure your eggs are at room temperature.
Shorten prep time by using an angel food cake mix (boxed mix).
A stainless-steel bowl is better to use than a glass bowl when mixing the glaze.
You could also use a food processor to puree the raspberries. After, use a fine mesh strainer to get as much juice as you can without the seeds.
If you do not have a wine bottle, just flip the cake upside down onto a wire cooling rack and let it cool completely.
For best results cut with a serrated knife.
For more free recipes, check out our Sweet and Savory Meals food blog.
Raspberry Angel Food Cake
Ingredients
12

egg whites

at room temperature*

1¼

cup

cake flour

or all purpose flour*

1¼

cups

caster sugar

¼

teaspoon

salt

1

teaspoon

cream of tartar

3

vanilla beans

seeds only*

6

ounces

raspberries

minus six
Lemon Raspberry Glaze:
1

cup

powdered sugar

6

raspberries

1

tablespoon

lemon juice

more if needed
Instructions
Preheat the oven to 350 degrees F.

Spray a bundt pan (I used a silicone one) with cooking spray VERY, VERY light and set aside.

Over a large bowl, sift together flour, and ½ cup of sugar and salt. Repeat the sifting process 3 times.

Add the egg whites to the bowl of a stand mixer fitted with the whisk attachment and beat on medium speed until frothy, then add in the cream of tartar and vanilla bean seeds. Beat at medium-high speed until soft peaks form. Gradually add in the remaining sugar a few tablespoons at a time and beat until incorporated.

Using a spatula, manually and slowly fold in the flour mixture in three additions by turning over the egg whites consistently until the flour is fully incorporated.

Spoon half the batter into the prepared pan, evenly distribute the raspberries, and top with the remaining batter, level off the top with a spatula.

Bake the cake for 35 to 40 minutes, or until golden on top and spongy. Remove the cake from the oven, let it stand for 5 minutes then invert the cake on a cooling rack and allow it to cool completely.
Lemon Raspberry Glaze:
In a small bowl combine all the ingredients and mix until well combines, the mixture must be glossy with no lumps, with a thick consistency, but still pourable. If the mixture is too thin add 1 teaspoon of lemon juice. Pour the mixture over the cooled cake and let it stand for 15 minutes for it to settle.