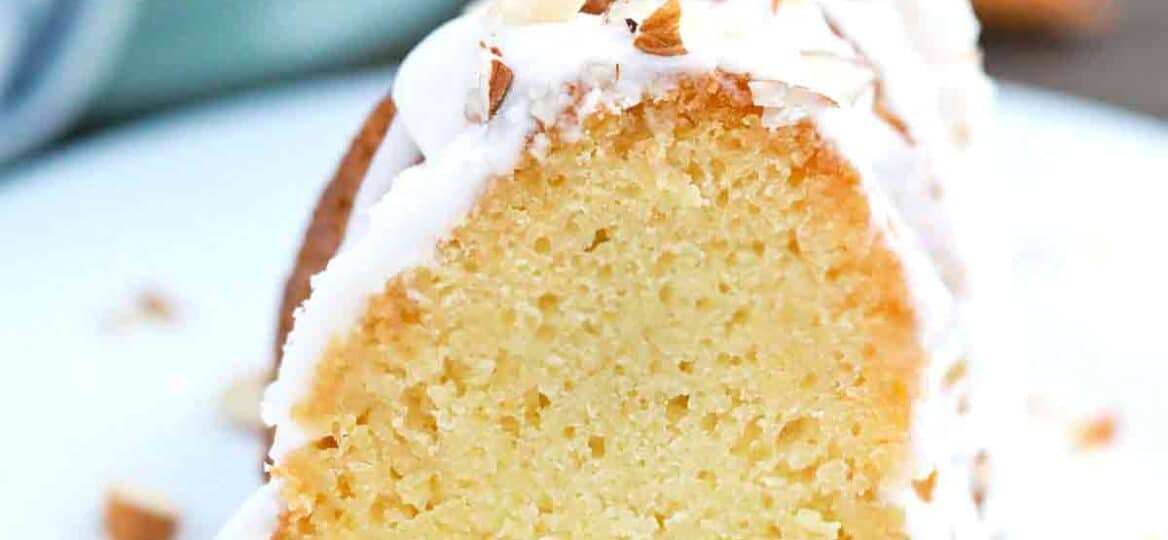 Almond Bundt Cake [Video]
Almond Bundt Cake is tender and buttery, with the sweet and tangy flavors of almond and vanilla, and a drizzle of glaze. The good thing about a bundt cake is that it basically decorates itself with the intricate design of the pan, so you don't have to do much but bake it.
If you like this dish, you may really enjoy our Ricotta Bundt Cake with its white chocolate and ricotta flavors melted together. For a breakfast dessert, our Best Ever Coffee Cake filled with cream cheese and brown sugar is divine.
You do not have to wait for special occasions to have cake nowadays. In fact, you can find these decadent desserts on the dinner table every night in some homes.
There is nothing wrong with enjoying your favorite desserts when you can, and this moist cake is a perfect choice.
This almond bundt cake is a delicious and easy dessert for your next holiday dinner, fancy enough to serve to guests, and easy enough to make it just for yourself.
Ingredients needed:
Our step-by-step directions and precise measurements can be found below on our recipe card. Here are the basic ingredients:
For the cake:
All purpose flour: You could also use almond flour or your own favorite.

Sugar: Granulated white sugar.

Large eggs: Separated into 4 egg whites and 2 whole eggs.
Butter: Unsalted butter, at room temperature.
Buttermilk: You can substitute with sour cream or milk with vinegar.
Almond extract: This is an important ingredient.
Vanilla extract: Optional.

Almond slivers: For garnish.
Baking powder
Baking soda
Salt
For the glaze:
Powdered sugar: AKA confectioners' sugar.
Milk: Whole milk is best.
Almond extract: Just a dash.
How do you make almond bundt cake?
Preheat: First, preheat your oven to 350 degrees F. Grease and flour your bundt pan.

Mix: Then, in a medium bowl, whisk the baking soda and powder, salt, and flour.

Cream: Next, in a separate large bowl, using the paddle attachment of your stand mixer, combine the butter and sugar for two minutes on medium speed, scraping the sides of the bowl as you go. Alternatively, you could use an electric mixer at low speed in a separate bowl.
Combine: After, add the egg whites, yolk, and mix together completely before adding the vanilla, almond extract, and buttermilk. Immediately, add the flour mixture to the wet mixture.

Pour: Finally, pour the batter into the prepared pan and bake for one hour until a toothpick or cake tester comes out clean or with moist crumbs.
Cool: Then, transfer the cake from the oven onto a wire rack to cool.
Make the almond glaze: Next, whisk the glaze ingredients in a small bowl until a smooth glaze forms.
Serve: Last, drizzle glaze on top and add slivered almonds to serve.
Recipe variations:
Add juice: Give this almond cake a boost of citrus with ½ cup of orange juice. Also, you can add some orange zest into the batter.
Fruitier: Similarly, make it even fruitier by adding lemon or orange zest and extracts.
Chocolate lovers: Add some cocoa powder or baking cocoa for a serious chocolate boost. In addition, adding a cup of white or dark chocolate chips is another great decision.
More nuts: You could also add chopped almonds to the cake batter for a nuttier cake.

Dried fruits: Another option is to add dried cranberries or raisins, they will add texture and extra flavor to the dessert.
Cake Mix: Take a shortcut and use cake mix to make this easy recipe, just don't forget to add the almond extract.
Berries: Also, this tasty treat will be great with some blueberries, raspberries, or blackberries mixed in.
Flavor combos: Cherries go hand in hand with almonds, so either stir in some fresh cherries into the batter or use maraschino cherries.
How to serve:
You can serve this yummy dish with or without the glaze as a snack or a dessert. Or try one of our serving suggestions:
Serve with a small dish of almond paste to slather on top.
Another way to enjoy this dessert is with a dollop of homemade whipped cream or ice cream on top.
Alternatively, top the cake with cherries or some other fruit.

Instead, a spoonful of fruit preserves like this easy strawberry jam would be a fantastic topping.
You can also serve this dessert with slow cooker turkey breast or another main dish.
Frequently Asked Questions
What is the difference between regular and bundt cakes?
The difference is more about the shape of the pan than it is about the cake itself. A bundt pan has a donut shape so more of the batter touches the pan.
This gives it a crunchier texture on the outside with a soft and light inside.
Almost all cakes have four main ingredients that include sugar, flour, some kind of fat like butter or oil, and a binder, which is typically eggs.
Most have baking soda and/or baking powder too. The bundt usually has more eggs and butter as well as less flour.
Why is it called a bundt?
The bundt cake pan was invented by David Dalquist, the owner of Nordic Ware, in 1950. It was the suggestion of friends who wanted a way to make a modern version of their traditional Gugelhupf, which is also known as the Bundkuchen.
In German, Bundkuchen means "a cake for a gathering." The cake was traditionally served at family gatherings in Europe in the 1800s.
To market this dish in America, Dalquist added a "t" to the name bund and it became popular with that name.
How do I get a bundt out in one piece?
The first thing you need to do is choose the right pan. It should be a nonstick pan, preferably in a lighter color to prevent overbrowning. Also, even nonstick pans need to be greased for a good bundt cake.
The best way to do this is with solid shortening and a pastry brush so you get into all the crevices.
Another way to prevent sticking is to dust the pan with all purpose flour. Hold the pan over the sink and sprinkle the flour into the pan.
Tilt it in a circular motion, tapping it as you go along. Also, using too much leavening can cause air bubbles, which will make the cake weak.
How to store leftovers:
Store: Wait until the cake is cooled to room temperature before putting it into an airtight container. It will stay fresh in the refrigerator for about four or five days.

Freeze: If you plan to freeze the almond bundt cake, do it without the glaze. You can add the glaze when you are ready to serve. Otherwise, it will melt when you thaw it out. Store it in a freezer-safe airtight container in the freezer for up to four months.

Thaw: You can thaw it on the counter for a few hours or overnight in the fridge.

Reheat: There is no need to reheat before serving.
More Bundt Cakes:
Cooking tips:
Using a silicone pan makes removing the cake much easier since it will not stick.
Remember that silicone heats up faster than metal though, so check for doneness a few minutes earlier than the recipe calls for.

Try piping the batter into the pan to get cleaner and crisp edges.
Similarly, pipe the glaze into the crevices for a neater design.

Make sure you use a cooling rack for the best results.
Almond Bundt Cake
Ingredients
Bundt Cake:
2

cups

flour

2 1/2

teaspoons

baking powder

1/2

teaspoon

baking soda

1

teaspoon

salt

1 1/2

cups

sugar

1

cup

butter

at room temperature

4

egg whites

at room temperature

2

whole eggs

at room temperature

1

cup

buttermilk

1 1/2

teaspoon

almond extract

1/2

teaspoon

vanilla extract
Glaze:
1

cup

powdered sugar

2

tablespoons

milk

1/4

teaspoon

almond extract

1

tablespoon

slivered almonds

for garnish
Instructions
Preheat the oven to 350 F.

Grease and lightly dust with flour a bundt pan. If you are using a silicone bundt pan, don't worry about adding flour to it, just lightly grease it.

In a medium bowl, whisk together the flour, baking powder, baking soda, and salt.

In the bowl of a stand mixer fitted with the paddle or whisk attachment, cream the sugar and butter on high speed for 2 minutes. Scrape the sides and bottom of the bowl.

Beat in the egg whites and whole eggs, and mix on medium speed.

Add in the buttermilk, almond extract, and vanilla extract, mix well.

Add the flour mixture and mix just until incorporated. Scrape the sides and bottom of the bowl.

Transfer the cake batter into the prepared bundt pan.

Bake for 1 hour or until a toothpick inserted in comes out clean or with just a few moist crumbs.

Remove from the oven and place onto a cooling rack to cool.

Once the cake is cool, invert it onto a cake stand or plate.

Make the glaze by combining the ingredients in a small bowl until smooth.

Drizzle the glaze over the top of the cake and sprinkle with some slivered almonds on top.

After the glaze has set, slice and serve the dessert.
Deliciousness to your inbox
Enjoy weekly hand picked recipes and recommendations