Ricotta Bundt Cake is soft and velvety with white chocolate icing and maraschino sweet cherries. The gorgeous colors make the cake festive and perfect for a special occasion.
We like making easy and tasty Bundt Cakes, like Rainbow Bundt Cake, Lemon Lime Bundt Cake and Bundt Jelly Cake.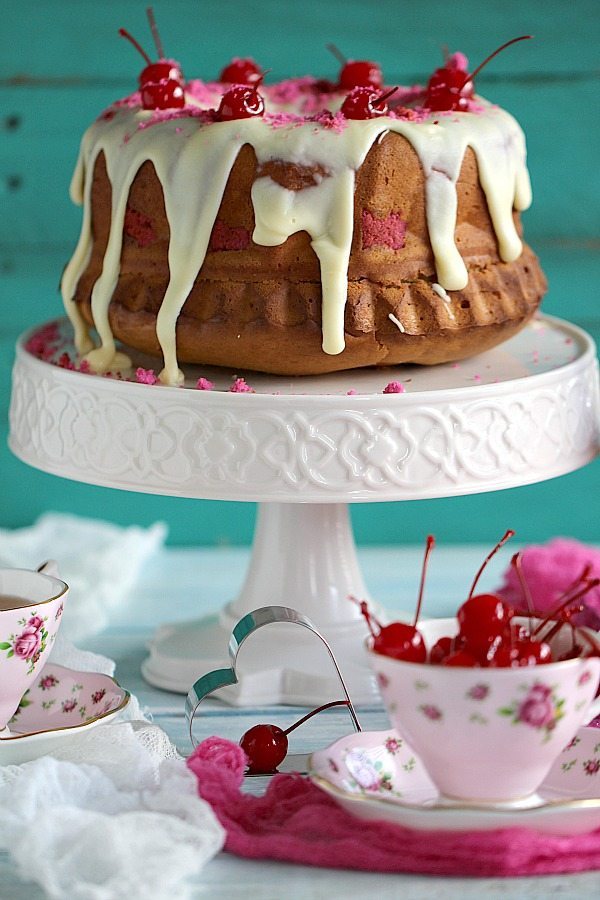 Ricotta Bundt Cake
I love a good ricotta cake, but I am a sucker for cute desserts so baking a Ricotta Bundt Cake was a must for me. To make it more festive I have played with flavors and colors, so you can make it for a special occasion or holiday.
In this Ricotta Bundt Cake I have combined two amazing flavors, almond and cherry. The end result is such a flavorful, sweet, soft and delicious cake. The ricotta definitely enhances the texture of this cake, making it velvety, dense, moist and rich without adding any butter.
The middle of the Ricotta Bundt Cake is a cherry flavored yellow cake, which well, I made it pink. The pink color is optional, but it adds such a nice pop of color. Also, it makes the cake look more chic and styled. I have developed a new obsession with maraschino cherries, I eat them now straight out of the jar! Go ahead and give it a try!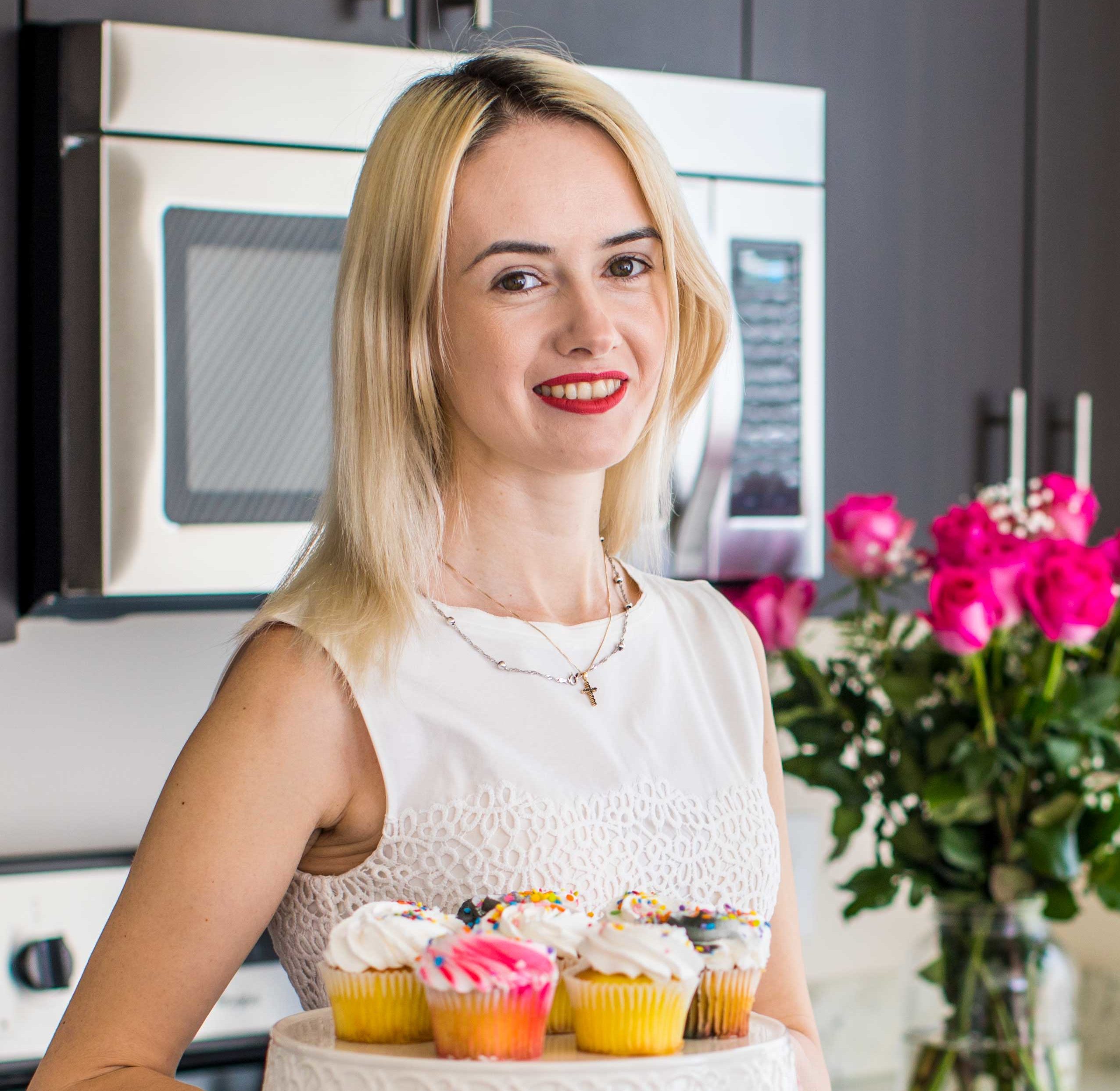 Follow us on Pinterest for more delicious recipes!
Why You'll Love This Ricotta Bundt Cake:
Festive and colorful the Ricotta Bundt Cake is perfect for a special occasion or birthday party.
Endless colorful possibilities, mix and match as you like.
Delicious flavor and texture.
So good that kids and adults will love it equally.
Perfect project to do with the kids, everyone will have so much fun.
Ricotta Bundt Cake Recipe Tips:
I prefer using a silicone bundt cake pan when baking bundt cakes. It just makes the removal process so much easier and its guaranteed that the cake won't stick to the pan.
Using gel food color is key here, as it won't add much extra liquid to the batter, a few drops will create gorgeous colors.
Be careful when you add another colored layer. Carefully level it out with the back of a spoon or spatula on top of the other level, without mixing it in.
If you will be using a silicone bundt cake pan consider that it heats up quicker than a regular pan. Hence, check for doneness a few minutes earlier.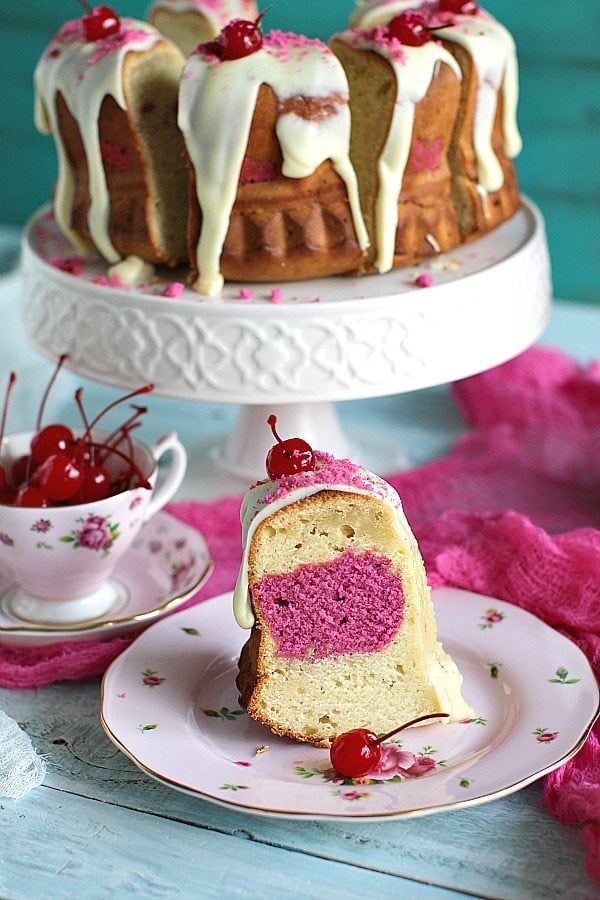 Can you freeze Ricotta Bundt Cakes?
Yes, you can! Cool the cakes completely and do not frost. Wrap tightly each cake in freezer wrap and add them in batches to freezer bags. They can be stored frozen for up to 3 months.
Tools/Ingredients I used to make this Cherry Almond Ricotta Bundt Cake Recipe:
Gel Food Coloring – this set comes in a variety of colors and it won't water down your recipe
Silicone Bundt Cake Pan – I like how easy it is to bake using silicone pans, they are non sticks which helps a lot with cake removal
Save Recipe
Ricotta Bundt Cake
Author: Catalina Castravet
Serves: 14 servings
Prep time:

30

minutes
Cook time:

1

hour

10

minutes
Total time:

1

hr

40

mins
Ingredients
Almond Ricotta Layer:
Cherry Layer:
Chocolate Godiva Icing:
Instructions
Cherry Layer:
Assembling:
Nutrition information
Calories: 596 Carbohydrates: 82 Protein: 11 Fat: 26 Saturated Fat: 17 Cholesterol: 97 Sodium: 332 Potassium: 346 Fiber: 2 Sugar: 48 Vitamin A: 420 Vitamin C: 0.2 Calcium: 239 Iron: 3.6
Save Recipe
More recipes you might love