Cherry Almond Ricotta Bundt Cake
This post may contain affiliate links. Please read my disclosure policy.
Cherry and almond flavors are combined in a soft and velvety Ricotta Bundt Cake topped with white chocolate icing and maraschino sweet cherries.
This post contains affiliate links at NO extra cost to you, I just like sharing the things that I love and worked for me. Thank you for your support and for reading Peas & Peonies.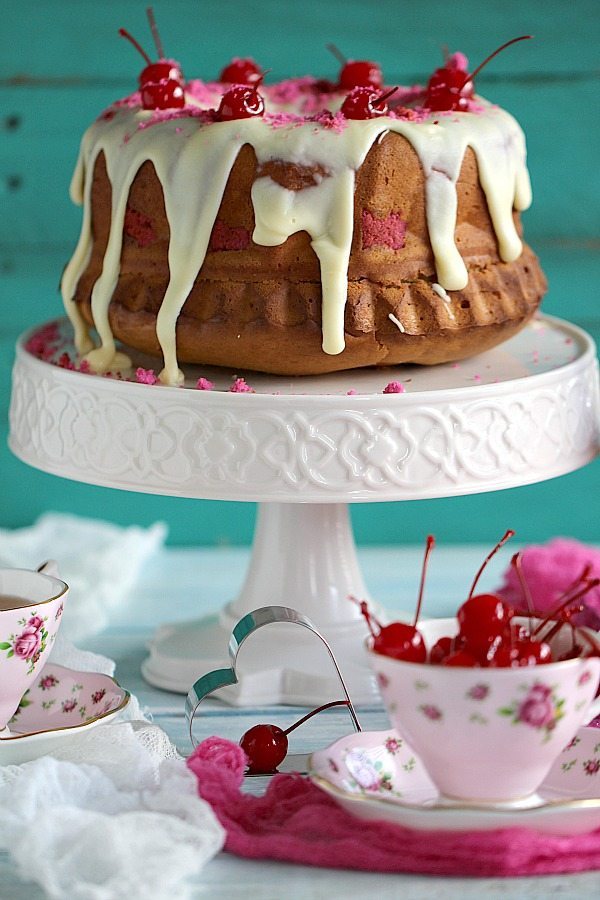 I love a good ricotta cake, but I am a sucker for cute desserts so baking a Ricotta Bundt Cake was a must for me. To make it more festive I have played with flavors and colors, so you can make it for a special occasion or holiday.

In this Ricotta Bundt Cake I have combined two amazing flavors, almond and cherry, and the end result is such a flavorful, sweet, soft and delicious cake. The ricotta definitely enhances the texture of this cake, making it velvety, dense, moist and rich without adding any butter.
The middle of the Ricotta Bundt Cake is a cherry flavored yellow cake, which well, I made it pink. The pink color is optional, but it adds such a nice pop of color, and it definitely makes the cake look more chic and styled. I have developed a new obsession with maraschino cherries, I eat them now straight out of the jar!

MY LATEST VIDEOS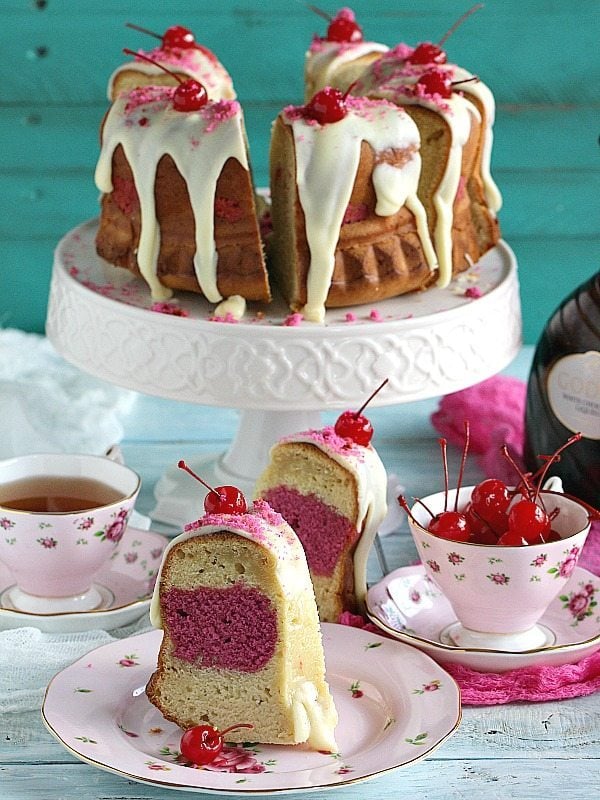 All I can say is OMG, the Godiva White Chocolate Liqueur adds such a nice and subtle touch, and the white chocolate icing is the perfect bed for those cherries and it adds a level of sweetness to this delicious cake. The Cherry Almond Ricotta Bundt Cake was a huge success, both in terms of flavor and texture, so if you a looking for an easy, festive and delicious bundt cake, give this one a try!
Tools/Ingredients I used to make this Cherry Almond Ricotta Bundt Cake Recipe:
Gel Food Coloring – this set comes in a variety of colors and it won't water down your recipe
Silicone Bundt Cake Pan – I like how easy it is to bake using silicone pans, they are non sticks which helps a lot with cake removal
Cherry Almond Ricotta Bundt Cake
Cherry and almond flavors are combined in a soft and velvety ricotta bundt cake topped with white chocolate icing and maraschino sweet cherries.
Author:
Katalina Kastravet
Ingredients
Almond Ricotta Layer:
3 ½ cups all-purpose flour
1 ½ teaspoons baking powder
1 teaspoon baking soda
½ teaspoon salt
2 cups ricotta cheese
2 cups granulated sugar
4 large eggs
8 ounces sour cream
½ cup vegetable oil
1 ½ teaspoons almond extract
Cherry Layer:
1½ cups all-purpose flour
¾ cups granulated sugar
1½ teaspoons baking powder
½ teaspoon salt
½ stick butter, softened
½ cup milk
¼ cup vegetable oil
2 large eggs
1 teaspoon cherry extract
Pink Gell Food Coloring
Chocolate Godiva Icing:
7 ounces white chocolate
2 tablespoons heavy whipping cream
2 tablespoons Godiva White Chocolate Liqueur
Maraschino cherries
Instructions
Preheat oven to 350 F.
Spray a 11inch bundt pan (preferably a silicone one) with non-stick cooking spray.
Almond Ricotta Layer:
In a large bowl, mix dry ingredients:flour, baking powder, baking soda and salt.
In the bowl of a stand mixer fitted with the wire whisk, on medium speed beat the eggs, gradually add the sugar and beat until light and fluffy.
Add ricotta cheese, oil and almond extract, mix until fully combined, pause to scrape the sides of the bowl with a spatula.
Add the dry ingredients followed by the sour cream. Mix until blended taking care not to overbeat.
Cherry Layer:
In a medium bowl mix dry ingredients: flour, sugar, baking powder and salt.
In the large bowl of an electric mixer, whisk softened butter on medium speed for 1-2 minutes.
Add dry ingredients and combine with butter for 30-40 seconds.
Add milk, oil, cherry extract and eggs one at a time, mix until well blended. Pause and scrape the sides of the bowl with a spatula. Add the pink gel food coloring, a few drops at a time, until you achieve the desired pink hue.
Assembling:
Place silicone bundt cake pan on a cookie sheet.
Scoop some almond ricotta cake batter into the bundt pan to line the bottom of the pan. Top with scoops of cherry pink batter, preferably 1 inch from the bundt cake bowl walls. Top with the remaining almond ricotta batter. Bake for 60 minutes or 70 minutes, until a toothpick inserted in the middle of the cake comes out clean.
Remove from the oven and let cool on a wire rack for about 25 – 30 minutes, then turn out the bundt cake onto a cake plate. Store at room temperature in an airtight container or cover with a cake dome. Allow the bundt cake to cool completely before icing.
Bring a medium saucepan half filled with water to a boil. Place white chocolate in a medium bowl set over the saucepan of simmering water, let it melt, stirring just a few times. Make sure the bowl doesn't touch the boiling water, to avoid overheating. Mix in liqueur and heavy whipping cream and mix until smooth, if there are still lumps, add another tablespoon of heavy whipping cream. Remove bowl from heat and pour the chocolate over the chilled bundt cake, immediately top with maraschino cherries. Sprinkles and cake crumbs can be added too.
Let stand for 15-20 minutes before serving for the chocolate to settle, or better place cake in the fridge for the chocolate to harden quicker.
Peas and Peonies, LLC. owns the copyright on all images and text and does not allow for its original recipes and pictures to be reproduced anywhere other than at this site unless authorization is given. If you enjoyed the recipe and would like to publish it on your own site, please re-write it in your own words, and link back to my site and recipe page. Copying and/or pasting full recipes to social media or personal blogs is strictly prohibited. Sharing this recipe is very much appreciated and encouraged. Read my disclosure and privacy policy. This post may contain affiliate links.