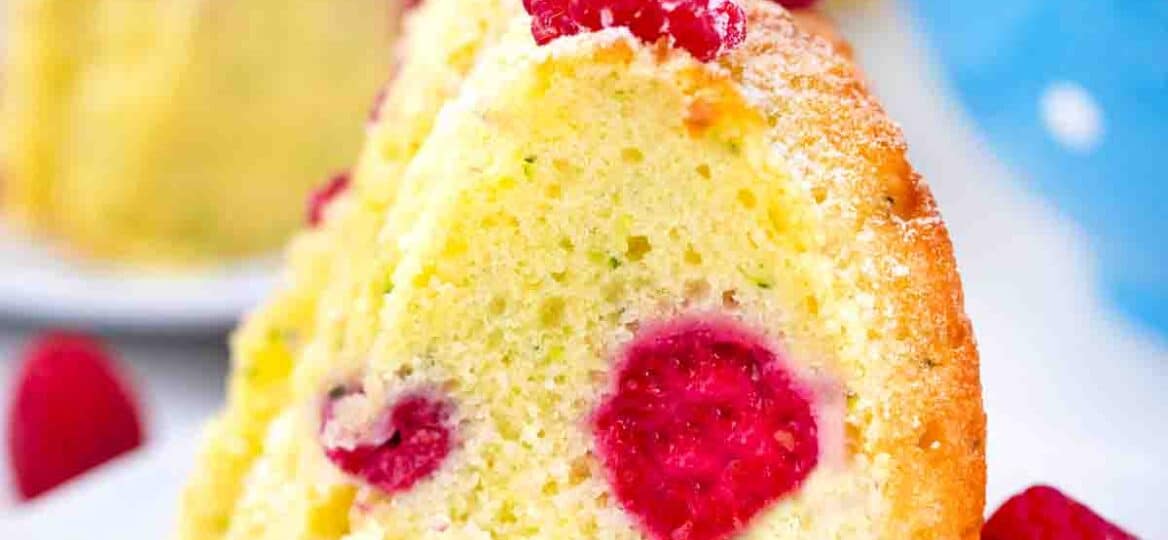 Zucchini Raspberry Cake Recipe
Zucchini Raspberry Cake is an incredibly yummy and rich dessert made with fresh zucchini and raspberries, and lemon zest for a refreshing flavor. This zucchini cake recipe can be changed to make it your own by adding or deleting certain ingredients.
Most people think a zucchini cake would taste horrible. However, that is far from the truth. Zucchini has been around since 1492 when Christopher Columbus brought them to America with peppers, potatoes, tomatoes, and other veggies.
Most people have had it in salads and other savory dishes, and some have even enjoyed zucchini bread. But do not pass up this zucchini raspberry cake recipe just because it does not sound good, or you will miss out on something absolutely delicious.
If you like growing zucchini, this is the perfect recipe for you because it seems like you always have extra zucchini! You just need a large bowl of grated zucchini, raspberries, ricotta cheese, lemon juice and zest, and vanilla bean with basic baking ingredients.
Many other online recipes call for different kinds of fruit, but I thought the raspberry cake would be perfect to bake during the summer when you have extra zucchini.
Ingredients needed:
To bake this delicious zucchini raspberry cake, all you need are the ingredients listed here. After you gather these items, find the recipe card at the bottom of this page where we have the step-by-step instructions and precise measurements. And you can print the handy recipe card to save for another time.
Grated zucchini: Drained.
Fresh or frozen raspberries
Unsalted butter
White granulated sugar
Large eggs
Lemon zest
Fresh lemon juice
Vanilla bean
Ricotta cheese
All-purpose flour
Baking powder: Not baking soda.
How to make zucchini raspberry cake from scratch?
Preheat your oven: Preheat the oven to 350 degrees F and grease a bundt cake pan with non-stick baking spray. You can also add parchment paper if you are worried about sticking.
Beat the butter: Now, beat the butter and sugar in the mixing bowl of your stand mixer for several minutes until it is pale and fluffy.
Add the rest of the wet ingredients: Then, slowly add eggs, one at a time, beating after each one before mixing in the ricotta, vanilla bean, lemon juice, and lemon zest.
Sift together the dry ingredients: Next, add the flour mixture to the batter and stir until incorporated before stirring in the zucchini.
Fold in the raspberries: Last, gently stir in the raspberries before you pour the batter into the prepared pan and bake for 50 to 55 minutes.
Let it cool before serving: Finally, remove and let it cool in the pan for five minutes before turning it out onto a wire rack to cool completely before serving.
Recipe variations:
Other fruits: Feel free to add or substitute your own favorite fruits. Zucchini blueberry cake would be outstanding. Or you can try strawberries, blackberries, or peaches.
Mixed wheat and white: Instead of regular, you can use finely ground wheat flour. Or if you use coarse flour, try half-white mixed with wheat. I used prairie gold white whole wheat flour.
Add chips: For a chocolatey zucchini raspberry cake, add one cup of mini chocolate chips.
More chocolate: To make this cake even more chocolatey, add a half-cup of cocoa powder.
Add nuts: If you like a crunchy cake, stir in a cup of chopped nuts like walnuts, pecans, or peanuts.
Better health: For a healthier cake, mix in some flaxseed, chia, or hemp seeds.
Other flavors: Instead of vanilla bean or extract, try a different flavor like raspberry, orange, blackberry, or maple extract.
How to serve:
Our zucchini raspberry cake is the perfect recipe for a celebration, family dinner, or snack anytime. It is light and refreshing with sweet raspberries and a rich and tender cake. Here are some great serving ideas to try or you can share some of your own with us in the comments section.
Sprinkle some sifted powdered sugar on top for a sweeter-tasting zucchini raspberry cake.
Top with lemon cream cheese frosting. Just make our easy homemade cream cheese frosting and add lemon juice. Be sure to use softened cream cheese for easier mixing and the smoothest frosting. Just mix cream cheese, powdered sugar, and lemon juice in a small bowl.
You can also add fresh or frozen raspberries on top of your finished cake. Fresh raspberries add the best flavor and texture.
Use leftover zucchini raspberry cake to make a casserole like this amazing cheesy zucchini casserole.
Serve with a side of vanilla ice cream for an indulgent treat.
If you want a more festive cake for a party or celebration, top it with our homemade rich whipped cream and add some rainbow sprinkles.
Sprinkle leftovers on top of ice cream, pudding, or yogurt for a tasty topping.
Frequently asked questions
Can I use a different cake pan?
Yes, but try to keep the depth of the batter about 2/3 of the way full. You may also need to change the baking time or temperature. For example, if you are using a large cake pan that is 9×13 inches, increase the cooking temp to 375 and shorten the cooking time to 35 to 40 minutes. A good rule of thumb to follow is to lower the oven temp by 25 degrees and increase the baking time if the batter is deep.
How do I make cake flour?
First, measure out the amount your recipe calls for. Then, remove two tablespoons for every cup. For example, if your recipe calls for two cups, you will remove four tablespoons. Then, add two tablespoons of cornstarch for each cup. If you have two cups, add four tablespoons. Then, be sure to sift it at least five times before using it.
Should I thaw my frozen raspberries first?
No, because the longer they cook, the more the juices will bleed out. First, put your raspberries in a large bowl and add two tablespoons of flour. Then, toss until they are thoroughly coated. This will keep them from sinking to the bottom of the cake and helps prevent them from bursting.
Can I use a different veggie?
Yes, you can actually use eggplant as the best substitute. It has a similar taste and texture when cooked. Yellow squash is also an excellent substitute. Spaghetti squash is on the list of the top five substitutes for zucchini. One other squash, pattypan, is not as easy to find but if you can find it, use it.
What are the nutrition facts in this recipe?
Each serving has 180 calories, 10 grams of fat, 5 grams saturated fat, 32 mg cholesterol, 24 grams carbs, 14 grams of sugar, and 135 mg sodium. But you also get 2 grams of fiber, 4 grams of protein, 4 mg of vitamin C, 20 mg of calcium, 110 mg potassium, 1 mg of iron, and 623 units of vitamin A.
How to store leftovers:
Store: Refrigerate your leftovers for three to four days in an airtight container.
Freeze: To freeze, slice the cake into serving-size pieces and wrap each one with plastic wrap. Then place them all in a freezer bag to freeze. That way, you can remove only what you need.
Thaw: Do not forget to put your frozen cake in the fridge to thaw overnight before you serve it.
More recipes with raspberries:
Baking tips:
I like to use as many organic ingredients as I can find. Organic evaporated cane sugar is especially nice.
Make sure you beat the batter for about two minutes at medium speed to get a fluffier and higher cake.
Drain and squeeze out the extra liquid from your zucchini to prevent it from being too watery.
Only frost the top of the cake and leave the sides bare for a more traditional bundt cake or naked cake.
You do not have to bother mixing the dry ingredients in a separate bowl before adding them in. You can skip this step if you like.
A food processor makes shredding the zucchini fast and easy.
Leave your frosting ingredients out while you make the cake, so they are at room temperature when you need them.
I use my stand mixer for just about everything. But if you do not have a stand mixer, you can use a medium bowl and an electric or hand mixer.
Zucchini Raspberry Cake
Ingredients
2/3

cup

unsalted butter

softened to room temperature

1

cup

granulated sugar

4

eggs

2

tablespoons

finely grated lemon zest

2

tablespoons

lemon juice

1

teaspoon

vanilla extract

1

cup

ricotta cheese

2

cups

all-purpose flour

2

teaspoons

baking powder

sifted

2

cups

grated zucchini

drained

1

cup

fresh raspberries
Instructions
Preheat oven to 350°F and grease a bundt cake pan with some baking spray.

Next, add the butter and sugar in a large bowl and using an electric mixer beat for a few minutes, until pale and creamy.

After that, add the eggs, one at a time, beating well after each addition. Make sure to scrape the sides and bottom of the bowl.

Add the lemon zest, juice, ricotta, and vanilla, and mix for another minute.

After that, add the dry ingredients: the flour, and baking powder, and mix until just combined.

Next, add the grated zucchini and using a rubber spatula fold them in and distribute them evenly.

Finally, add the fresh raspberries, and using the same rubber spatula, gently fold them in into the batter.

Transfer batter to the prepared bundt cake pan and bake for 50–55 minutes, or until a toothpick inserted into the cake comes out clean. Or with just a few crumbs, but NOT raw cake.

Allow the zucchini raspberry cake to cool in the pan for 10 minutes before turning it out onto a wire rack to cool completely.

Sprinkle with powdered sugar on top and decorate with fresh raspberries before serving.
Deliciousness to your inbox
Enjoy weekly hand picked recipes and recommendations