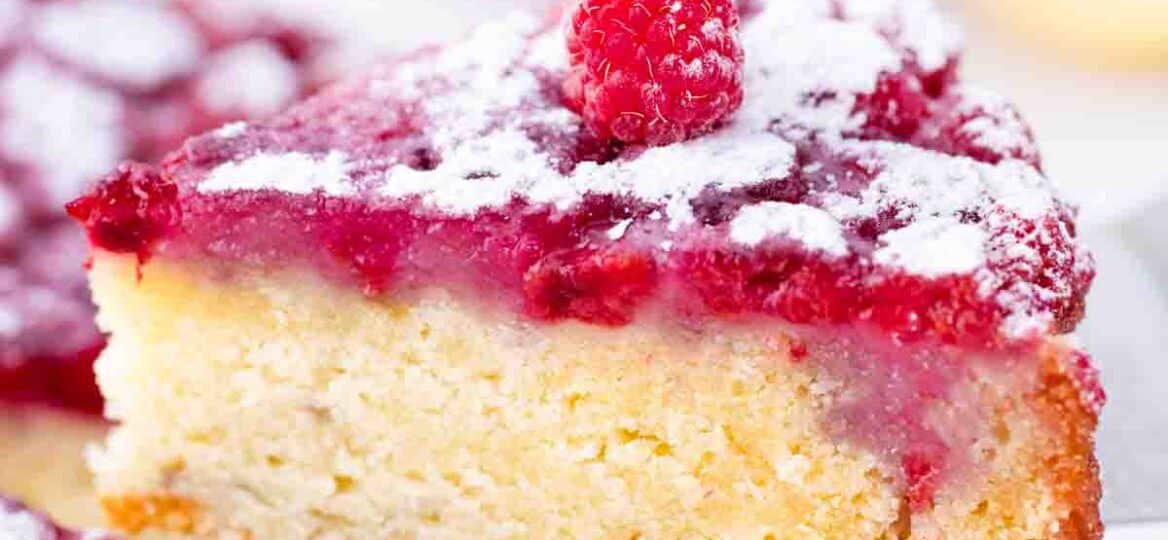 Raspberry Upside Down Cake Recipe
Raspberry Upside Down Cake is a buttery and delicious sweet and tart dessert, that is easy to make and festive enough for a special occasion. With fresh raspberries, brown sugar, butter, lemon juice, and lemon zest at the bottom, when you flip it you will have a crusty sweet topping. No need for frosting! It does not get much easier than that!
According to the Dole Company, you have them to thank for this delicious cake recipe. Well, maybe not this exact recipe. But the pineapple upside down cake was invented in the 1920s when Dole held a pineapple recipe contest. The winner was Mrs. Rob Davis who lived in Norfolk, Virginia. But since there were 2,500 similar recipes of the same version, it is kind of a moot point.
It is not difficult to make this yummy raspberry upside-down cake. In fact, you only need a handful of basic baking ingredients and some raspberries, ricotta cheese, and lemon to have this yummy dessert after dinner tonight! You can change it up to meet your tastes with different fruits or make it exactly as it is. Either way, your family will love it!
Ingredients needed:
To make this delicious raspberry upside down cake recipe, gather the ingredients listed here. Then, find our handy recipe card at the bottom of the page for the measurements and instructions.
Topping ingredients:
Raspberries

Brown sugar
Lemon juice
Lemon zest
Melted butter: Unsalted butter is best.
Cake ingredients:
All-purpose flour
Milk
Large egg
Softened butter
Granulated white sugar
Vanilla extract
Lemon juice
Lemon zest
Ricotta cheese
Raspberries
Baking powder: Not baking soda.
Kosher salt
Powdered sugar: Optional.
How to make raspberry upside down cake from scratch?
Preheat oven: First, preheat your oven to 350 F and spray a high-sided springform or regular pan with nonstick baking spray.
Whisk together the topping: While you wait, whisk together melted butter, lemon juice, lemon zest, and brown sugar in a medium bowl and spread it in the bottom of the pan.

Arrange raspberries: Next, spread two cups of raspberries evenly on top of the brown sugar mixture. It should cover the entire bottom of the pan. Set aside.

Whisk the dry ingredients: Then, whisk flour, baking powder, and salt in a large bowl or the bowl of a stand mixer.

Beat the wet ingredients: Next, in a separate bowl, beat vanilla, lemon juice, lemon zest, ricotta, egg, granulated sugar, and butter on low speed until combined, scraping the bowl occasionally.

Beat remaining ingredients: Combine the flour mixture with the butter mixture and beat until they are combined. It should look crumbly. Then, add milk and beat it until it is incorporated, scraping the bowl constantly. Fold in the raspberries.
Add cake batter: Now, carefully pour batter on the raspberries spreading gently with an offset spatula so it does not move the berries. Bake for 35 to 40 minutes or until it is golden, and passes the toothpick test.

Let it cool: Then, remove the pan from your oven and let it cool for 10 minutes in the baking pan on a wire rack. After, run a knife along the pan's edges to release it before turning it out onto a serving platter.

Serve warm cake: Finally, let it cool a little bit more, sprinkle on powdered sugar, and serve warm.
Recipe variations:
Different flavors: You can use any fruit that you like for this upside down cake. Raspberry upside down cake is my favorite but you could also use strawberries, blackberries, blueberries, or even apples.

Creamier cake: For a creamier cake, use heavy cream instead of milk.

Less sugar: If you do not want your cake super sweet, use 1/2 cup sugar instead of 3/4 cup.
Cake mix: Shorten prep time by using a cake mix. You can use angel food, sponge cake, or just a basic white cake mix.

Two cakes: Instead of one cake, use two small cake pans to make two cakes. Double delicious.
Frozen is fine: Instead of fresh raspberries, you can use frozen raspberries if they are not in season in your area.

Chocolate lovers: The chocolate fans in your family would love some chocolate chips in the cake batter.
How to serve:
This raspberry upside down cake is full of delicious flavors and a light and fluffy center. It goes well with any kind of ice cream or toppings. Here are some great serving ideas or share some of your own in the comments section below.
Sprinkle some sweetened or toasted coconut on top for a different twist.

All cake goes well with ice cream. Try a small bowl of one of our sweet and delicious ice cream recipes like our scrumptious blackberry ice cream with chocolate chips.

Make your cake extra rich. Melt butter and pour it on top of the cake before serving.

Another yummy way to top this cake is with a dollop of whipped cream. We have a fast and easy whipped cream recipe you can use.

Drizzle some chocolate syrup and chocolate chips on top for the chocolate lovers in the family.
You can also top your raspberry upside down cake with frosting. Try this rich cream cheese frosting for a decadent dessert.

To make it extra festive, add a cup of rainbow sprinkles.
Frequently asked questions
Do I have to flip this cake?
The whole reason it is called an upside down cake is because the topping is at the bottom. This makes a crispy and delicious topping without even having to frost your cake. If you really want your raspberry topping on the bottom, you can do it that way and just sprinkle powdered sugar on top.
What is the easiest way to flip a cake?
The most important thing is to make sure your cake pan is well-oiled or lined in parchment paper. If the sticky brown sugar mixture sticks to the bottom, your cake will not come out right. Also, wait 10 minutes and then place a serving plate on top of the cake while it is still in the pan. Then turn it upside down and let gravity take care of it.
Why is my cake so dry?
It could be that the measurements were off a little bit. Make sure you measure your flour properly. Do not scoop it. Use a spoon to lightly fill the mixing cup and then level it with a knife. It may also be that the oven was too high or that you cooked it too long.
Does it matter which side of the parchment paper goes up?
Almost all parchment paper is double-sided so you really should not have to worry about that. Whether you use the kind on the roll or precut sheets, you should be able to use either side. If the parchment paper you get tells you that you have to place it a certain side up, you may want to switch brands.
What are the nutrition facts in this recipe?
Each serving of this yummy raspberry upside down cake has 335 calories, 12 grams fat, 8 grams saturated fat, and 1 gram trans fat. It also has 54 grams of carbohydrates, 51 mg cholesterol, 145 mg sodium, and 33 grams sugar. On the other hand, you also get 4 grams protein, 170 mg potassium, 4 grams fiber, 420 units vitamin A, 9 mg vitamin C, 70 mg calcium, and 1 mg iron.
More recipes with raspberries to try:
How to store leftovers:
Store: You can store your leftover raspberry upside down cake in an airtight container at room temperature for three days or in the fridge for five to seven days.

Freeze: Freezing is not recommended.
Recipe tips:
Oven times vary depending on what type of pan or dish you use, what kind of oven you have, or which rack you bake it on. But the toothpick test never lies. If a toothpick inserted into the center comes out clean, your cake is ready.

Be sure to use enough raspberries to cover the bottom of the pan because that will be the top of your cake when it is done.

Let your cake cool for at least 10 minutes before turning it out onto a serving plate so the brown sugar has time to set up properly.

If using a springform pan, place a piece of aluminum foil on the bottom or bake on a cooking sheet to catch any of the sugar and butter mixtures that may leak out the bottom.
For easier removal, place a heatproof serving plate on the top of the pan and flip it over that way. Leave the pan on the cake to let all the sugar mixture drizzle down.
Instead of spraying the pan, you can use parchment paper.

If you do not have a stand mixer, you can use an electric mixer instead.
Raspberry Upside Down Cake
Ingredients
Topping:
1/4

cup

unsalted butter

melted

1/2

cup

brown sugar

1

teaspoon

lemon juice

1

teaspoon

lemon zest

2 1/3

cups

raspberries

or enough to cover the bottom of the pan
Cake:
1 1/3

cups

all-purpose flour

1

teaspoon

baking powder

1/4

teaspoon

salt

1/4

cup

unsalted butter

softened to room temperature

3/4

cup

granulated sugar

1

large egg

1 1/2

teaspoons

vanilla extract

1

teaspoon

lemon juice

1

teaspoon

lemon zest

1/2

cup

milk

1/3

cup

ricotta

1/2

cup

fresh raspberries

powdered sugar

optional
Instructions
Preheat the oven to 350F degrees.

Spray a 9" springform pan with nonstick cooking spray and wrap the bottom and sides in foil to avoid the butter/sugar mixture leak out the bottom.

In a medium bowl, whisk together the topping ingredients, except the raspberries.

Next, spread the mixture into the bottom of the prepared pan and top with raspberries in an even layer, to cover the bottom of the pan entirely. Set aside.

In a large bowl, whisk together flour, baking powder, and salt, and set aside.

In another bowl, beat together the butter with granulated sugar, egg, vanilla extract, lemon juice, and lemon zest, until combined. Scrape the sides and bottom of the bowl.

Add the wet ingredients to the dry ingredients bowl and beat until combined. It will look crumby, which is normal.

After that, add 1/2 cup milk and ricotta and beat until incorporated.

Lastly, fold in the raspberries, using a rubber spatula.

Spoon the batter over the raspberries and level the top with an offset spatula.

Bake in the preheated oven for about 35-45 minutes until golden or until a toothpick inserted into the center comes out clean. Oven times vary so check with a toothpick first to ensure doneness.

Remove from the oven and let cool in the pan for 10 minutes. After that, run a knife along the pan's sides, open the pan ring, and slice the cake onto a serving platter.

Let finish cooling and dust the top with powdered sugar before serving.
Deliciousness to your inbox
Enjoy weekly hand picked recipes and recommendations