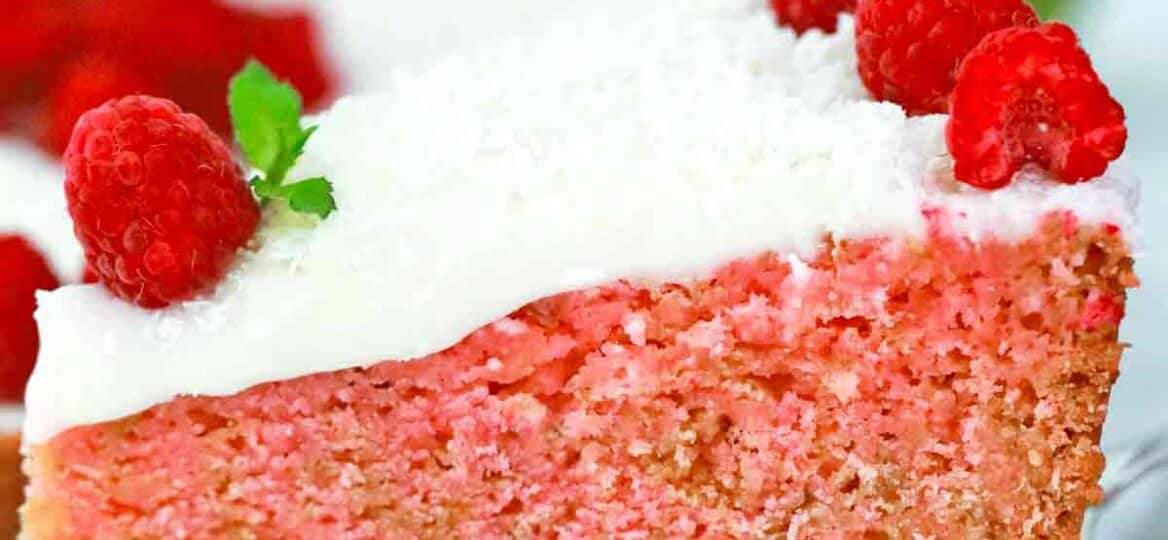 Slow Cooker Raspberry Cake Recipe [Video]
Slow Cooker Raspberry Cake is not difficult to make with just a handful of ingredients like flour, raspberry Jello, raspberries, milk, coconut oil, eggs, lime, and vanilla. The frosting is simple too with just shredded coconut, powdered sugar, vanilla, milk, and cream cheese.
You may think your slow cooker can only cook meats, stews, and soups, but you really can bake a delicious cake in your slow cooker anytime. Or if you are in a hurry for some berry dessert, try this Instant Pot Berry Cobbler. Another option for the slow cooker is this Peach Upside Down Cake or Coffee Cake. Or try this Blackberry Cobbler if you do not have any raspberries.
Crock Pot Raspberry Cake
This decadent cake is great for a birthday or other occasion or just for any day of the week. After all, it does not have to be a special occasion to eat cake, right? Using your crockpot to make cake is just as easy as using it to make other dishes. Just put in the ingredients, turn it on, and forget about it for a while.
Whether you are making this cake for a snack or a party, you do not need much time to bake it in your slow cooker. Even though it is called a slow cooker, when it comes to making cake, it does not take all day as some meats and stews do.
In fact, to make a cake, just gather up your ingredients and get started. Some of the items you need are flour, raspberry Jell-o, coconut oil, raspberries, milk, eggs, lime, shredded coconut, powdered sugar, vanilla, and cream cheese.
Ingredients needed:
For the exact measurements, check the recipe card below.
For the cake:
Fresh raspberries: Washed and drained.
Lime juice: Fresh or in a bottle.
Lime zest: You can make your own with lime peels.
Raspberry Jell-o: You can use generic gelatin if you cannot find Jello.
Eggs: We used extra large but large will do.
Milk
Baking powder: Not baking soda.
Flour: Sifted.
Vanilla extract: Natural pure is best.
White sugar: Granulated sugar.
Coconut oil: Melted.
Butter: Melted butter.
Salt: Any kind will do.
For the frosting:
Raspberries: Fresh is preferred.
Coconut: Sweetened and shredded.
Powdered sugar: Has to be powdered.
Vanilla extract: Natural and pure.

Milk: Preferably whole milk.
Cream cheese: Softened.
Mint leaves: For the topping.
How to make slow cooker raspberry cake batter?
Heat it up: First, spray the slow cooker with cooking spray and put the lid on it. Turn it on to the highest setting and cook on high.
Mix: Then, using a medium bowl, combine the Jello, salt, baking powder, and flour.

Mixer bowl: After that, using the mixer bowl of your stand mixer, combine the vanilla, sugar, oil, and melted butter. Beat until it is creamy and smooth.

Blend: Next, add in the juice, zest, and eggs and blend well.

Combine: Go ahead and add the dry ingredients you mixed just a bit at a time, alternating with the milk until it is all combined and smooth.

Add: Next, take the mixing bowl out of the mixer stand and fold in the raspberries gently.

Cook: Afterward, pour the batter into the slow cooker and cover, cooking for two hours on high.

Store: Lastly, store the cake in an airtight container in the fridge for 4-5 days.
Freeze: Actually to freeze it, first let it cool. After that, wrap it in plastic wrap, afterward in foil, and place in a freezer-safe Ziploc bag. Next, freeze for up to 3 months.
Defrost: When ready to serve, plan in advance and let it thaw in the fridge overnight.
How to make the frosting:
Mix the ingredients: First, add the powdered sugar, vanilla, milk, and cream cheese together in the mixing bowl.

Beat it smooth: Next, beat it on medium until it is smooth and creamy.
Frost: After the cake is out of the slow cooker and cooled for about two hours, frost gently with a spatula.

Decorate: Finally, sprinkle coconut on top of the cake and add a row of berries around the edges and in the middle of the cake.

Minty fresh: Lastly, place mint leaves in the middle of the berries for decoration and a tangy bit of mint flavor.
Recipe variations:
Lemon: For a twist, add a box of lemon pudding to the cake batter to give it a creamy and lemony flavor.

Make it chocolatey: Alternatively, pour in some white chocolate pudding mix for a chocolate raspberry flavor.

More raspberry flavor: Similarly, you can spoon some raspberry jam into the batter as well as the frosting.

Extra berries: Don't just stop with raspberries. In addition, try tossing in some fresh blackberries, strawberries, and blueberries.
How to serve:
You should serve this cake after it has cooled and frosted. Add the raspberries on top with the sprigs of mint in the middle atop a pile of raspberries. Here are a few of our other favorite serving ideas:
Try using homemade whip cream instead of frosting for a lighter taste.
In addition, put some other toppings on the side like chocolate chips, cherries, or any other topping you like.

Also, try to top it with homemade blueberry sauce or keto caramel sauce.

Another cute idea for a kid's party is to add gummy bears or candy fruit slices after it is frosted.

Alternatively, try Oreo buttercream frosting instead of the cream cheese frosting for a sweeter taste.

Similarly, you can also serve it with vanilla ice cream on top.
Another option is to top it with homemade cherry pie filling or strawberry sauce and ice cream.
Actually citrus works really well, so add fresh lemon or lime zest and top it with lemon curd or lime curd.
Frequently Asked Questions
Do I have to refrigerate the leftovers?
Because of the cream cheese in the frosting, you should definitely put any leftovers in the fridge. Keep in mind to use an airtight container to keep it fresh longer. Actually, it can be kept in the fridge for up to four or five days. However, if you do not use frosting or choose to try a different kind of frosting, leaving it out on the counter is fine as long as it is covered.
Can I make anything I want in the slow cooker?
While you can make just about anything in the slow cooker or crockpot, there are some dishes that just do not turn out very well using this method.
For example, delicate veggies can sometimes turn to mush because of the moisture. Also, Couscous is another dish best cooked a different way unless you like it mushy.
More Cake Recipes:
Recipe tips:
Line the bottom of the slow cooker with parchment paper to make it easy to remove.

Be sure to always preheat your crockpot before using it.

Alternatively, use a vanilla or lemon cake mix and add raspberries to save a bunch of time.
In fact, why not try a different flavor cake mix for a whole new twist?
Another nice tip is to place a clean dish towel over the crockpot before putting the lid on to absorb condensation.

Remember, not all slow cookers cook at the same temperature so check the cake every 15 to 20 minutes after the first hour.
Deliciousness to your inbox
Enjoy weekly hand picked recipes and recommendations