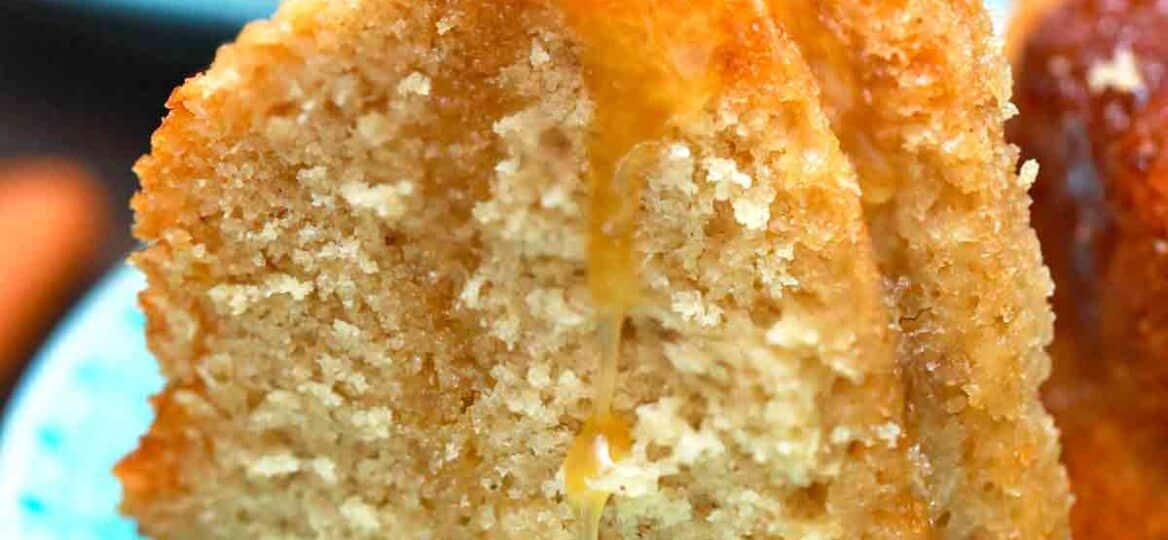 Kentucky Butter Cake [Video]
Kentucky Butter Cake is an unbelievably moist vanilla-butter Bundt cake drenched in a gooey brown sugar butter sauce. Rich, oozing with buttery flavor, and always an instant hit!
For more insanely decadent treats, you have to try this candy bar-inspired Apple Snickers Cheesecake, Maple Sticky Buns, and Peanut Butter Mousse Brownies!
Butter Bundt Cake Recipe
Kentucky Butter Cake is intensely buttery with a dense but soft crumb. What makes this such a standout treat is the luscious butter-brown sugar sauce that gets soaked into every inch of the cake.
It's already rich and perfect on its own, but's also terrific with whip cream, fresh fruits, or a scoop of ice cream on the side!
What is homemade Kentucky Butter Cake?
It has a delightfully dense and buttery base with vanilla notes. Its unique ingredient is a sweet sauce that gets poured all over the fresh-baked treat! In addition, it gets its name from Kentucky bourbon, which is added to the glaze in the traditional version.
What makes Kentucky butter cake different from regular butter cake?
The sauce is definitely what makes it different from the usual cake. Today's recipe is also denser because that structure allows the treatment to absorb the sticky-sweet sauce without falling apart.
What makes butter cake different from pound cake?
The biggest one is measurement. Pound gets its name from the ratios of the original recipe— a 1:1 measurement of butter, eggs, sweetener, and flour. This makes it dense and very buttery and is one of the richest cakes even when it's eaten plain. Butter cakes have a very buttery, too, but it's lighter.
More Cake Recipes:
What ingredients do you need for homemade Kentucky Butter Cake?
Dry: All-purpose flour, both baking soda and baking powder for lift, and a bit of cinnamon for delicious spice flavor.

Wet: A full cup of room-temp butter, 4 pieces of eggs, a little vanilla, brown and white sugars, and buttermilk.
Sweet sauce: Brown and granulated sugars, a little water, butter, and a dash of vanilla.
How to bake homemade Kentucky Butter Cake?
Whisk. Take your flour and whisk it with the rest of the dry components.
Cream. Get your room-temp butter, and cream it for about 5 mins. with the sugars. Add an egg, then continue creaming them together until it's mixed in. Repeat with the rest of the eggs.
Mix. Add some of the flour mixes to the creamed butter-egg mix. Alternate mixing in the flour with the buttermilk, then finish with the vanilla.
Bake. Pour it all in your prepared Bundt pan, then bake at 350F for 60 mins.
Make the sauce. Boil the butter, water, and sugar together until completely dissolved, then remove from the stove and add the vanilla.
Poke. Into your freshly-baked cake, poke holes. Afterward, cover it with the sauce all over. Let it cool for only 10 mins., then remove.
Serve. Slice and enjoy!
Recipe Variations:
Add bourbon: Skip the water in the glaze and replace it with Kentucky bourbon. You can also use rum!
Add extracts: Switch up the glaze flavor by adding extracts like lemon, orange, or almond.
Top with nuts: Reserve some of the butter glaze for topping, then sprinkle with your favorite chopped nuts.
Add chocolate: You can definitely stir in some chopped chocolate or chips for a sweet surprise.
Why didn't my butter cake turn out fluffy?
Don't overmix! It's a common mistake that makes baked goods turn out tough instead of moist. Make sure not to overbake it as well— check with a metal tester or toothpick, and once they come out clean, get the pan out of the oven.
How do you make moist butter cake?
To create a moist crumb, add buttermilk into the mixture. We're also using two kinds of sugar— brown and white— for sweetness and moisture. Finally, give the sauce time to soak into the cake, so that every bite is super moist and soft!
How to serve:
Because this dessert is so decadent already, it's already amazing on its own, especially when served warm. But if you want to add something extra, try serving it with tangy blueberry or cranberry sauce on the side, or whipped cream. We also love it with sliced, fresh fruits, ice cream, and caramel sauce!
How do you store leftovers?
Keep it in an air-tight container once the glaze has set. It will stay fresh for up to 2 days on the countertop, and up to 5 days in the fridge.
How do you freeze it?
Once the glaze is dry and everything has cooled down, double-wrap with plastic cling. Keep frozen up to 3 mos. To enjoy, defrost and let it come to room temp before serving.
Recipe tips:
Make a DIY buttermilk substitute with just a few ingredients if you don't have any.
Use room-temp ingredients because they incorporate better.
Don't let the sauce sit for too long, or it might stick to the pan. Unmold the dessert for 10 mins. after glazing it.
Deliciousness to your inbox
Enjoy weekly hand picked recipes and recommendations