Apple Snickers Cheesecake [Video]
Apple Snickers Cheesecake is not your ordinary dessert! It has your favorite chocolate bar and fruit rolled into one unique and unforgettable cheesecake!
A great meal ends with a great dessert! And if you are looking for one, then, this recipe is just for you! Have you ever seen our desserts archives? It is a goldmine of all things sweet! Check out our recipe for the Flourless Peanut Butter Cookies, Peach Cobbler, and Strawberry Banana Bread!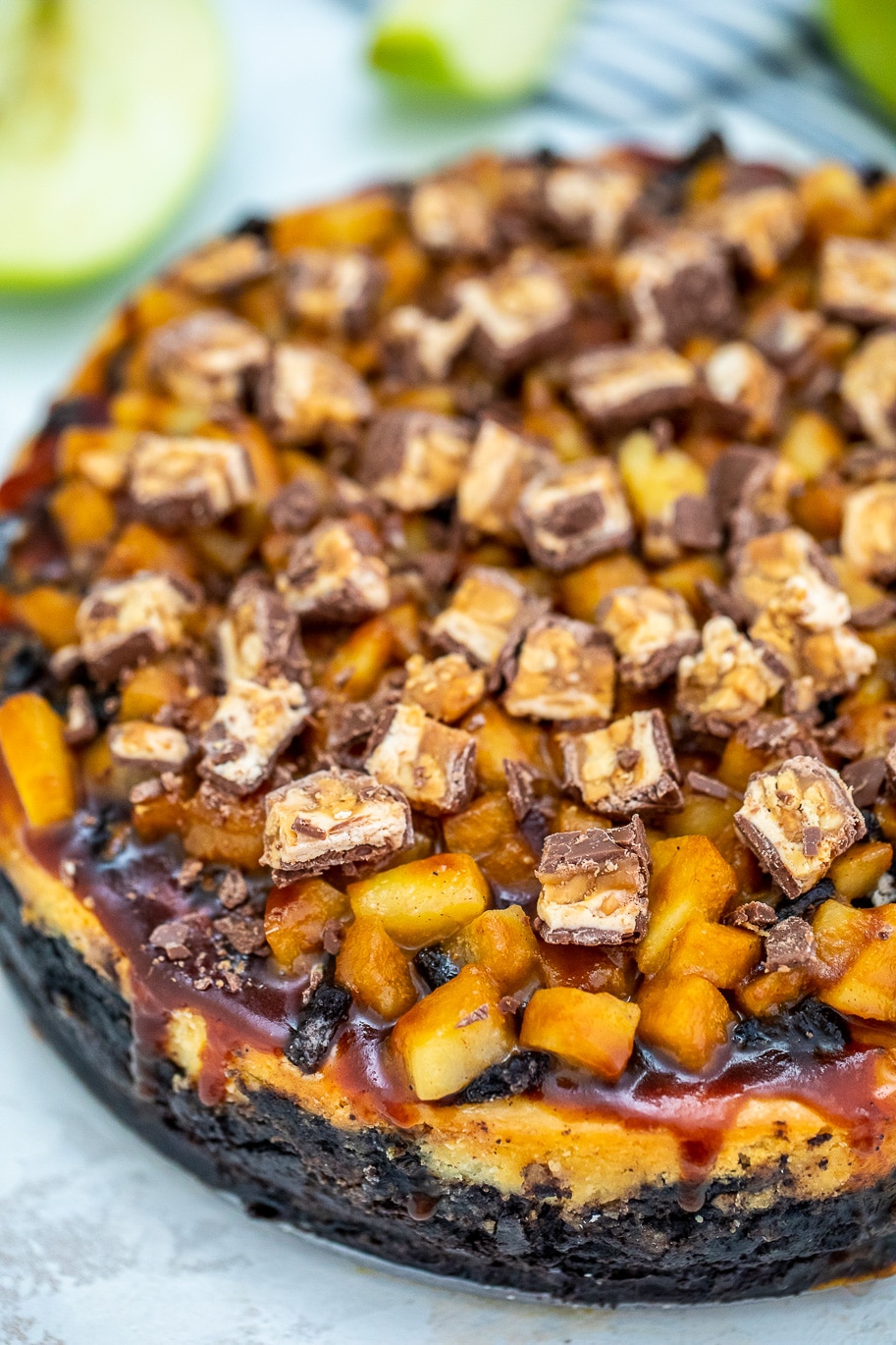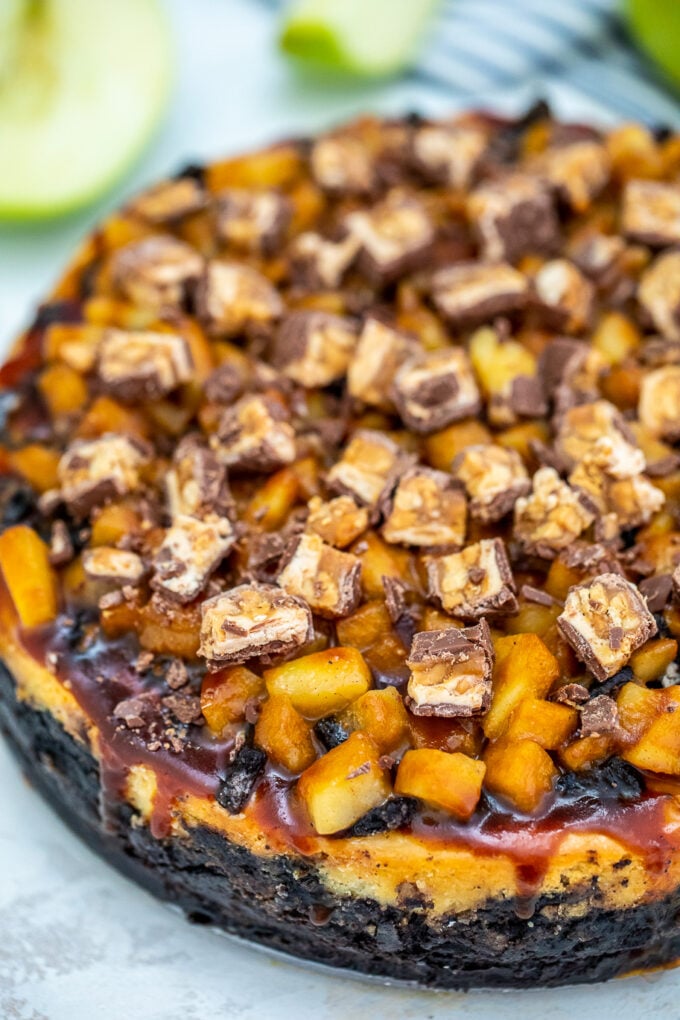 Apple Snickers Cheesecake
This Apple Snickers Cheesecake recipe is one for the books! It perks me up when I have it in the afternoon, too, with a warm cup of coffee.
The crust is made out of Oreos which is a perfect balance to the tartness of the filling. The apples also play a great balancer in all the flavors that you can taste in this delightful dessert.
And those are not just apples, but cinnamon apples! The combination of cinnamon, nutmeg, and sugar enhances the fruit.
Just by thinking about all of these, my mouth starts to water. Let me know how your dessert turns out as you follow this recipe!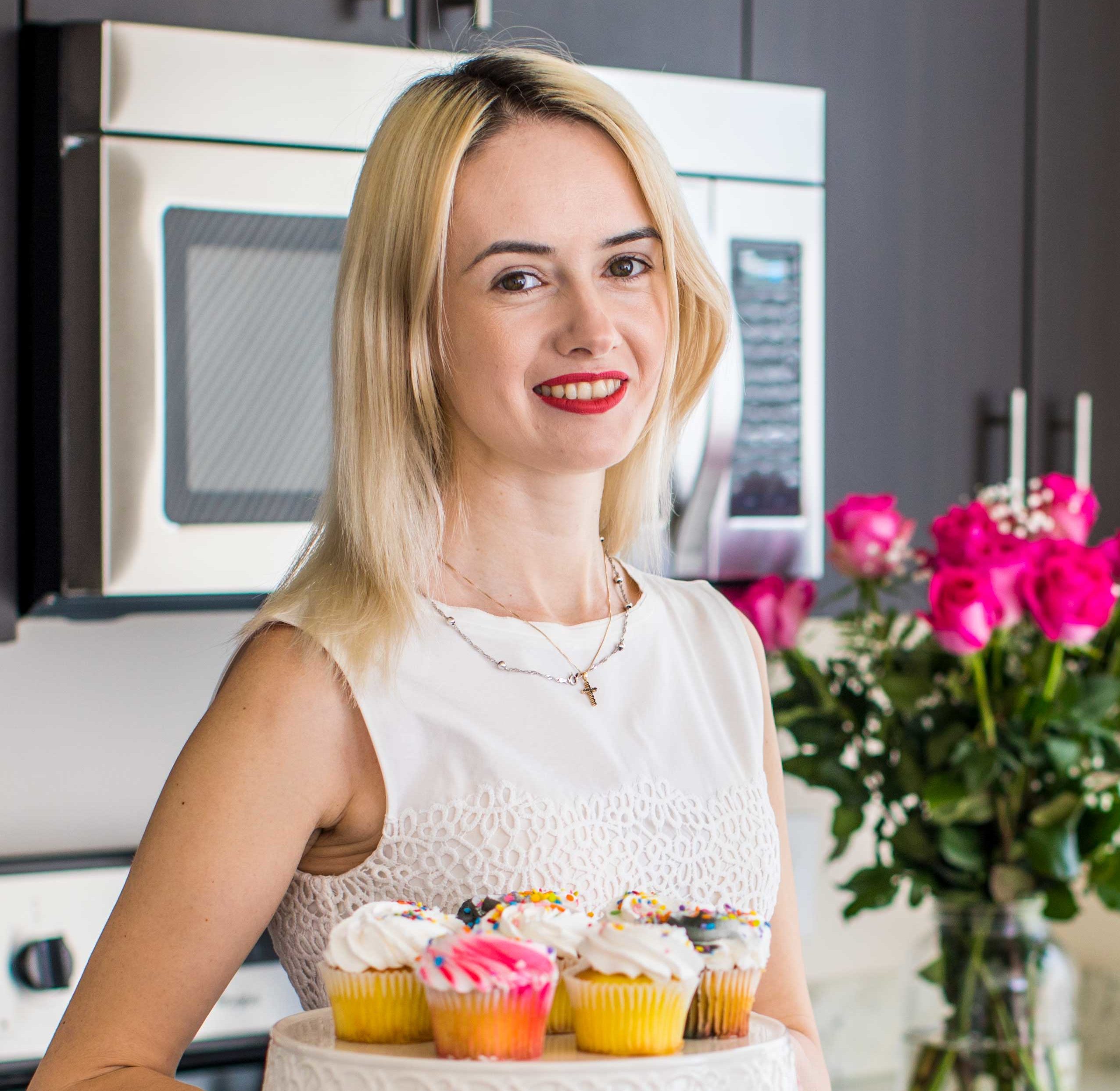 Follow us on Pinterest for more delicious recipes!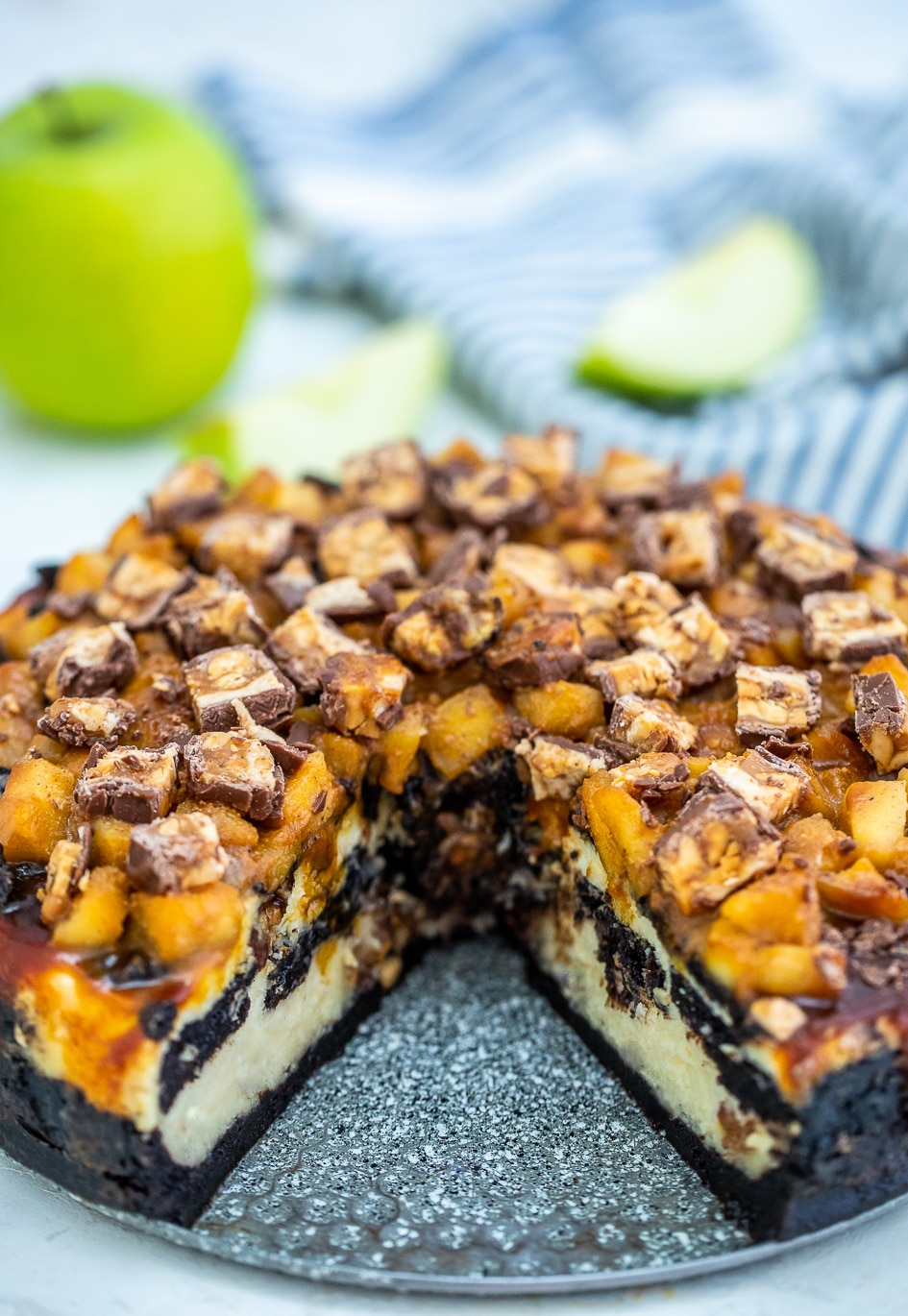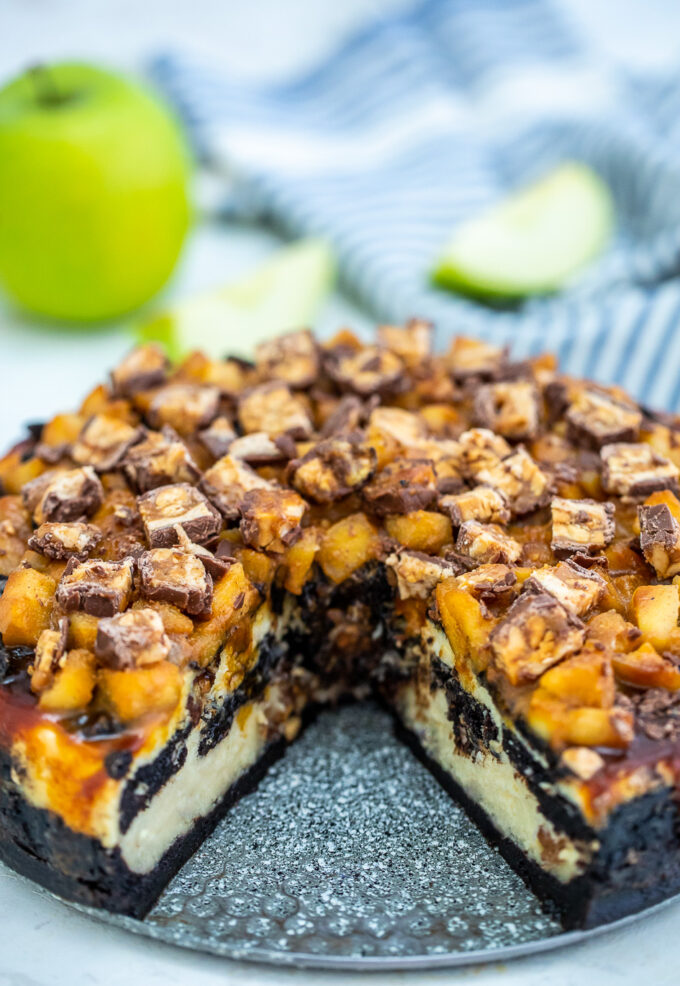 What is a cheesecake?
Typically, cream cheese, sour cream, sugar, eggs, and some more seasonings make up this dense dessert. Often topped with fruit, syrup, or both, the filling is placed on top of a crust.
Though what you recognize and consume is the American version, it is has a long history and is believed to have been started by the Greek thousands of years ago.
What is a cheesecake made of:
Typically, it has a crust, a filling, and an optional topping. For this recipe, add chopped Snickers bar as the topping.
This recipe has 4 parts and each part has the following ingredients:
Crust: Oreo cookies and unsalted butter
Filling: cream cheese, granulated sugar, all-purpose flour, salt, eggs, vanilla extract, sour cream, and bars of Snickers
Caramel: granulated sugar, unsalted butter, heavy whipping cream, salt
Cinnamon Apples: green apple, light brown sugar, ground cinnamon, ground nutmeg, lemon juice, butter
Topping: Chopped Snickers bars.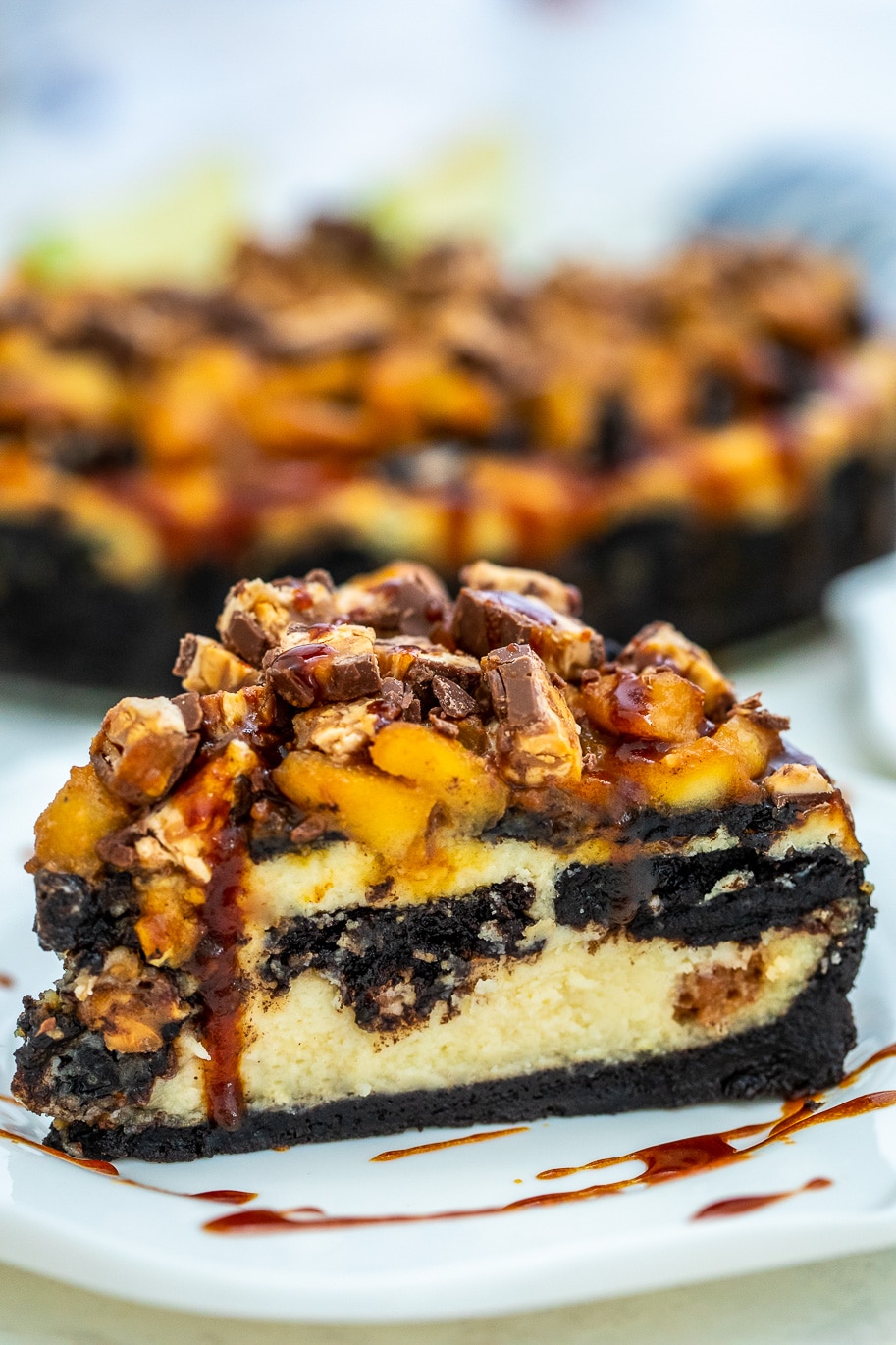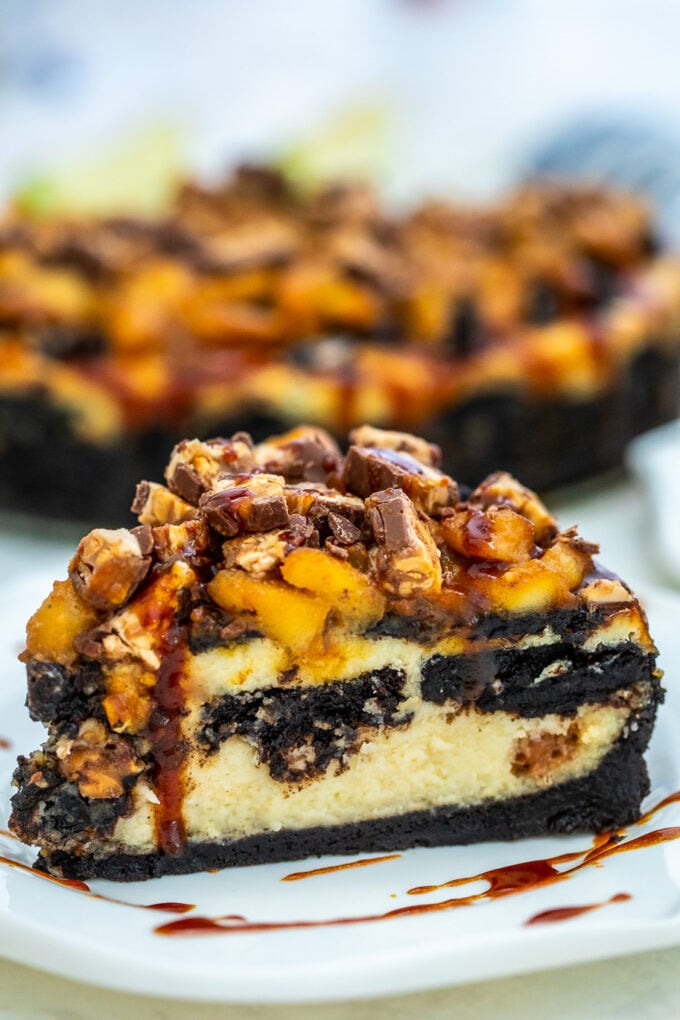 How do you make Apple Snickers Cheesecake
For the filling and crust, follow this recipe:
Prepare the crust: Crush the Oreo cookies and mix with butter. Then, press down on it to form the crust. Chill for 20 minutes.
Prep for baking: Preheat the oven at 325 degrees.
Make the filling: Lightly beat the cream cheese, sugar, salt, and flour until the mixture becomes smooth. Mix in the eggs slowly while keeping the mixer speed low. Finally, mix in the vanilla extract and sour cream.
Bake: Put about half of the batter in the prepared springform pan. This can take about 45 to 50 minutes. Use the toothpick test to check for doneness.
Set and serve: Allow this dessert to cool down by opening the oven door. Then, transfer it to the refrigerator to chill for about 5 to 6 hours. Then, serve it after garnishing with caramel sauce and cinnamon apples.
For the caramel sauce:
Melt: Allow the sugar to melt in a pan over medium heat until it becomes a brown liquid. Then, add the butter and stir.
Simmer: Stir continuously while adding the heavy cream. Let the mixture boil for a minute without stirring.
Serve: Drizzle over the dessert. Then, you can put it in a mason jar to store.
For the apples:
Cook: In a pan over medium heat, combine all the ingredients until the chopped fruit is covered and tender. Cooking it will take about 10 minutes.
When you have cooked everything, then, you are ready to assemble and serve. Simply remove the cake from the pan, top with the cinnamon apples, and drizzle with the caramel sauce. Put this back into the fridge to keep chilled until serving.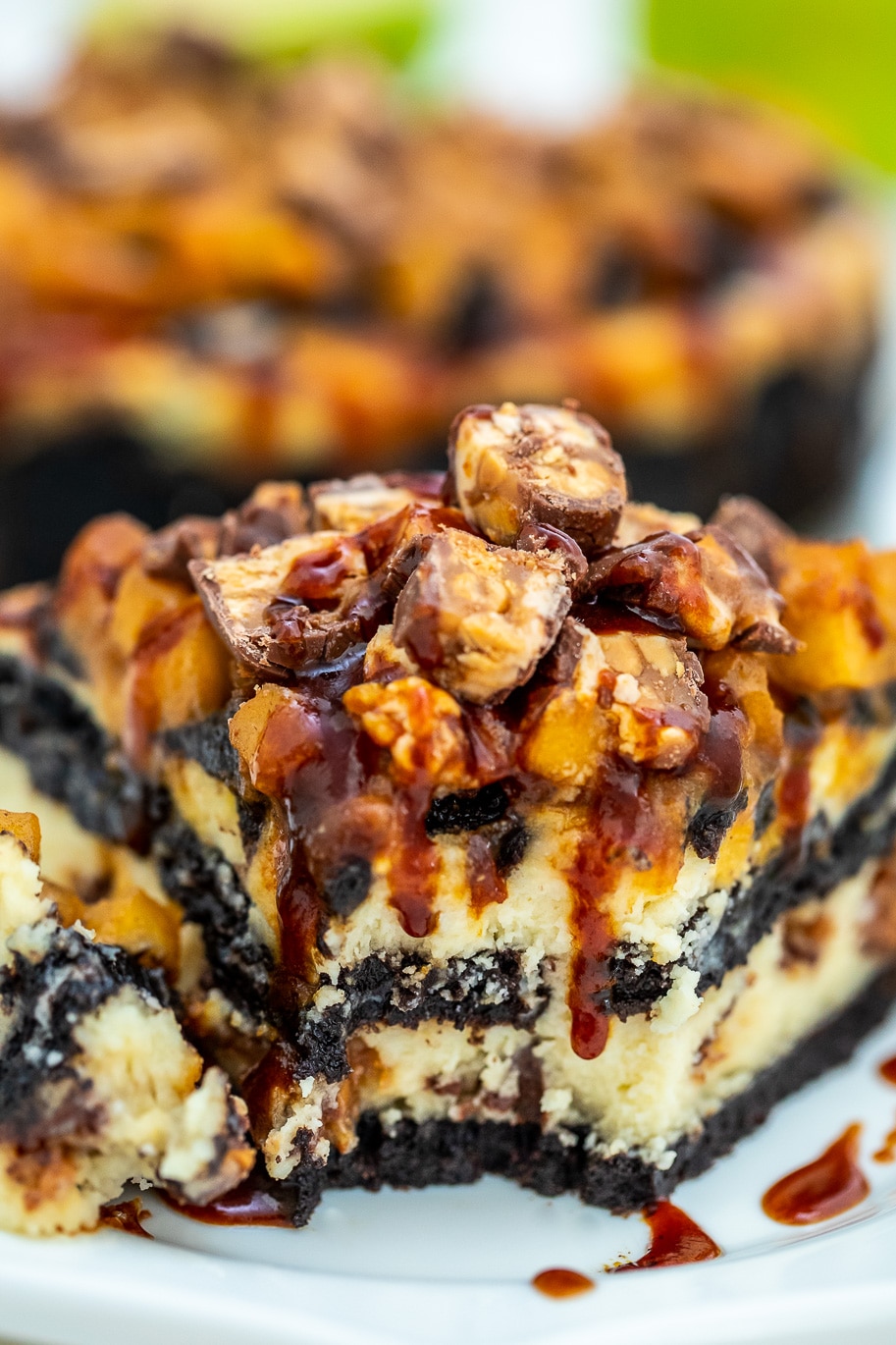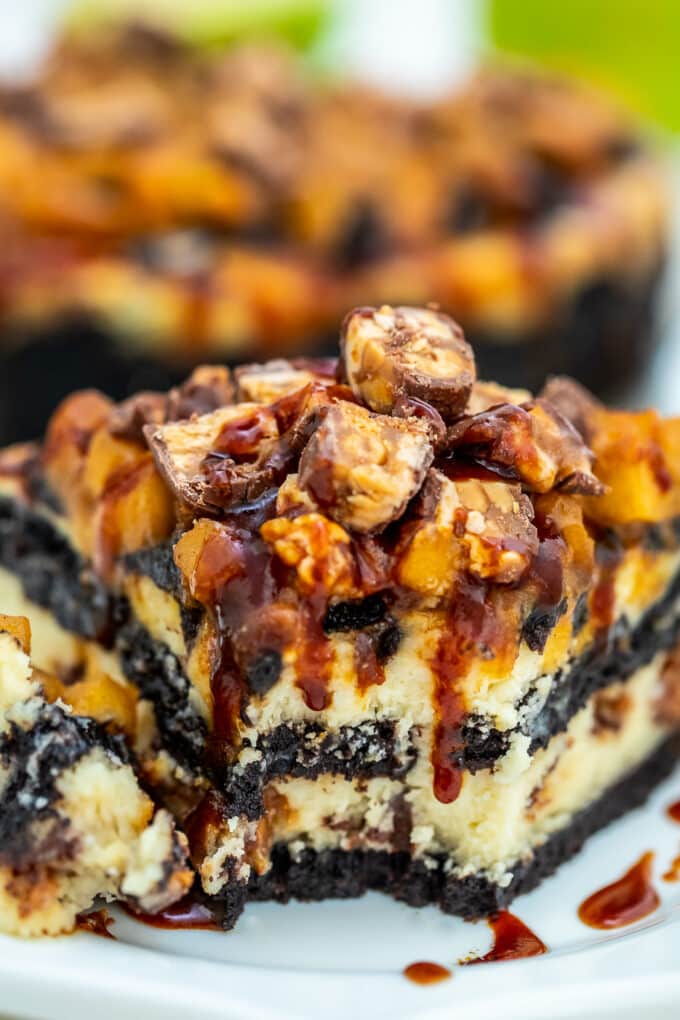 How do you bake a cheesecake in a water bath?
To make it smooth and moist, having a water bath as it cooks is the way to go. You will need a pan that is bigger than your springform pan. Put a towel on the bottom to prevent the springform pan from sliding.
You will put the springform pan in the middle of the bigger pan during baking. Cover the bottom of the springform pan with foil first to avoid leaks.
Then, pour hot water in the bigger pan until it covers about 2 inches. Once prepared, you can then bake it.
How to Store:
Refrigerate: Put leftovers in the fridge for a week. Remember to place it first in an airtight container.
Freeze: You can wrap it with foil before placing it in freezer bags. Then, freeze it for about 2 to 3 months.
Recipe Tips:
Cracking may be due to overbeating, so, be careful with that. It aerates it too much making it expand during baking and then, deflate after. This results in cracking.
You can slide a hot spatula over the cracked area to smoothen everything out.
Make sure that it is still jiggly when you take it out of the oven. Do not overbake so as not to dry it out.
Save Recipe
Apple Snickers Cheesecake
Author: Catalina Castravet
Serves: 12 slices
Prep time:

30

minutes
Cook time:

50

minutes
Total time:

1

hr

20

mins
Ingredients
Crust:
20 Oreo Cookies (crushed into crumbs)
6 tablespoons unsalted butter (melted)
Filling:
24 ounces cream cheese (softened to room temperature)
1 1/2 cups granulated sugar
2 tablespoons all-purpose flour
1/2 teaspoons salt
2 large eggs (room temperature)
1/2 tablespoon vanilla extract
1 cup sour cream (room temperature)
3 Snickers bars (chopped)
12 Oreo cookies (whole)
10 Oreo cookies (crushed)
Caramel:
1 cup granulated sugar
6 tablespoons unsalted butter (room temperature and cut up into pieces)
½ cup heavy whipping cream
1 teaspoon salt
Cinnamon Apples:
2 large green apple (peeled and chopped)
2 tablespoons light brown sugar
1/2 teaspoon ground cinnamon
1/4 teaspoon ground nutmeg
1 teaspoon lemon juice
1 tablespoon butter
Garnish:
2 large Snickers bars (chopped)
Instructions
Cheesecake Crust:
Lightly coat a 9-inch springform pan with nonstick spray and set aside.
Add the cookies to a ziplock bag, and crush them using a rolling pin.
Add the cookie crumbs and melted butter to a large bowl and stir until well combined.
Add the mixture to the prepared springform pan and using a measuring cup, press it to line the sides about 1 inch up of the pan edges.
Refrigerate for at least 20 minutes.
Cheesecake Filling:
Preheat oven to 325 degrees F.
In a large bowl, beat cream cheese for 1 minute. Add sugar, salt, and flour, mix until completely combined and there are no lumps. Scrape down the sides of the bowl with a spatula.
With the mixer on low, add the eggs, one at a time, and beat until just mixed through, do not to over-beat. Scrape down the sides of the bowl with a spatula.
Add vanilla extract and sour cream, beat until mixed through, stopping to scrape the sides and bottom of the bowl with a spatula.
Fold in chopped Snickers.
Pour half of the batter into the prepared pan. Arrange the Oreo cookies on top and top with the remaining batter. Level the top with a spatula and add the crushed cookies on top, slightly pressing them into the batter.
Transfer the cheesecake to the preheated oven and bake it for 45-50 minutes. Or until the cheesecake is just slightly wobbly in the center, but puffy and settled on the sides.
Turn off the oven and crack open the door. Cool cheesecake completely in the open oven.
Once completely cooled remove from the oven and refrigerate for at least 5-6 hours.
Run a butter knife around the edges to release it from the pan. Store in the fridge until ready to serve.
Caramel:
In a medium sauce pan over medium heat melt sugar while stirring constantly until a brownish liquid forms.
When sugar has completely melted, add the butter and stir until well combined.
Carefully, while still stirring add the heavy cream, once all the cream has been added let the mixture boil without stirring for one minute.
Remove from heat, stir in salt, transfer to a mason jar (or any other containeand let it cool.
Cinnamon Apples:
Add chopped apples, brown sugar, cinnamon, nutmeg, lemon juice and butter to a pan over medium heat. Stir together until apples are well coated.
Cook apples on medium heat until at just tender, about 10 minutes. Let the mixture cool.
Remove cheesecake from springform pan and place on serving plate. Add apples to the top of the cheesecake and drizzle with caramel sauce from pan over cheesecake.
Garnish with chopped Snickers candy.
Refrigerate until ready to serve.
Calories: 770 Carbohydrates: 100 Protein: 11 Fat: 38 Saturated Fat: 19 Cholesterol: 98 Sodium: 948 Potassium: 409 Fiber: 3 Sugar: 80 Vitamin A: 881 Vitamin C: 2 Calcium: 168 Iron: 4
Save Recipe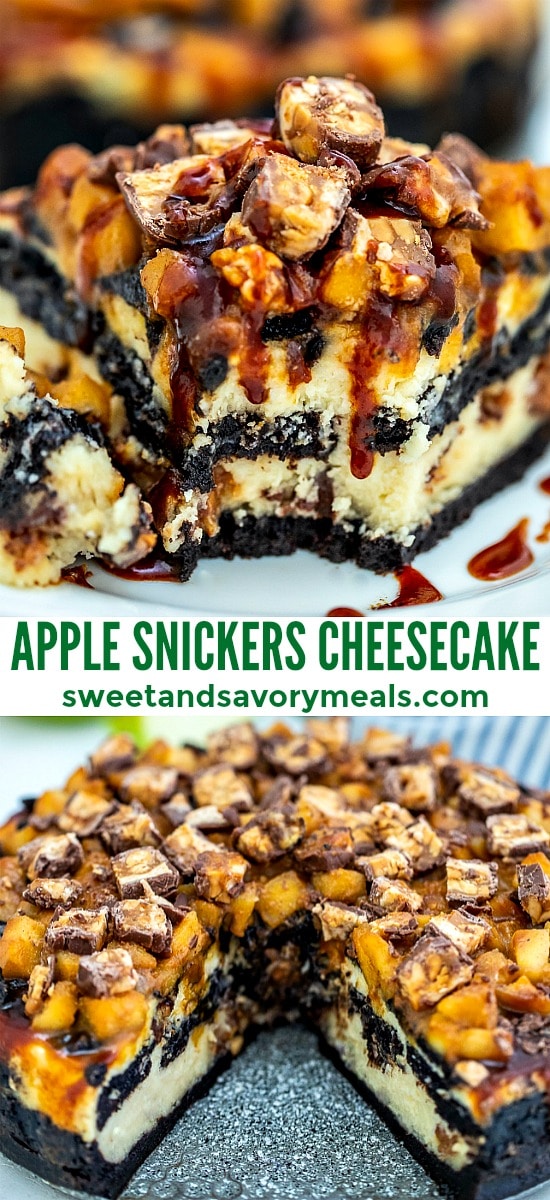 More recipes you might love