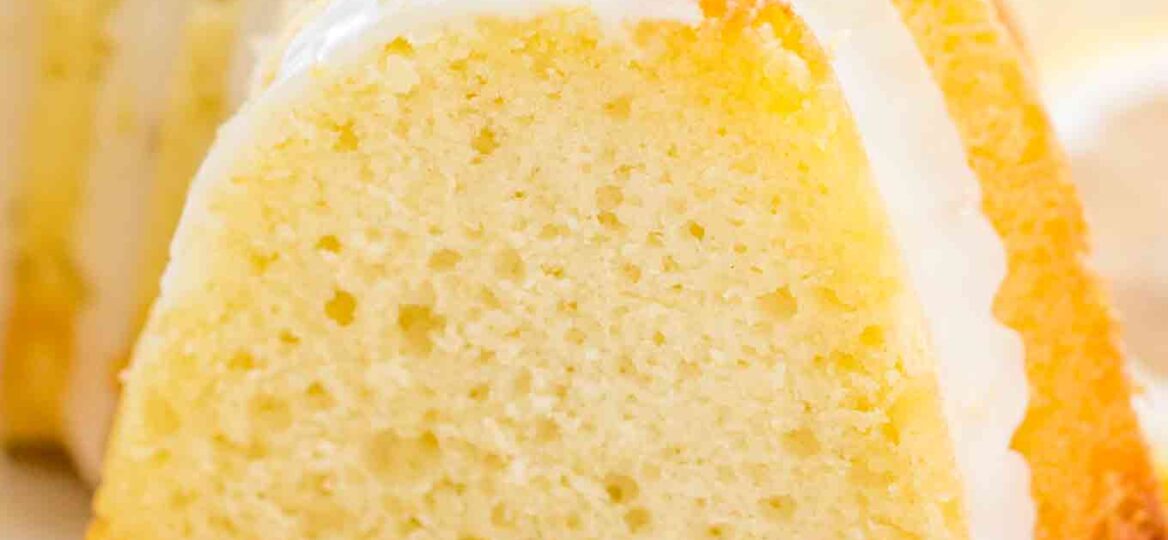 Lemon Bundt Cake made with sour cream, lemon juice and zest makes a delicious and beautiful spring dessert. This easy recipe starts with a white cake mix that gives it a lighter texture, that is rich, moist, and melts in your mouth.
Spring recipes are all about the use of fresh flavors and fresh ingredients. When it comes to spring desserts, baking with lemons adds beauty as well as flavor. With citrus available all year long, lemon cakes, bars, and cookies are popular desserts at any time of the year.
This easy and beautiful dessert is perfect for Easter, Mother's Day, and graduation parties. Serve it with some fresh blueberry lemonade! Check out other lemon recipes, like this creamy No-Bake Lemony Cheesecake or some of our savory dishes, like this One Pan Chicken with Rice.
Lemon Bundt Cake Recipe
Lemon Bundt Cake is the perfect brunch staple and so perfect to add to a spring dessert table. The beautiful and refreshing aromas make this sweet treat irresistible. The dessert is made with fresh lemon zest and juice and covered in a simple sweet glaze. While the glaze is optional, it adds a nice touch and an extra layer of lemon goodness.
We love making this dessert with cake mix and flour, the two combined give it the perfect texture, that is not too light and not too tough. It results in a perfect moist treat, that is tender and delicious.
For extra flavor and a punch of color, we enjoy adding berries to the batter. For example, you can add one cup of blueberries or blackberries to the batter before baking it. Raspberries, cherries, and even chopped strawberries will work as well.
What is a bundt cake?
It is a dessert that is baked in a Bundt pan. It has a distinctive ring shape, with the popular hole in the center. The shape is inspired by a traditional European cake known as Gugelhupf.
Can you bake a regular cake mix in a bundt pan?
Converting layer cakes to bundt cakes is really easy to do. The key to success is using the correct size bundt pan. The batter for two 9-inch layer cakes fits into a 15-cup bundt pan. If your pan is larger than 15 cups, it will work fine for this recipe; smaller sized pans won't work.
How to keep lemon bundt cake from sticking to the pan?
First, use a non-stick baking spray to lightly spray the pan, and after that flour the pan slightly. It is very important to tap and discard any excess flour from the pan.
Another tip to keep in mind is to NOT let the cake fully cool in the pan, once it cools completely it will stick to the pan and break once you flip it and try to remove it.
The best, is to let the cake cool in the pan just until it is settled enough to be able to turn it. To check on that, slightly press on the cake and it should spring back slightly. The cake will be just a little warm to the touch.
A fool-proof method is to use a silicone bundt pan, if you choose one, make sure it is BPA free.
How To Make a Cake Mix Better?
While there's nothing wrong or bad about eating cake from a box mix, they don't have much flavor, and they tend to be dry.
Fresh lemon juice and zest add extra flavor to the mix, with sour cream helping to make it moist and tender.
What's a substitute for lemon zest?
If you prefer not to use lemon zest, you can use lemon extract instead. The latest is made from the oils in the outer (yellow) part of lemon peels. While the zest will give you a stronger flavor, you can always use the extract. Just be sure not to zest any of the white pith underneath; it's very bitter.
Not sure how to covert the amount of zest to be replaced with extract? Just keep in mind that 2 teaspoons of lemon zest are equal to 1 teaspoon of lemon extract.
Lemon Bundt Cake Topping Options
A little bit of powdered sugar sifted over the cake gives it some visual interest and also helps you cut on some of the sugar from that is used to make the glaze. You could also mix some lemon juice with powdered sugar to make a simple lemon glaze.
CAN BUNDT CAKE BE FROZEN?
Yes, you can freeze it for up to three months. Preferably you should freeze it before you top it with the glaze.
We recommend freezing in an airtight container. Or another option would be to cover it well in plastic wrap and after that in aluminum foil. Similarly, any leftover slices can be frozen individually, using the above-mentioned methods, or simply added to freezer-safe bags. Freeze for up to 3 months.
Before serving, you should defrost it in the refrigerator overnight to ensure the best taste.