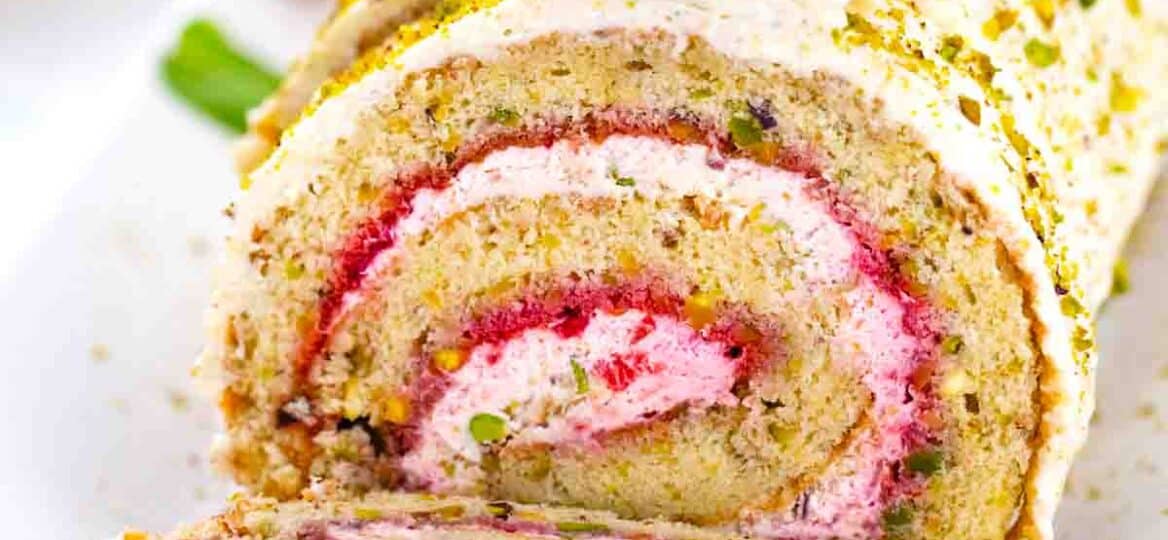 Pistachio Raspberry Swiss Roll Recipe
Pistachio Raspberry Swiss Roll is a decadent dessert with pistachios, fresh raspberries, and homemade whipped cream frosting. This delicious cake is perfect for a dinner party, holiday celebration, or just a snack any day of the year. Also known as raspberry pistachio roulade, this is dessert cuisine at its finest and it is effortless to make.
The name of this dessert is misleading. The swiss roll cake was not actually invented by the Swiss. In fact, it was first made in Austria or Slovenia. The original was published in 1852 and it was called a jelly roll made with fruit jelly. The dessert is also known as a roulade, swiss log, cream roll, or roll cake. It dates back to the 1800s during the time of donuts, sponge cake, and Battenberg cake.
For this delicious pistachio raspberry swiss roll recipe, you will need ground pistachios, some pistachio paste, raspberries, cream cheese, and basic baking ingredients like flour, sugar, eggs, and vanilla. However, you can change things to make it your favorite flavor using different frosting, berries, or nuts. However you make it, it is sure to be scrumptious.
Ingredients needed:
To make our raspberry pistachio Swiss roll cake recipe, just gather the ingredients listed here. Then, when you are ready to begin preparing the cake, scroll down to our printable recipe card for the instructions and measurements.
Pistachio cake ingredients:
Shelled pistachios
White granulated sugar
All-purpose flour
Large eggs: At room temperature.
Pistachio paste
Baking powder: Not baking soda.
Lemon zest
Vanilla extract
Powdered sugar
Raspberry filling ingredients:
Raspberries
White granulated sugar
Whipped cream cheese frosting ingredients:
Heavy cream: Very cold.
Pistachio paste
Cream cheese
Powdered sugar: Confectioners' sugar or icing sugar.
Vanilla extract
To garnish:
Mint leaves
Fresh raspberries
How to make pistachio raspberry swiss roll from scratch?
Making the cake batter:
Preheat oven: First, preheat oven to 350 degrees F. Then, spray the sides of a jelly roll pan or baking sheet with baking spray, and line the bottom of it with baking parchment or parchment paper.
Grind pistachios: While you wait for the oven to heat, grind pistachios in a food processor until they are ground coarsely. Set aside until needed.
Form soft peaks: Now, beat vanilla, granulated sugar, pistachio paste, lemon zest, and eggs in a stand mixer on high with a whisk attachment for 8-10 minutes until it is thick and fluffy with soft waves.

Add in the pistachio mix: In a separate bowl, whisk together the baking powder and flour. Then, gradually add the flour mixture to the pistachio mixture a little at a time, folding gently. Also, fold in 1 cup of chopped pistachios.
Preparing the cake:
Make the cake: To make the cake, pour the cake batter onto the prepared pan and spread it evenly. Bake for 19 to 21 minutes until the top is lightly brown and the cake springs back when you touch it.
Let it cool slightly: As the cake bakes, get everything you need to roll the cake. It has to be rolled while still warm. Run a knife along the edges to loosen it from the baking tray and sprinkle icing sugar evenly over the top.
Flip it over: Then, place a clean kitchen towel or clean tea towel on the cake, put a wire rack on top of that, and flip over the whole thing onto your counter or another flat work surface. Lift off the pan and remove the parchment paper.
Roll cake: After, put the parchment paper back on the cake and gently roll it, starting at the short end. Let it cool completely before putting it together.
Making the frosting:
Beat the cream cheese: First, beat your cream cheese in a large bowl with a mixer for four to five minutes, scraping the sides of the bowl a few times, until it is smooth.
Add other ingredients: Next, add the powdered sugar, vanilla, and heavy cream, and use a whisk attachment to whip for one minute.
Whisk some more: Last, scrape the sides of the bowl, and then whisk in the pistachio cream, on medium-high speed until stiff peaks form. This typically takes about four to five minutes. Put it in the fridge to chill until needed.
Making the raspberry filling:
Mash and mix: To make the filling, smash the berries into puree and then mix in the remaining icing sugar. Stir until thoroughly combined.
Putting together the cake:
Unroll the cake: Now, gently unroll the completely cooled cake onto a wire rack. Spread evenly the raspberries to the edges of the cake.
Add frosting and nuts: After, add a couple of scoops of whipped cream cheese frosting. Do not overfill or it may crack or split. Spread evenly and add a few handfuls of ground pistachios on top.
Roll it back up: Next, begin to gently roll the cake up the same way it was rolled before. Roll the cake onto a serving platter or prepared tin and coat the outside with the whipped cream frosting. Add more pistachio pieces on the outside for decoration.
Decorate and serve: Finally, put the remaining frosting into a pastry bag and add garnishes of rosettes, mint leaves, and raspberries before serving.
Recipe variations:
Almond extract: You could use almond extract instead of vanilla for a richer flavor.
Other flavors: In fact, there are many other extract flavors that would go great with this cake. Try birthday cake, raspberry, or lemon.
Other berries: Feel free to use other berries like fresh strawberries, blackberries, or blueberries.
White chocolate cream: Make white chocolate cream cheese frosting. Add white chocolate chips or baking chocolate and two tablespoons of unsalted butter.
Tangy cake: For a tangy whipped cream frosting, add 1/4 cup of lemon curd.
Different nuts: Have trouble finding pistachios? Use cashews instead. You can also substitute pistachio paste with cashew butter or paste.
Other zests: Give your pistachio mixture a different citrus flavor with lime or orange zest instead of lemon.
How to serve:
Whether you are having a celebration like a birthday, anniversary, or baby shower, this pistachio swiss roll cake is an attractive and delicious choice. Or, you can just make it because you like it and have it whenever you want. Here are some good serving ideas we wanted to pass along to you.
Decorate the top of your roll cake with pistachio flowers. Just use pistachios to form small flowers shaped on top of the whipped cream frosting.

Instead of this whipped cream cream cheese frosting, just use our light and sweet homemade whipped cream.

Chocolate lovers will appreciate a sprinkle of chocolate chips on top.
Another kind of frosting you may like on your raspberry pistachio roulade cake is our rich and thick cream cheese frosting.

Make this roll cake even more festive with rainbow sprinkles on top.

Serve with a side of ice cream. Try our delicious and easy recipe for no-churn cherry ice cream.

Skip the frosting on top and use raspberry jam or preserves instead.
Frequently asked questions
What is pistachio paste?
Also known as pistachio butter, pistachio paste is simply pistachios ground into a fine powder and made into a paste similar to peanut butter. You can use it in recipes like this one or spread it onto toast for a snack, add it to a filling for donuts or croissants, or top your favorite yogurt or ice cream with it.
Do I need to separate the egg yolks for this recipe?
Not in this recipe. However, sometimes, the egg yolks and whites are separated when making the frosting. To make it this way, first beat the yolks and sugar until the mixture is pale yellow and really thick. It should double in size. This usually takes about four minutes. Then, use a balloon attachment to whisk the egg whites to soft peaks before folding them together.
Are raw pistachios healthier?
Raw and unsalted pistachios have less salt, of course, and this is one thing that makes them healthier. However, they both have similar amounts of fiber, calories, and protein. Roasting makes them easier to eat but raw pistachios have a little bit more zeaxanthin and lutein, which are thought to decrease cancer risks.
How do I make my own self-raising flour?
You do not need self-raising flour for this recipe. However, if you want to make some, it is simple. Just add 1/4 teaspoon of salt and 1.5 teaspoons of baking powder to each cup of all-purpose flour. Make sure you use very fine salt and whisk or sift it well before using it. Self-raising flour is often used in biscuits and cobblers.
What are the nutrition facts in this recipe?
If you are worried about nutrition, calories, and fat, here are the approximate numbers. Each serving has 635 calories, 54 grams carbs, 44 grams fat, 22 grams saturated fat, and 1 gram of trans fat as well as 200 mg cholesterol, 204 mg sodium, and 43 grams of sugar. On the other hand, it also contains 12 grams protein, 2 mg iron, 133 mg calcium, 6 mg vitamin C, 1,559 units of vitamin A, and 314 mg potassium as well as 4 grams of fiber, 12 grams of monounsaturated fat, and 4 grams of polyunsaturated fat.
How to store leftovers:
Store: You can store your leftover pistachio raspberry swiss roll cake in an airtight container in your refrigerator for up to four days.
Freeze: If you have too much to eat in four days, place leftovers in a freezer-safe container and freeze for up to four months.
Thaw: It is best to thaw your leftover cake in the fridge overnight before serving.
More recipes with raspberries:
Baking tips:
You can use any kind of electric mixer instead of a stand mixer.
If you do not have a food processor, feel free to use a high-powered blender.
Use a sifter to sprinkle icing sugar onto the cake for more light and even coverage.
Let your cake roll chill in the fridge overnight to let the berries soften and to soften the cake with whipped cream and juices to prevent dry sponge cake. Also, the cake cuts better when it is cold.
Similarly, if you have the time, wrap rolled cake in plastic wrap and let it chill for several hours before frosting the outside.
You should use a sharp serrated knife for slicing the cake.

Make sure your eggs and cream cheese are softened to room temperature for easier mixing and incorporation.

You can use frozen strawberries but let them thaw and dry them with paper towels.
Pistachio Raspberry Swiss Roll
Ingredients
Pistachio cake:
1 1/4

cup

unsalted pistachios

shelled

6

large eggs

at room temperature

1/4

cup

pistachio paste

1

cup

white granulated sugar

2

teaspoons

vanilla extract

1

teaspoon

lemon zest

1

cup

all-purpose flour

1

teaspoon

baking powder

2

tablespoons

powdered sugar

for dusting the cake
Raspberry filling:
2

cups

raspberries

fresh or frozen (thawed if using frozen)

1/3

cup

white granulated sugar

optional
Pistachio Whipped Cream Frosting:
16

oz

cream cheese

2 packages

3

cups

heavy cream

chilled

1 1/2

tsp

vanilla extract

1/4

cup

pistachio paste

1 1/2

cups

powdered sugar
Garnish:
Fresh raspberries

Mint leaves
Instructions
Making the Pistachio Cake:
Preheat the oven to 350F/177C.

Spray the sides of a large, 13×18-inch sheet pan with baking spray, and line the bottom with parchment paper.

Next, add the shelled pistachios to a food processor, then pulse until they are coarsely chopped. Set aside.

In a large bowl using an electric hand mixer or a stand mixer whisk the eggs, sugar, lemon zest, and vanilla on high speed for 8 to 10 minutes, until fluffy, and voluminous.

In a separate bowl, whisk together the flour and baking powder.

Sift the flour mixture into the eggs in 3 batches, folding gently and well after each addition.

Measure 1 cup of the ground pistachios and using a rubber spatula fold them into the cake batter. Set aside the rest.

Transfer the cake batter to the prepared sheet pan, spread it evenly, and level the top with an offset spatula.

Bake the cake in the preheated oven on the middle rack for 18 to 21 minutes, until the top is lightly browned and the cake is set.

In the meantime, prep everything to roll the cake and it needs to be rolled immediately after baking! Have a clean kitchen towel on hand, powdered sugar, a wire rack, and a free countertop.

Remove the cake from the oven, and run a knife along the edges to loosen it from the pan.

Using a sifter, sprinkle the powdered sugar over the top.

Place a clean kitchen towel over the cake, place a wire rack on top, then invert the cake onto the wire rack and place it on the counter.

Lift off the pan and peel away the parchment paper, it's important to peel otherwise it will stick to it.

Place the peeled paper back onto the cake, then very slowly and loosely, using the kitchen towel, roll the cake up, starting with the short end.

Allow the cake to cool completely.
Pistachio Whipped Cream Frosting:
Add the room-temperature cream cheese into a mixer bowl, and beat it for 4 to 5 minutes, until smooth. Keep in mind to scrape down the sides and bottom of the mixing bowl occasionally, until smooth.

Add in the chilled heavy cream, vanilla, and powdered sugar and beat using an electric mixer with a whisk attachment for about 1 minute.

Stop to scrape down the sides and bottom of the bowl, then add the pistachio paste, and continue to whisk on medium-high speed until stiff peaks form, about 4 to 5 minutes. Keep the frosting chilled until ready to use.
Raspberry Filling:
Add the raspberries and sugar to a shallow bowl, and mash using a fork until well combined and pureed.
Assemble::
Very gently unroll the fully cooled cake on a wire rack.

Spread the raspberry puree into an even layer over the cake, all the way to the edges.

After that, add about 3 cups of the pistachio whipped cream frosting spread it evenly to the edges, and if needed add more. Make sure NOT to overfill the cake, as this can cause it to crack!

Sprinkle the remaining ground pistachios on top of the frosting layer.

Carefully roll the cake back up, as you did before. Transfer it to a flat platter.

Next, using an offset spatula frost the outside of the cake with a generous amount of pistachio whipped cream frosting. Sprinkle more ground pistachios on top.

Also, you can transfer any remaining whipped cream into a pastry bag, and make sore roses on top of the cake, then garnish with fresh raspberries and mint leaves.

Refrigerate the cake overnight, before serving, or for at least 10-12 hours.

Use a sharp, serrated knife to slice the cake.
Deliciousness to your inbox
Enjoy weekly hand picked recipes and recommendations