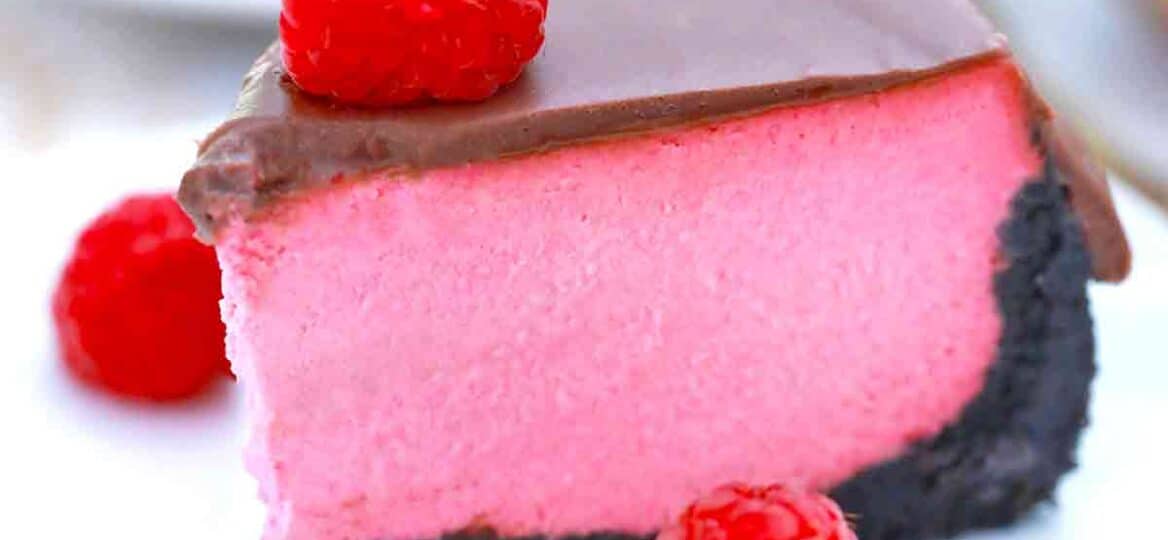 Instant Pot Raspberry Cheesecake
Instant Pot Raspberry Cheesecake is made with a buttery Oreo crust, rich raspberry cheesecake filling, and topped with chocolate ganache. The Oreo cookie crust mixture is the perfect base for this cream cheese cheesecake filling with raspberry sauce. And the chocolate ganache topping combined with fresh berries is perfect.
We have lots of delicious cheesecake recipes, make sure to check our Instant Pot Peanut Butter Lava Cake with a warm gooey peanut butter filling that is mouth-watering. If you love raspberry, try our Candy Cane Raspberry Dessert Shots with mini candy canes. These are perfect for the holiday season.
If you follow the recipe for our instant pot raspberry cheesecake, your cake will come out perfect every time. No need to worry about the middle being gooey or having cracks in the top as it cools. And with the springform pan, is fast and easy to remove.
This is one of those sweet and delicious recipes that you will have to make over and over again. With such an easy raspberry cheesecake recipe, you can have this scrumptious dessert on the table in minutes.
Your family will love our instant pot raspberry cheesecake so much, that they will be asking for seconds or thirds. Maybe you should make two of them so you have enough. You can always freeze the leftovers if there are any. Follow the directions below on how to store leftovers.
Whether you call it an instant pot cheesecake or pressure cooker cheesecake, it will be absolutely scrumptious. Using our cheesecake recipe, you will have a delicious dessert on the table whether you need one.
If it is a special occasion or any day you feel like you need some creamy cheesecake with raspberry jam and a crunchy chocolatey crust.
Looking for more instant pot cheesecake recipes? Try our instant pot chocolate cheesecake with an Oreo crust and rich chocolate cheesecake batter. This instant pot peanut butter cheesecake is amazing with creamy peanut butter and chocolate chips.
For something more tropical, our instant pot pina colada cheesecake with pineapple, lime, rum, and coconut blended in.
Looking for a keto cheesecake filling? Try our Instant Pot Keto Cheesecake made with almond flour and heavy whipping cream.
Ingredients needed:
These are the simple ingredients for our instant pot raspberry cheesecake recipe. For the exact measurements and detailed instructions, scroll down to our recipe card.
Oreo cookie crumbs: Crushed.
Melted butter: Salted or unsalted butter.
Cream cheese: At room temperature.
Sugar: White granulated sugar.
Raspberry jam: Seedless is best.
Sour cream
Corn starch
Large eggs: At room temperature.
Vanilla extract: 100% pure vanilla extract for best results.
Milk chocolate: Finely chopped.
Heavy cream: Heavy whipped cream.
Fresh raspberries: For decoration.
How to make instant pot raspberry cheesecake recipe?
Prepare: To start, use non-stick spray to coat a seven-inch springform pan and line it with parchment paper.
Make the crust: Next, mix the cookie crumbs and melted butter together thoroughly. Press them evenly into the bottom of the prepared pan. Run the crust about one inch up the sides of the pan. Freeze for 10 minutes.
Make the batter: Beat softened cream cheese and sugar in a large mixing bowl with an electric mixer on medium speed until it is smooth. Then, blend in the sour cream, raspberry jam, and cornstarch. Stir in the eggs and vanilla extract mixing in between. Be sure not to mix too much. If you would rather use a stand mixer, that is fine also. Just make sure it is on medium speed.
Pour cheesecake batter: After, pour cheesecake batter on your crust in the springform pan. Cover the pan with aluminum foil.
Place in the pot: After adding one cup of water to the bottom of the pot, place the trivet inside and lower the springform pan with a sling. If you use a foil sling, fold it down so it does not interfere with the lid closing all the way.
Cook: After locking the lid, set it to high pressure for 25 minutes. After the timer beeps, turn off the pot and use natural release for 10 minutes. Then do a quick pressure release to get rid of the rest of the pressure.
Remove: After the valve drops, remove the lid and carefully take out your raspberry cheesecake. If the middle is not set, cook for another five minutes, and do a quick release. Be sure to use a paper towel to absorb any condensation from the top of the cheesecake before removing the aluminum foil.
Cool: Then, put the raspberry cheesecake on a wire rack to cool for about two hours. Once it reaches room temperature, cover with plastic wrap and chill in the fridge for at least four hours, although overnight would be better.
Make topping: Once the raspberry cheesecake is chilled, make the topping. Put the chocolate in a mixing bowl and heat the heavy cream on medium-high heat until it boils. Immediately pour cream on the chocolate and stir until it melts. Then let it cool until it is thickened but not too thick.
Serve: Finally, spoon chocolate ganache on top, letting it drip down the sides. Place fresh raspberries on top to decorate and chill in the fridge until you are ready to serve your delicious raspberry cheesecake.
Recipe variations:
Other cookies: If you are not a fan of Oreos or just want to use something different, try graham cracker crumbs, crushed shortbread cookies, or even vanilla wafers.
Chocolate chips: Add chocolate chips, white chocolate chips, crushed candy bars, or whatever else you like to the cheesecake filling for a more decadent instant pot raspberry cheesecake.
Best cream cheese: The cream cheese is what makes this raspberry cheesecake so good so don't skimp on the brand or the fat content.
Oil instead: You could use coconut oil instead of melted butter if you like. Although the melted butter gives your instant pot raspberry cheesecake a buttery flavor.
Other flavors: Feel free to experiment with other extract flavors. For example, you can use an extra tablespoon of vanilla extract to make vanilla cheesecake or give it some tanginess with lemon or lime extract instead.
Raspberry swirl cheesecake: Make raspberry swirl by keeping the raspberry sauce or jam separate and then swirling it into the cheesecake filling right before cooking.
How to make raspberry cheesecake in the oven:
You can also cook this in the oven instead of your instant pot with these easy instructions.
Preheat: First, preheat the oven to 325 degrees F and wrap the outside of your pan in a double layer of aluminum foil to keep the water from leaking in.
Prepare: Meanwhile, prepare instant pot raspberry cheesecake as described above and pour it into your prepared springform pan.
Water bath: Next, put the pan inside of a large roasting pan deep enough to add water and pour in enough hot water to cover up to half the sides of the springform pan.
Bake: Then, put the whole roasting pan and cake in the oven for one hour and 15 minutes. The center should jiggle like Jell-O and the sides will be golden grown. If the cake does not jiggle, it is overbaked and will most likely crack as it cools.
Cool: Lastly, leave the cheesecake to cool in the oven with the door cracked for about one hour before moving it to a cooling rack. Run a butter knife around the sides of the pan before chilling to loosen it up for removal later.
How to serve:
For the perfect instant pot raspberry cheesecake, serve very cold. You don't have to add anything to it since it is already covered with melted chocolate and raspberries. But you can also try one of these serving ideas:
Sprinkle some graham cracker crumbs on the chocolate ganache.
Add some homemade whipped cream to the top for a creamier cheesecake.
Serve your instant pot dessert cuisine with a scoop of vanilla ice cream for a heartier dish.
Another great topping would be this tangy strawberry sauce or our delicious strawberry jam.
Top with nuts such as pecans or walnuts for a crunchy raspberry cheesecake.
Frequently asked questions
What is the best way to serve cheesecake?
For best results, be sure to keep the cheesecake chilled before serving. It is best to chill in your fridge overnight, but you should also keep it chilled between servings. Also, run the knife under hot water with each slice for a clean cut.
What can I use instead of cream cheese?
Cream cheese is best for the cream cheese filling and will make a difference if you choose to use something else. However, you can substitute the cream cheese with Greek yogurt. First, strain the yogurt with cheesecloth and chill overnight.
Sour cream is another option although it will not have the same consistency. Make sure you use full-fat sour cream if you are going to try this idea for your instant pot cheesecake recipe. You may also want to thicken it a bit by adding a little more cornstarch to the mix.
Can I use raspberry preserves instead of jam?
Yes, either one will work fine but the consistency will be a bit different. Preserves have pieces of fruit in them so you will have a chunkier cheesecake filling. However, you could use a blender or food processor to make raspberry puree first. Another choice is to use raspberry sauce or even jelly that has been blended.
What is the difference between an instant pot and a pressure cooker?
The main difference between a pressure cooking pot and an instant pot is that they are easier and safer to use. A pressure cooker cheesecake will turn out just as good as a raspberry cheesecake made in an instant pot. However, a pressure cooker can be dangerous if it is not used properly.
You can use either one of these to make our instant pot cheesecake recipe. However, with a pressure cooker cheesecake, you may have to adjust the cooking time. A pressure cooker uses a higher pressure so it may cook your cheesecake faster.
How to store leftovers:
Store: Store your raspberry cheesecake in a cake holder or other airtight container in the fridge for up to four days.
Freeze: To freeze, wrap individual pieces in plastic wrap and place them in a freezer bag in the freezer for up to 90 days.
Thaw: Thaw overnight in the fridge and serve chilled.
Pressure cooker cheesecake cooking tips:
For best results always use room temperature ingredients.
Always make sure to grease your springform pan well for easy removal when using your instant pot. It also lets the cake rise better. It also helps if you run a butter knife around the sides of the pan before chilling.
Also, be sure to have a trivet or rack. If yours did not come with one, you can get one online.
If you don't have a sling, you can make one with aluminum foil. To make a foil sling, just tear off a long piece of aluminum foil and fold it into a long strip. Put the strip under the pan and leave the sides out on top for easy removal.
One of the most important things to remember is to cover the cheesecake completely before closing the instant pot. Also, wipe off the condensation from the aluminum foil before taking it off.
The best way to crush the cookies finely is with a food processor but you can also put them in a zipper baggie and crush them with a rolling pin.
To press the cookie crumbs in the cheesecake pan easier, use a wooden spoon or a pastry tamper.
If you use graham cracker crumbs, make sure the graham crackers are fresh.
Feel free to use frozen raspberries or fresh, whichever you happen to have.