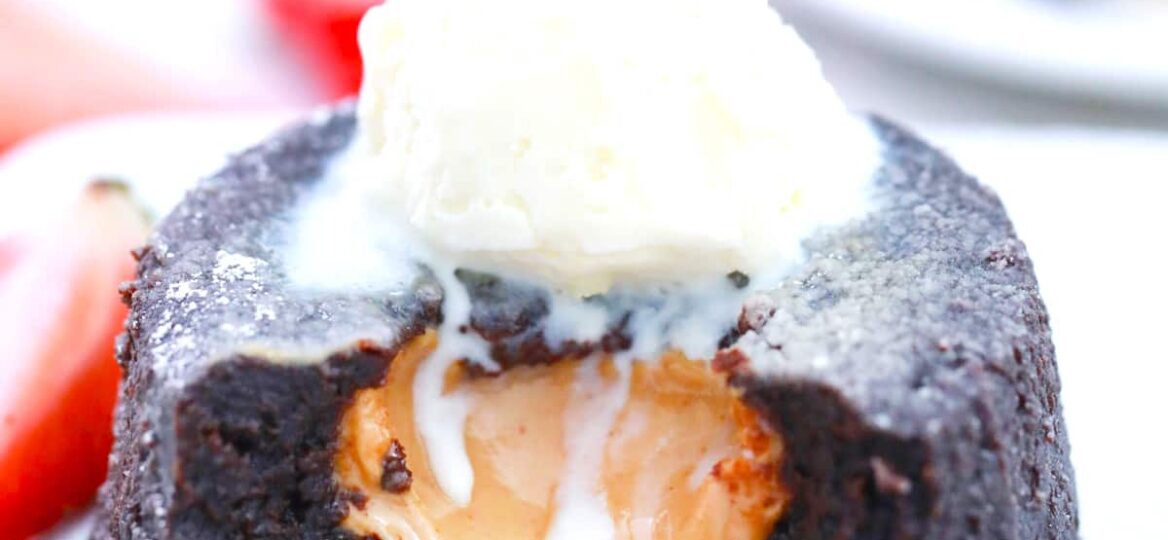 Instant Pot Peanut Butter Lava Cake
Instant Pot Peanut Butter Lava Cake is a decadent chocolate dessert that has a crispy outer layer with a creamy and gooey peanut butter filling. It does not take a long time so you can have this quick dessert on the table faster than a regular cake and it tastes even better.
For more instant pot recipes, try our IP Rice Pudding with white rice and cinnamon or this delicious IP Gingerbread Cake made with maple syrup and cream cheese. A true chocolate lover will enjoy this IP Chocolate Lava Cake with dark chocolate and espresso powder.
Instant pot desserts are some of the best things about using this amazing device, and this one does not disappoint. On the surface, it looks like a regular delicious chocolate lava cake, but you will find a different flavor when you take a bite.
That burst of creamy warm peanut butter makes this instant pot lava cake recipe perfect for a dinner party or just a delicious dessert to end any meal.
This sweet treat is a show stopper, that can be easily done in your kitchen, basically a restaurant-quality dessert you can make any time at home.
Ingredients needed:
Scroll down to get the exact measurements from our recipe card. But here are the basic ingredients for these molten cakes:
Butter: Cut into cubes.
Chocolate chips: Semisweet is what I used, but you can make this dessert with milk chocolate or even white chocolate.

Powdered sugar: Also known as confectioners' sugar.
Large eggs: At room temperature.
Egg yolk: Also at room temperature.
Vanilla: Pure vanilla extract.
Cocoa powder: We always go for high-quality, unsweetened cocoa powder.
Espresso powder
All purpose flour
Kosher salt
Peanut butter: Divided.
1 cup of water: For the pot, but if you have a large or a smaller pressure cooker, use the minimum amount of water recommended for it.
How to make instant pot peanut butter lava cake recipe?
Grease: First, grease your ramekins with butter or nonstick cooking spray.

Melt: Then, melt chocolate chips and butter in a small bowl in 30-second bursts until melted.
Mix: Next, add the vanilla, egg yolk, eggs, and powdered sugar and whisk until smooth. Then add the cocoa powder, espresso, flour, and salt. Whist just until combined.

Pour: Immediately, fill the prepared ramekins halfway with batter and top with a heaping tablespoon of peanut butter before covering with the remaining batter. Cover ramekins with foil.

Stack: After putting your trivet inside the pot, pour one cup water. Then put three of your little cakes on the trivet and the final one on top of the others.

Cook: Next, secure the lid and set your pressure cooker to high pressure for 20 minutes. Then do a quick release, waiting until it is finished before opening.

Remove: Right away, use your tongs to remove the ramekins. Uncover and run a knife or spatula around the edges. Turn onto a plate and dust with powdered sugar.

Serve: Finally, serve your molten lava cake while still warm.
Recipe variations:
Other chocolate: Alternatively, you can use dark chocolate or milk chocolate instead of semisweet.

Peanut butter lovers: Use peanut butter chips instead of chocolate chips for even more flavor.

Fruity: Feel free to add some fruit filling like strawberry or raspberry to the chocolate mixture to make PB&J lava cakes.

Make it crunchy: Use crunchy peanut butter for some crunchiness.
Nutty: Similarly, you can add walnuts, pecans, or peanuts to the batter for more nuttiness.
Make it bigger: Instead of using ramekins, make one large instant pot cake with a 7-inch cake pan.
How to serve:
This instant pot chocolate peanut butter cake recipe is perfect for special occasions or anytime you want a delicious dessert. Here are some great serving suggestions:
This cake goes great with a scoop of vanilla ice cream.
Or you can serve with a large bowl of homemade blackberry or strawberry ice cream with chocolate chunks.

Sprinkle some rainbow candies on top for a festive look.
Add a dollop of homemade whipped cream on top of this instant pot chocolate lava cake for extra creaminess.
This peanut butter chocolate lava cake recipe goes great with a glass of cold milk.
Top this popular dessert with our sweet and tangy strawberry sauce for a fruity decadent dessert.
Frequently asked questions
What is an instant pot?
Similar to an electric pressure cooker, this device cooks at a higher pressure, increasing the temperature and retaining moisture.
The best part is you will notice the first time that it is safer than the old-fashioned pressure cooker and you do not have to use it on the stovetop.
How do you know when lava cake is done?
Since the instant pot lava cake has a gooey center, you cannot use the toothpick method.
The best way to make sure it is cooked to perfection is to follow the instructions to the letter. Also, when the edges are cooked, and the center has risen. It should be soft but not jiggly.
Why isn't my lava center runny?
If your molten chocolate cake is not gooey enough, you may have cooked it too long. Next time, reduce the cooking time to one minute and see if that works.
If not, reduce it to another minute. Another reason the middle may not be gooey is that you added too much flour.
How to store leftovers:
Store: Store this perfect dessert in a covered container in the fridge for up to three days.

Freeze: Freezing is not recommended.
Reheat: For best results, reheat in an oven preheated to 350 degrees F for about 10 minutes.
More peanut butter desserts:
Cooking tips:
Cook time may vary depending on the size of your pot.
Similarly, the cooking time will be longer if you are at a higher altitude. Add 5% cooking time for every 1,000 feet you are above 2,000.

Use a silicone sling to make removing your cakes easier.

If you do not have a silicone sling, you can make a foil sling.

Alternatively, use a cake mix instead of powders and flour.
Instant Pot Peanut Butter Lava Cake
Ingredients
1/2

cup

unsalted butter

cut into cubes - plus more for ramekins,

1

cup

chocolate chips

dark or semi-sweet

1/2

cup

powdered sugar

plus more for topping

2

large eggs

room temperature

2

egg yolks

room temperature

1

teaspoon

pure vanilla extract

1/4

cup

unsweetened cocoa powder

1/4

teaspoon

espresso powder

1/4

cup

all-purpose flour

1/2

teaspoon

kosher salt

4

tablespoons

creamy peanut butter

divided

1

cup

water

for the pot
Instructions
Grease four ramekins with butter and set them aside.

In a medium microwave-safe bowl, combine butter and chocolate chips and heat in 30-second intervals until melted. Make sure to stir well after each interval, as the residual heat will melt the chocolate.

Add powdered sugar, eggs, egg yolks, and vanilla to the melted chocolate and whisk until smooth.

Add cocoa powder, espresso, flour, and salt to the mixture and whisk until just combined.

Fill ramekins halfway with batter, then add to each a heaping 1 tablespoon of peanut butter.

Top with remaining batter, leaving about 1 inch for the cakes to expand.

Cover ramekins tightly with foil.

Place trivet inside Instant Pot and pour in the water.

Arrange three ramekins onto the trivet and stack the fourth one in the center on top.

Secure lid and seal the valve on old models, Pressure Cook/Manual on High for 20 minutes.

After that, follow the manufacturer's instructions to do a quick release.

Carefully open the lid and using tongs remove ramekins from the Instant Pot.

Uncover them and run a butter knife around the edges. After that, invert each ramekin onto a plate, then dust with powdered sugar before serving.
Deliciousness to your inbox
Enjoy weekly hand picked recipes and recommendations