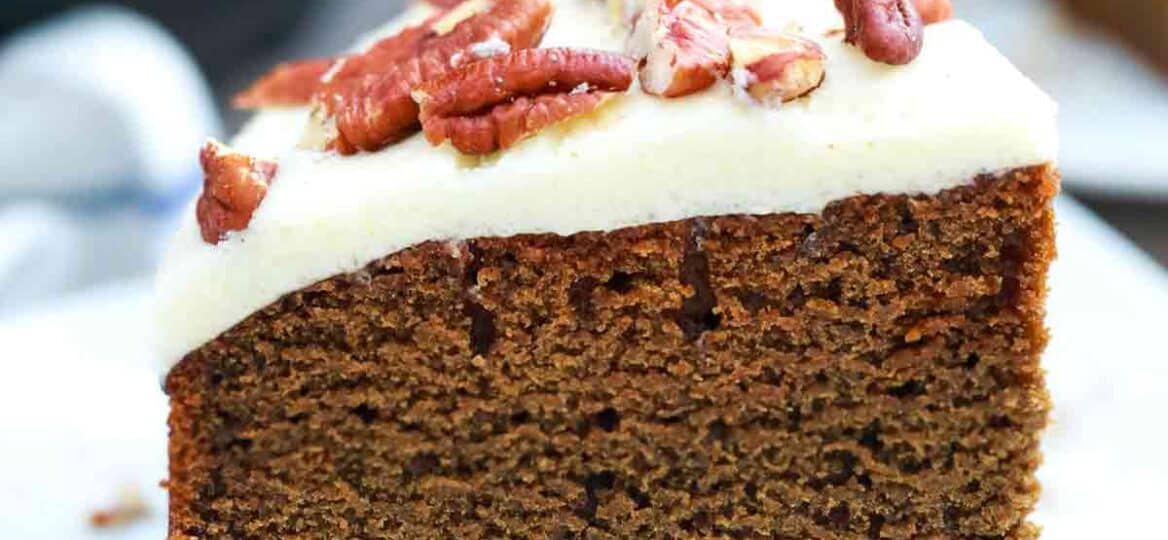 Instant Pot Gingerbread Cake
Instant Pot Gingerbread Cake is the perfect holiday treat with its delicious seasonal spices and maple bourbon frosting. The fluffy cake has the taste of gingerbread cookies with a hint of cream cheese and bourbon to make this one of your family's favorite desserts.
Looking for more instant pot recipes? Treat your family and yourself to this Instant Pot Pumpkin Cheesecake with pumpkin spice and a graham cracker crust. Any kind of instant pot cheesecake is delicious, after all. Or try another one of our favorite holiday treats, Gingerbread Cheesecake or instant pot gingerbread cheesecake. For the main entrée, try our Instant Pot Orange Chicken soaked in white wine and orange juice.
If this is your first time using one of these spectacular pots, scroll down for some tips that can help ease your mind. With a little bit of light reading, you can be an expert in no time.
If you are not a fan of gingerbread recipes, turn it into a pumpkin dessert by substituting the molasses and ginger with pumpkin puree and pumpkin spice.
This is the perfect recipe for the holiday season, especially when your oven is busy! This way you can cook multiple things at the same time without worry that your desseert will smell like stuffing!
Follow us on Pinterest for more delicious recipes!
Ingredients needed:
Keep scrolling to get to our recipe card for the exact directions. But these are the main ingredients for this perfect treat:
Gingerbread cake:
Butter: Room temperature.
Brown sugar: We used dark, but you can use your favorite.
Molasses: Light or dark are both fine for this recipe.
Maple extract: You could also use vanilla.
Sweetened condensed milk: Not evaporated milk.
All purpose flour: You can also use almond flour or whatever you like.
Baking soda: Not baking powder.
Spices: We used cinnamon, nutmeg, and ground ginger.
Water: One cup boiling hot.
Maple bourbon frosting:
Butter: Softened and unsalted.
Cream cheese: Also softened.
Vanilla extract: Or maple extract.
Maple syrup: Or corn syrup.
Powdered sugar: Also known as confectioners' sugar.
Brown sugar: Light or dark.
Bourbon: Or bourbon extract.
How do you make instant pot gingerbread cake?
Make the cake:
Cream: To start, cream the sugar and butter with a hand mixer and then whisk in the molasses and egg.

Combine: Next, mix in the milk and maple before whisking in the dry ingredients. Add hot water and whisk some more.

Water: Be sure to add 1 ½ cups of water to the bottom of the pot.

Prepare pan: Then, coat a seven-inch springform or cake pan with nonstick cooking spray or olive oil. Then line it with parchment paper.
Pour: Immediately, pour batter into the pan and cover it with foil. Lower it into the pot with a sling or trivet with handles.
Seal: Finally, seal the pot and set it on manual high pressure for one hour.

Natural release: After the cooking time finishes, do a natural pressure release for 10 minutes.

Remove: Lastly, remove the cake and let it cool on a cooling rack before adding the frosting.
Make the frosting:
Cream: First, mix the sugar, cream cheese, and butter in a large bowl with an electric mixer until it is creamy.

Mix: Then, add the rest of the ingredients, mixing it on high speed for three minutes.

Cover: After, cover with aluminum foil and chill until you are ready to use it.

Serve: Finally, after the cake is completely cool, add the frosting and candy sprinkles to serve.
Recipe variations:
Add applesauce: For extra moisture, add ½ cup applesauce.

Substitute: If you do not have molasses and the stores are closed, mix ½ cup maple syrup with ½ cup brown sugar.

Another sub: Similarly, if you do not have any cream cheese, you can use heavy cream instead.

Serve fruited: Place sliced pineapples, pears, or apples on top of the frosting for a tart and sweet combination.

For chocolate lovers: If you are a chocolate lover, you know you can put chocolate on or in anything. Add some chocolate chips or cocoa powder to this cake to give it a chocolatey kick.
Make it nutty: You could also add chopped pecans or walnuts to the mix or sprinkle some on top of the frosting.
Bundt: Turn it into a gingerbread bundt cake by using a small bundt cake pan.
How to serve:
This cake is a family favorite during the holiday season but if you are a gingerbread lover like me, you can make it any time of the year. Serve alone or with a glass of milk for a scrumptious dessert or try one of these serving suggestions:
Frequently Asked Questions
What is an instant pot?
An instant pot is an electric high pressure cooker that can bake, steam, cook rice, perform as a slow cooker, and can also sauté.
With this airtight container, you can brown your chicken and cook it all in the same pot, make yogurt, and you can even use it for canning and sterilizing.
What is the difference between an instant pot and a pressure cooker?
The old-fashioned pressure cookers used years ago had a lot of safety issues. Some of these devices were unstable enough to explode and cause serious injury.
An instant pot is locked and stays locked until you release the pressure.
In addition, a pressure cooker is used on the top of the stove while the pot is electric.
And the pressure cooker can reach a PSI of 15 while a pot can only reach 10 to 12 PSI. However, the pot is easy to set electronically, and you do not have to sit there and watch it.
What is gingerbread?
Gingerbread is any baked good that is sweetened with molasses and flavored with spices like cloves, cinnamon, and ginger. Yes, ginger is the main ingredient in gingerbread although some look at it as just one of the spices.
Traditional gingerbread can be made into a cake, bread, or those adorable gingerbread cookies we love to decorate.
How to store leftovers:
Store: Once the cake cools and you have frosted it, you should put it in an airtight container in your refrigerator. Leftovers will stay fresh for up to five days.

Freeze: If you cannot finish it all in five days, freeze it in a freezer-safe container for up to three months.

Thaw: Thaw in the fridge overnight before serving.
Reheat: This dessert is best served at room temperature. Do not reheat or the frosting will melt.
More Christmas recipes:
Cooking tips:
Use fresh ginger for the best gingerbread flavor.

Do not use blackstrap molasses. This type of molasses is not used for baking because it is bitter and very thick.
Be sure to put your springform pan on a trivet and not directly into the pot.
If you do not like bourbon or maple frosting, try another kind like our rich cream cheese frosting.
Make sure you do a natural release for 10 minutes before doing the quick release.
Also, do not take the cake out of the pan before it is completely cooled.
Instant Pot Gingerbread Cake
Ingredients
Gingerbread cake:
1/2

cup

unsalted butter

1/2

cup

dark brown sugar

1

large egg

3/4

cup

molasses

1

teaspoon

maple extract

2

tablespoons

sweetened condensed milk

2

cups

all-purpose flour

2

teaspoon

baking soda

1

tablespoon

ground ginger

2

teaspoon

cinnamon

1/2

teaspoon

nutmeg

1

cup

boiling hot water

1

cup

chopped pecans
Maple frosting:
4

tablespoons

unsalted butter

softened

4

ounces

cream cheese

softened

1

teaspoon

vanilla extract

2

tablespoons

maple syrup

1/2

cup

powdered sugar

1

tablespoon

brown sugar

1

tablespoon

bourbon
Instructions
Make the cake:
Spray a 7" springform pan with nonstick cooking spray and set it aside.

In a large bowl using a hand mixer, cream the butter and sugar.

After that, scrape the sides and bottom of the bowl and whisk in the egg and molasses.

Whisk in the maple extract and sweetened condensed milk.

Next, add in the flour, baking soda, ginger, nutmeg, and cinnamon and whisk until smooth.

Pour in the hot water and whisk until combined.

Add 1 ½ cups of water to the inner pot of the Instant Pot. Add a trivet.

Pour the batter into the prepared pan. Cover the pan with foil and lower it into the IP using a sling or trivet with handles.

Close and seal the IP and set for cooking on manual high pressure for 60 minutes.

When the cooking time finishes, do a natural pressure release for 10 minutes.

Do a quick release for the remaining pressure, and when the valve drops open the pressure cooker.

Carefully remove the cake from the IP and let it cool completely on a cooling rack before adding the frosting.
Frosting:
In a medium bowl, using a hand mixer, cream butter, cream cheese, and sugar.

Add the rest of the ingredients and mix on high speed for 3-5 minutes, or until smooth.

Add the frosting on top of the cake and immediately sprinkle with pecans.

Once the frosting sets, you can slice the dessert and serve it.