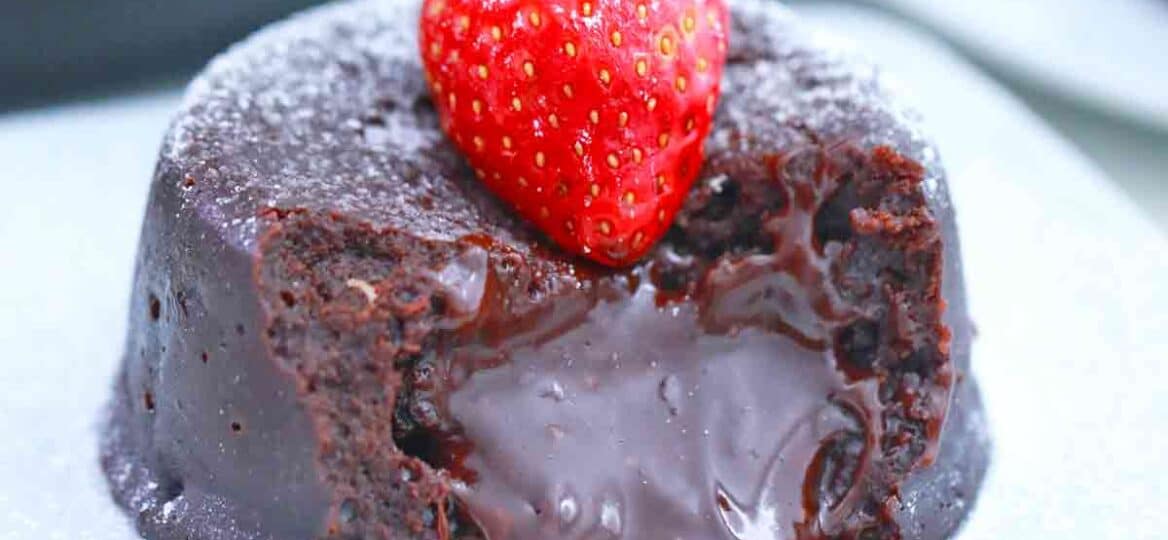 Instant Pot Chocolate Lava Cake Recipe
Instant Pot Chocolate Lava Cake is the perfect combination of tender chocolate cake and a moist and rich filling. Everyone loves licking the batter from the bowl after making the cake, but it is not safe to eat. This chocolate lava cake recipe lets you have that delicious treat without the risk.
If you enjoyed this popular dessert, try our Strawberry Lava Cakes for a fruity flavor with white chocolate and vanilla beans. Our Pumpkin Lava Cakes are also scrumptious with their dulce de leche filling. You could also try this Slow Cooker Chocolate Cake with a fudgy filling and dark brown sugar.
If this is your first time making a lava cake, you will be surprised at how simple and fast this decadent dessert is. Next time, you can feel confident in knowing how easy it is.
Take the time to make it your own unique creation by adding your own fillings like white buttercream frosting or strawberry sauce.
Ingredients needed:
Scroll down to the bottom of the page to our recipe card for the exact measurements but here are the main ingredients you need for this instant pot lava cake recipe:
Unsalted butter: At room temperature.
Semi-sweet or dark chocolate chips: You could also use milk chocolate.
Powdered sugar: Also known as confectioner's sugar
Large egg: At room temperature.
Egg yolk: Also, at room temperature.
Espresso powder: Or you can use cocoa powder.
Pure vanilla extract
All-purpose flour
Salt
One cup of water: For the bottom of the instant pot.
How to make instant pot chocolate lava cake from scratch?
Prepare: First, butter the ramekins or use cooking spray to prevent sticking.
Add water: Then, put a stainless-steel insert, your trivet, and one cup of water to the pot.
Melt: Next, cut butter into chunks and put it and the chocolate chips into a large bowl. Make sure it is a microwave-safe bowl. Microwave for 15-second intervals until the butter is melted. Whisk until the melted chocolate is smooth. Cook time may vary depending on your microwave.
Add sugar: After, add the espresso and powdered sugar to the chocolate mixture and whisk it together until it is smooth but thick.
Add eggs: Then, add the egg yolk, egg, and vanilla to the mix and whisk it well.

Combine: Next, sift the flour into the chocolate and gently fold until it is mixed being careful not to overmix.
Fill: After, put the chocolate into the prepared ramekins and place them on top of the trivet. Close the lid and set it to the sealing position. Then, make sure it is set to high pressure or pressure cook for eight minutes.

Release: Then, once the timer beeps, set the valve to venting or quick release.

Remove: After the pressure pin is down, open the lid and remove the ramekins.

Let them cool: Lastly, put the cakes on a cooling rack for five minutes to cool. Then, cover each one with a plate and flip it over, tapping the ramekin so the cake comes out.

Serve: Finally, dust the top of the cakes with powdered sugar before serving.
Recipe variations:
Filling: Feel free to add whatever filling you like such as peanut butter, Nutella, caramel, or mint.

Fruit: Another way to create your own flavor is to add your favorite fruit to the recipe. Strawberries and raspberries are perfect.
Nuts: Add some pecans, walnuts, or almonds to your batter for a crunchy cake.
Brown sugar: Mix a bit of brown sugar and cornstarch into the batter instead of the powdered sugar for a caramel flavor.
Make a cake: Although these are the perfect size for ramekins, you could also make this a whole cake. Just put the chocolate filling into a cake pan and cook it for nine minutes just like the ramekins.

Pressure cooker: You can also make these in an instant pot pressure cooker or electric pressure cooker.
How to serve:
This is one of my family's favorite instant pot desserts no matter whether it is for a holiday meal, special occasion, or just an everyday snack. Serve this decadent chocolate dessert warm with a coating of powdered sugar or try one of these ideas:
Add a dollop of homemade whipped cream on top for extra creaminess.
You could also top this delicious cake with a scoop of vanilla ice cream.
These little cakes go great with a glass of ice-cold milk.
Or you can enjoy your cake with a mug of homemade hot chocolate.
Alternatively, add a bit of fresh fruit to the top of your cakes.

Try these with our instant pot cinnamon apple pork chops.
Frequently asked questions
What is a chocolate lava cake?
Also known as molten chocolate cake or molten chocolate lava cake, this is the perfect dessert for chocolate lovers.
It is a chocolate cake with a melted liquid chocolate center inside of it created by French chef Michel Bras in 1981.
These delicious dessert cakes are usually served in ramekins or other single-serve dishes.
While they are sometimes made for special occasions like Valentine's Day, they are now popular for any dessert. The gooey center is perfect for that late-night chocolate craving.
Why do they call them ramekins?
A ramekin, or ramequin, is a small bowl or dish used for culinary purposes. It was originally a French dish made of meat or cheese and baked in a small mold.
The Dutch called it "rammeken", which translates into roasted minced meat. However, today they are used for all sorts of dishes including these decadent molten lava cakes.
Do you have to use the trivet?
Not always. Most instant pots come with a trivet insert to keep your food raised off the bottom of the pot.
This is important for steaming and baking. They come in single- and multiple-level designs to let you cook different foods at the same time in the same pot.
The food that takes the longest goes on the bottom and the others are on top for easy removal.
How to store leftovers:
Store: To store your leftover lava cakes, place them in an airtight container and then place them in the refrigerator where they will stay fresh for up to three days.

Freeze: If you need to freeze some, allow them to cool to room temperature and then chill it in the fridge for three hours. Then, wrap them each in plastic wrap and aluminum foil and place them in freezer bags. These will be good for about 90 days.

Thaw: Thaw overnight in the fridge before reheating in the microwave to serve.
More desserts:
Cooking tips:
To be sure you get the correct amount of powdered sugar and flour, spoon it into the measuring cup and level it with a knife.

Also, do not use unbleached flour in this recipe.
Cover up the ramekins with foil to prevent excess moisture.
If your trivet does not have handles, you can use a silicone sling or make your own from aluminum foil.

You should always add one to two cups of water to your instant pot before cooking.
Use quality chocolate for the best results. The lesser chocolate chips have wax in them that affects the final result.
Be sure not to overheat the chocolate when melting. Cook it in 15 to 30-second bursts.
Instant Pot Chocolate Lava Cake
Ingredients
1

cup

water

1/4

cup

unsalted butter

cut into cubes

4

oz.

semi-sweet chocolate

or dark chocolate

1/2

cup

powdered sugar

1

large egg

1

egg yolk

1/2

teaspoon

pure vanilla extract

1/4

teaspoon

espresso powder

1/4

cup

all-purpose flour

1/4

teaspoon

salt
Instructions
Butter the ramekins and set them aside.

Add 1 cup of water to the instant pot and set the trivet inside.

In a medium mixing bowl, add butter and chocolate. Microwave in 15-second intervals, until the butter, is melted. Whisk well until the chocolate melts. The mixture should be smooth.

Add powdered sugar and espresso powder. The mixture should be thick and smooth.

Add egg and egg yolk and vanilla and whisk well.

Add flour and salt and fold in with a spatula. Do not overmix!

Divide the chocolate batter evenly among the ramekins. Place ramekins onto the trivet in the Instant Pot.

Close the lid and point the valve to the "sealing" position. Newer models do it on their own.

Cook on high pressure for 8 minutes.

When the timer is done, press the "cancel/off" button. Do a quick pressure release.

Carefully open the lid and wearing an oven mitt, remove ramekin from the IP.

Cover each ramekin with a plate, flip over, tap the ramekin and gently remove the cake.

Let it cool for a few minutes, dust with powdered sugar and serve.
Deliciousness to your inbox
Enjoy weekly hand picked recipes and recommendations