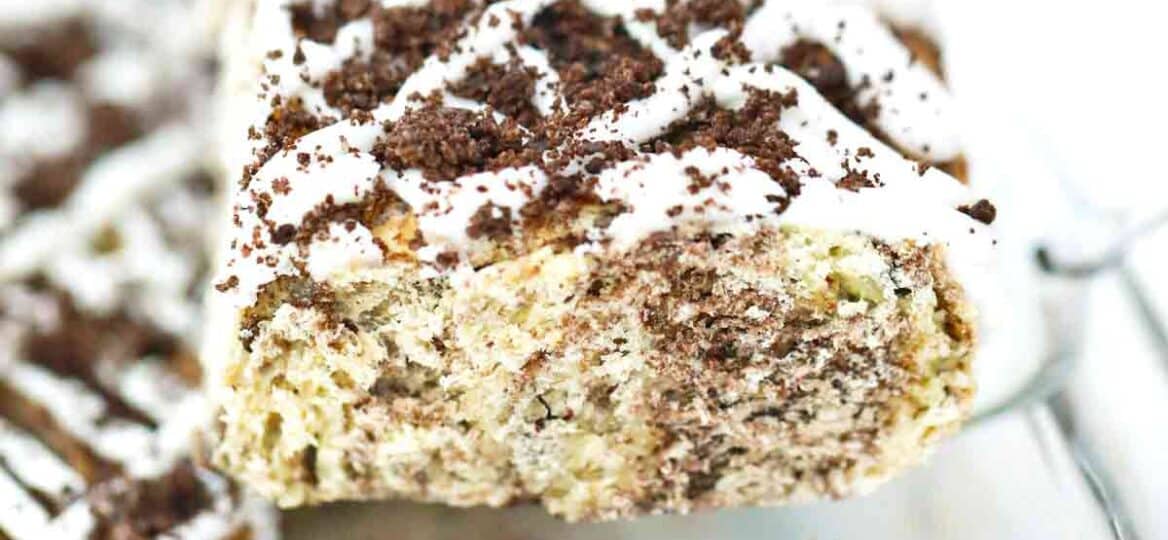 Oreo Cinnamon Rolls [Video]
Oreo Cinnamon Rolls are filled with creamy and crunchy Oreos and cinnamon and topped with a sweet and gooey vanilla glaze. Even the dough is stuffed with Oreos. Your family will not be able to resist these delicious rolls whether you serve them for breakfast, dessert, or just as a snack.
Do you have a family member who is not an Oreo fan? Make these Fluffy Cinnamon Rolls with Cream Cheese for them instead. Or they may enjoy these fruity Strawberry Rolls filled with strawberry jam and fresh strawberries.
This Oreo cinnamon roll recipe is becoming a family favorite. With the sweet dough and crunchy rich chocolate Oreos, you would be hard-pressed not to love these.
We use a special black cocoa powder that has been Dutched and has a higher pH level. This gives it that rich cocoa flavor and adds to the color nicely as well.
But for Oreo lovers, try our recipe for Air Fried Oreos using crescent dough and powdered sugar.
Ingredients needed:
Our recipe card at the bottom of the page has all the details and measurements. However, here are the basic ingredients for this easy recipe:
Dough ingredients:
Flour: All purpose flour is what we used.
Dry yeast: Fast acting yeast.
Large egg: At room temperature.
Whole milk: You can use 2% or low-fat also.

Sugar: Granulated white sugar.
Unsalted butter: At room temperature.
Oreos: Crushed.
Salt
Filling ingredients:
Brown sugar: Light or dark are both fine.
Black cocoa
Cinnamon
Nutmeg
Unsalted butter: Softened.
Oreos: Crushed.
Vanilla glaze ingredients:
Unsalted butter: At room temperature.
Powdered sugar: Or confectioner's sugar.
Whole milk
Vanilla: Pure vanilla extract.
How do you make Oreo cinnamon rolls from scratch?
Making the dough:
Preheat: First, preheat your oven to 200 degrees F.
Combine: Meanwhile, in a large bowl (or the bowl of a stand mixer), combine instant dry yeast, 3 ½ cups of flour, and one teaspoon salt with an electric mixer at medium speed.
Mix: Next, using a microwave-safe bowl, mix 1 cup milk, ¼ cup softened butter and ½ cup granulated sugar. Heat on high power for 60 to 90 seconds until warm. Stir a little bit to combine ingredients.

Milk: Then, slowly add the warm milk into the flour, mixing on medium speed with a dough hook attachment until it comes together.

Add egg: After, add the egg and mix on low speed for two to three minutes until the dough is elastic.

Flour: As it mixes, add the rest of your flour, one tablespoon at a time until the dough does not stick to the sides of the bowl.

Add cookies: Add half a cup of the chopped cookies and mix on medium speed until they are well mixed.
Rest: Next, cover the bowl with plastic wrap and set it aside in a warm place to let it rest for 10 minutes. The plastic should fog up from the warm moisture. While it is rising, make the filling and glaze.
Roll the dough:
Roll: Afterward, on a floured surface, roll the dough ball into a large rectangle of about 12"x18" and about ½ centimeter thick.

Butter: Then, spread ¼ cup of the soft butter on top, leaving ½ inch uncovered on the long end.
Filling: Next, sprinkle the cinnamon roll filling over the buttered area and pat it down with a spatula or wooden spoon. Top with ½ cup crushed Oreos.
Roll: After, roll the dough horizontally toward the uncovered dough strip.
Cut: Use a piece of dental floss to cut the roll into nine equal pieces.

Rise: Turn the oven off, cover the pan with aluminum foil, and transfer the dough to the oven (still off) for 30 minutes until the dough has risen.
Bake: Lastly, remove the pan and preheat the oven to 350 degrees F. Bake for 26 to 32 minutes or until they are golden brown.
Make the filling and icing:
Make filling: While the dough is rising, mix the brown sugar, cocoa, and spices in a medium bowl. Set aside until needed.
Make glaze: Then, put butter in a medium bowl with 1 ½ cups of powdered sugar, add the milk and vanilla. Mix until smooth.

Serve: Finally, after the rolls have cooled for five to 10 minutes, add the glaze on top of warm cinnamon rolls. Serve warm with chopped Oreos on top.
Recipe variations:
Make them smaller: For smaller oreo cinnamon rolls, cut them into more pieces and use a square pan coated in cooking spray.

Sweeter: For an even sweeter dish, use cheesecake filling by combining the ingredients with one package of softened cream cheese and a whole stick of butter.

Frosting: You could also use cream cheese frosting or some other type of your choice.

Favorite flavor: Oreos come in a variety of flavors. Use your favorite flavor of Oreos cookie for a unique twist.

Chocolate: Feel free to add chocolate chips or chopped chocolate to the filling.
Nutella: Another option is to add a drizzle of Nutella to the filling, and also to top the rolls with some melted Nutella.
How to serve:
Serve these oreo cinnamon rolls warm with cookie crumbs on top. Here are some other ideas:
Make a dessert sundae with cookies and cream ice cream for an irresistible treat.
Add a dollop of sweet strawberry jam or rich and sticky caramel sauce.
You could also top these with a scoop of vanilla ice cream or whatever flavor you choose.

These go great with a steaming mug of hot cocoa.
Serve these for breakfast with a side of fruit or yogurt.
Frequently Asked Questions
What is the difference between a cinnamon bun and a cinnamon roll?
The most obvious difference is the nuts. A cinnamon bun usually has some kind of nuts like pecans. Rolls do not have any.
Also, cinnamon buns have icing and nuts on the bottom and are flipped over after they cook. Cinnamon rolls are topped with cream cheese icing or glaze after cooking.
Why are my rolls hard?
There are several reasons why your rolls are too hard. The most common reason is that you used too much flour. It could also be that you cooked them too long.
Also, if you used melted butter instead of softened butter, it will be hard. Lastly, if the dough did not rise in a warm oiled bowl, it will be too tough.
Why didn't my dough rise?
First, if you did not test your yeast, it could be that it was old. Make sure it will work before using it. Also, you have to be sure to let the dough rise at just the right temperature in a greased bowl.
Do not roll them too tight or they will not rise properly either. The dough needs plenty of room to expand and rise.
How to store leftovers:
Store: After the rolls come to room temperature you can store them in the fridge for up to three days. Just make sure you put them in an airtight container.

Freeze: You could also freeze your leftovers for up to three months. Put them in an airtight container or freezer bag.

Thaw: Thaw overnight in the fridge before serving for best results. Serve at room temperature.
Reheat: If you want to reheat your rolls, microwave for 30 seconds. Place a cup of water in the microwave with it to keep it from drying out.
More Christmas breakfast recipes:
Cooking tips:
Want to make this recipe simple? Use Pillsbury cinnamon rolls instead of making your own. Just separate dough into five rolls and stuff with the Oreo filling before rolling it back up.

Use a food processor to crush the cookies. If you do not have one, just put them in a plastic bag and beat them with a rolling pin.

If you cannot find black cocoa, you can use dark cocoa powder.

Similarly, if you only have salted butter, you can use it. Just do not add the salt the recipe calls for.

The best way to make sure your dough is 12" x 18," use a ruler.

Put a sheet of parchment or wax paper between your rolls to keep them from sticking during storage.
Oreo Cinnamon Rolls
Ingredients
Dough:
3 1/2 - 4

cups

all-purpose flour

1

teaspoon

salt

3

teaspoons

instant dry yeast

1

cup

whole milk

1/2

cup

granulated sugar

1/3

cup

unsalted butter

room temperature

1

large egg

room temperature

1

cup

finely crushed oreos
Chocolate Oreo Cinnamon Roll Filling:
1/2

cup

brown sugar

packed

2

tablespoons

black cocoa

unsweetened

2

tablespoons

ground cinnamon

1/2

teaspoon

nutmeg

1/3

cup

unsalted butter

softened - to spread on the dough

1 1/2

cup

finely crushed oreos
Vanilla Glaze:
1

tablespoon

unsalted butter

room temperature

1 1/2

cups

powdered sugar

2

tablespoons

whole milk

1

teaspoon

vanilla extract
Instructions
Chocolate Oreo Cinnamon Roll Filling:
In a medium-sized bowl, mix together packed brown sugar, cocoa powder, nutmeg, and ground cinnamon and set aside.
Dough:
Preheat oven to 200 degrees F.

In a large bowl or the bowl of a stand mixer, add 3 1/2 cups of flour, instant dry yeast, and salt.

In a separate bowl, add the milk, softened butter, and granulated sugar into a microwave-safe bowl.

Heat on high power for 60-90 seconds, until the mixture is warm. Stir to combine.

Gradually, with the mixer on medium speed and fitted with the dough hook, add the warm milk mixture into the flour mixture and mix until the dough comes together.

Add in the egg and mix at low speed until a sticky dough ball is formed. Mix on a medium-low speed for 2-3 minutes, until the dough becomes elastic.

Add additional flour, 1 tablespoon at a time until the dough begins to pull from the sides of the bowl.

Once you're done adding the additional flour, mix in 1/2 cup of the crushed Oreos. Mix until incorporated evenly throughout the dough.

Cover the bowl with plastic wrap, and set it aside to allow the dough to rest for 10-15 minutes.
Roll:
Flour the counter and roll the dough into a large rectangle 12 inches x 18 inches.

Spread 1/4 cup of softened butter evenly over the dough, leaving 1/2 inch on the long side of the rectangle uncovered.

Sprinkle the cinnamon roll filling evenly over the buttered area, and sprinkle the 1/2 cup of remaining crushed Oreos on top.

Tightly roll the dough toward the uncovered strip. After that, slice the log into 9 equal pieces.

Arrange them in a greased 8x8 inches square pan.

At this point, TURN OFF the oven. Cover the pan with foil and place in the oven for 30 minutes, or until the rolls have risen.

Remove the pan from the oven and take off the foil.

Turn the oven back on, and heat it to 350 degrees F.

Once preheated, bake the rolls for 26-30 minutes or until the rolls are golden brown.
Vanilla Cinnamon Roll Glaze:
Add unsalted butter to a medium-sized bowl with 1 1/2 cups of powdered sugar, 2 tablespoons of whole milk, and 1 teaspoon vanilla extract. Mix together until smooth.

Let the cinnamon rolls cool for 5-10 minutes, then drizzle the glaze over the still warm cinnamon rolls.

Garnish with oreo crumbs and serve warm.
Deliciousness to your inbox
Enjoy weekly hand picked recipes and recommendations