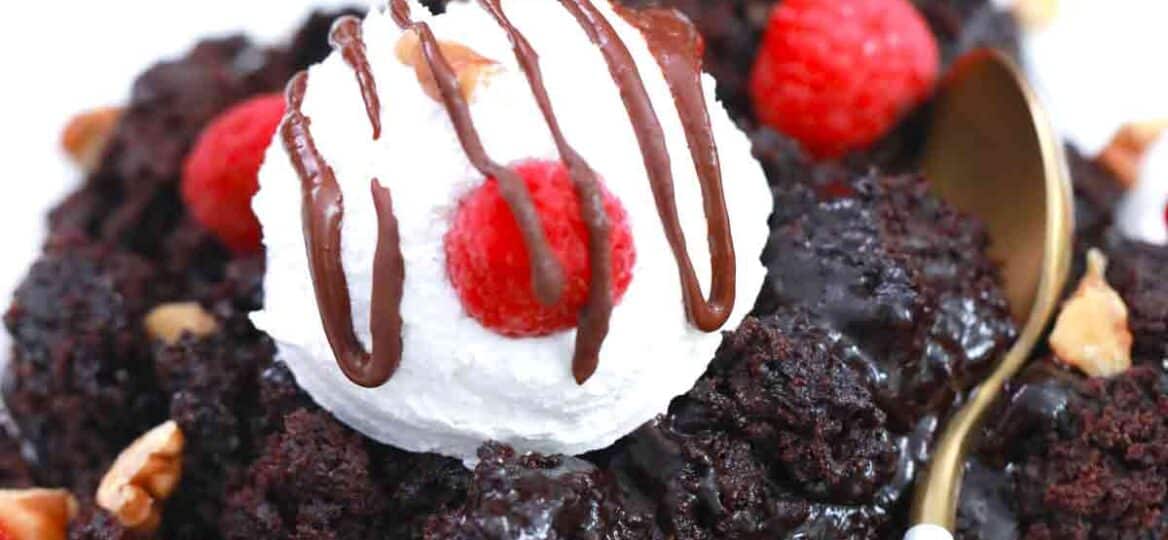 Fudgy Slow Cooker Chocolate Cake
Slow Cooker Chocolate Cake is incredibly moist, fudgy, and incredibly chocolaty. Made easily in the crockpot, for the ultimate decadent dessert. The cake is bursting with chocolate goodness and is fantastic served warm with vanilla ice cream and fresh berries.
Slow Cooker recipes are such a lifesaver, and the best part is that you can use them not only for dinners. We already have this must-try Slow Cooker Coffee Cake, and Peach Upside Down Cake. Perfect recipes to end a dinner of our famous Crockpot Ribs or Meatloaf.
Easy Crockpot Chocolate Cake Recipe
Slow Cooker Chocolate cake is amazingly rich, moist and so decadent. It goes hand in hand with our Instant Pot Chocolate Cake and the 5 Ingredients stovetop Chocolate Cake. Having these it made sense to make a crockpot version, and boy it is good!!
The recipe is made with simple ingredients, and we make sure to use the highest quality cocoa powder and chocolate. Keep in mind that this is key to a great-tasting dessert, as the chocolaty flavor is front and center here.
Do not be intimidated by making desserts in your crockpot, while this is not the most traditional way, I assure you that is one of the most delicious ways. Another benefit is that you don't have to turn on the oven during hot summer days.
This cake is also very interesting because the topping is added on top before cooking it, therefore another indulgent layer is created! It reminds me of a fudgy lava cake!
Ingredients Needed:
For the cake:
All-purpose flour
Cocoa powder – we use dutch unsweetened cocoa powder and I prefer the dark variety. Also, I think it has a more prominent flavor.
White and brown sugar – brown sugar is important as it adds a caramel flavor and also contributes to the denser, richer texture.
Baking powder
Salt
Milk
Canola oil – this adds moisture to it.
Vanilla extract
Melted chocolate – for the richest and most amazing texture and flavor!
Chocolate chips – because we are making the ultimate chocoholic dessert here so why not add more chocolate?
Fudgy Topping:
Cocoa powder – again, use the highest quality and go for unsweetened.
White granulated sugar
Boiling water
How do you make Slow Cooker Chocolate Cake from scratch?
Mix the dry ingredients: First, in a large bowl combine the flour, sugars, cocoa powder, salt, and baking powder.
Mix the wet ingredients: Second, in a different bowl whisk milk with oil and vanilla extract.
Combine: After that, combine the wet and the dry ingredients until fully incorporated.
Chocolate: Stir in the melted chocolate and once combined add the baking chips.
Add to the Slow Cooker: Spray the crockpot with baking spray and add the cake batter.
Topping: Combine the ingredients in a bowl and stir until fully dissolved. Pour the mixture on top of the batter.
Cook: Cook on High for 2 hours or until the top layer has puffed up and is set.
Recipe Variations and adaptations:
White Chocolate: Skip the cocoa powder and replace the dark chocolate with white for a different experience. Then, mix in some raspberries for the ultimate flavor combo.
Peanut butter: Well, this one makes everything better. Take 1/2 to 1 cup of peanut butter, melt it in the microwave, and after that stir it in the batter to create a marble effect. To make it even better, add some Resse's cups or peanut butter chips. Serve the dessert topped with chopped salted peanuts!
Berries: This dessert is amazing with some tart berries. Keep in mind that you can decide how to use them, stir them into the batter or serve on the side. We like using raspberries and blueberries!
Nuts: Chop some nuts like pecans, peanuts, or walnuts and stir them into the batter or add them on top.
Gluten-free: Make it gluten-free by using gluten-free flour.
Can you put a cake tin in the slow cooker?
This is a frequently asked question that we get from our readers when it comes to the desserts made in the slow cooker. The answer is yes, you can use metal cake tins or oven-safe cake tins.
Also, try using a trivet, to elevate the tin from the bottom of the crockpot for air to circulate.
How to serve Slow Cooker Chocolate Cake:
Now, this is a very moist dessert. This is NOT the type of cake that you would slice and serve. It actually resembles a large lava cake, that is very moist and extremely fudgy.
Hense, I suggest that you scoop the warm dessert into individual serving bowls and top it with Homemade Blueberry Sauce, or Homemade Caramel Sauce. Also, add some topped it with vanilla ice cream and add some fresh berries and Homemade Whipped Cream on the side.
How to store it:
This recipe is not pretentious, and it will stay good in the fridge for 4-5 days. Please keep in mind that once cooled, the texture will change slightly.
In order to refrigerate it, just let the cake cool, and after that scoop it into an airtight container and chill.
To serve it after it has been chilled, add it to serving bowls and microwave for 1 minute, to get that gooey texture that we all love.
When it comes to freezing it, we actually don't recommend it. While this dessert can be easily frozen, the change in texture will be dramatic. Therefore, we recommend that you enjoy it fresh and warm right away or within the first few days.
More Cake Recipes:
Recipe Tips:
It is very important to use high-quality cocoa powder and chocolate.
Also, make sure to check on the dessert after one hour of baking and after that every 30 minutes.
When it is done cooking do NOT keep it on warm, as it will continue to cook and eventually dry out.