Red Velvet Chocolate Coffee Cake
This post may contain affiliate links. Please read my disclosure policy.
Chocolate Coffee Cake with beautiful red velvet, coffee infused, brownie layers covered in a delicious chocolate buttercream and caramel drizzle.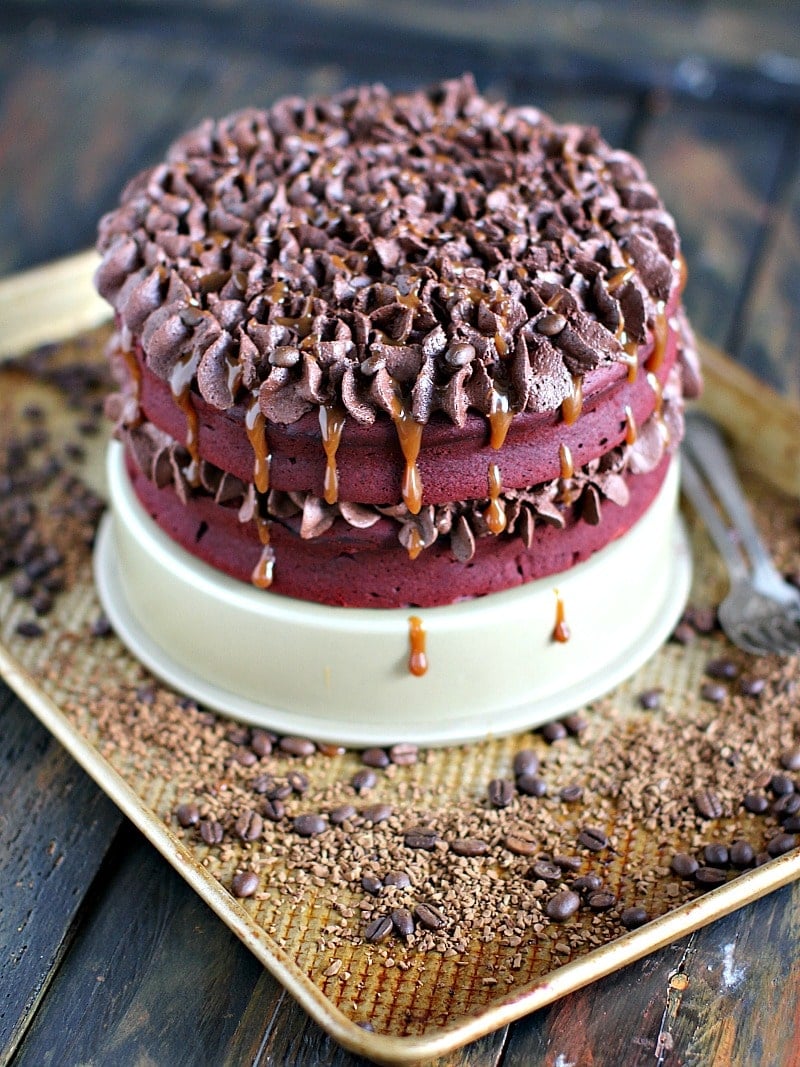 We should all start our days with Chocolate Coffee Cake – it would make it so much sweeter and filled with happiness, because chocolate + coffee = happiness!

I have a love for beautiful cakes and Red Velvet is definitely one of them. When I moved to the US almost a decade ago, I had my first taste of the amazing Red Velvet Cake and I fell in love instantly. I started ordering it every time we went out, the beautiful color and the delicious taste, were something I wanted to experience again and again.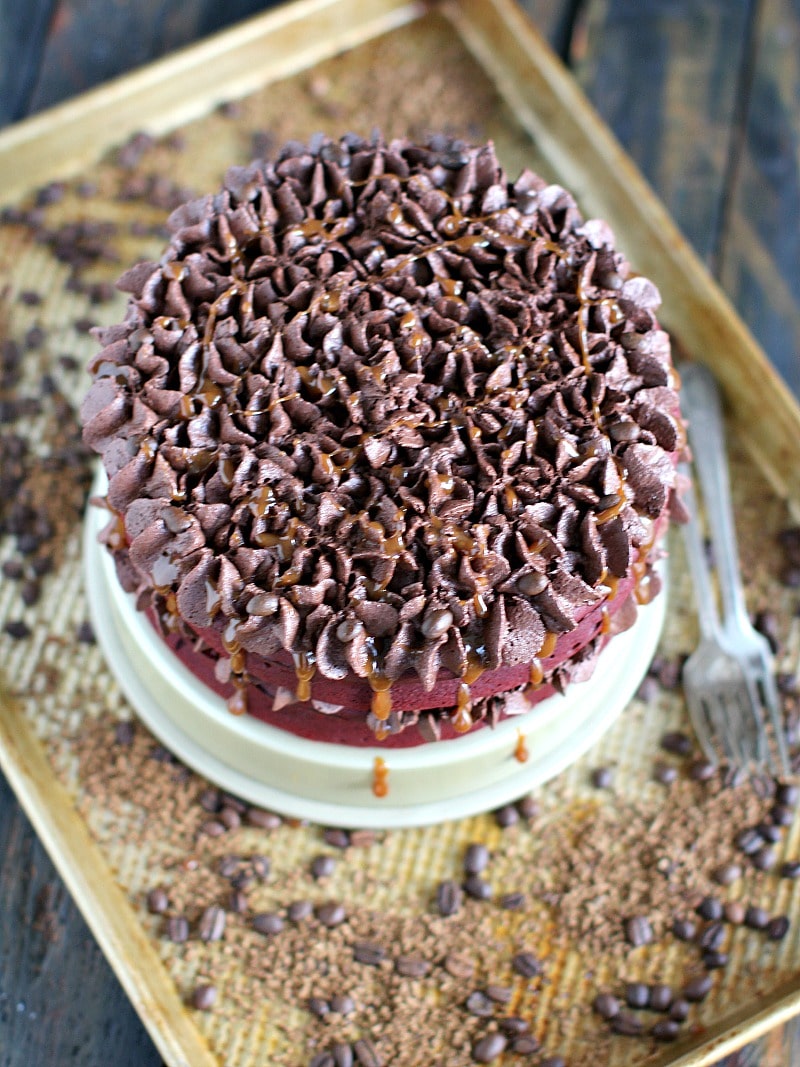 Another dessert that I have discovered when I moved to the US are the brownies! I do appreciate a good brownie and as you can see I have quiet the list on the blog, including some delicious Red Velvet Brownies: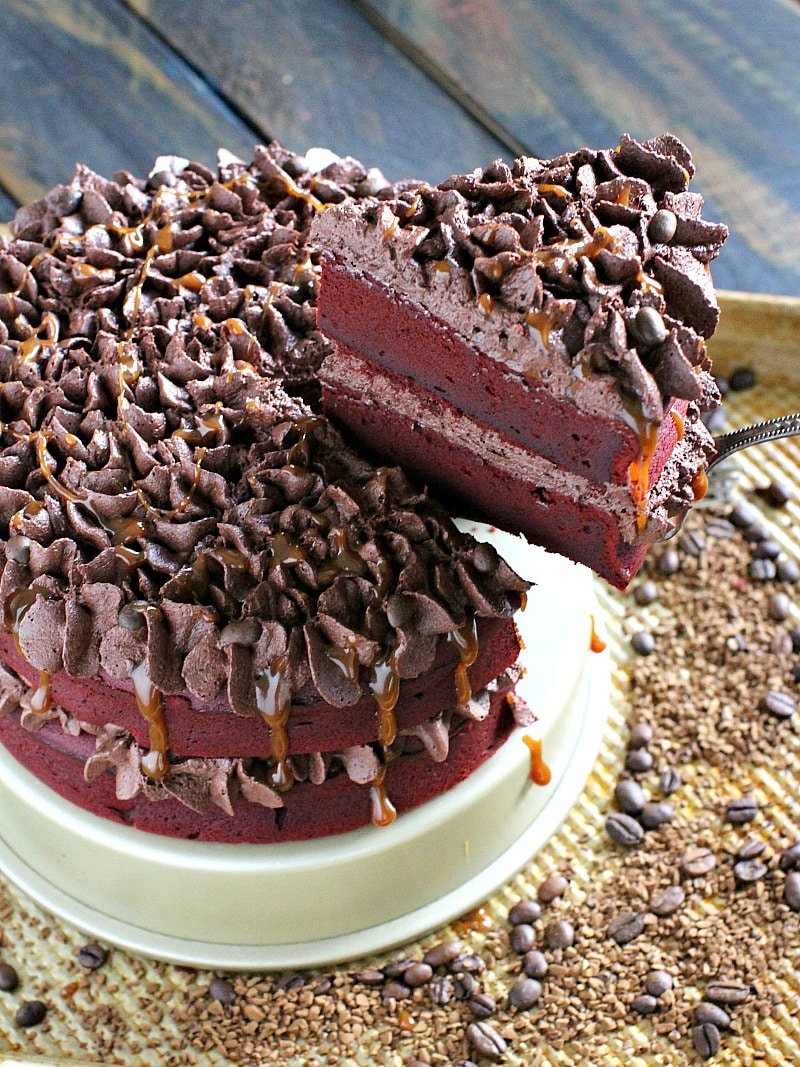 Since my Red Velvet Brownies had such great success and I planned for so long to make a Chocolate Red Velvet Cake I finally gave in into my craving and made this Chocolate Coffee Cake with Red Velvet Brownie layers and a delicious Chocolate Buttercream!

MY LATEST VIDEOS
This Chocolate Coffee Cake has some amazing and I would go ahead and say luxurious layers of Red Velvet Brownie, that melt in your mouth with their rich chocolate taste. Infused with real espresso they have a nice coffee flavor, that makes the chocolate shine even more.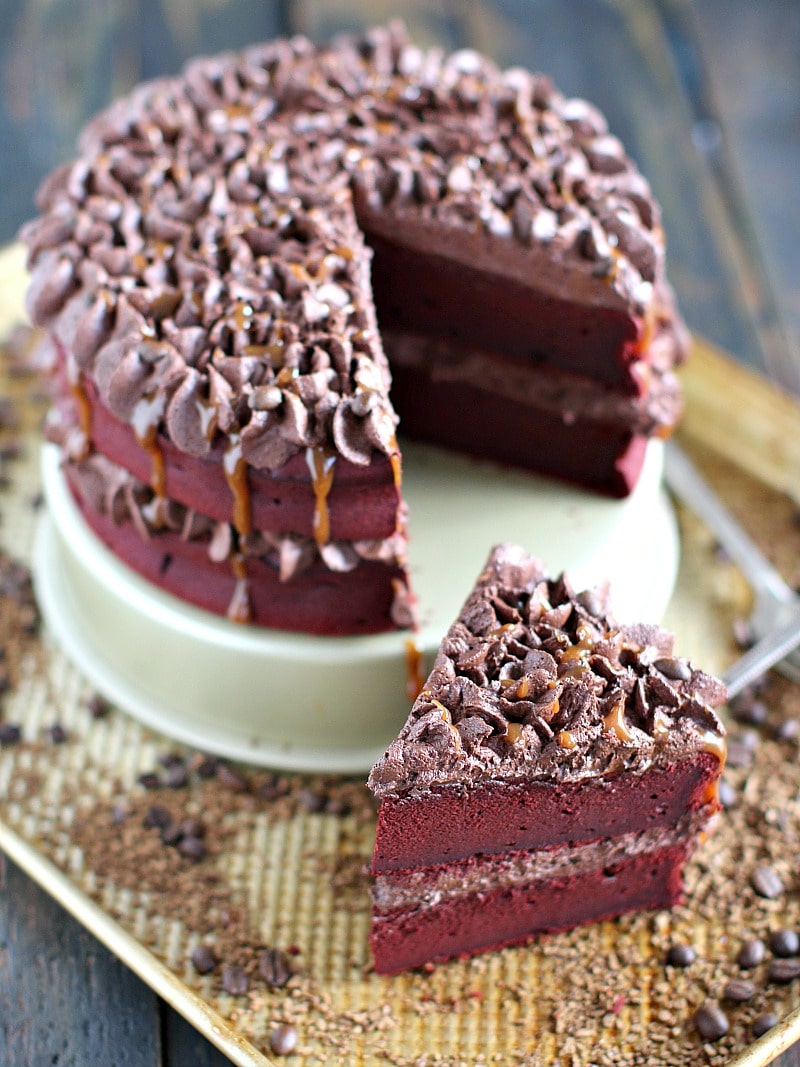 I like making naked cakes, as they are so much easier to frost, and also the look very professional and cute! This cake is no exception, also not frosting the sides lets you see the gorgeous red velvet layers.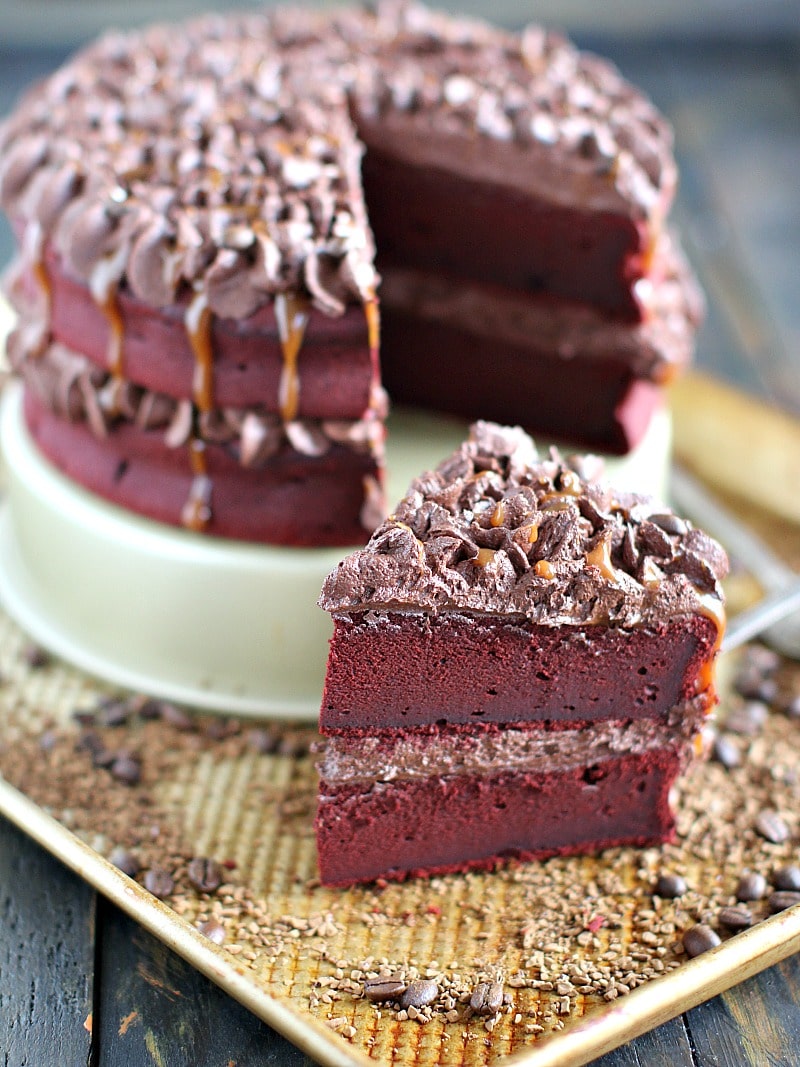 The Chocolate Coffee Cake is covered in layers of sweet Chocolate Buttercream that is extremely easy to make!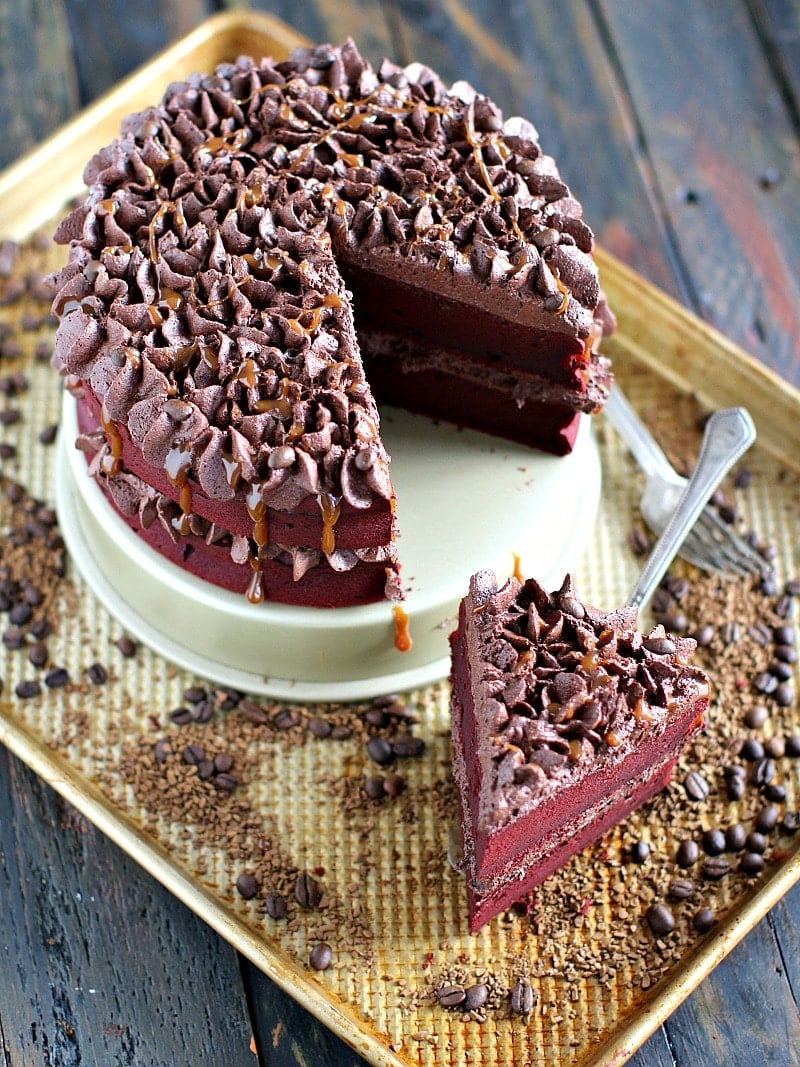 A drizzle of caramel sauce for some extra sweetness and this cake is all you need!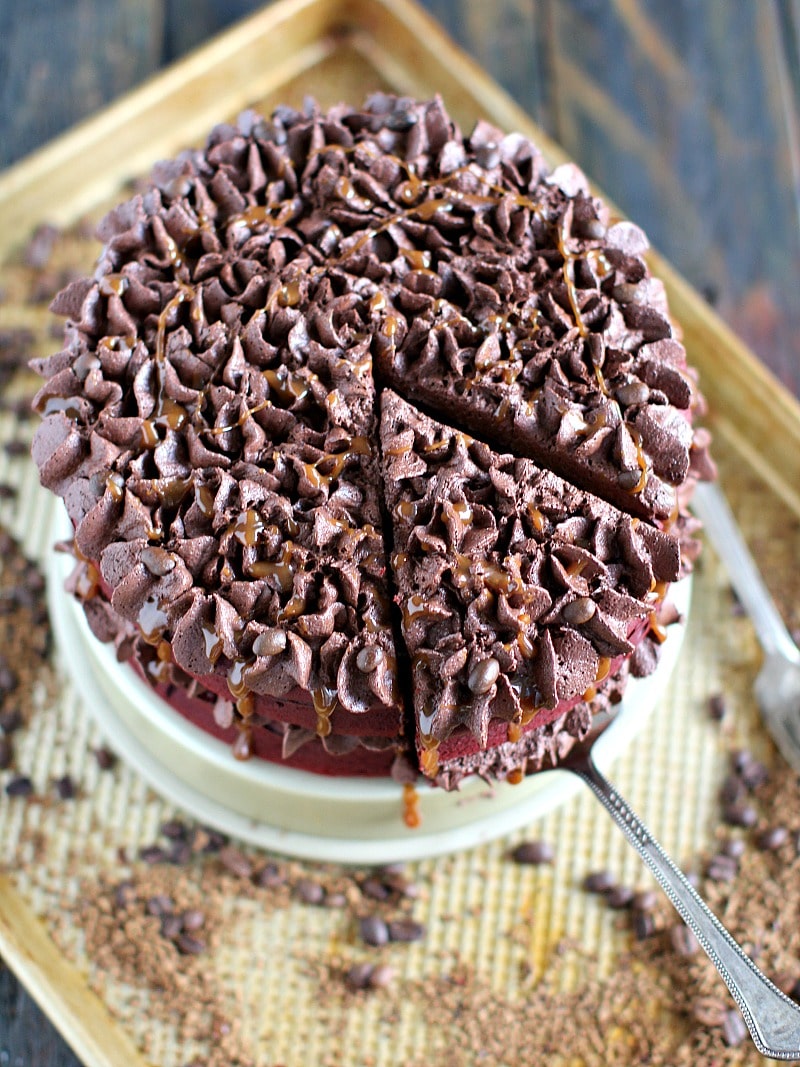 Red Velvet Chocolate Coffee Cake
Chocolate Coffee Cake with beautiful red velvet, coffee infused, brownie layers covered in a delicious chocolate buttercream and caramel drizzle.
Author:
Katalina Kastravet
Ingredients
Soft butter or baking spray, for greasing the pan
8 large eggs
2½ cups light brown sugar
16 ounces / 4 sticks butter, melted
2 cups cocoa, sifted
1 tablespoon vanilla extract
¼ cup espresso
¼ cup instant coffee granules
1 cup flour, sifted
½ teaspoon kosher salt
Red gel food color
Chocolate Buttercream:
12 ounces / 3 sticks unsalted butter, softened
2 cups unsweetened cocoa
2 cups confectioner's sugar
½ cup milk
2 teaspoons vanilla extract
2 teaspoon espresso powder - optional
Garnish:
Caramel sauce
Instructions
Preheat oven to 325 degrees F.
Coat two 8 x 2 inch cake pans with non­-stick spray, line bottoms with parchment paper and spray paper with non-stick spray. Set aside.
In a mixer fitted with the wire whisk attachment, beat the eggs at medium speed until fluffy and light yellow, add the brown sugar and beat until combined. Add remaining ingredients: melted butter, cocoa, coffee granules, espresso, vanilla extract, salt, and flour.
Stop and scrape the sides of the bowl with a spatula and continue mixing on medium speed until all combined.
Add the red gel food coloring, as much as needed to get the shade of red you like. Mix until combined.
Pour the batter into the prepared pans and bake for 35-40 minutes. Check for doneness by inserting a toothpick into the center of the cakes, it should come out clean. I find that 40 minutes in my oven for this recipe is perfect timing.
When done, remove from oven and place the pans on a cooling rack. Cool in the pan for 10 minutes, after that invert the cakes onto the cooling rack.
Once cooled the cakes can be frosted.
Chocolate Buttercream:
Add cocoa to the bowl of a stand mixer. Whisk through to remove any lumps.
Add the softened butter and cream together until well combined.
Add confectioner's sugar and milk to cocoa mixture by adding 1 cup of sugar followed by about a tablespoon of milk. Mix after each addition.
Turn mixer onto a high speed for about a minute and mix.
If frosting is too dry, add more milk, a tablespoon at a time until it reaches the right consistency.
If it appears too wet and does not hold its form, add more confectioner's sugar, also a tablespoon at a time until it reaches the right consistency.
Assembling the cake:
Add frosting to a pipping bad fitted with a large star tip.
Place a cake layer onto a cake platter and pipe frosting onto it until fully covered. Top with other cake layer and repeat.
Drizzle top layer with caramel sauce.
Refrigerate cake for at least 1 hour before serving.
Enjoy!

I get many questions about what gel food color I use, so here you go: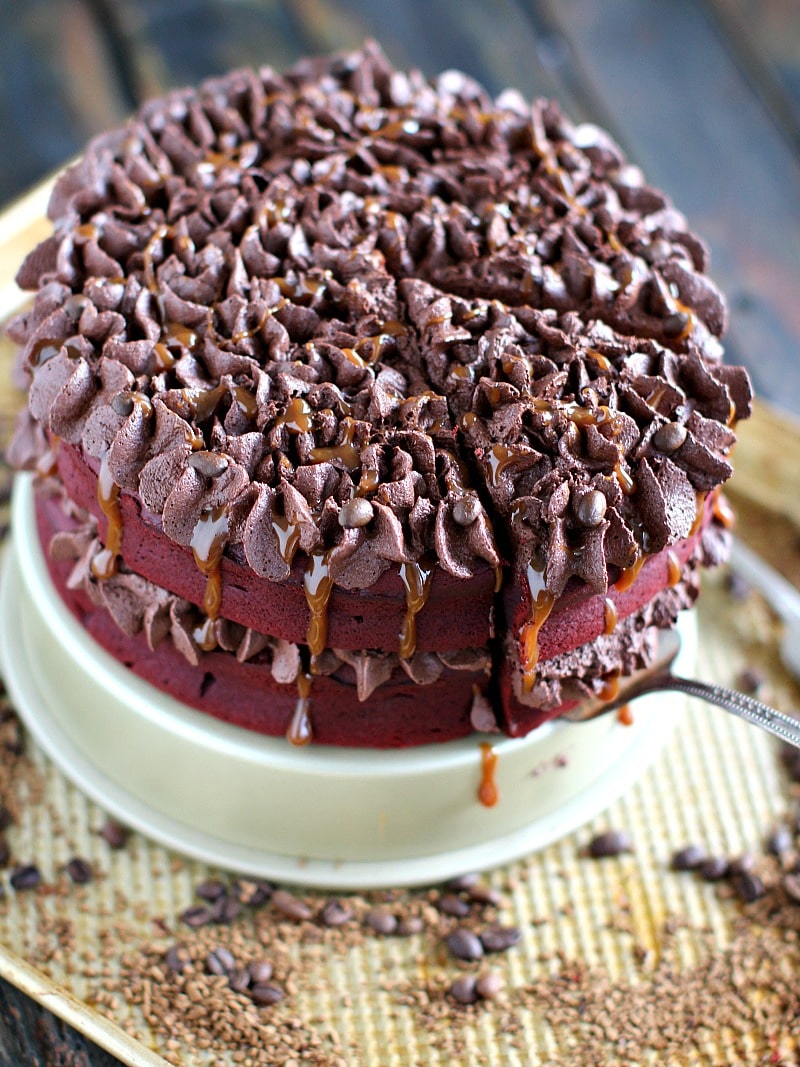 Red Velvet, Brownie, Chocolate and Coffee perfection!
*This post may contain affiliate links at no extra cost to you.
Peas and Peonies, LLC. owns the copyright on all images and text and does not allow for its original recipes and pictures to be reproduced anywhere other than at this site unless authorization is given. If you enjoyed the recipe and would like to publish it on your own site, please re-write it in your own words, and link back to my site and recipe page. Copying and/or pasting full recipes to social media or personal blogs is strictly prohibited. Sharing this recipe is very much appreciated and encouraged. Read my disclosure and privacy policy. This post may contain affiliate links.