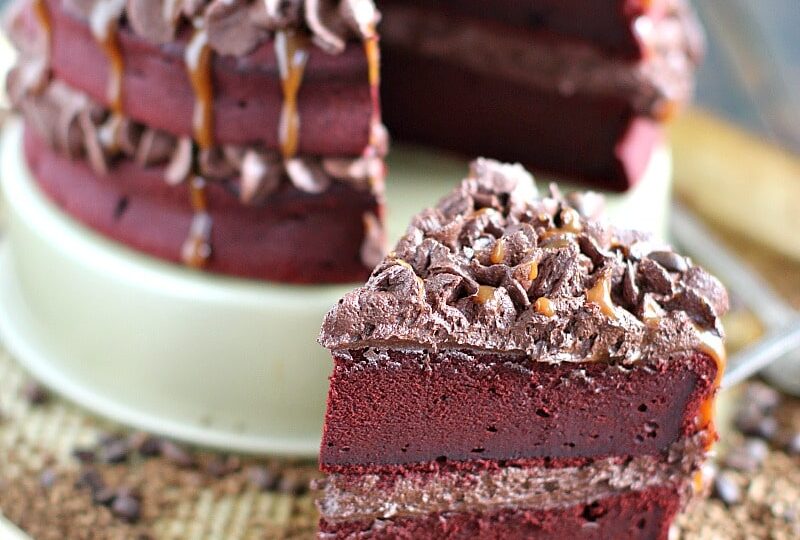 Chocolate Coffee Cake with beautiful red velvet, coffee infused, brownie layers covered in a delicious chocolate buttercream and caramel drizzle.
We love chocolate desserts that are rich and flavorful, such as Chocolate Flourless Cake, Oreo Chocolate Cake and Baileys Chocolate Cake.
Chocolate Coffee Cake
This Chocolate Coffee Cake has some amazing and luxurious layers of Red Velvet Brownie. They melt in your mouth with their rich chocolate taste. Infused with real espresso, they have a nice coffee flavor, that makes the chocolate shine even more.
I like making naked cakes, as they are so much easier to frost, and also they look very professional and cute! This cake is no exception. In addition, not frosting the sides lets you see the gorgeous red velvet layers.
Follow Sweet and Savory Meals on Pinterest for more great recipes!
Pin This Chocolate Coffee Cake Recipe to your Favorite Board
Why You'll Love this Chocolate Coffee Cake:
Firstly, it is rich and chocolaty and are a show stopper dessert.
Easy to find ingredients and minimum prep work and dishes to clean.
Also, it's perfect for brunch parties and for bigger crowds.
In addition, it is easy to transport if you have to take them to a brunch party.
Perfect for special occasions like Valentine's Day.
Can be made 1 or 2 days in advance so you don't have to worry about a last minute dessert.
Tips to Make the Best Chocolate Coffee Cake:
Using high quality cocoa in this recipe is key, as the flavor is front and center.
Make sure the ingredients are at room temperature before you start baking. Also, the oven should be pre-heated.
Also, make sure the cake is fully cooled before frosting it.
The firmness of the buttercream frosting depends on the amount of sugar to liquid ratio. If you want a firmer frosting, add more confectioner's sugar. If you want a softer frosting, add more milk or cream. Just do it gradually.
How Long Will Chocolate Coffee Cake Stay Fresh?
The cake can be stored wrapped in plastic wrap at room temperature for about 4-5 days.
How to freeze cake layers:
You can make the cake layers in advance and freeze them, thaw them when you are ready to decorate the cake. To freeze the unfrosted cake layers, follow these steps:
Bake the cake layer and cool each layer on a wire rack. Make sure the cake layers are fully cooled before freezing.
Wrap each cake layer in plastic wrap, preferably freezer wrap. After that wrap tightly in aluminum foil and place in a freezer ziplock bag (if it fits).
Write the date and cake type on the ziplock bag.
Lay the cake layers flat in the freezer.
Cakes can be frozen for up to 3 months.