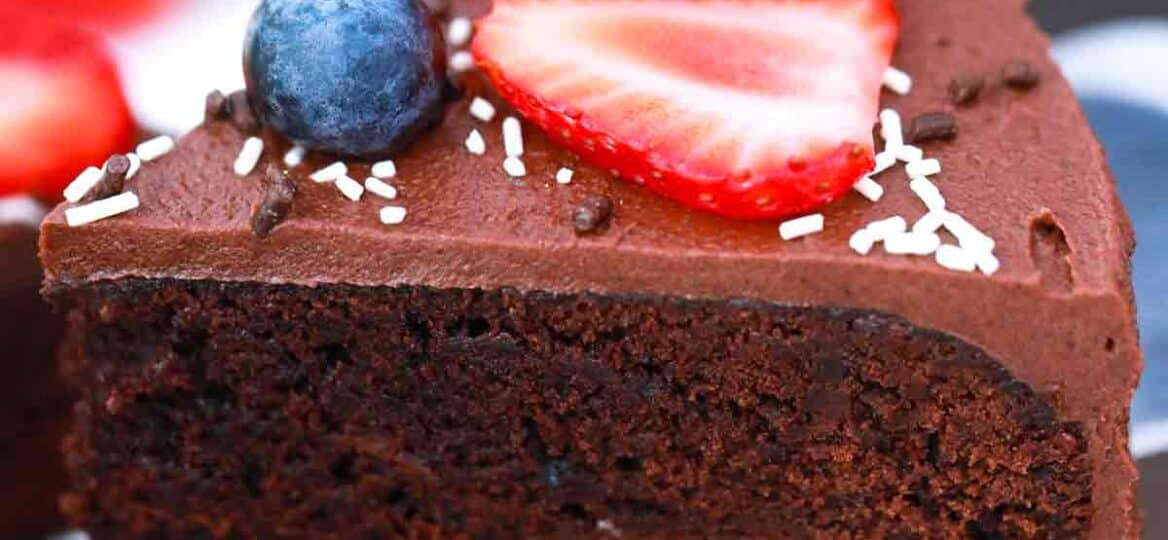 Instant Pot Chocolate Cake [Video]
Instant Pot Chocolate Cake is a fool-proof dessert packed with chocolatey flavor and just the subtlest hint of coffee, frosted with homemade chocolate buttercream. Add nuts, enjoy with a big scoop of ice cream, and get creative with other delicious add-ons!
For more amazing chocolatey desserts, don't miss our Chocolate Truffle Cookies with Sea Salt, No-Bake Nutella Fudge, and Milk Chocolate Mousse Shots!
Moist Chocolate Cake Recipe
Instant Pot Chocolate Cake is probably one of the easiest ways to make everyone's favorite dessert. No need to fire up the oven for this one – after mixing up the batter, the pressure cooker will take care of the rest.
Do other things or relax, and come back to a perfectly moist and extremely chocolatey cake ready to be enjoyed!
We're also adding a simple chocolate buttercream frosting to make your dessert extra-special. Share this with family and friends over coffee, with a nice scoop of ice cream, or some homemade caramel for a terrific treat.
What goes into homemade Instant Pot Chocolate Cake?
Sweeteners: White and brown sugars add not just sweetness, but moisture to this delicious treat.
Dry: Regular pantry ingredients like flour, a dash of salt, and baking powder plus cocoa powder are the base of our batter.
Wet: To bring the batter together, we're adding softened butter and a couple of fresh eggs along with water and some vanilla.
Coffee: Our secret ingredient! Coffee intensifies the chocolatey taste— trust us, don't skip it!
Chocolate chips: A full cup of chips go into this delectable dessert!
How to make the best homemade instant pot chocolate cake from scratch?
Beat the ingredients: Combine the sweeteners with a tsp. of vanilla, plus the butter until you reach a fluffy and light consistency. Then, follow with a fresh egg at a time, then the coffee. Mix all the dry, then add until JUST COMBINED (don't overmix!). Fold in the chips. Pour everything into your greased pan then carefully cover with foil.
Cook: Add water to the pot, then gently lower the pan inside on the trivet. Cook on high for 30 mins., then let it sit for 10 mins., so the steam naturally releases. Afterward, finish by unsealing the valve.
Make the frosting (optional, but highly recommended!): Beat butter (make sure it's softened) with icing sugar, a splash of heavy cream, cocoa powder, plus vanilla and salt until smooth.
Serve: Slice into thick wedges, frost if you'd like it with buttercream, and enjoy.
Recipe variations and substitutions:
Bake: Pop this in a 350F oven for about 20-35 mins., or until a tester comes out clean.
Make Muffins: Scoop into a muffin pan and bake for 18 to 25 mins.
Add Nuts: For a nutty crunch, add chopped peanuts, walnuts, cashews, pistachios, or candied pecans.
Mocha: Double or triple the amount of coffee (depending on how intense you want the coffee to taste), and add coffee chips.
Other chip flavors: Use dark, milk, white, or caramel chips.
Double chocolate: Swirl in some Nutella.
Make it with peanut butter: Swirl in your favorite PB, or dollop on top.
Which type of chocolate is the best one to use for cake?
We prefer dark or semi-sweet so we can control the amount of sweetness in the desert.
Also, make sure you use baking chocolate, not eating chocolate, because the latter may not set properly. In addition, use a high-quality product because it will be the main flavor here.
How to serve homemade Instant Pot chocolate cake?
This is perfect with coffee or tea, or with a scoop of ice cream or whip cream. You can also cover it with cream cheese frosting if you like!
For those with a sweet tooth, drizzle it with our yummy dulce de leche or caramel sauce. We also love spreading it with a little fruit jam plus fresh fruits to balance out the sweetness and add a delightful fruity flavor.
How do you keep the homemade chocolate cake tender and moist?
To keep this dessert moist, we add brown sugar (the molasses in there adds moisture and softness) plus a little water. You can also replace some of the butter with oil. Another must-do is to mix in the dry just until it's moistened, so the gluten doesn't develop and make the crumb tough.
More pressure cooker desserts to try:
Storing instructions:
Cool it first, then store it in an air-tight container. This will last up to 3 days on the counter, but if you'd like to make it last longer, keep it in the fridge for up to 5-7 days.
Deliciousness to your inbox
Enjoy weekly hand picked recipes and recommendations