Cheesy Zucchini Casserole [Video]
Cheesy Zucchini Casserole is packed with veggies and three kinds of cheese for an indulgent fall-themed side dish or vegetarian main dish. Simple, hearty, and guaranteed to make everyone fall in love with zucchini!
Meat-free side dishes don't have to be bland and forgettable. In fact, the Best Stuffed Mushrooms, buttery Easy Instant Pot Polenta, and Slow Cooker Scalloped Potatoes are sure to steal the show at the dinner table!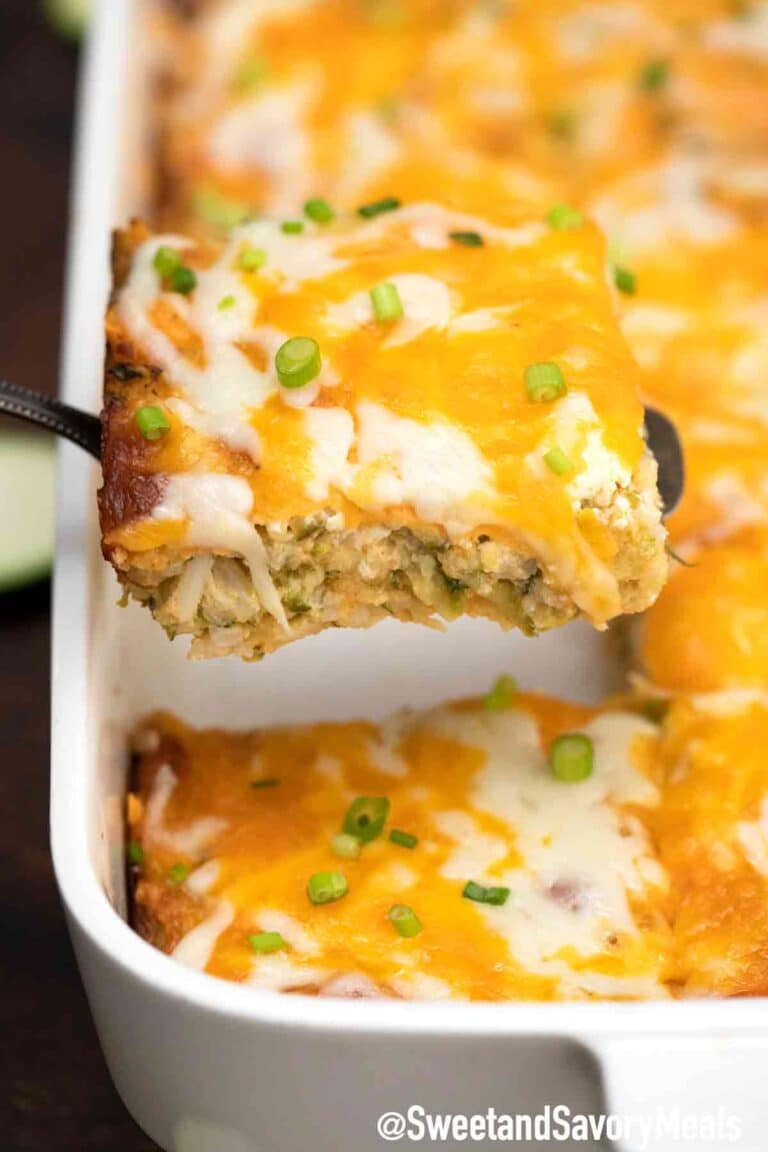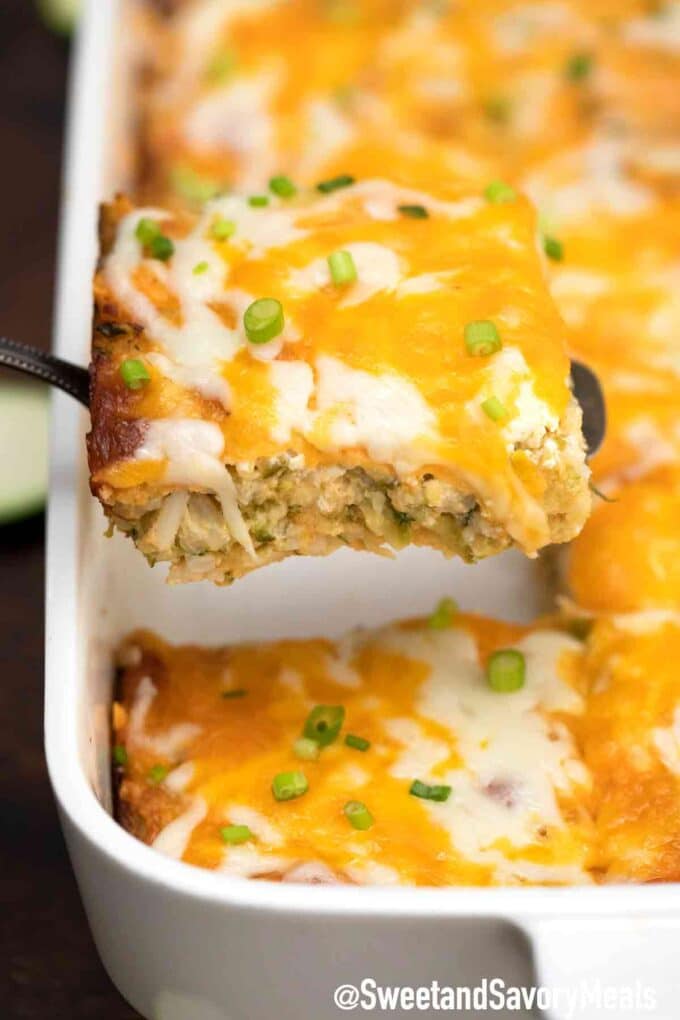 Cheesy Zucchini Casserole Recipe
Cheesy Zucchini Casserole is always a runaway hit at any party, potluck, or weekend get-together I bring it to. It's impossible to say no to this creamy and ultra-cheesy vegetarian dish! Even kids love it! It is a great way to get them to eat vegetables and actually enjoy the meal.
With just a few substitutions, you can turn this into a low-carb and keto-friendly recipe. It's so easy to make too. Once all the ingredients are prepped, all that's left is to mix it all up and bake! Say hello to your newest favorite casserole!
Ingredients for Zucchini Casserole:
Zucchini: fresh, around 6 medium pieces
Salt: for salting the veggies and to season the dish
White rice: cooked as you like it
Greek yogurt and sour cream: the creamy base of the dish
Lemon juice: brightens up the flavors and cuts through the richness of the dish
Eggs: around 4 large pieces for structure
Seasonings: smoked paprika, onion powder, and finely minced garlic
Baking powder: to lighten the texture of the dish
Cheese: shred mozzarella, Mexican cheese, and cheddar
Green onions: for adding into the dish and garnish
How thick should the zucchini slices be?
I like mine around ¼ inch thick or shredded. It ensures that the vegetable becomes tender and fully cooked without disintegrating into the cheese and cream.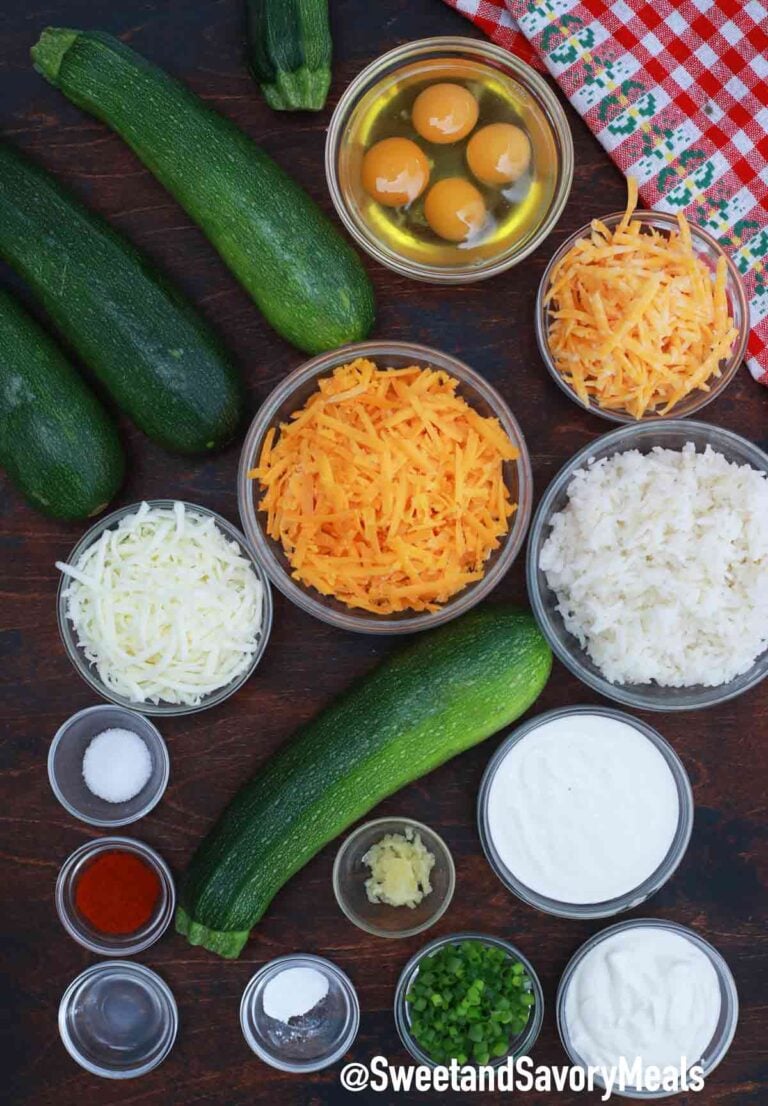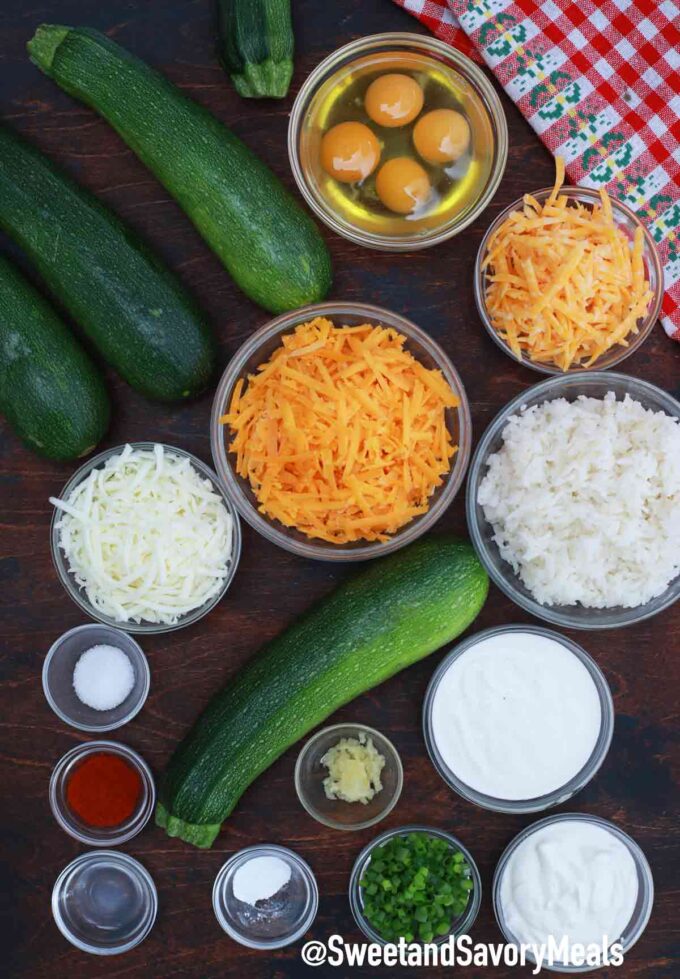 How to make Cheesy Zucchini Casserole?
Get the zucchini ready. Grate, then salt lightly. Let stand for at least 10 mins, stirring a couple of times. Squeeze as much water as you can. Set aside.
Prepare the sour cream mix. Combine the lemon juice, sour cream, and baking powder. Let stand for around 10 minutes.
Make the veggie mixture. Stir the eggs into the drained veggies along with the sour cream mix. Add the rice, a cup of cheddar, and a cup of Mexican cheese. Stir in the seasonings and green onions.

Assemble. Pour into a buttered dish, then top with a half cup of yogurt. Bake without cover at 400F for around 20 mins.

Top with more cheese. Sprinkle the rest of the cheese on top and continue baking until bubbly and golden.
Serve. Cool for at least 10 mins before cutting and serving. To serve, scoop a little sour cream on top, then sprinkle green onions plus chopped tomatoes.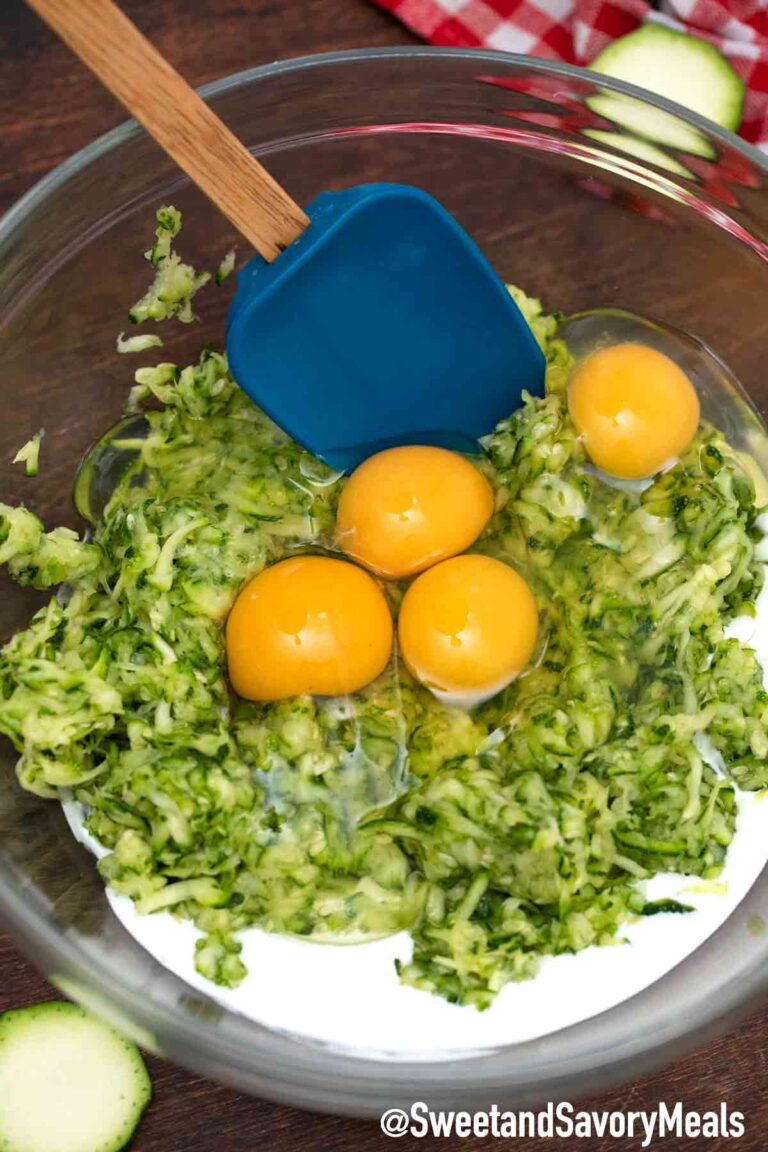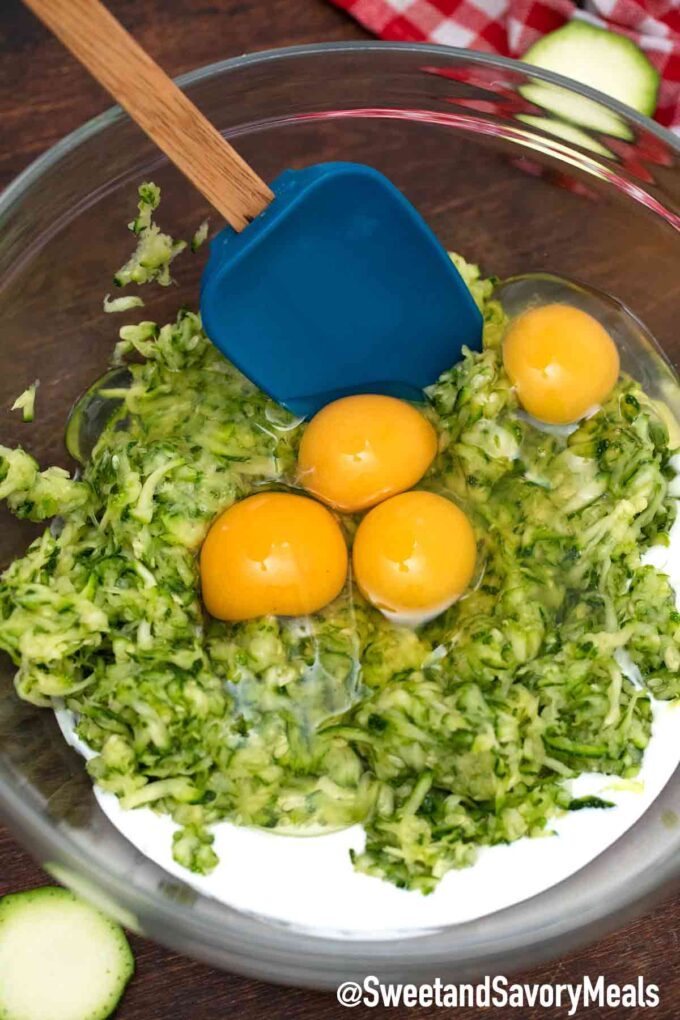 Recipe Substitutions and variations:
Make it a one-dish meal with meat. To turn it into a full meal, you can add meat like shredded rotisserie chicken, ground beef, bacon, sausages, ham, or pork. Make sure to pre-cook before adding on top of the vegetable layer.

Make it spicier. Mix cayenne pepper to taste into the dish or top with bits of jalapeno.
Use other cheeses. Choose options that melt well such as Monterey Jack, spicy pepper jack, provolone, or fontina. For a more grown-up version, top with crumbled blue cheese or feta.
Use other vegetables. Other great additions are blanched carrots, broccoli, and cauliflower florets, steamed green beans, meaty mushrooms, and cooked peas. You can also make this casserole with yellow zucchini squash or the grey variety. It works really well with butternut squash for a more fall/winter themed dish.
Make it healthier. For a lighter version, try subbing with low-fat or vegan cheese, Greek yogurt instead of sour cream, or try halving the amount of cheese. Use brown rice, buckwheat or quinoa for more fiber.
Make it keto or low-carb. Sub out the white rice with riced cauliflower or riced veggie mix.
How to keep your Zucchini Casserole from being watery?
Zucchini is naturally very watery. That's why you shouldn't skip salting it, letting it stand, then squeezing the vegetables for this recipe. If you do, you're risking soggy and mushy results.
What the salt does is draw out all that excess moisture and bitterness through a process called osmosis. In addition, it also helps the veggies retain their shape. Once the dish is ready to cut, you get firm and compact slices instead of layers that keep sliding around.
Same applies to the shredded zucchini, when you add the salt, let it stand a bit, and after that squeeze all the extra moisture.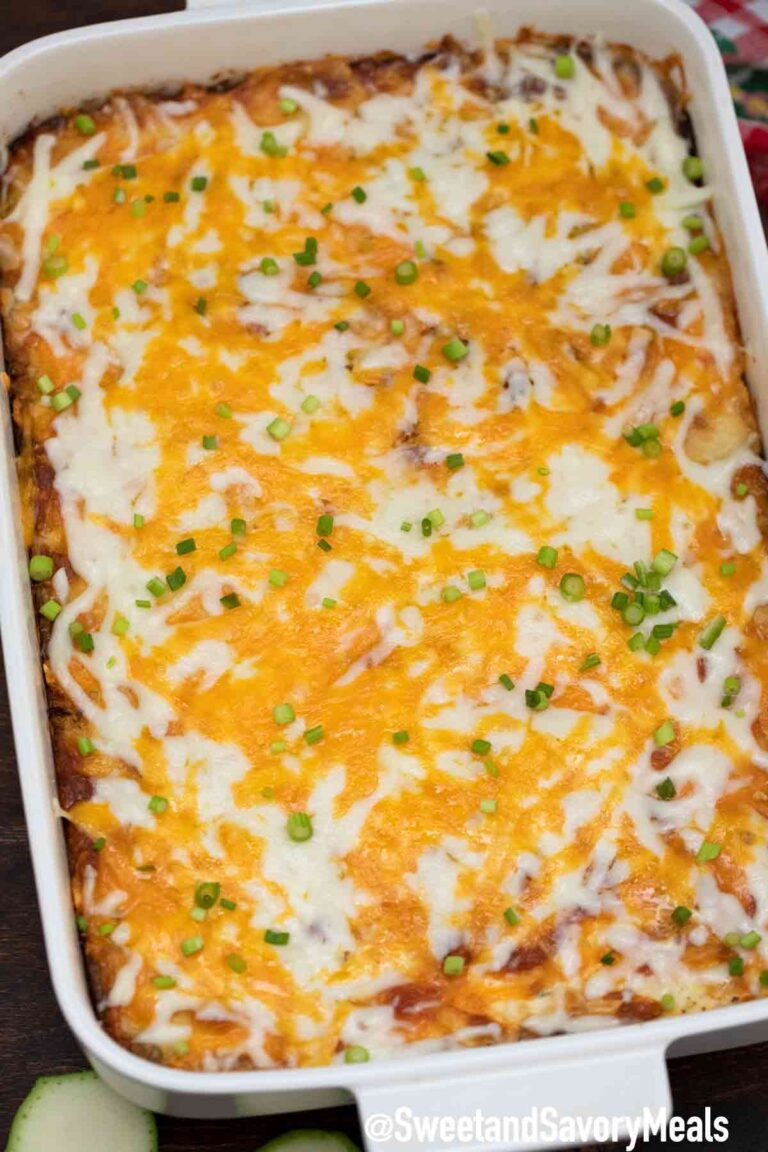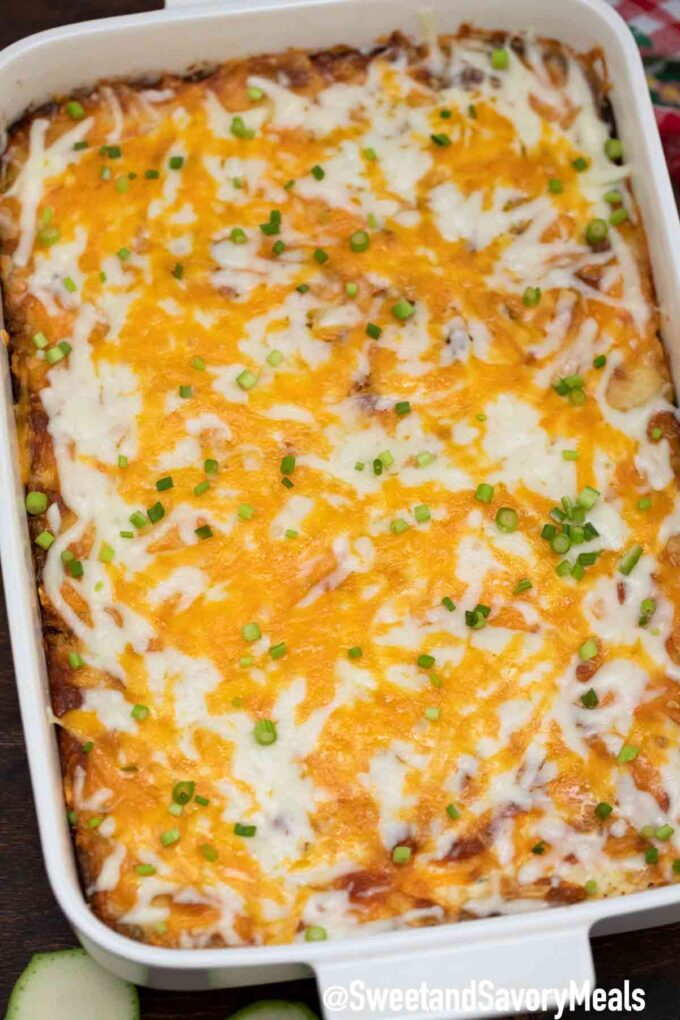 What to serve with zucchini casserole?
This side pretty much works with any entrée. If I'm having company over, I serve it alongside a beautiful Beef Wellington or Wine Roasted Beef Tenderloin. For weeknight meals, it's fantastic with pot roast, pork tenderloin, and fried chicken.
Storing instructions:
First, make sure any leftover is completely cool. You can keep it in the fridge using a sealed container, and consume it within a day or two.
I also like slicing it into separate portions and storing them individually. That way, people can just get a ready-to-heat serving. To heat, microwave for a few minutes 'til hot or bake at 350F until heated through.
More delicious casserole recipes: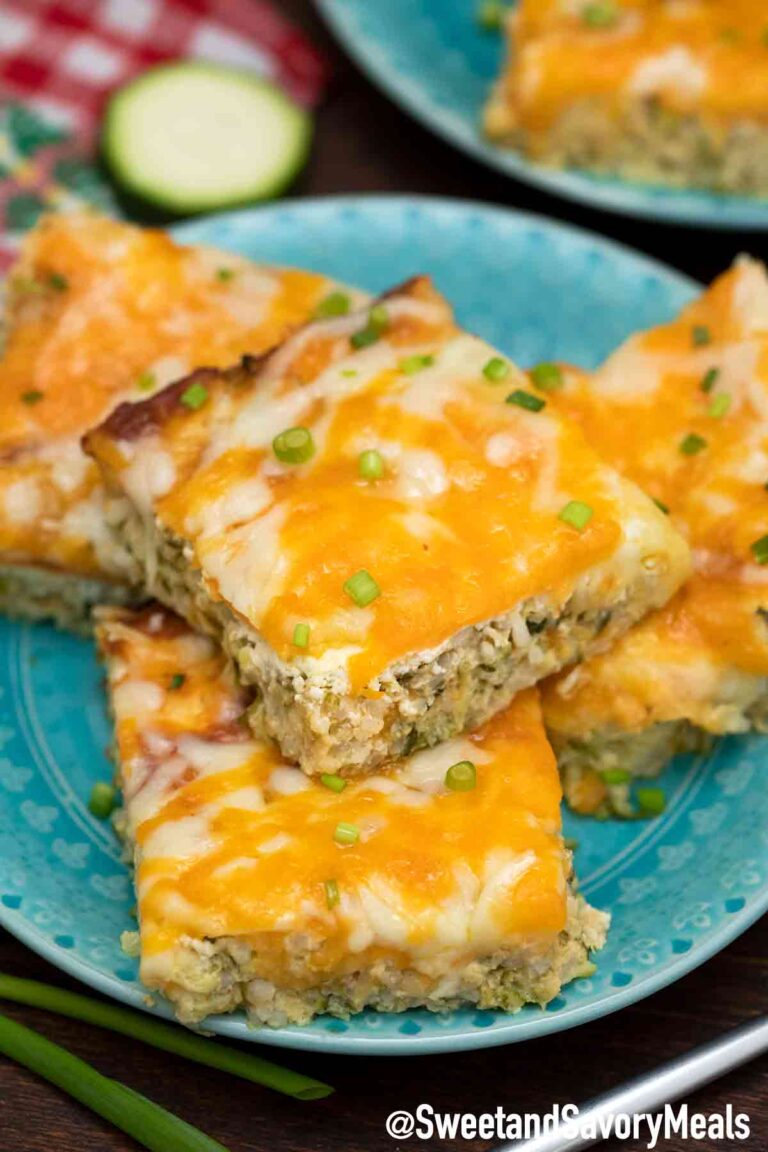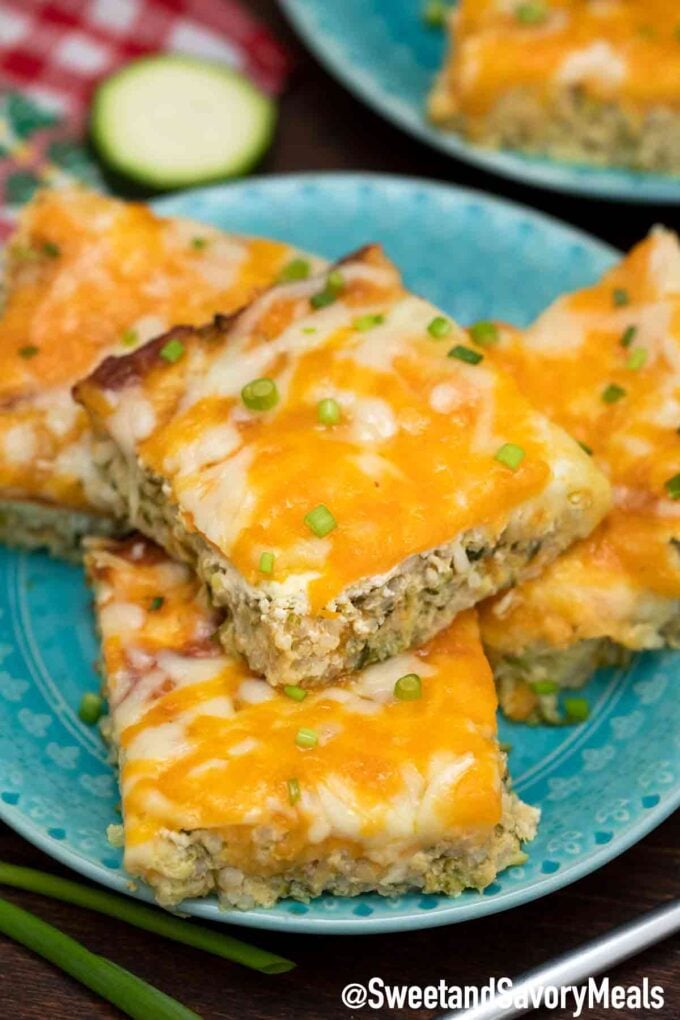 Recipe Tips:
For cleaner slices, let cool for 10-20 minutes before slicing.

Don't skip salting and draining the veggies.
You can slice the veggies into half-moons or shred it in a processor.
Cheesy Zucchini Casserole
Cheesy Zucchini Casserole is packed with veggies and three kinds of cheese for an indulgent fall-themed side dish or vegetarian main dish.
Save
Share
Print
Pin
Rate
Ingredients
3

lbs

green zucchini

(shredded)

1 1/2

teaspoon

salt

(divided)

2

cups

cooked white rice

(from about 1 cup dry rice)

2/3

cup

sour cream

1/2

cup

plain greek yogurt

1

teaspoon

lemon juice

1/2

teaspoon

baking powder

4

eggs

(large)

1

teaspoon

smoked paprika

1

teaspoon

onion powder

3

cloves

garlic

(minced)

1

cup

mozzarella cheese

2

cups

cheddar cheese

(shredded)

1

cup

Mexican cheese

(shredded)

1/2

cup

green onions chopped

(plus more for garnish)
Instructions
Preheat oven to 400 degrees F.

Butter a 9x13 casserole dish and set aside.

Grate zucchini on the large holes and transfer to a colander placed over the sink. Sprinkle with 1 teaspoon salt and stir. Let stand for 15 min, then squeeze out the excess moisture with your hands. Transfer drained zucchini to a large mixing bowl.

In a small bowl mix sour cream, lemon juice, and 1/2 teaspoon baking powder.

Stir in the eggs and sour cream mixture into the shredded zucchini.

Add cooked rice, 1 cup of cheddar cheese, and 1 cup of mexican cheese.

Stir in the green onions, remaining 1/2 teaspoon salt, minced garlic, paprika and onion powder.

Pour mixture into the prepared casserole dish, spread the yogurt over the top. Bake uncovered for 20 minutes.

Sprinkle remaining 1 cup of mozzarella cheese and cheddar cheese on top and bake uncovered on the center rack in the preheated oven for 20-30 minutes.

Let stand for 10 minutes before serving.

Garnish with sour cream, chopped tomatoes, green onions, and serve.
Nutrition
Calories:
242
kcal
|
Carbohydrates:
18
g
|
Protein:
20
g
|
Fat:
10
g
|
Saturated Fat:
5
g
|
Cholesterol:
99
mg
|
Sodium:
391
mg
|
Potassium:
569
mg
|
Fiber:
2
g
|
Sugar:
5
g
|
Vitamin A:
823
IU
|
Vitamin C:
28
mg
|
Calcium:
395
mg
|
Iron:
1
mg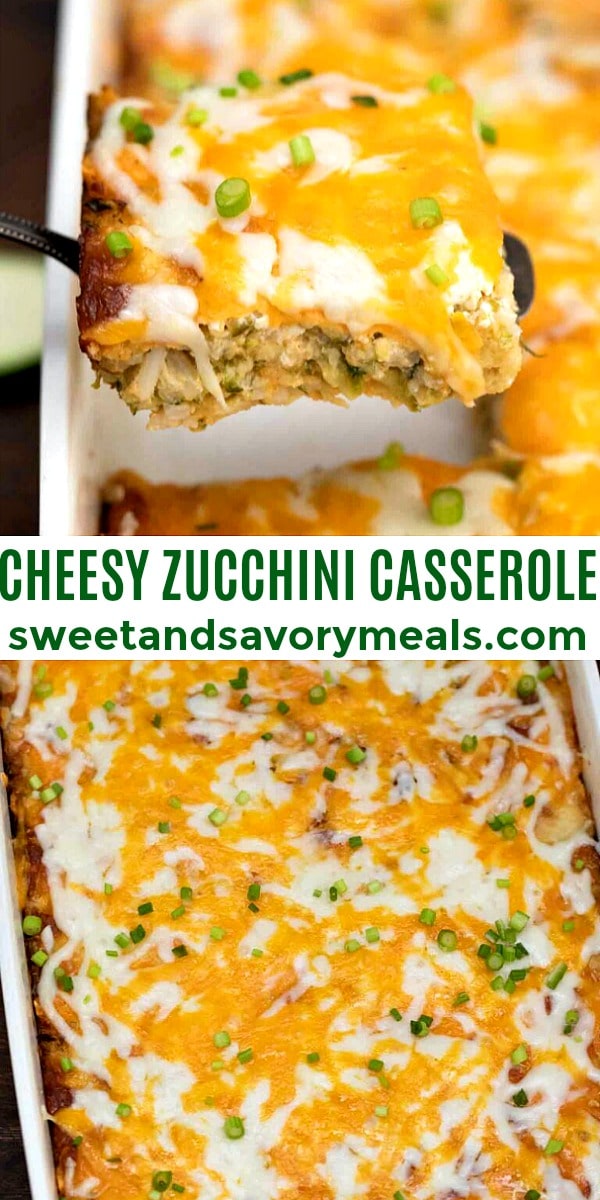 More recipes you might love