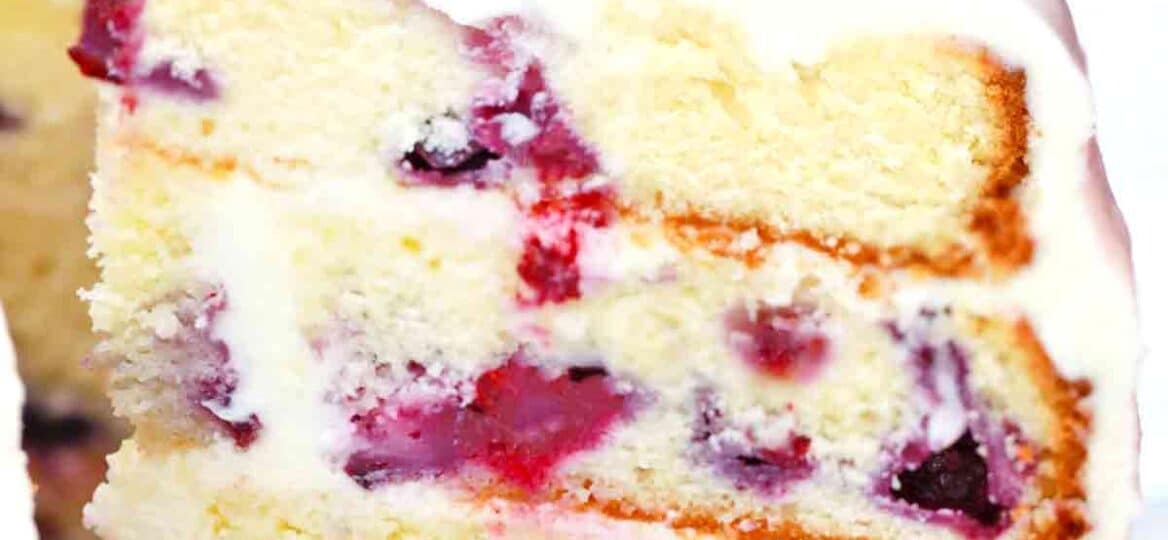 Lemon Blueberry Cake Recipe
Lemon Blueberry Cake is a simple layer cake recipe made with fresh lemon juice, lemon zest, and lots of sweet blueberries. Moist and tender, each bite is filled with citrus flavor and juicy blueberries. Topped with a homemade cream cheese frosting and more fresh berries for the perfect finish.
Cake recipes are a staple on the blog, we have a wide variety to choose from, whether you want to try a sheet, poke, or layer cake recipe. With this delicious recipe, you can wow your friends with a flavorful, refreshing, and stunning dessert. It will quickly become one of your favorite cakes of all time.
Lemon blueberry cake
You just cannot beat this great recipe for a summer picnic or gathering. Blueberries just remind people of summer and blending them with lemon is such a delicious idea, your friends and family will love it.
This delicious dessert is full of fresh lemon flavor and bursting with juicy berries in every bite. It makes the perfect birthday cake if you love lemon desserts.
All you really need for this recipe is less than an hour of your time and some simple ingredients to bake the cake layers. Just gather up some buttermilk, cream cheese, blueberries, lemon juice and zest, flour, vanilla, eggs, sugar, butter, baking powder, and salt.
Also, the preparation involves some steps, baking the layers, cooling them, making the cream cheese frosting, and assembling the perfect cake. While the process is a bit tedious, it is also very relaxing and the instructions are not hard to follow.
Another option is to bake the cake in a large 9×13-inch pan and top it with frosting and lots of fresh berries. The combination of the citrus and the berries is the best, balancing the sweetness with some tanginess. Also, the blueberries add a nice purple color, making the dessert more appealing.
If you find layer cakes intimidating, or you don't have the time to do one, make a lemon blueberry pound cake, you will have enough to make a few. Finally, you can top them with a drizzle of lemon glaze.
Another fantastic blueberry cake you can try is this decadent Blueberry Zucchini Poke Cake. And for a different berry treat, try this easy Meyer Lemon Blueberry Cheesecake recipe, Blueberry Muffins, or amazing Blueberry Banana Bread.
Ingredients needed:
For the exact directions and measurements, check out our recipe card below. Here are the basic ingredients you will need.
Cake batter:
Butter: Unsalted and at room temperature.
Sugar: White granulated sugar.
Large eggs: Make sure they are at room temperature.
Vanilla: We recommend pure vanilla extract.
Flour: All-purpose flour spooned and leveled. Also, for best results make sure to sift it.
Baking powder: Not baking soda.
Salt: Any kind will do.
Buttermilk: Room temperature, if you don't have any on use this homemade buttermilk recipe to make some quickly.
Lemon zest: Store-bought or homemade.

Lemon juice: Store-bought or homemade.

Blueberries: Fresh or frozen mixed with one tablespoon of flour.
Cream cheese frosting:
Cream cheese: Softened to room temperature.

Also, make sure you use full-fat for the best texture.

Butter: Unsalted at room temperature.

Confectioners sugar: Or powdered sugar.

Milk: Full fat at room temperature.
Lemon extract: Pure is best.
Salt: Just a pinch.
How to make the best lemon blueberry cake recipe?
Preheat: First, preheat your oven to 350 degrees F.
Grease: Then, grease three eight- or nine-inch cake pans. After that line the bottom of the pan with parchment paper.

Mix: Next, use a stand or handheld mixer with a paddle attachment to beat the butter on high until it is creamy. Actually, this should take about one minute.

Add: After that, mix in the granulated sugar and beat it on medium-high until it is mixed up, for about two or three minutes.

Beat: Next, add the vanilla and eggs and beat on medium until everything is combined, this should take about two minutes. Also, be sure to scrape the sides of the bowl as needed.
Mix more: Following that, grab a large bowl to whisk the flour, baking powder, and salt.

Combine: Slowly, add the dry ingredients in the bowl to the cake batter and beat on low for five seconds before adding the lemon juice, zest, and buttermilk until combined.

Carefully: Gently, coat the blueberries with the tablespoon of flour by tossing the juicy blueberries gently in a medium bowl with the flour. Then, carefully fold them into the batter. It should be very thick, so the berries do not sink to the bottom.
Make the cake: Finally, spoon the batter evenly into the three cake pans and bake for 21 to 25 minutes or until a toothpick inserted in the middle comes out clean.

Cool: At last, remove the cakes and let them cool in the pans while you make the frosting.

Frosting: Meanwhile, to make the frosting, use the same paddle attachment to mix the butter and cream cheese together on medium speed for about three minutes or until there are no lumps.

Cream it: While, running the beater on low, add the lemon extract, cream, and confectioners sugar with a pinch of salt to the mix and beat on high for three minutes.

Assemble: Next, use a big, serrated knife, and cut the tops off the layers to make them flat. After that, put one layer on your cake stand and frost the top. Afterward, put the next layer on and coat the top again. Then, add the third layer and frost the top and sides.

Garnish: Finally, add lemons or blueberries on top of the cake as garnish and chill for 8 hours before serving.

Store: Any leftovers can be stored in an airtight container in the fridge for up to five days.
Recipe variations:
The flavor combinations that are possible with this recipe are basically endless. Alternatively, you can substitute the blueberries for your favorite berries, also, you can
Berries: Similarly, make this dessert with blackberries, raspberries, or chopped strawberries.
Lemon curd: Thie blueberry lemon cake is even more delicious if you have a very thin layer of lemon curd when you frost each cake layer.
Butter it up: Make some blueberry butter with 1/3-cup blueberry jam and 1 ½ stick of butter, and pipe some roses onto the dessert.
Blueberry buttercream: Speaking about blueberries, alternatively, top this delicious lemon blueberry cake with homemade blueberry buttercream. For that. just add some blueberry sauce or jam to your favorite buttercream recipe.
Flowers: In addition, to make the cake even more beautiful, top it with some edible flowers. This is such an easy way to make this delicious cake even more stunning.
Brown sugar: Also, you can add a few tablespoons of brown sugar to make it moister.
Whip it: Alternatively, use this whipped cream instead of the cream cheese frosting.

Add lemon: If you are a huge lemon fan, add even more lemon flavor by making a lemon cream cheese frosting. Just add 1 teaspoon of lemon extract to the frosting.
Bundt pan: Alternatively, use a bundt pan. For that, either cut the recipe in half or make two bundt cakes and freeze one for later.
Citrus: Also, you can swap the lemon for lime, oranges, or even grapefruit.
Cake mix: There is no shame in saving some time and effort, so you can use a yellow or white cake mix to make the layers. And using cake mix in a box will certainly save you a lot of time and work.

Poppy seeds: We all know that adding poppy seeds to lemon desserts is the perfect combination. This recipe is no exception, so optionally add 1 tablespoon of poppy seeds to the batter.
Chocolate chips: Another option is to add a cup of white chocolate chips into the batter.
How to serve:
Serve after it has been chilled for at least 2-3 hours or it may fall apart. Then serve with lemon and blueberry garnishes. Or try one of these serving ideas:
Make a crumble topping to sprinkle on the top after frosting. You can find out how in this recipe for blueberry coffee cake.

In addition, you can add a dollop of vanilla ice cream on the side to make it even better.
Similarly, spoon this homemade blueberry sauce onto the top of it before serving.

Also, try dressing up the top with other fruits like orange slices, cherries, or raspberries.

Add a drink, and for a nice adult beverage, serve this cake with a glass of our blueberry margarita.
How to store:
Actually, this dessert freezes very well, but it is important to follow a few steps. Hence, you can make the cake layers in advance and freeze them to use when you are ready.
Alternatively, you can also freeze the final cake, it will be good for up to 3 months.
Store: First, after adding the frosting make sure to chill the dessert for at least 2 hours before serving. Slice and after that place it back in the fridge, it will stay well refrigerated for 3-4 days. Also, keep in mind that it is better to store it in an airtight container to avoid drying out the layers.
Freeze: First, make sure you chill the cake for a few hours before freezing it. After that, either freeze it whole or individual slices. Next, to freeze it, wrap it tightly in plastic wrap and after that in a few layers of aluminum foil. Afterward, add it to a freezer bag, to lock in moisture and freeze for up to 3 months.
Thaw: Next, when ready to serve, make sure to plan in advance and transfer it from the freezer to the fridge to thaw overnight. After that, unwrap and serve.
Frequently asked questions
Can you add frozen blueberries?
Not everyone has access to fresh blueberries no matter what time of year it is. Some areas just do not have that sort of thing. So, you can definitely use frozen blueberries in any dish.
Just buy a lemon cake mix and make it as directed, adding the frozen berries to the mix after everything else. Make sure they are still frozen when you add them, or they may get mushy and turn the batter blue.
What happens if I add an extra egg to my cake?
Adding two extra egg yolks to your cake recipes will give them that extra moistness that many mixes seem to lack. The yolks make it denser, so it holds more moisture and tastes like a bakery cake. All you have to do is add the regular number of eggs that the recipe calls for and add two extra egg yolks.
What is the secret to moist cake?
Besides adding egg yolks, there are other secrets to guarantee a moist cake. First, mix the butter into the flour before you add any of the wet ingredients. As a result, this coats the flour in fat to reduce gluten. Also, use cake flour instead of all-purpose flour.
Another tip is to brush the top and sides of each layer with syrup to keep the moisture locked in. And make sure you measure all the ingredients carefully. You would be surprised what a little bit of a measuring error can do to the moisture level.
Another tip is to sift the flour, this will result in fluffier layers, therefore they absorb the frosting easier, resulting in a moist and tender dessert.
More cake recipes:
Cooking tips:
To save time, use a lemon box cake instead of making the cake from scratch and just add in the blueberries.

Make sure you do not overmix or over-stir.

If you have too much leftover dessert, wrap it in plastic and foil or in a freezer bag and freeze it. Also, you can keep it for up to three months. Just thaw overnight in the fridge before serving.

In addition, make sure the frosting is NOT too watery, otherwise, it won't keep the layers in place and they may slip and fall. Therefore, make sure the frosting texture is thick enough to hold them in place.
In case you plan on using frozen blueberries, before tossing them into the batter, mix them with 1 tablespoon of cornstarch.
Lemon Blueberry Cake Recipe
Ingredients
Cake layers:
1

cup

unsalted butter

softened to room temperature

1 1/2

cups

white granulated sugar

4

large eggs

at room temperature

1

tablespoon

pure vanilla extract

3

cups

sifted all-purpose flour

1

tablespoon

baking powder

1/2

teaspoon

salt

1

cup

buttermilk

2

tablespoons

lemon zest

1/2

cup

lemon juice

from about 3 lemons

2

cups

blueberries

fresh or frozen - if frozen do NOT Thaw

1

tablespoon

all-purpose flour

or cornstarch
Cream Cheese Frosting:
12

ounces

full-fat cream cheese

softened to room temperature

1 1/2

cup

unsalted butter

softened to room temperature

4 1/2 - 5

cups

confectioners sugar

or more if needed

2

tablespoons

milk

1

teaspoon

pure lemon extract

1/8

teaspoon

sea salt
Instructions
Preheat the oven to 350 degrees F.

Grease three 9-inch or 8-inch round cake pans with butter or baking spray. Next, line the bottom with parchment paper, and grease the parchment paper. This will help to easily remove the cakes from the pans.
Make the cake layers:
In a large bowl, using an electric mixer beat the butter on medium-high until creamy, this will take about 1 minute.

Next, add granulated sugar and beat until light and fluffy, about 3 minutes.

Add the eggs one at a time, beating after each addition, and after that add the vanilla. Scrape down the sides and bottom of the bowl as needed.

In a large bowl, whisk together the flour, baking powder, and salt.

Now, slowly add the flour mixture to the butter mixture, with the mixture on low speed. Finally, beat in the buttermilk, lemon zest, and lemon juice just until combined.

Using a spatula, in a medium bowl toss the blueberries with 1 tablespoon of flour or cornstarch and gently fold them into the batter.

The cake batter will be very thick, make sure to not over-mix it.
Bake:
Spoon batter evenly into the prepared cake pans, and level the tops with a spatula.

Bake for about 21-25 minutes or until a toothpick inserted in the center comes out clean.

After that, remove from the oven and allow to cool completely in pans before assembling.
Cream Cheese Frosting:
Add cream cheese and butter to a large bowl and using an electric mixer beat together on medium speed until no lumps remain, about 3-5minutes.

Next, add 4 cups of confectioners sugar, 1 tablespoon of milk, lemon extract, and salt, and beat with the mixer running on low. After that, increase the speed to medium-high and beat until creamy, 3-4 minutes.

Now, check the consistency, if needed add more confectioners sugar to thicken it, or the remaining milk to thin it out.

Also, I like to chill the frosting for 30 minutes before assembling the cake.
Assemble:
First, using a large serrated knife, trim the tops off the cake layers, and ensure that they are flat.

Place about two tablespoons of frosting into the center of the cake stand and add the first cake layer on top of it.

Cover it evenly with the cream cheese frosting.

Add the 2nd layer on top, more frosting, then the third layer, and after that spread the frosting on top and on the sides of the cake

Garnish the top with fresh blueberries and lemon slices.

Refrigerate for at least 2 hours before slicing and serving, but better to chill it for 8 hours or overnight.

Cover leftover cake tightly and store in the refrigerator for up to 4 days. See the post for detailed instructions on how to store or freeze it.
Deliciousness to your inbox
Enjoy weekly hand picked recipes and recommendations