Meyer Lemon Blueberry Cheesecake Recipe
This post may contain affiliate links. Please read my disclosure policy.
A foolproof and easy recipe for a bright and summery meyer lemon blueberry cheesecake, that is sweet, refreshing and looks gorgeous.
When you think of a decadent dessert what is it? Chocolate? Caramel? Those two combined? Or maybe something creamy, yet rich and refreshing? If there would be a dessert spread, and it would include cheesecake I would rich for it first. This is why I am bringing you today a zesty, sweet and tart Meyer Lemon Blueberry Cheesecake.

This isn't just a meyer lemon cheesecake with a few blueberries dumped into the batter, no, no, no, this Meyer Lemon Blueberry Cheesecake is made with homemade blueberry sauce, that creates a beautiful, sweet, purple swirl, a few whole blueberries bursting with juice can be seen thru the cheesecake. The citrus flavor is the one that shines here, cutting the richness of the cake, the sweetness from the blueberries balances it all out and creates a harmonious summer dessert.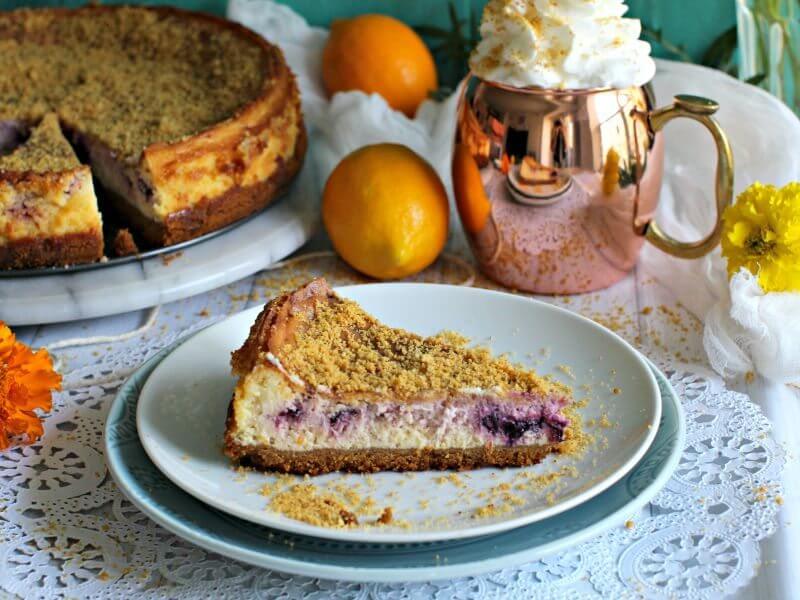 When I noticed that our local supermarket started carrying bags of meyer lemon ALL the time, I was so happy, every week I grab a bag and place them beautifully on the counter. Their color is gorgeous, their aroma is amazing, they taste a little sweeter than regular lemons, and are very fragrant. I like to squeeze one meyer lemon in some warm water every morning that I drink on an empty stomach, such a nice way to start my day and wake up my body.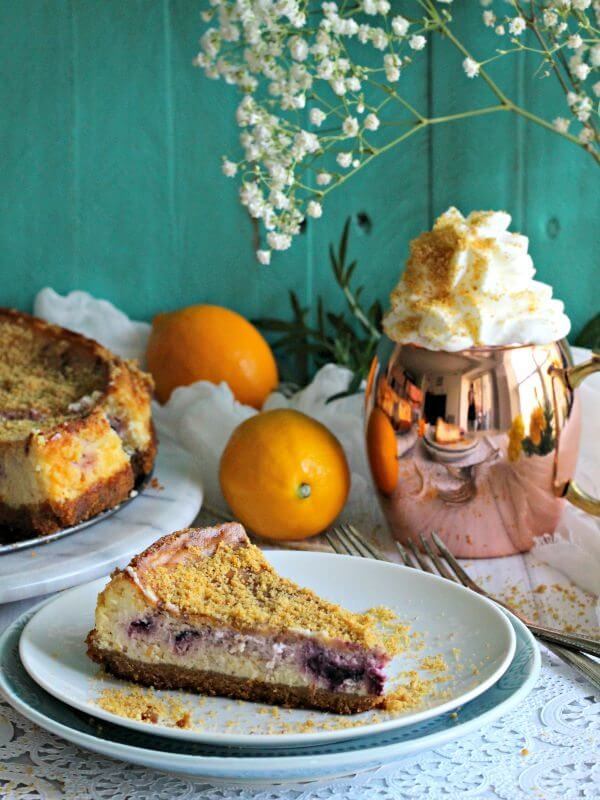 It's not secret that I was very much into blueberries this summer, and I was very lucky to make a huge batch of delicious blueberry sauce that I keep using in so many recipes. I must restock my blueberry sauce supply, as I am almost out of it! I put it on pancakes, in my baby's oatmeal and plain yogurt, I sometimes eat it with a spoon and in this case I put it in this decadent Meyer Lemon Blueberry Cheesecake.

MY LATEST VIDEOS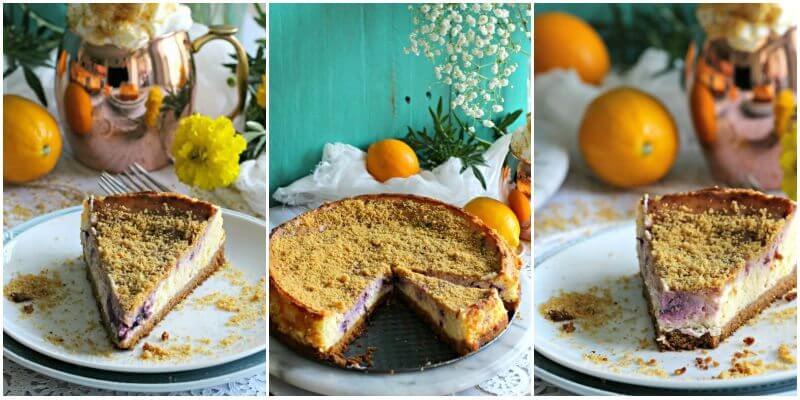 I used to be afraid of making my own cheesecake, many recipes require pans filled with hot water in your oven, you know, hot water baths for the cheesecake, I read so many stories about cracked cheesecakes, but after I tried my hand at making it, I realized that its very easy and its tough to go back to store bought, when I can make my own version anytime now.
The homemade version is obviously so much better, and the recipe that I am posting today bakes a perfect cheesecake, no cracks, no crazy pans filled with water, juts the batter, the oven, and some patience and you will get your beautiful cheesecake.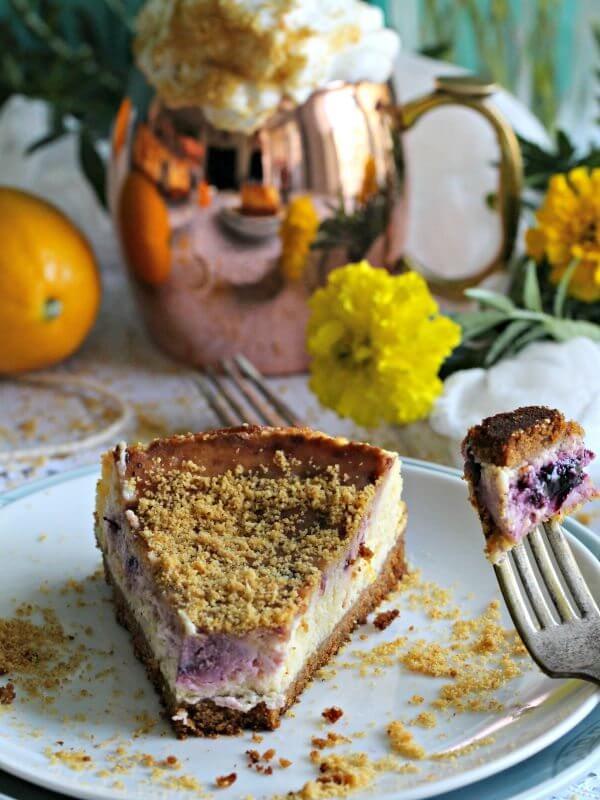 For this recipe I went for a traditional graham cracker crust, since the Meyer Lemon Blueberry Cheesecake itself is so rich in flavors, that I didn't want to distract from it. More buttery crumbs are sprinkled on top of the cheesecake for a change of texture.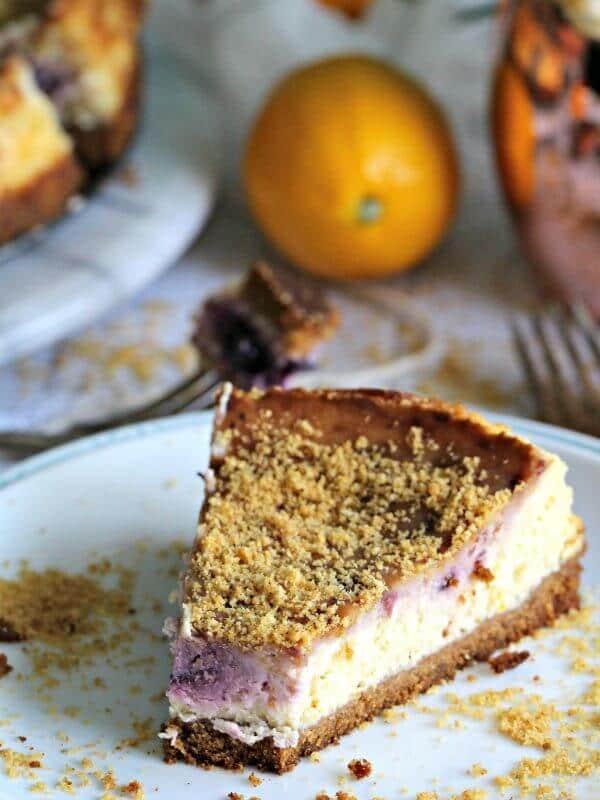 If you want a foolproof recipe, this is the one. And for the long weekend that is so close make this for you family and friends. I got great feedback from my family, they all loved it, the flavors are very bright, happy, summer, the gorgeous purple swirl makes this cake so fancy, the sweetness from the blueberries is the perfect celebration of summer!
Just look at that gorgeous bite! So tempting and so good! You see the beautiful purple blueberry swirl, that is not abundant, just the right balance. Sweet and irresistible.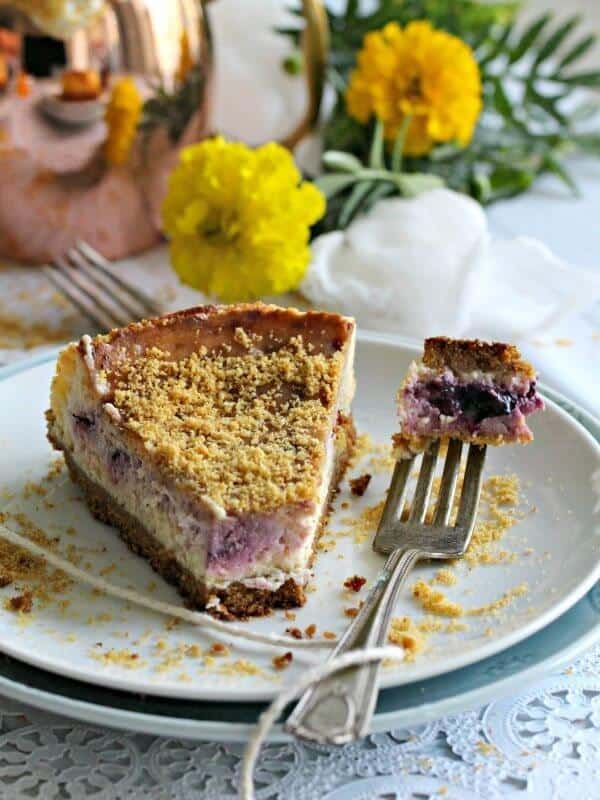 Whisk the ingredients, bake it, refrigerate and enjoy a decadent, creamy and scrumptious dessert.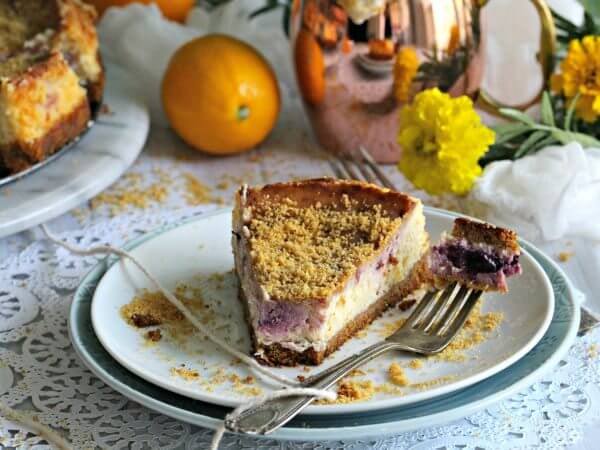 Meyer Lemon Blueberry Cheesecake Recipe
A foolproof and easy recipe for a bright and summery meyer lemon blueberry cheesecake, that is sweet, refreshing and looks gorgeous.
Author:
Katalina Kastravet
Ingredients
Blueberry Sauce:
2 cups fresh blueberries (frozen work too)
½ cup water
½ cup sugar
2 tablespoons cornstarch, mixed with 2 tablespoons cold water
1 tablespoons vanilla extract
(you need only ½ cup of sauce for the recipe, there will be leftover sauce)
For the Crust:
2 cups graham cracker crumbs
8 tablespoons unsalted butter, melted
2 tablespoons granulated sugar
Cheesecake Filling:
4 packages (8 oz.) cream cheese, softened
1 cup sour cream
2 tablespoons cornstarch
3 eggs
1⅓ cups sugar
½ cup graham cracker crumbs
juice of one meyer lemon
zest from one meyer lemon
Instructions
Preparing the Blueberry Sauce:
The sauce can be made while the cake is cooking or many days in advance.
In a large saucepan over medium heat, combine blueberries, water and sugar. Stir frequently, but careful not to crush the berries, bring to a low boil.
In a small bowl, mix the cornstarch with cold water until combined.
Slowly stir the cornstarch into the blueberries, careful not to crush them. Simmer until the homemade blueberry sauce is thick enough to coat the back of a metal spoon, about 10 minutes.
Remove from heat and gently stir in vanilla.
Let the sauce cool at room temperature. Measure ½ cup for your recipe, store the rest in jars in the fridge.
Preparing the Crust:
In a large bowl, mix the crumbs with melted butter and granulated sugar with a rubber spatula until combined.
Press the mixture into the bottom of a 9inch spring form cake pan and slightly up the sides. Make sure it is tight and compact.
Chill the crust for 15 minutes.
Cheesecake Filling:
Preheat oven to 325F.
In the bowl of an electric mixer fitted with the wire attachment beat cream cheese on medium speed until fluffy. Add the sugar, cornstarch, lemon juice, lemon zest and beat until combined.
Add eggs, one at a time, beating until just combined after each addition. On low speed beat in sour cream just until combined.
Remove crust from the fridge and pour the batter into the crust.
In circles pour the blueberry sauce over the cheesecake and with the edge of a spatula create swirls and mix the blueberry sauce into the cheesecake filling. Carefully not to over mix.
Bake for about 1¼ hours or until center is almost set. Cool on a wire rack for 15 minutes. Sprinkle graham crackers on top and loosen sides of pan and continue cooling on wire rack until the cheesecake is at room temperature.
Transfer to the fridge. Refrigerate overnight or at least 6 hours before serving.
The cheesecake can be served with warm blueberry sauce.
Store in refrigerator.
Peas and Peonies, LLC. owns the copyright on all images and text and does not allow for its original recipes and pictures to be reproduced anywhere other than at this site unless authorization is given. If you enjoyed the recipe and would like to publish it on your own site, please re-write it in your own words, and link back to my site and recipe page. Copying and/or pasting full recipes to social media or personal blogs is strictly prohibited. Sharing this recipe is very much appreciated and encouraged. Read my disclosure and privacy policy. This post may contain affiliate links.