Meyer Lemon Blueberry Cheesecake Recipe
This post may contain affiliate links. Please read my disclosure policy.
Meyer Lemon Blueberry Cheesecake is a foolproof and easy recipe cheesecake, that is sweet, refreshing and gorgeous.
We love making delicious cheesecake and among our favorites are Best Instant Pot Cheesecake, Samoa Cheesecake No Bake and No Bake Tiramisu Cheesecake.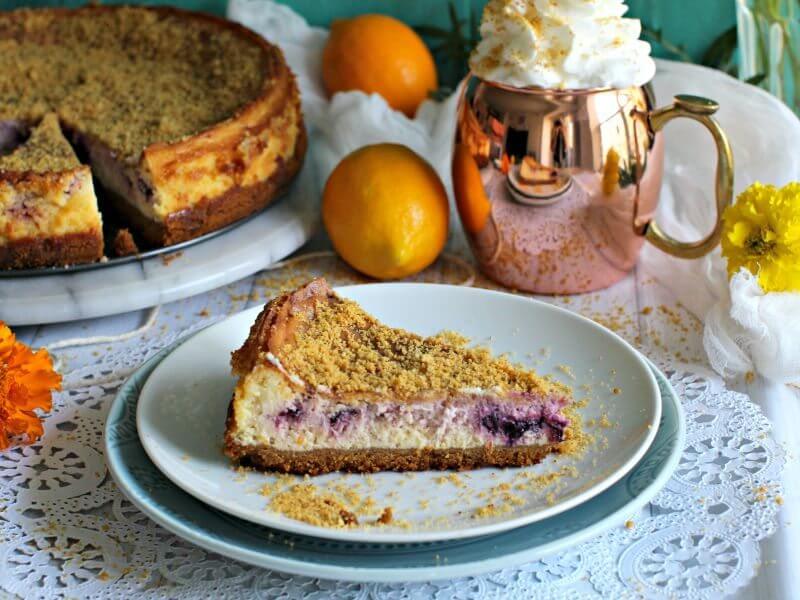 Meyer Lemon Blueberry Cheesecake
Meyer Lemon Blueberry Cheesecake is made with homemade blueberry sauce that creates a beautiful, sweet, purple swirl cheesecake. The citrusy flavor is the one that shines here, cutting the richness of the cake. The sweetness from the blueberries balances it all out and creates a harmonious summer dessert.
For this recipe, I went for a traditional graham cracker crust, since the Meyer Lemon Blueberry Cheesecake itself is so rich in flavors, that I didn't want to distract from it. More buttery crumbs are sprinkled on top of the cheesecake for a change of texture.
Meyer Lemon Blueberry Cheesecake Recipe Tips:
The cream cheese should be at room temperature.
Don't over mix or whisk the cheeses on high speed. Best to mix on medium speed.
Before adding the graham cracker crust to the springform pan, make sure you spray it with baking spray.
Chilling the cheesecake enough is very important, if you want to get perfect slices. I recommend chilling for at least 6 hours or better, overnight.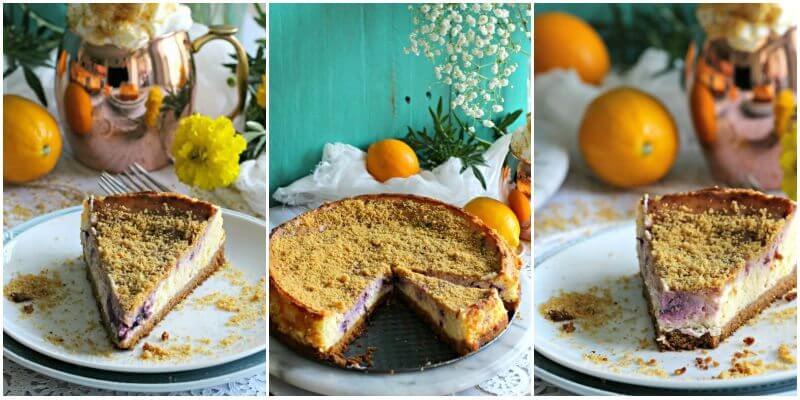 How do I know when a cheesecake is done baking?
Gently shake the cheesecake, If the cheesecake looks nearly set and only a small area in the center jiggles slightly, it is done. The center will firm up during the cooling time, as it will cook from the residual heat.
Why should you add cornstarch to a cheesecake:
Usually the cornstarch is added to the cheesecake batter to avoid cracks. About 1 tablespoon to 1/4 cup of cornstarch (depends how much batter you have) is added to the batter with the sugar.
How to make lemon zest?
Follow the easy steps below:
First, rinse the lemon.
Then, set your tool over a cutting board. A microplane produces a very fine zest, perfect for baking and cooking. If you don't have a microplane, use the smallest holes on an ordinary grater.
Grate the yellow skin of the lemon only. Grate just enough to get through the yellow skin, this way you can avoid the bitter white pith underneath.
Rotate the lemon and repeat. Once the white pith is exposed, rotate the lemon and zest the next strip of peel. Repeat until most of the peel is removed, or until you have enough zest for your recipe.
How to slice a cheesecake:
Run a long, sharp thin-bladed slicing knife under hot tap water or dip it into a glass of hot water prior to slicing the cheesecake. Wipe the knife clean and run it it under hot water before making another cut.
An easy, mess free way to cut even slices is to use cheese wire or unflavored dental floss. Clean the bits that stuck to the wire/floss before every cut.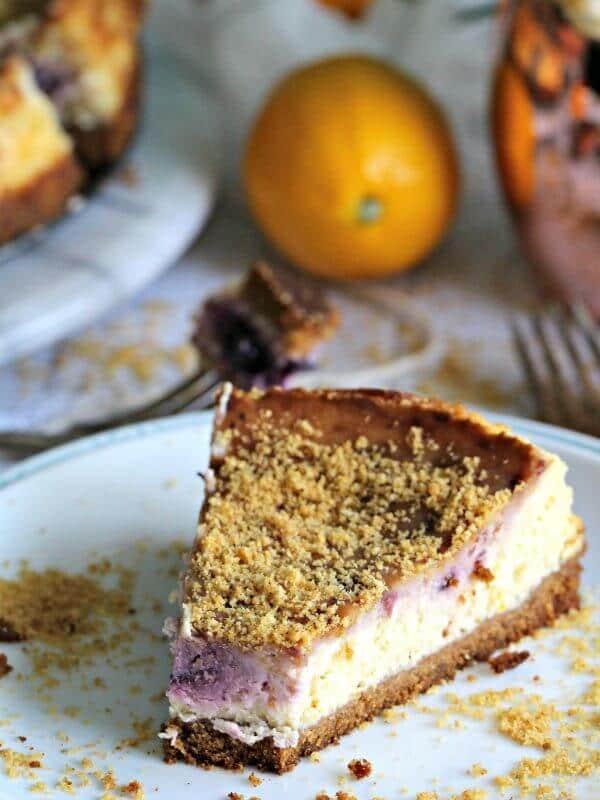 How to prevent cracks in cheesecake?
Making sure that all the ingredients are at room temperature and well combined after being mixed.
Adding flour or/and cornstarch to the batter (more on this below).
Avoid opening the door oven while baking the cheesecake.
Watch the cheesecake closely to avoid overtaking it. When the sides are puffed and the center of the cheesecake is just slightly wobbly, the cheesecake is done.
Cooling the cheesecake in the oven, with the door slightly cracked is also very important and the sudden change in temperature can cause cracks.
Bake the cheesecake in a water bath, its one of the most successful techniques to avoid cracks on your cheesecake (more on this below).
Can you freeze the Cheesecake:
Yes. Wrap cheesecake tightly with aluminum foil or plastic freezer wrap, or place in heavy-duty freezer bag. Properly stored, it will maintain best quality for about 2 to 3 months.
Meyer Lemon Blueberry Cheesecake Recipe
Meyer Lemon Blueberry Cheesecake is a foolproof and easy recipe cheesecake, that is sweet, refreshing and gorgeous.
Ingredients
Blueberry Sauce:
2

cups

fresh blueberries

frozen works too

1/2

cup

water

1/2

cup

sugar

2

tablespoons

cornstarch

mixed with 2 tablespoons cold water

1

tablespoons

vanilla extract
For the Crust:
2

cups

graham cracker crumbs

8

tablespoons

unsalted butter

melted

2

tablespoons

granulated sugar
Cheesecake Filling:
4

packages

8 oz. cream cheese, softened

1

cup

sour cream

2

tablespoons

cornstarch

3

eggs

1 1/3

cups

sugar

1/2

cup

graham cracker crumbs

juice of one meyer lemon

zest from one meyer lemon
Instructions
Preparing the Blueberry Sauce:
The sauce can be made while the cake is cooking or many days in advance.

In a large saucepan over medium heat, combine blueberries, water and sugar. Stir frequently, but careful not to crush the berries, bring to a low boil.

In a small bowl, mix the cornstarch with cold water until combined.

Slowly stir the cornstarch into the blueberries, careful not to crush them. Simmer until the homemade blueberry sauce is thick enough to coat the back of a metal spoon, about 10 minutes.

Remove from heat and gently stir in vanilla.

Let the sauce cool at room temperature. Measure 1/2 cup for your recipe; store the rest in jars in the fridge.
Preparing the Crust:
In a large bowl, mix the crumbs with melted butter and granulated sugar with a rubber spatula until combined.

Press the mixture into the bottom of a 9inch spring form cake pan and slightly up the sides. Make sure it is tight and compact.

Chill the crust for 15 minutes.
Cheesecake Filling:
Preheat oven to 325F.

In the bowl of an electric mixer fitted with the wire attachment beat cream cheese on medium speed until fluffy. Add the sugar, cornstarch, lemon juice, lemon zest and beat until combined.

Add eggs, one at a time, beating until just combined after each addition. On low speed beat in sour cream just until combined.

Remove crust from the fridge and pour the batter into the crust.

In circles pour the blueberry sauce over the cheesecake and with the edge of a spatula create swirls and mix the blueberry sauce into the cheesecake filling. Carefully not to over mix.

Bake for about 1 1/4 hours or until center is almost set. Cool on a wire rack for 15 minutes. Sprinkle graham crackers on top and loosen sides of pan and continue cooling on wire rack until the cheesecake is at room temperature.

Transfer to the fridge. Refrigerate overnight or at least 6 hours before serving.

The cheesecake can be served with warm blueberry sauce.

Refrigerate.
Calories: 284, Fat: 6g, Saturated Fat: 2g, Cholesterol: 51mg, Sodium: 152mg, Potassium: 107mg, Carbohydrates: 53g, Fiber: 1g, Sugar: 40g, Protein: 3g, Vitamin A: 4.2%, Vitamin C: 3.1%, Calcium: 5.5%, Iron: 5.6%
Made this Recipe?
Show me what you made on Instagram and tag me at @sweetnsavorymeals or hashtag it #sweetandsavorymeals.
Peas and Peonies, LLC. owns the copyright on all images and text and does not allow for its original recipes and pictures to be reproduced anywhere other than at this site unless authorization is given. If you enjoyed the recipe and would like to publish it on your own site, please re-write it in your own words, and link back to my site and recipe page. Copying and/or pasting full recipes to social media or personal blogs is strictly prohibited. Sharing this recipe is very much appreciated and encouraged. Read my disclosure and privacy policy. This post may contain affiliate links.