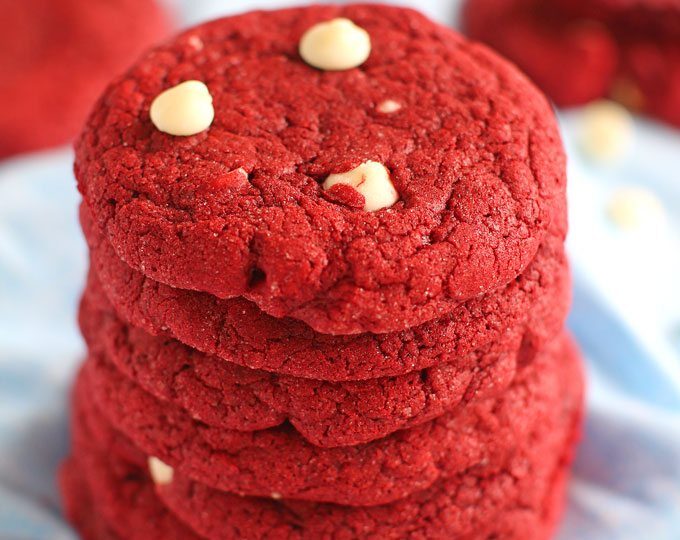 Cake Mix Cookies – Four Ways
Cake Mix Cookies are one of the easiest and most delicious ways to make cookies. Three ingredients plus your favorite mix ins is all you need.
We love a good and easy cookie recipe, among our favorites, are these Blueberry Lemon Ricotta Cookies, Cranberry Pistachio Cookies, and Flour Less Peanut Butter Cookies. If you are looking for something extra indulgent, these Snickers Cookies are a MUST try!
Cake Mix Cookies
Cake Mix Cookies are one of my favorite baking shortcuts. The flavors are endless and you can play with all your favorite mix-ins. You need only three base ingredients: cake mix, melted butter, and eggs. If you want to make bakery-style cookies in almost no time and with minimum effort and ingredients, these recipes are for you! I made Cake Mix Cookies using the following cake mixes: Funfetti, Carrot Cake, Red Velvet, and Thin Mints Brownies.
Red Velvet Cake Mix Cookies Recipe:
Nothing beats the elegance of a red velvet cookie! With this recipe, you can make some in less than 30 minutes!

Carrot Cake Mix Cookies Recipe:
When you crave carrot cake, all you have to do is grab one of these cookies. Loaded with white chocolate chips, these are fabulous.
Funfetti Cake Mix Cookies Recipe:
Loaded with sprinkles, these soft and chewy cookies are perfect for birthday parties! Kids will love them!

Thin Mints Brownie Cake Mix Cookies Recipe:
A match made in heaven: chocolate and mint! These Cake Mix Cookies are chewy and chocolaty, they resemble an indulgent brownie, in cookie form.
Tips & Tricks To Make the Best Cake Mix Cookies :
Start with your favorite Cake Mix flavor and make sure it matches the recipe quantity requirements
Also, you can use melted butter or canola oil if you don't have butter on hand. I prefer using butter, but oil will work too.
The eggs should be at room temperature. So, ensure to remove them from the fridge at least 30-minutes prior to the cooking process.
I like to roll the cookies in white granulated sugar, it gives it that crackly, sugary top
You can use your favorite mix-ins, but don't use fresh fruits like raspberries, as they will add extra water to the recipe
Some great additions that I like are: chocolate chips, white chocolate chips, nuts, sprinkles, raisins, and dried fruits
Make sure you don't over bake the cookies and let them cool in the pan a few minutes before transferring to a cooling rack, as the cookies are still very soft when they come out of the oven
Here are a few more fun recipes made with Cake Mix! No Bake Cake Batter Truffles:
and No Bake Devil's Food Cake Truffles: