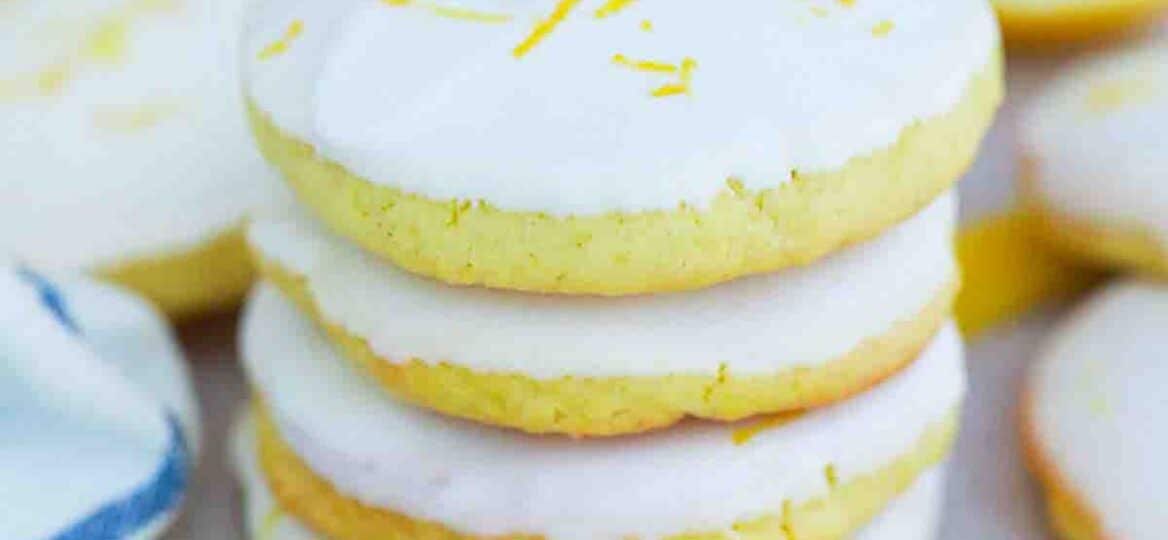 Girl Scout Lemon Cookies Copycat Recipe [Video]
Girl Scout Lemon Cookies are just like the ones you buy from the scouts, buttery with lots of lemon flavor, they are even better because you can add your own unique touch. And you do not have to wait until Girl Scout cookie season to get them.
Want some more lemon recipes? Creamy Lemon Bars are yummy, made with a creamy lemon filling on a buttery cookie crust. Or you can try these Air Fryer Lemon Squares, which are crispy cookies filled with tangy lemon filling.
The very first Girl Scout cookies were sold in 1917 when a group of moms baked and sold cookies in a school cafeteria in Muskogee, Oklahoma. It was a simple sugar cookie and was an overnight success.
The first commercial sales came in 1933 in Philadelphia, and they were sold from the window of the local gas and electric company. The official Girl Scout cookies began selling in 1936 with 125 troops of Girl Scouts ordering from several different bakeries.
These lemon Girl Scout delights are shortbread cookies with sweet and tangy lemon-flavored icing. If you liked the discontinued Girl Scout cookies, Lemon Chalet Cremes, these will make you smile. So, quit waiting around for Girl Scout season and make these instead!
The cookies are absolutely delicious, and they melt in your mouth. The base is a creamy and buttery shortbread, loaded with lemon flavor. Finally, the last touch is the sweet lemon glaze topping.
No need to stock up on expensive boxes of cookies and freeze them all so you can have them all year long. Just make your own with our easy Girl Scout cookie recipe.
Are you looking for more delicious recipes? We have plenty! To keep with the lemon theme, try our air fryer lemon chicken you can make in 20 minutes seasoned with honey, lemon juice, and Italian seasoning. For a seafood twist, this lemon pepper shrimp is bursting with lemon and pepper flavor for a unique dish. Or try this classic cookie instead.
Follow us on Pinterest for more delicious recipes!
Ingredients needed:
To make your favorite Girl Scout cookie, all you need are these simple ingredients. Then, when you are ready to start making them, simply scroll down to our recipe card at the bottom of the page where you will find the measurements and instructions.
Cookies:
Finely grated lemon zest
Fresh lemon juice
Lemon extract
Vanilla extract
Granulated sugar
Egg: At room temperature.
Egg yolk: Also at room temperature.
Butter: Softened to room temperature.
All-purpose flour
Kosher salt
Yellow food coloring
Lemon glaze:
Powdered sugar: Or confectioners' sugar.
Lemon juice
How to make lemon Girl Scout cookies from scratch?
Make the flour mixture: To begin, combine flour and a quarter teaspoon of salt in a medium bowl and set it aside.
Mix the rest of the ingredients: Then, beat the butter and granulated sugar in a large bowl with a hand mixer on medium speed until it is pale yellow and creamy. Add food coloring, vanilla and lemon extract, lemon zest and juice, egg yolk, and egg and mix well.
Add the flour mixture: Now, add a little bit of the flour mixture at a time, beating on low speed until it is completely mixed together.
Chill the dough: Make two logs about nine inches long and 1 1/2 inches in diameter and wrap them in wax paper. Chill in the fridge for at least one hour or until it is very firm.
Cut the logs: Preheat your oven to 350 degrees F. Cut the dough into quarter-inch slices while you wait and put them on an ungreased baking sheet.
Bake the cookies: Then, bake for 12 to 15 minutes or until they are very lightly brown on the edges. Let them sit for one minute on the pan before putting them on a wire rack to cool completely.
Make the glaze: Meanwhile, make the glaze by mixing the juice and powdered sugar in a medium bowl. If it is too thin, add more sugar, one tablespoon at a time. If it is too thick, do the same with the juice.
Dip and dry: Now, dip the bottom of each cookie into the sweet glaze and set it on the wire rack to let the glaze dry before serving.
How to make air fryer Girl Scout lemon cookies from scratch?
Mix the dry ingredients: Start by mixing the flour and salt in a medium mixing bowl. Then, beat the granulated sugar and butter in a stand mixer with a paddle attachment.
Mix in the rest of the ingredients: Add egg yolk, egg, lemon juice, zest, vanilla, lemon extract, and food coloring and mix thoroughly.
Add dry mixture gradually: Now, gradually add in the dry mixture until it is fully combined.

Wrap and chill: Then, separate the cookie dough into two equal balls and roll them into logs. They should be about 1 1/2 inches in diameter and nine inches long. Wrap and refrigerate for at least one hour or until they are firm.
Cut into slices: Next, cut the chilled dough into quarter-inch slices.

Air fry the cookies: Finally, set the air fryer to 350 degrees F and place the cookies in the basket. Cook for 6 to 10 minutes, until the edges are lightly browned.

Chill them: Now, remove the cookies and let them cool completely on a wire rack.

Mix the glaze: While you wait, mix the lemon juice with powdered sugar until it is smooth.

Glaze the cookies: After the cookies are completely cool, dip the bottom of each one into the glaze and set them on a cooling rack with the glaze side up.

Set and eat: Once the glaze is set, you can eat your delicious lemon Girl Scout cookies.
Recipe variations:
Baking soda: Although some recipes call for a leavening agent, it is not usually needed for shortbread cookies. You can use 1/2 teaspoon if you want more lift.
Add cornstarch: For cookies with a bit more volume, a tablespoon of cornstarch will do the trick.

Add chocolate: Chocolate lovers will enjoy a bit of chocolate in these cookies. Try adding mini chocolate chips.

Cocoa powder: Another way to make these chocolatey is to add a bit of cocoa powder.

No vanilla: You can skip the vanilla extract if you want for more lemony flavor.

Different flavor: Feel free to add a different extract like orange or lime to give these cookies a different kind of citrus flavor.

Another way: Similarly, you can add orange or lime zest to your cookie dough for a more intense citrus taste.

Turmeric: Instead of yellow food coloring, try using turmeric. Only use a little. Using too much will make your cookies orange.

No glaze: For cookies that are not so sweet, skip the glaze.
How to serve:
Why wait until Girl Scout cookie season? You can make these delicious lemon-flavored delights today at home. Try one of these ideas or share some of your own in the comments section at the bottom of the page.
For a more festive cookie, add some rainbow sprinkles on the glaze before letting it set.

You could also top these with a small dollop of whipped cream.

Use your own stamp to make inspiring messages on top as the Girl Scout cookies have.

These cookies taste great with a glass of lemonade. Try our homemade lemonade recipe.
You could also pair these with a glass of ice-cold milk.

Another way to serve these lemon cookies is with ice cream.
If you are really crafty, you can make these cookies look like lemon slices before baking. First, use the lid of a jar to make a raised edge. Then, use a metal spatula or sharp knife to make lines in a triangular pattern. Finally, use a fork to make the "seeds" in the middle.
Frequently asked questions
Where do the Girl Scouts get their cookies?
The Girl Scouts get their cookies from one of two bakeries including Little Brownie Bakers and ABC Bakers. This is why some cookies look the same but have different names. For example, the Samoas and Caramel delites are the same cookie but have different names. Also, some cookies may vary in taste even though they are the same because the bakeries may use different ingredients.
What are some of the discontinued Girl Scout cookies?
Some of the cookies you may remember include Le Chips, which were essentially chocolate chip cookies with hazelnut flavor, and the Aloha Chips, which were similar but used white chocolate chips and macadamia nuts. Then, there was the Ole Oles. These delicious vanilla cookies had pecans, coconut, and powdered sugar. And Lemonades have been replaced by Lemon-Ups, which have inspiring messages on them.
Double Dutch cookies were a chocolate lover's dream with chocolate chips in a chocolate brownie cookie. Golden Yangles were cheese crackers like Goldfish or Cheez-Its. Savannah Smiles were lemon wedge cookies with powdered sugar. And the Dulce de Leche cookies were really scrumptious but were replaced by the Toffee Tastic butter cookie with toffee bits.
What are the Girl Scout cookies sold today?
Starting with the newest, the Raspberry Rally has a chocolate raspberry flavor. Adventurefulls are brownie cookies with caramel cream. Caramel Chocolate Chips are caramel-covered chocolate chip cookies. Caramel deLites are crispy cookies with coconut, caramel, and chocolate, also known as Samoas.
Do-si-dos are peanut butter-filled oatmeal cookies. And S'mores are graham crackers, chocolate, and marshmallow. Peanut Butter Patties are peanut butter and chocolate cookies also known as Tagalongs. Thin Mints are chocolate mint cookies. Toast Yay are french toast flavored cookies shaped like toast. And the Trefoils are the iconic shortbread cookies.
What are the nutrition facts in this recipe?
Each serving of these lemon Girl Scout cookies has 141 calories, 8 grams of fat, and 4 grams of saturated fat. They also have 74 milligrams of sodium, 21 grams of carbs, 22 milligrams of cholesterol, and 10 grams of sugar. On the good side, these yummy cookies give you 14 milligrams of potassium, 5 milligrams of calcium, 2 milligrams of vitamin C, and 188 units of vitamin A.
How to store leftovers:
Store: You can store your leftover lemon Girl Scout cookies in an airtight container for up to five days.
Freeze: To freeze, put them in a freezer bag or freezer-safe container. Use parchment paper in between the cookies to keep them from sticking. They can stay fresh in the freezer for about four months.

Thaw: Remember to thaw out your frozen cookies overnight in the fridge before serving.
More cookies to try:
Baking tips:
When using the air fryer method, make sure there is plenty of space between the cookies so the air can circulate. Cook in batches if needed.
Instead of making logs, you can use a small cookie scoop and they will spread out into circles.
You could also roll out the dough and use cookie cutters to make your own shapes.

For a thicker glaze, use more powdered sugar, a teaspoon at a time.

Alternatively, for a thinner glaze, add more lemon juice or water one teaspoon at a time.

If you love the glaze as we do, simply double the ingredients and you can coat your cookies on both sides. Just wait for one side to dry before doing the other one.

To get more rise out of your cookies, add a leavening agent like baking powder or soda.
Girl Scout Lemon Cookies Copycat
Ingredients
Cookies:
2

cups

all-purpose flour

1/4

teaspoon

salt

1

cup

unsalted butter

softened

Yellow gel food coloring

optional

1

cup

granulated sugar

1

egg

room temperature

1

egg yolk

room temperature

1

tablespoon

lemon zest

finely grated

2

tablespoons

lemon juice

fresh squeezed

1/2

teaspoon

lemon extract

1

teaspoon

vanilla extract
Lemon glaze:
1

cup

powdered sugar

1-2

tablespoon

lemon juice
Instructions
Cookies:
In a medium bowl mix flour and salt. Set aside.

In a large bowl, using an electric mixer beat butter and granulated sugar on medium speed until light and fluffy.

Add egg, egg yolk, lemon zest, lemon juice, lemon and vanilla extract, and a few drops of food coloring, if using. Mix well until combined.

Gradually beat in on low speed the flour mixture until just combined. Divide the batter in half and shape each half into a log about 9 inches long and 1 1/2-2 inches in diameter. Wrap in wax paper and refrigerate for 1 hour or until firm.

Slice the dough into 1/4-inch thick slices and arrange on ungreased baking sheets covered with parchment paper.

Bake for 12 to 15 minutes or until very lightly browned on the edges.

Cool on baking sheets for 1 minute, after that transfer the cookies to wire racks to cool completely.
Glaze:
Mix the powdered sugar and lemon juice in a medium bowl. Stir until smooth. For a thinner glaze, add more lemon juice, a teaspoon at a time. For a thicker glaze, add more powdered sugar, a tablespoon at a time.

Dip the bottom (or top if desired) of each cookie into the glaze, then gently set the cookie with the glaze side up, onto a wire cooling rack to allow the glaze to set up.

If desired top with lemon zest immediately, for it to stick.