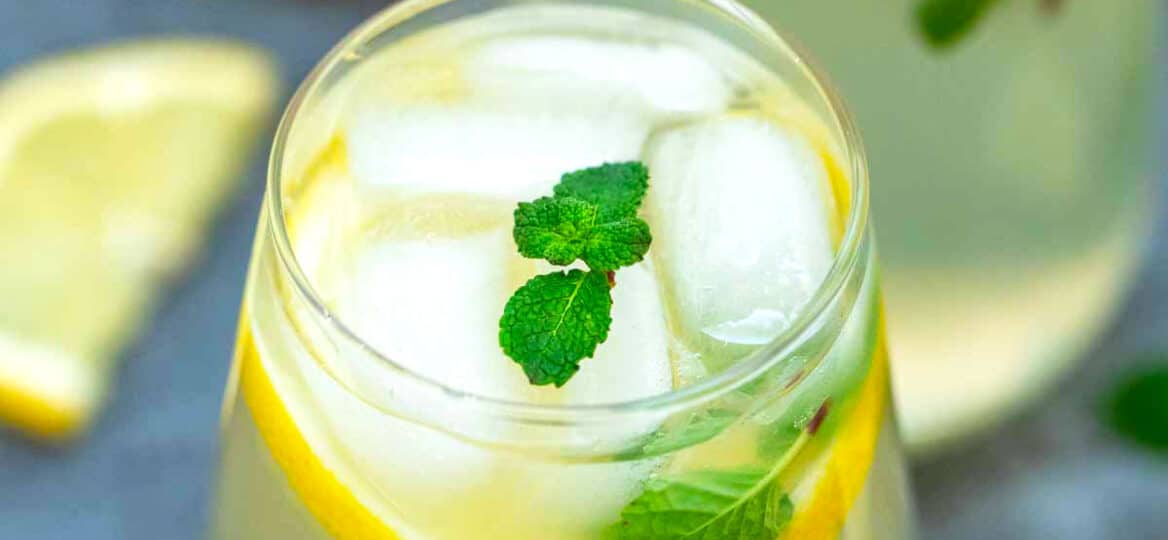 Homemade Lemonade Recipe [Video]
Homemade Lemonade is sweet, tart and refreshingly perfect for summer! Beat the heat with this cold beverage that you can easily prepare in 15 minutes!
It is a childhood favorite and that makes this recipe meaningful aside from being so delicious. Want more citrus fruit recipes? Check out my recipes for Crispy Orange Chicken, Lime Curd, and Cranberry Orange Bread!
Easy Lemonade Recipe
Homemade Lemonade is easy to prepare with only three major ingredients to consider. You will only need lemons, water, and sweetener. But I also use mint sprigs in it to make it even more refreshing!
There is something about the citrus fruit that reminds me of sunshine! It is bright, yellow, and fresh. And all these things are amplified when made sweet. It is rich in vitamin C, too!
Naturally, the citrus fruit tastes sour with a hint of bitterness. But when combined with the sweetener in the right proportion, it becomes bearable without being overly sweet.
That is an advantage when making this at home. You get to adjust the proportions. It is important because different varieties of lemons vary in taste, too.
Learn how to make this easy and cool thirst-quenching beverage now!
How do you make lemonade from scratch
Prepare the syrup: Simmer together the sugar, mint sprigs, and water. Stir until the sugar dissolves, then remove from the heat.
Prepare the juice: Get about 4 to 6 citrus fruits and juice them. You need a cup of freshly squeezed juice.
Combine: Put together the syrup, excluding the mint sprigs, and juice in a pitcher. Then, stir in the cold water and taste. Adjust the taste accordingly but consider that adding ice will further dilute it. At this point, add in fruit slices and mint sprigs.
Chill: Put it in the fridge for at least 30 minutes.
Serve: Garnish then serve with ice!
How to make homemade lemonade with honey?
If you want to avoid using white sugar, then, use honey. You only need to change how you will prepare the syrup.
To make the syrup, warm together water and honey in a 1:1 ratio. Once the honey dissolves, remove the syrup from the heat. Then, follow the rest of the recipe.
How to make sugar-free lemonade?
To make it sugar-free, you need to add a sugar substitute like stevia. It is sold in powder form or as a liquid concentrate.
If you use the powdered stevia, simply dissolve the powder in water without having to heat it.
Stevia is so sweet that you will need only about a tablespoon for about 4 cups of water. But, for some, this may not be sweet enough. I suggest that you experiment to determine the ratio that works for you.
What else can you add to lemonade?
You can infuse this basic recipe with other flavors from other fruits or herbs. You can even add alcoholic drinks to make it into a cocktail.
Spruce up your drink with herbs like cilantro and basil. Even a little ginger will add a bit of zing!
If you want to add fruits like watermelon, mango, peach, and berries, puree them first. Then, remove the solids through a strainer before adding into the pitcher for a smooth mixture.
How much juice is in one lemon?
On average, it yields 2 to 3 tablespoons. That is for a medium one and the larger the fruit is, the more juice it has.
How long does homemade lemonade last?
Enjoy this beverage for up to 7 or 8 days. Just be sure to keep it in the fridge in an airtight container. Also, remember to take out the fruits slices and mint sprigs before storing the drink.
To drink it again, you may want to taste first and adjust since the fruit can get bitter.
More delicious summer drinks:
Recipe Tips:
Looking for substitutes with a low glycemic index? Coconut palm sugar is a good candidate.
To get the most out of the citrus fruit, pierce the skin before cutting it so that the skin will become more pliable when you squeeze it. Or, peel it entirely!
When buying, choose the fruit that is heavy for its size to ensure that you get only the juicy ones.