Best Instant Pot Lemon Curd
Last updated on April 11th, 2022 at 05:06 pm
Instant Pot Lemon Curd is the perfect zesty treat for lemon lovers made with just 6 ingredients and in less than 30 minutes. Use it to make tarts, cakes, cookies, brownies, or mix it in with your favorite yogurt for breakfast. You can really use this curd for anything. It even makes a nice topping for catfish or tilapia.
If you like this easy sweet sauce recipe, try some of our other lemon recipes like our Lemon Meringue Cupcakes made with pie filling and egg whites for a fun dessert. This Lemon Blueberry Cake is also amazing and is made with lots of lemon flavor, homemade cream cheese frosting, and fresh blueberries.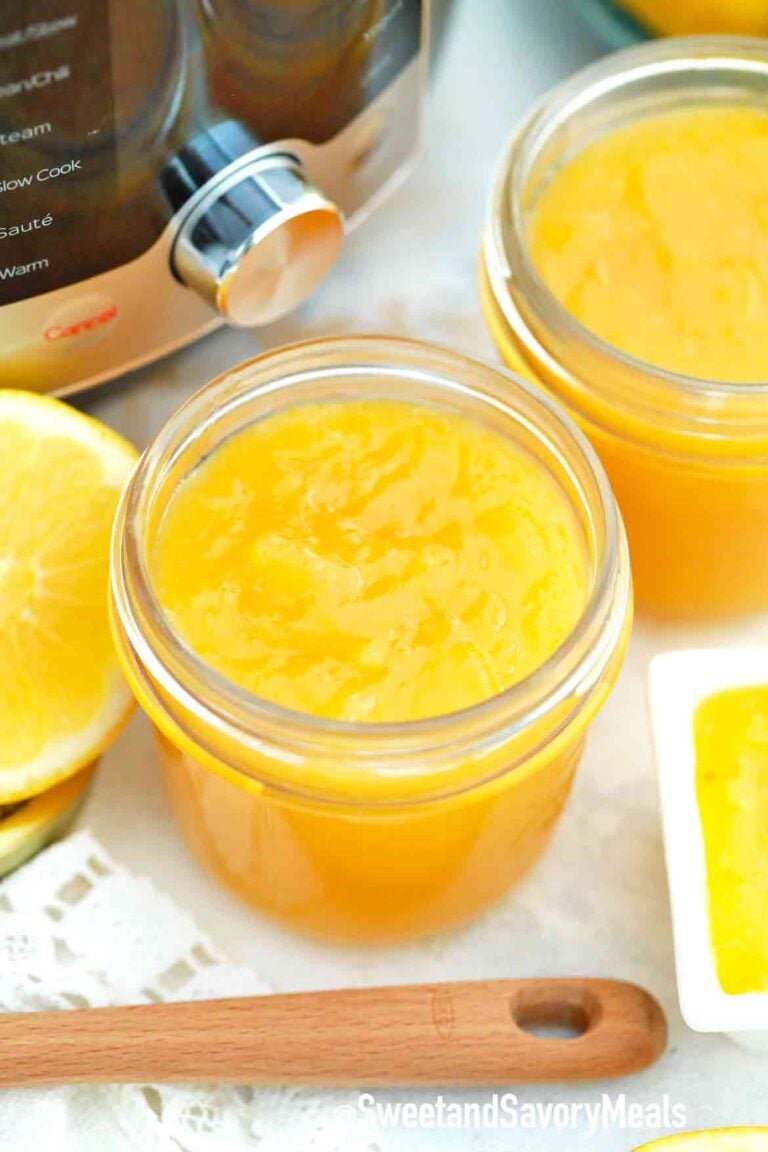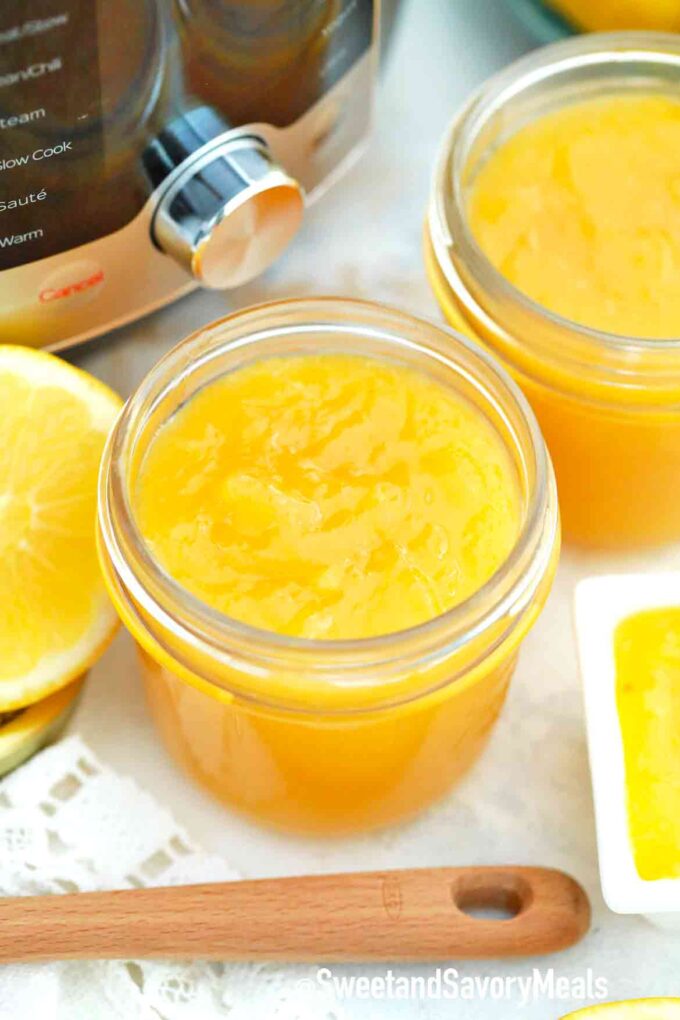 For a decadent dinner party dessert, try this easy recipe for Mini Pavlovas made with lemon curd, real vanilla beans, and heavy whipping cream.
Whether you use an instant pot or pressure cooker, this creamy dessert will be smooth, tart, and deliciously sweet. And it lasts up to two weeks in the fridge so you can keep a couple of jars and freeze the rest for up to six months.
This great recipe will quickly become one of your favorites and once you see how easy it is to make you will never buy lemon curd. Only with just a few ingredients, and a few minutes of prep work, this recipe is ready.
After that, you just have to chill it in the fridge. The sauce is great on desserts, but also on its own, as a dipping sauce for fruits. They also make great hostesses or holiday gifts.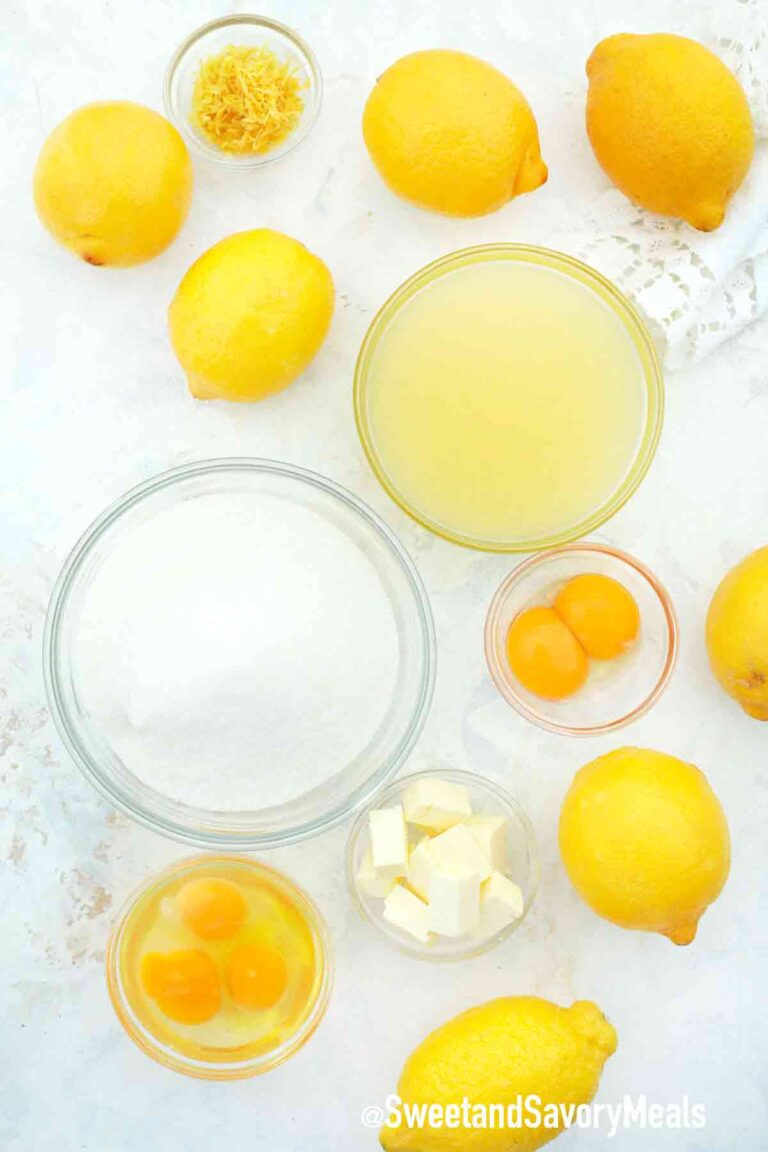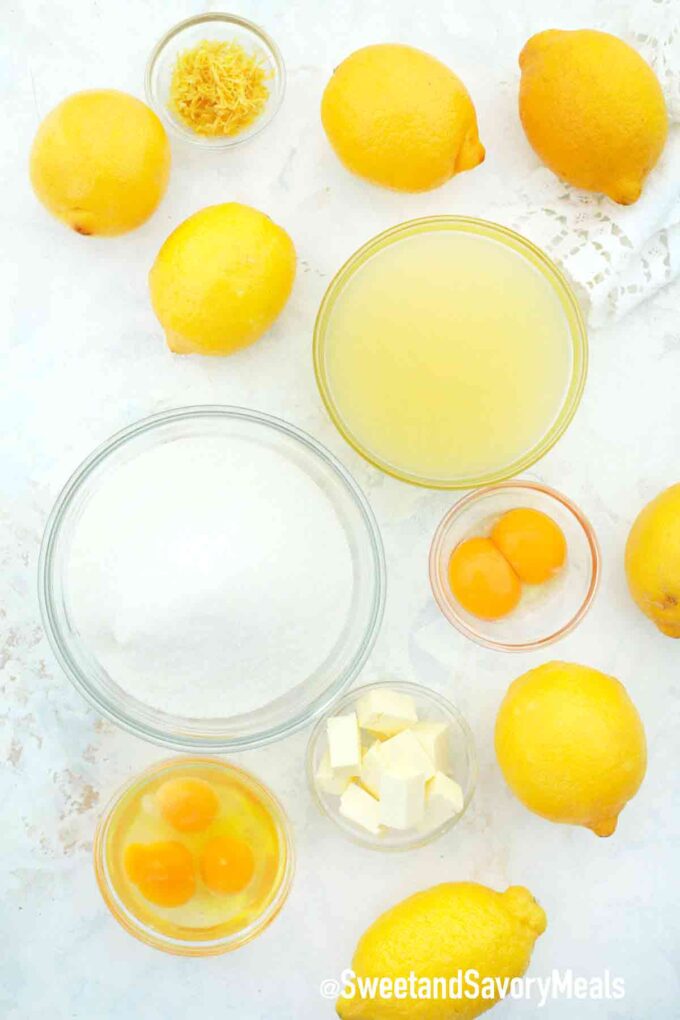 Ingredients needed:
These are the main ingredients for pressure cooker lemon curd. For more detailed instructions, scroll down to our recipe card.
Lemon Zest: Homemade or store-bought are both fine for this recipe. It adds extra flavor and more intense yellow color.
Lemon Juice: Four or five fresh lemons. For a sweeter sauce use Meyer lemons.
Sugar: White granulated sugar.

In addition, you can use a sugar substitute like monk fruit sugar, for a low-carb version of this recipe.

Butter: Unsalted melted butter at room temperature.
Eggs: Large eggs at room temperature.
Egg Yolks: Large egg yolks at room temperature.
How to make instant pot lemon curd recipe?
Prepare: Pour two cups of water into the bottom of your pot and place the trivet inside.

Zest: Then, put the lemon zest into a mixing bowl before adding the sugar and butter. Cream it all together with a hand mixer until it is light and fluffy.
Add juice: Now it is time to add the lemon juice, egg yolks, and eggs. Beat on low speed until it is just combined. It should still have lumps of butter. Pro Tip: Using a food processor instead of a mixer blends the ingredients better.
Jarring: Pour the tart filling into a mason jar and put the lids on your finger tight. Only fill it ¾ of the way full because it will rise.

Set to steam: After, place jars in the pot on top of the trivet, close the lid, and set the steam release knob to sealing.
Cook: Next, press the pressure cook button to high and select nine minutes of cook time.

Release: After the time is up, let it naturally release for 10 minutes. Then, turn the steam release to venting so the remaining steam can escape.

Open: Carefully open one of the jars and stir the curd with a fork or very small silicone whisk until it gets creamy. Continue until you do all the jars.
Chill: After they cool down to room temperature, chill jars in the fridge for about three or four hours (if you can wait that long).
Serve: Finally, serve this creamy treat as a topping for toast or eat it right out of the jar with a spoon if you like.
Recipe variations:
Strawberry: You can also use strawberries to make strawberry curd, which is sweet and delicious.
Other fruit: Don't be afraid to use other citrus fruits like oranges, grapefruit, blood oranges, and lime.

Add extract: For an even more lemony flavor, add ½ teaspoon of lemon extract.
Other extracts: Alternatively, use some other extract that goes well with the citrus flavor. We prefer vanilla extract or just a touch of almond extract.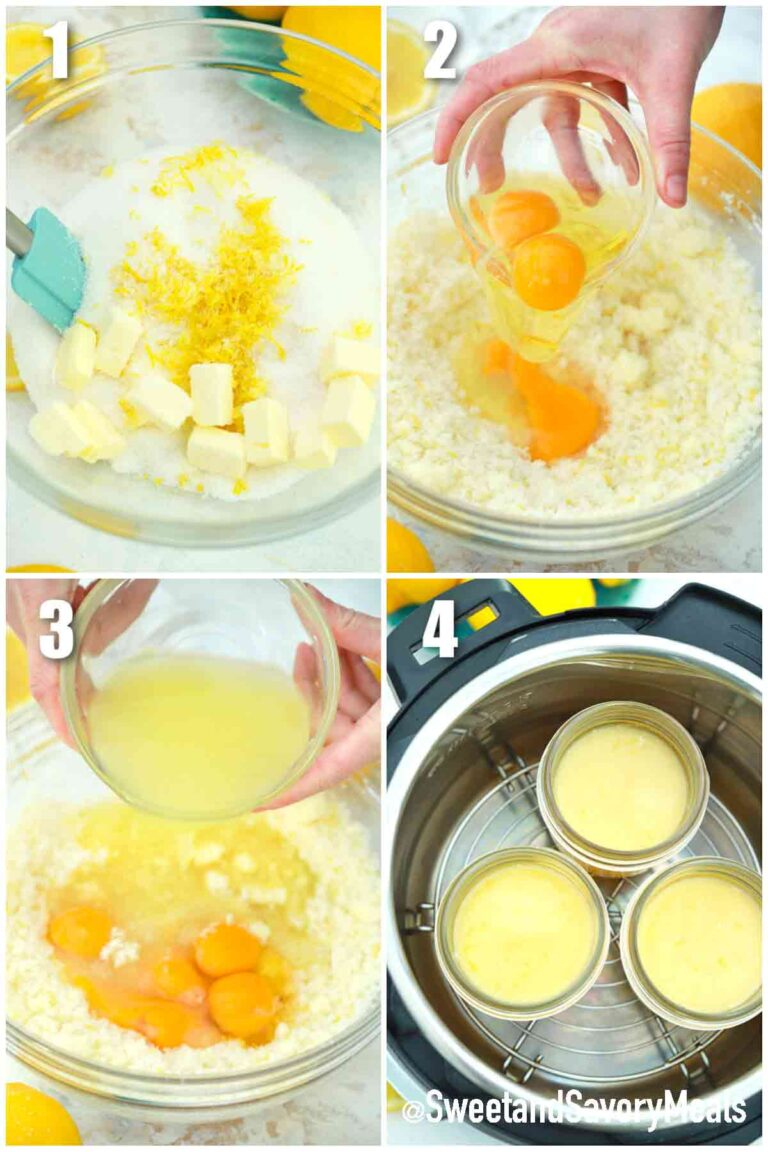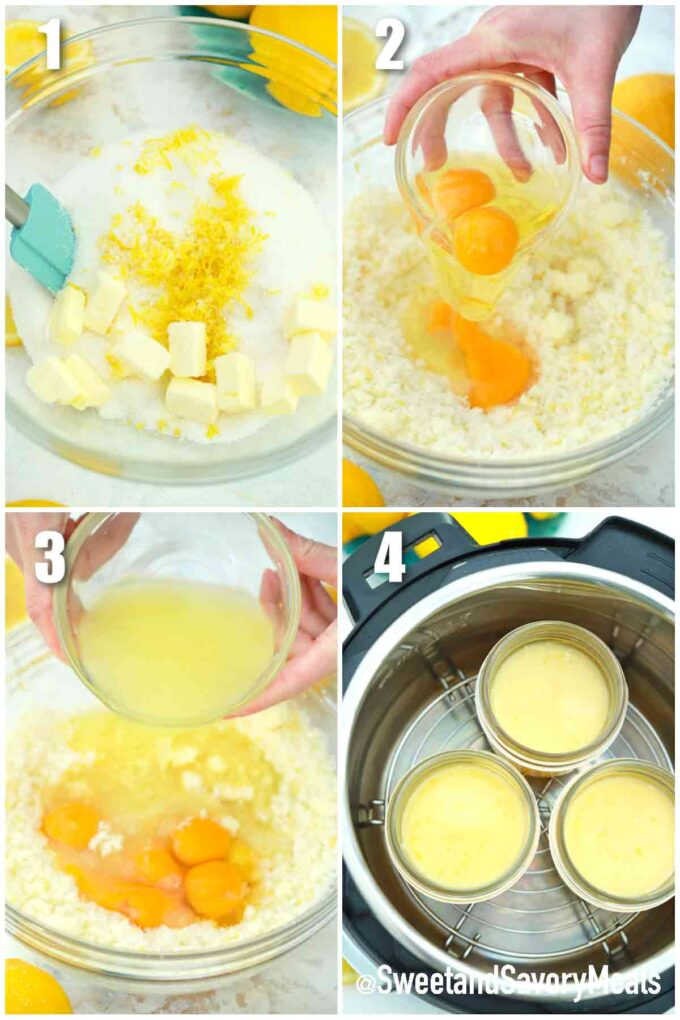 Make lemon curd on the stove:
Try this easy and delicious lemon curd stovetop recipe.
Put a pot with one cup of water over medium heat until it simmers. Then put a metal bowl on top to make a double boiler.
Add the ingredients, whisking constantly, until the mixture reaches 160 degrees F and has thickened.
After that remove it from heat and let it cool down to room temperature.
When it reaches room temperature, put the curd in mason jars and in the fridge to cool for several hours.
Make lemon curd in the slow cooker:
To make this easy recipe in the slow cooker, follow the steps to make the lemon mixture and add it to a microwave-safe bowl that would fit into your crockpot.
Cover the bowl with foil, transfer it to the slow cooker, and add hot water to come halfway up the sides of the bowl. Cover the crockpot with a lid.
Cook on low for 4-6 hours, until the curd has thickened, and make sure to stir it every few hours.
After that, let it cool a bit, and transfer the mixture to sterilized mason jars.
Chill for a few hours before serving.
How to serve:
Serve alone as a sweet and tangy dessert cup or on toast, rolls, or ice cream. Or try one of these serving suggestions:
Try our lingonberry bars with lemon curd for a buttery breakfast dessert.
You can also use it as a pie filling for lemon meringue or some other citrus pie.
Speaking of breakfast, try making our lemon cherry cheese danish recipe. The cherry and lemon blend together so wonderfully. In addition, the sauce is amazing in baked pastries, or as a donut filling.
Use a lemon curd in your next thumbprint cookies for a nice tangy flavor.

Another way to enjoy these jars of sunshine is to make our tangy and silky instant pot lemon cheesecake.
This lemon poppy seed cake is also made with lemon curd and is a great dessert for any time.

Additionally, you can serve it as is, on the side for toast, with some butter.
Alternatively, it makes a great yogurt mix-in.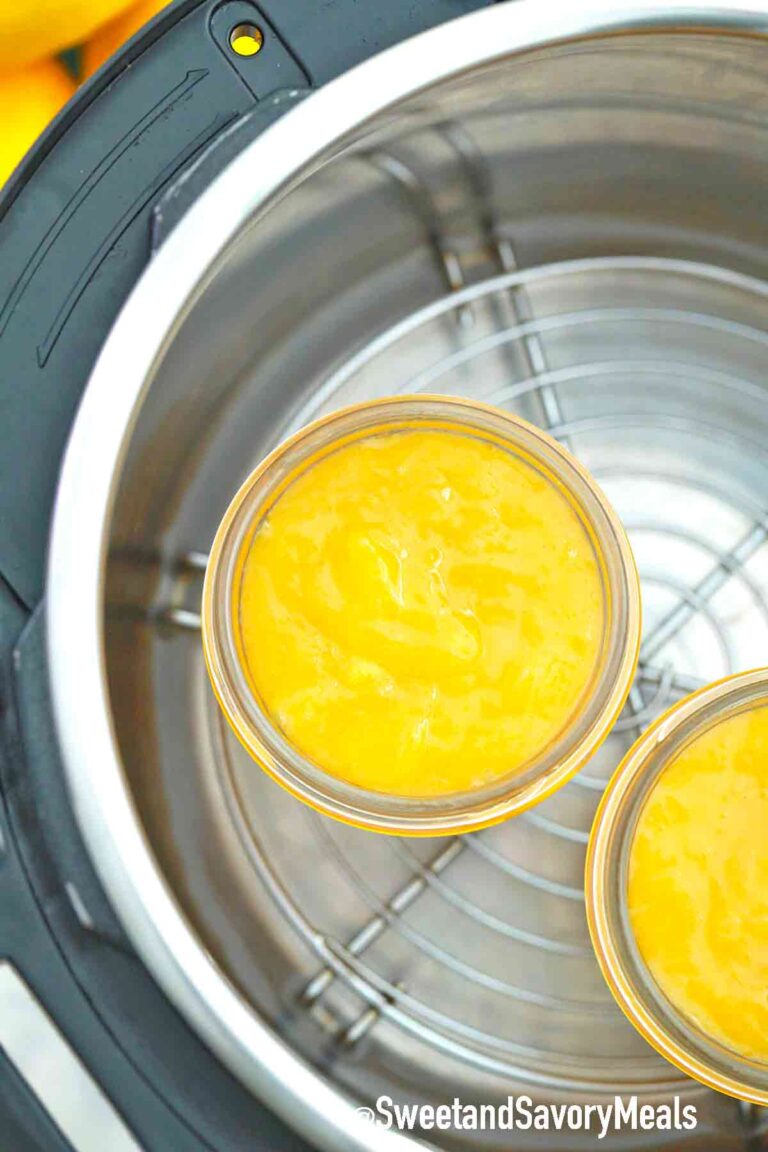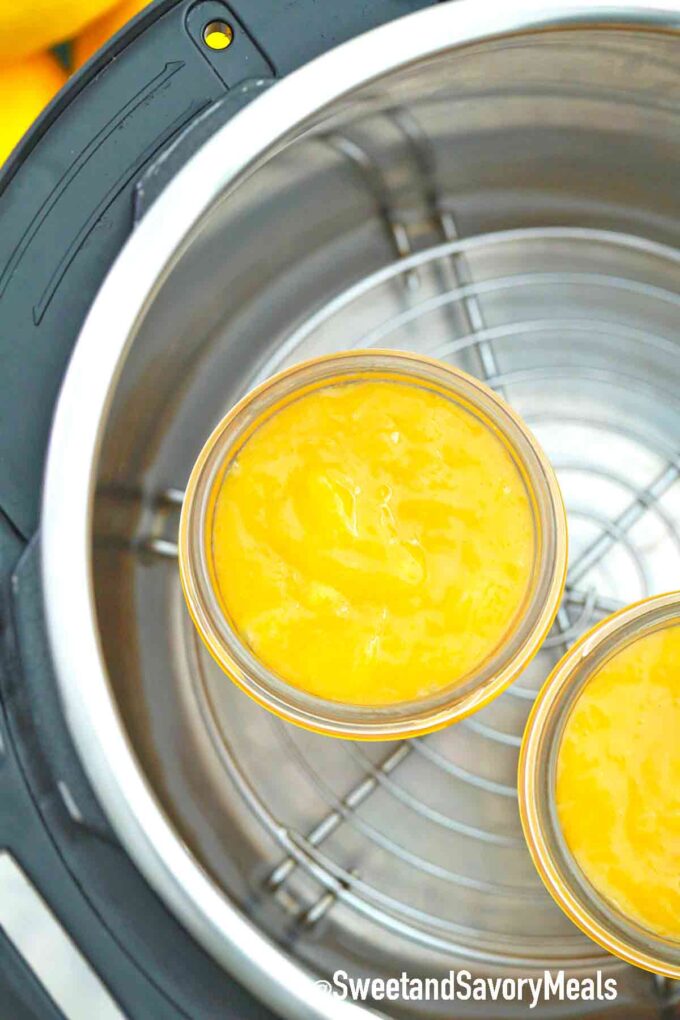 Frequently asked questions
What is the best way to separate eggs?
One of the most important first steps in separating the yolks from the eggs. The best way to do that in my opinion is to use the shell. Just crack the egg in half and pass the yolk from one half of the egg to the other, allowing the egg whites to fall into a bowl.
You could always get an egg separator, but this is faster and easier.
How do you know when the curd is done?
With this instant pot lemon curd recipe, your curd should be done when the remaining pressure is released. However, you can also test it by seeing how thick it is using a wooden spoon.
Dip the spoon in the curd. If your finger leaves a trail, you know it is done.
Why is my curd not thickening?
This is an easy recipe in your electric pressure cooker or pot, so if your curd is not thickening, you may not have heated it long enough. But don't forget that it thickens as it cools.
You don't want it to be too thick but if it is too thin, try reheating it for a few minutes on high pressure before doing a natural release.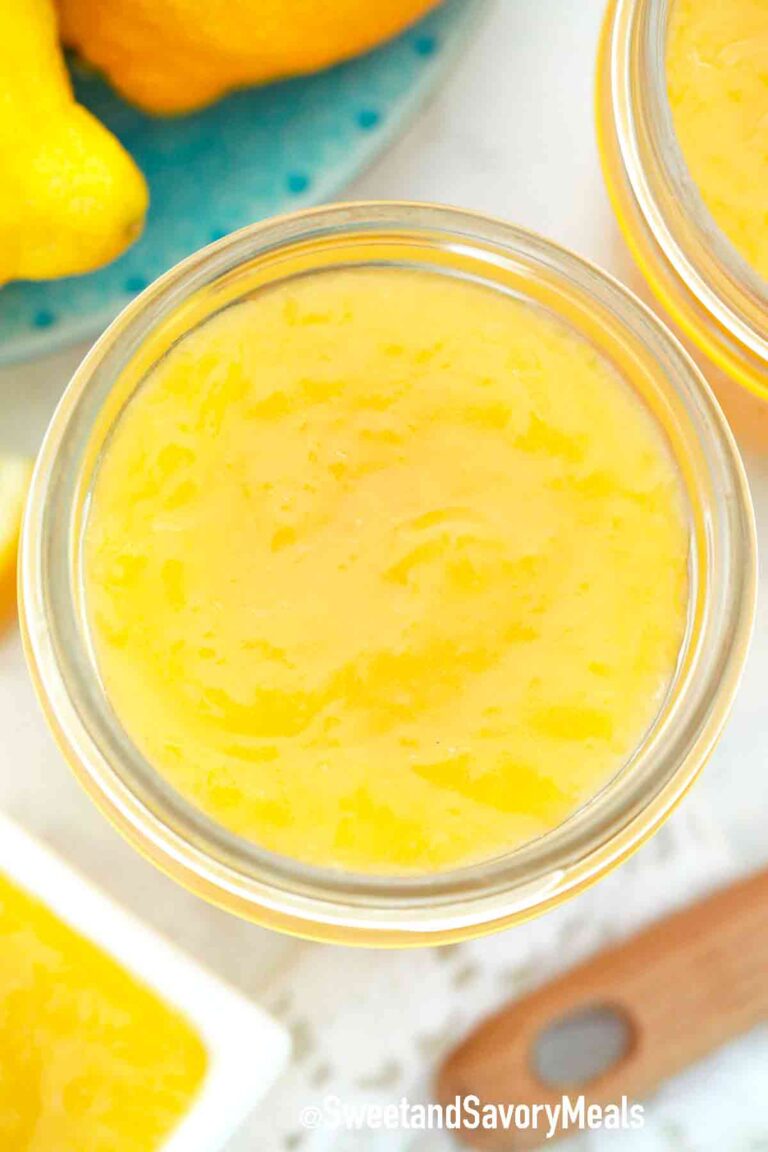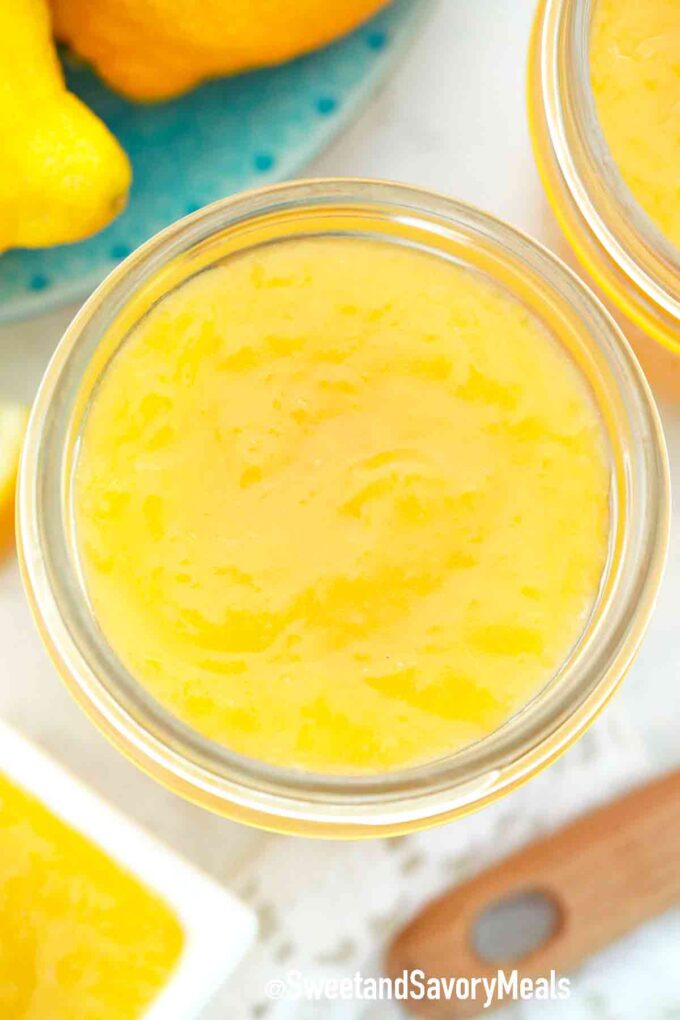 How to store leftovers:
Store: You can store these in the fridge in the mason jars after they cool. It will be good for about four weeks.

Freeze: Canning jars freeze nicely and will keep your lemon curd well for six months.
Defrost: Thaw overnight in the refrigerator before use.
Reheat: No need to reheat unless your recipe calls for it.
More sweet sauces:
Cooking tips:
Don't have any mason jars? Use a Pyrex glass oven-safe glass bowl or another glass bowl covered in aluminum foil.
The best lemons for juicing are Meyer lemons with thin smooth skins. We used 5 medium lemons for this recipe.
Cut sugar to two cups if you want it tarter.
You can also use an immersion blender to mix it all up.
Be careful not to get any of the white pith, you just want the yellow part.
If you use unsalted butter, you may have to add a pinch of salt.

In addition, for the smoothest texture take a few minutes to strain it.
Equally important is to keep an eye to not overcook it, it will curdle and taste eggy if overcooked.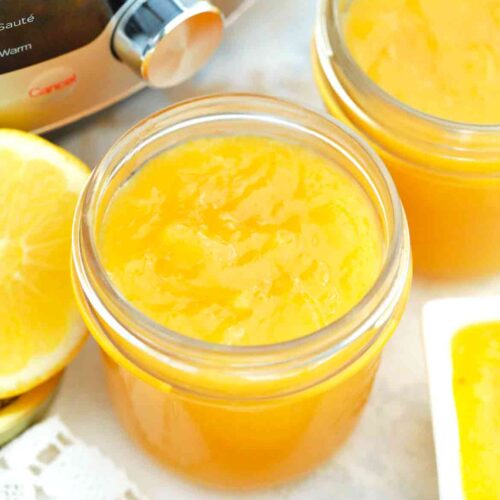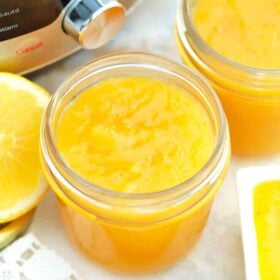 Instant Pot Lemon Curd
Instant Pot Lemon Curd is the perfect zesty treat for lemon lovers made with just 6 ingredients and in less than 30 minutes.
Save
Share
Print
Pin
Rate
Ingredients
4

teaspoons

lemon zest

(just the yellow part)

2

cups

lemon juice

(from about 8 lemons)

2 1/2

cups

white granulated sugar

(reduce to 2 cups if you like it tart)

10

tablespoons

unsalted butter

(softened)

6

large eggs

4

egg yolks
Instructions
Add 2 cups of water to the inner pot and add a trivet.

Add the zest to a large mixing bowl, and add the sugar and butter. Using an electric mixer, cream the mixture until light and fluffy.

Next, add the eggs, egg yolks, and lemon juice and mix on low speed until combined. The texture will be lumpy.

Pour the mixture into mason canning jars, filling them about 3/4s, and put the lids on tightly.

After that, arrange the jars onto the trivet in the pot.

Close and lock the lid and set the steam release knob to the sealing position.

Select the Pressure Cook/Manual button and adjust the timer to 9 minutes, pressure cook on high.

After the cooking time has finished, do a 10-minute Natural Release. Then turn the steam knob to the Venting position and quickly release any remaining pressure.

When the pin in the lid drops down, open the lid carefully, and using oven mittens remove the hot jars.

Carefully open the jars and stir the lemon curd using a fork until it comes together and is creamy.

If you want your mixture every smooth, just transfer it to a bowl, whisk it, and after that strain it, and add it back to the jars. Let the sauce cool for about 15-20 minutes, then transfer to the fridge for a few hours to chill and firm up.
Nutrition
Calories:
812
kcal
|
Carbohydrates:
134
g
|
Protein:
12
g
|
Fat:
40
g
|
Saturated Fat:
22
g
|
Polyunsaturated Fat:
3
g
|
Monounsaturated Fat:
12
g
|
Trans Fat:
1
g
|
Cholesterol:
515
mg
|
Sodium:
330
mg
|
Potassium:
250
mg
|
Fiber:
1
g
|
Sugar:
128
g
|
Vitamin A:
1499
IU
|
Vitamin C:
50
mg
|
Calcium:
80
mg
|
Iron:
2
mg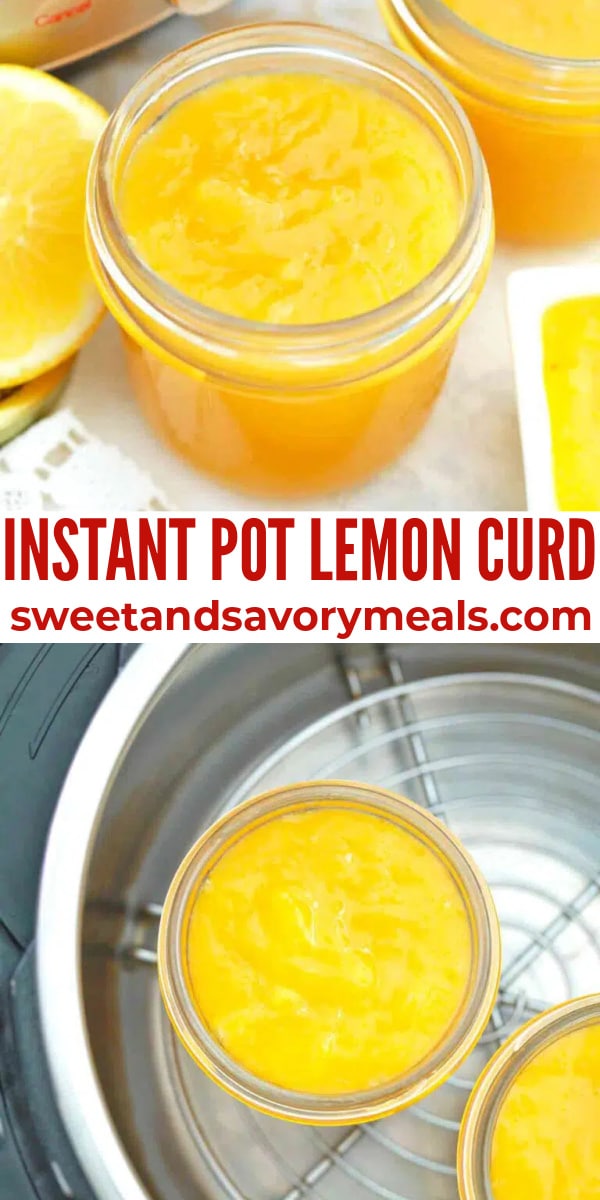 More recipes you might love