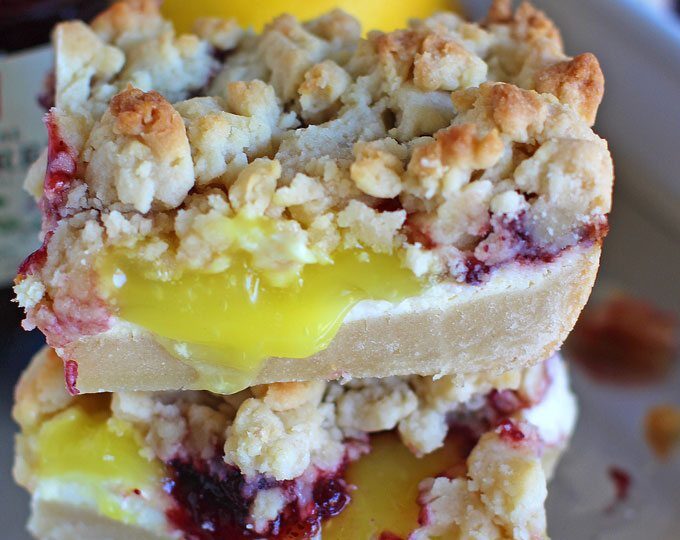 Lingonberry Bars With Lemon Curd
Lingonberry Bars are cumbly and buttery with a refreshing and creamy layer of lemon curd cheesecake, topped with lingonberry jam and a crumb topping.
Making tender and delicious bars are fun and easy. We have a collection of them, and among our most popular once are Chocolate Beer Oreo Bars, Dulce De Leche Shortbread Bars and Chocolate Hazelnut Cheesecake Bars.
Lingonberry Bars
Lingonberry Bars are the perfect combination of tart and sweet, creamy and crumbly. A thick layer of insanely buttery shortbread is topped with a creamy and refreshing lemon curd cheesecake layer. Next, follows a sweet lingonberry jam layer that ties all the flavors together. The bars are finished with another layer of shortbread, but now in a delicious crumb form. A party of colors and flavors, these Lingonberry Bars melt in your mouth and taste fantastic. Also, very easy to make, you can whip some in under one hour.
Why You'll Love These Lingonberry Bars:
Firstly, very easy to make, and ready in under 1 hour.
Also, tender and buttery, if you love shortbread cookies you will adore these bars.
A delicious combination of sweet and tart.
In addition, the cheesecake layer is a nice, creamy and unexpected surprise.
Pin This Lingonberry Bars Recipe to your Favorite Board
Lingonberry Bars Recipe Tips
First, a thick shortbread layer is key. These bars are a fantastic combo of flavors and textures.
The cheesecake layer is optional. However, in my opinion it adds an unexpected creaminess that make the bars even more delicious.
If you decide to skip the cheesecake layer, I would recommend adding an extra 1/2 cup or more of lingonberry jam.
Also, the recipe can be made entirely with just lingonberry jam or any other jam that you have on hand.
Its also very important to refrigerate the bars before serving. Especially if you have the cheesecake layer, because it needs to fully settle before you cut into it.
The bars can also be served "messy" cobbler style, while they are slightly warm. Scoop portions into bowls and top with vanilla ice cream and lingonberry jam.
Lastly, do not over bake the bars, you are looking to get a nice golden crumb on top, not brown.
How to make Lemon Zest?
Follow the easy steps below:
First, rinse the lemon.
Then, set your tool over a cutting board. A microplane produces a very fine zest, perfect for baking and cooking. If you don't have a microplane, use the smallest holes on an ordinary grater.
Grate the yellow skin of the lemon only. Grate just enough to get through the yellow skin, this way you can avoid the bitter white pith underneath.
Next, rotate the lemon and repeat. Once the white pith is exposed, rotate the lemon and zest the next strip of peel. Repeat until most of the peel is removed, or until you have enough zest for your recipe.
Can you freeze the Lingonberry Bars?
Yes. First, cool the bars completely. Next, fully wrap the bars in plastic wrap, tightly. After that, wrap in aluminum foil or place in freezer bags. Freeze for up to 3 months. Defrost before serving.