Nutella Cheesecake Bars are delight to eat with a honey graham crust and a hazelnut chocolate filling, while very easy to make.
We love making delicious and puffy cheesecakes, and among our favorites are Best Instant Pot Cheesecake, Samoa Cheesecake No Bake and No Bake Tiramisu Cheesecake.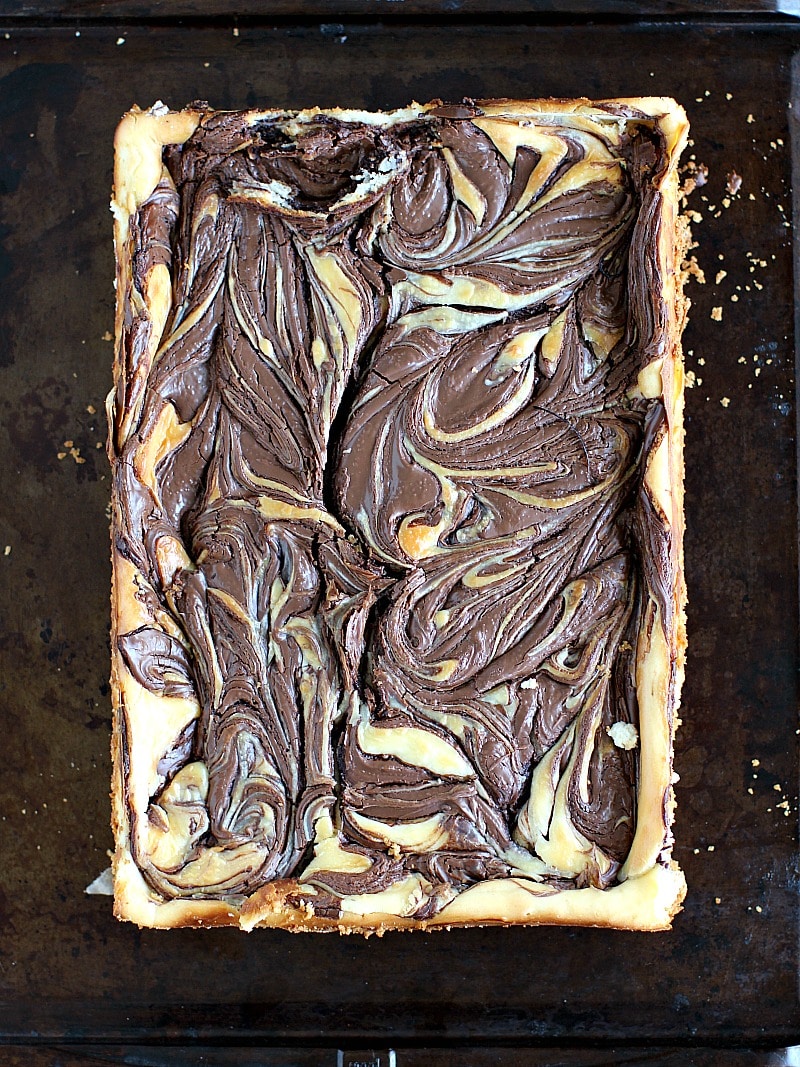 Nutella Cheesecake Bars
Nutella Cheesecake Bars are the perfect way to end a long week, since they are delicious and very easy to make. Made with lots of Nutella, every bite is a party for your taste buds. I used Honey Graham Crackers and Nutella in my cheesecake bars, and they tasted amazing. The crust has a subtle honey flavor, the cheesecake filling is creamy and chocolaty.
Why You'll Love These Nutella Cheesecake Bars:
They are rich and chocolaty and are a show stopper dessert.
Easy to find ingredients and minimum prep work and dishes to clean.
Perfect for brunch parties and for bigger crowds.
Easy to transport if you have to take them to a brunch party.
Can be made 1 or 2 days in advance so you don't have to worry about a last minute dessert.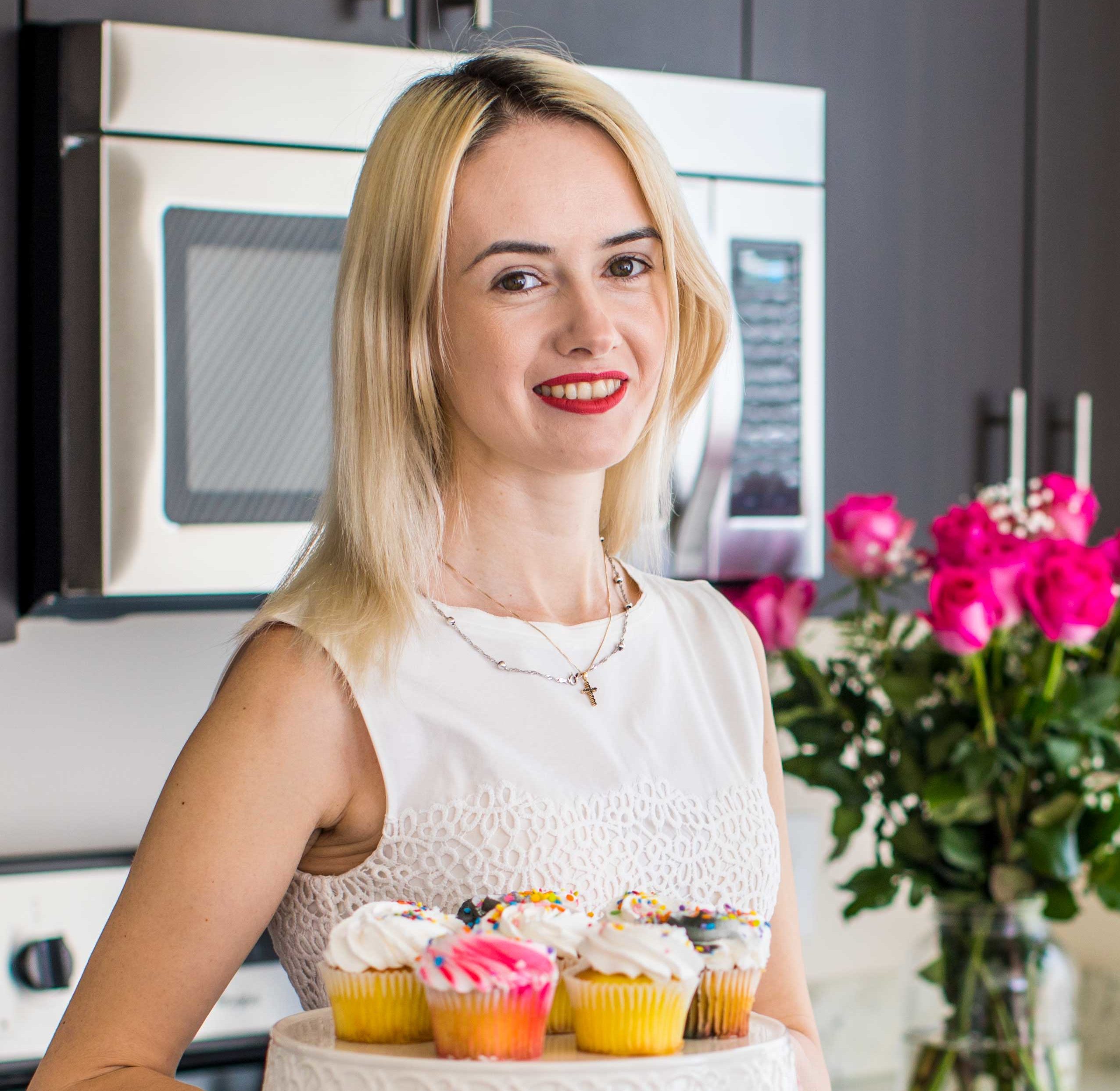 Follow us on Pinterest for more delicious recipes!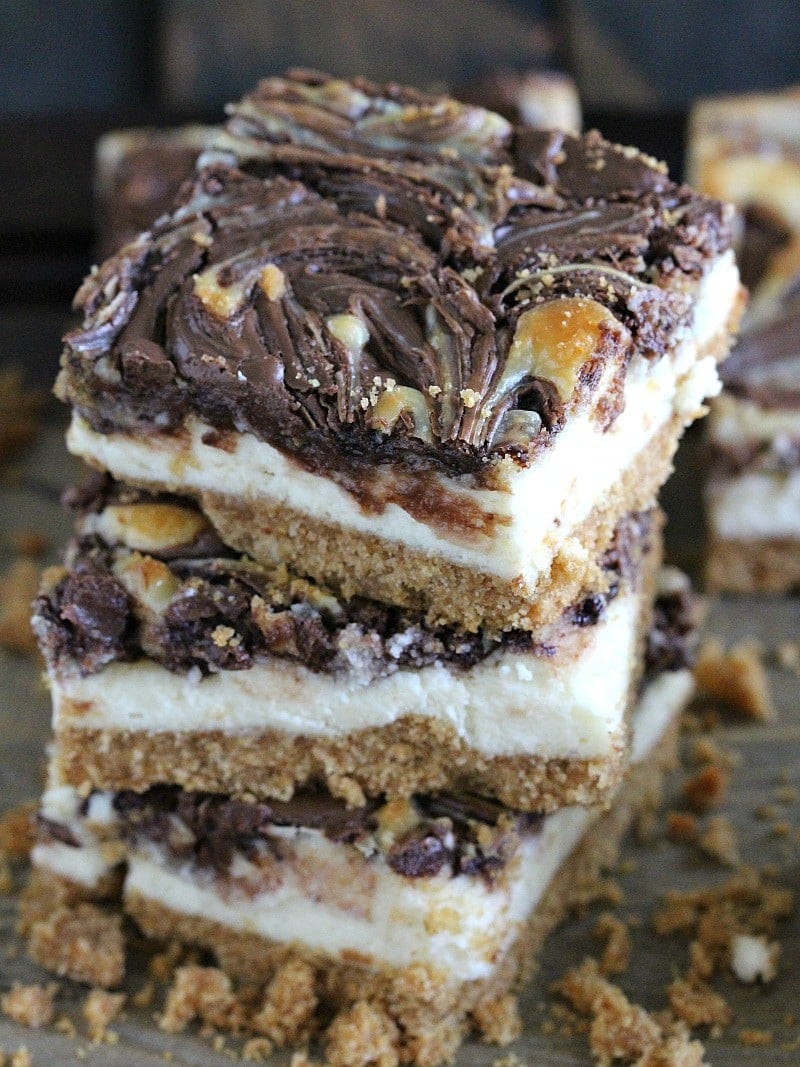 How to prevent cheesecake layer cracks:
Making sure that all the ingredients are at room temperature and well combined after mixed.
Avoid opening the door oven while baking the cheesecake.
Watch the cheesecake layer closely to avoid over-baking it.
When the sides are puffed and the center of the cheesecake is just slightly wobbly, the cheesecake is done.
How do I know when a cheesecake is done baking?
Gently shake the cheesecake, if the cheesecake looks nearly set and only a small area in the center jiggles slightly, it is done. The center will firm up during the cooling time, as it will cook from the residual heat.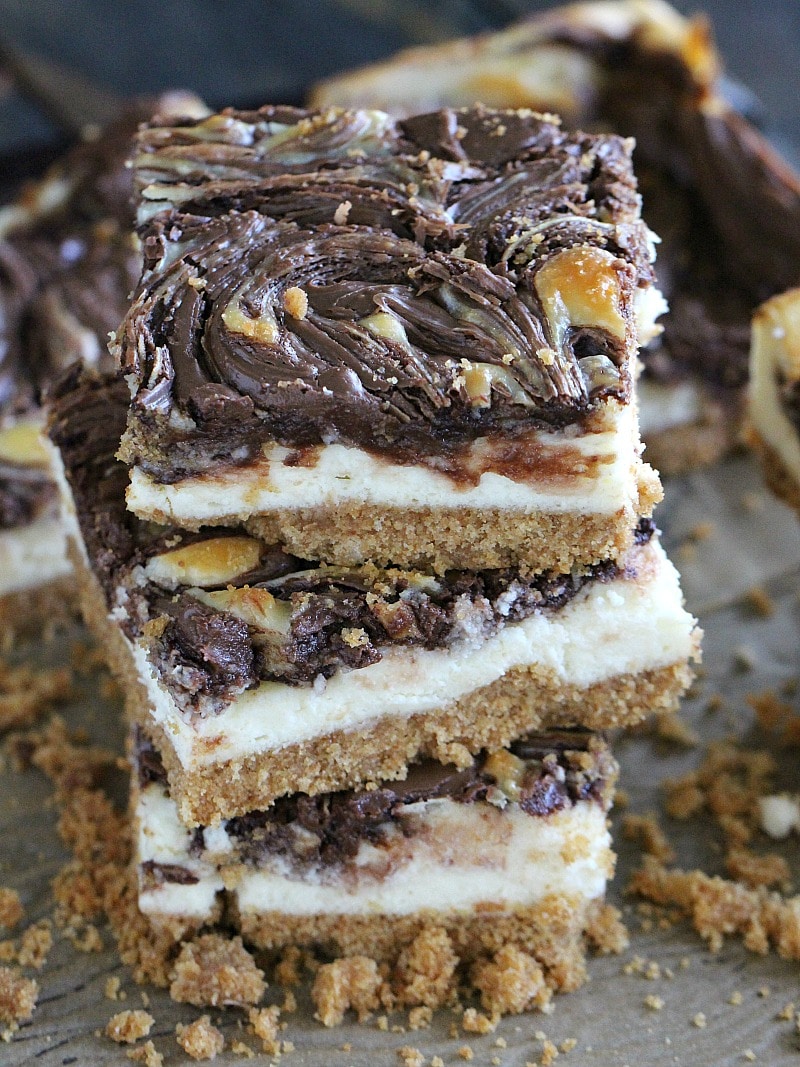 How to slice the Cheesecake Bars?
Run a long, sharp thin-bladed slicing knife under hot tap water or dip it into a glass of hot water prior to slicing the cheesecake.
Wipe the knife clean and run it it under hot water before making another cut.
An easy, mess free way to cut even slices is to use cheese wire or unflavored dental floss. This method can be easily used on cheesecakes baked in a springform pan. Clean the bits that stuck to the wire/floss before very cut.
How to freeze the Cheesecake Bars?
Make sure the cheesecake brownie bars have fully cooled.
Wrap cheesecake bars tightly with aluminum foil or plastic freezer wrap, or place in a heavy-duty freezer bag.
Properly stored, it will maintain best quality for about 2 to 3 months.
Save Recipe
Nutella Cheesecake Bars
Author: Catalina Castravet
Serves: 14 bars
Prep time:

20

minutes
Cook time:

45

minutes
Total time:

1

hr

5

mins
Ingredients
Graham Crust:
Cheesecake Filling:
Instructions
Graham Crust:
Cheesecake Filling:
Nutrition information
Calories: 482 Carbohydrates: 51 Protein: 8 Fat: 26 Saturated Fat: 17 Cholesterol: 79 Sodium: 525 Potassium: 291 Fiber: 1 Sugar: 37 Vitamin A: 640 Calcium: 141 Iron: 2
Save Recipe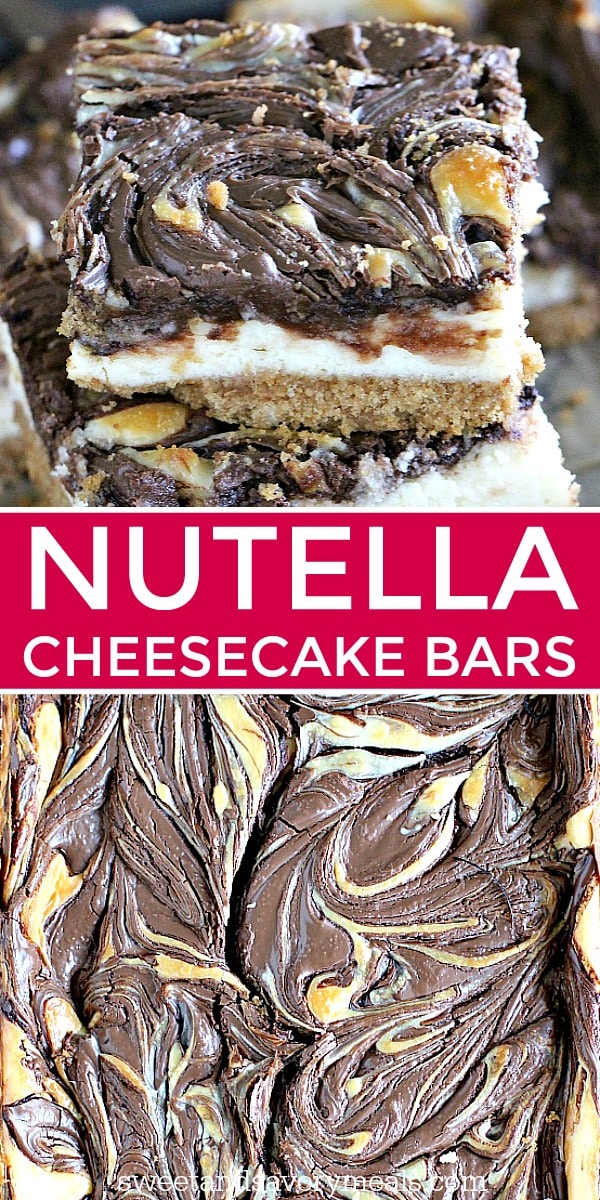 More recipes you might love
Categories: