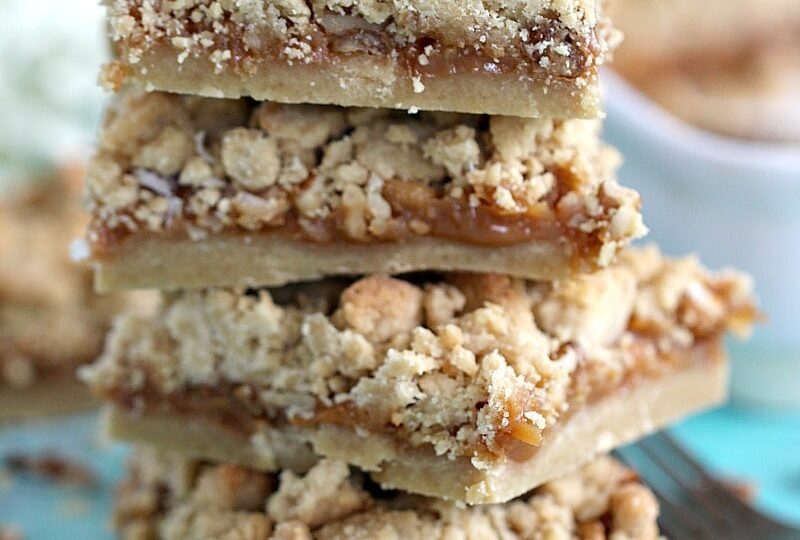 Dulce de Leche Bars are stuffed with walnuts, coconut and Dulce de Leche, topped with a crunchy, buttery topping.
These bars are rich and creamy with dense caramel flavor. Our other favorite desserts on the blog are Best Chocolate Banana Bread, German Chocolate Cupcake and Chocolate Baileys Poke Cake.
Dulce de Leche Bars
These Dulce de Leche Bars literally melt in your mouth with all their caramely glory. Also, they are truly addicting in a nice, satisfying way. I absolutely love using brown butter in my desserts. Because when mixed with the sugar, it adds an irresistible caramel flavor that makes any dessert so much better. The distinctive, sweet, caramel scent will fill your kitchen and your joy!
The Dulce de Leche Bars are a beautiful combination of textures and flavors. The first layer is a buttery shortbread, topped with a hefty amount of Dulce de Leche. Then, sweet coconut flakes and chopped walnuts are added for some chewiness and crunchiness. The walnuts add a beautiful flavor and go so well with the caramel. Lastly, the bars are topped with a brown butter crumb topping, that is the perfect way to end a decadent bite. They are indulgent on all the levels. A square is more than enough to satisfy your sweet tooth and its also hearty and delicious.
Pin This Dulce de Leche Bars Recipe to your Favorite Board
Why you'll love these Dulce de Leche Bars
Firstly, they are very easy to make and ready under 40 minutes.
Flavorful and indulging, they can be a perfect snack.
They are rich in dulce de leche and walnuts flavor.
Perfect cookies for the holiday season or special occasion.
Lastly, they can be made 1 or 2 days in advance so you don't have to worry about a last minute dessert.
Can you freeze the Dulce de Leche Bars?
First, cool the Dulce de Leche Bars completely. Then, fully wrap the bars in plastic wrap, tightly. After that, wrap in aluminum foil or place in freezer bags. Freeze for up to 3 months. Defrost before serving.