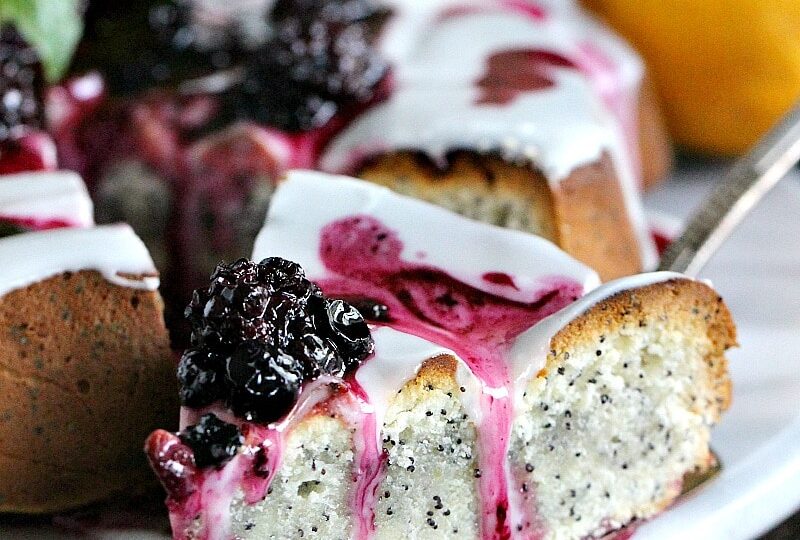 Lemon Poppy Seed Cake is very easy to make, topped with lemon glaze, brown sugar, roasted berries and a few fresh basil leaves.
Making easy, puffy and delicious cakes is our specialty. We enjoy making them rich and tender like our popular Chocolate Banana Bread, Skinny Blueberry Banana Bread and Pumpkin Bread.
Lemon Poppy Seed Cake
I have been making this Lemon Poppy Seed Cake for years. It's a foolproof recipe, only you have to keep an eye on the baking time. I love poppy seed desserts, they remind me of my childhood. Also, I think the poppy seeds add such a nice crunchiness to silky desserts.
The cake is very simple to make, just a few ingredients. In addition, it is a dense and silky cake, made with cream cheese, so its extra rich. No baking powder is added, to keep the cake denser. The cake is so flavorful, made with fresh lemon zest and lemon juice. When decorated it looks stunning, the simple vanilla glaze is the perfect bed for those roasted berries and the basil leaves add a pop of color and freshness.
How should I store the Lemon Poppy Seed Cake
The cake can be stored wrapped in plastic wrap at room temperature for 4-5 days.
How to make lemon zest
Follow the easy steps below:
First, rinse the lemon.
Then, set your tool over a cutting board. A microplane produces a very fine zest, perfect for baking and cooking. If you don't have a microplane, use the smallest holes on an ordinary grater.
Next, grate the yellow skin of the lemon only. Grate just enough to get through the yellow skin, this way you can avoid the bitter white pith underneath.
Lastly, rotate the lemon and repeat. Once the white pith is exposed, rotate the lemon and zest the next strip of peel. Repeat until most of the peel is removed, or until you have enough zest for your recipe.
Can you freeze the Lemon Poppy Seed Cake
This cake also freezes well. First, cool the cake completely and do not glaze it, if you intend to freeze it. After, fully wrap it in plastic wrap, tightly. After that wrap in aluminum foil or place it in freezer bags. Freeze for up to 3 months. Defrost before slicing.