Cream Cheese Lemon Poppy Seed Cake
This post may contain affiliate links. Please read my disclosure policy.
Cream Cheese Lemon Poppy Seed Cake is very easy to male, topped with lemon glaze, brown sugar roasted berries and a few fresh basil leaves.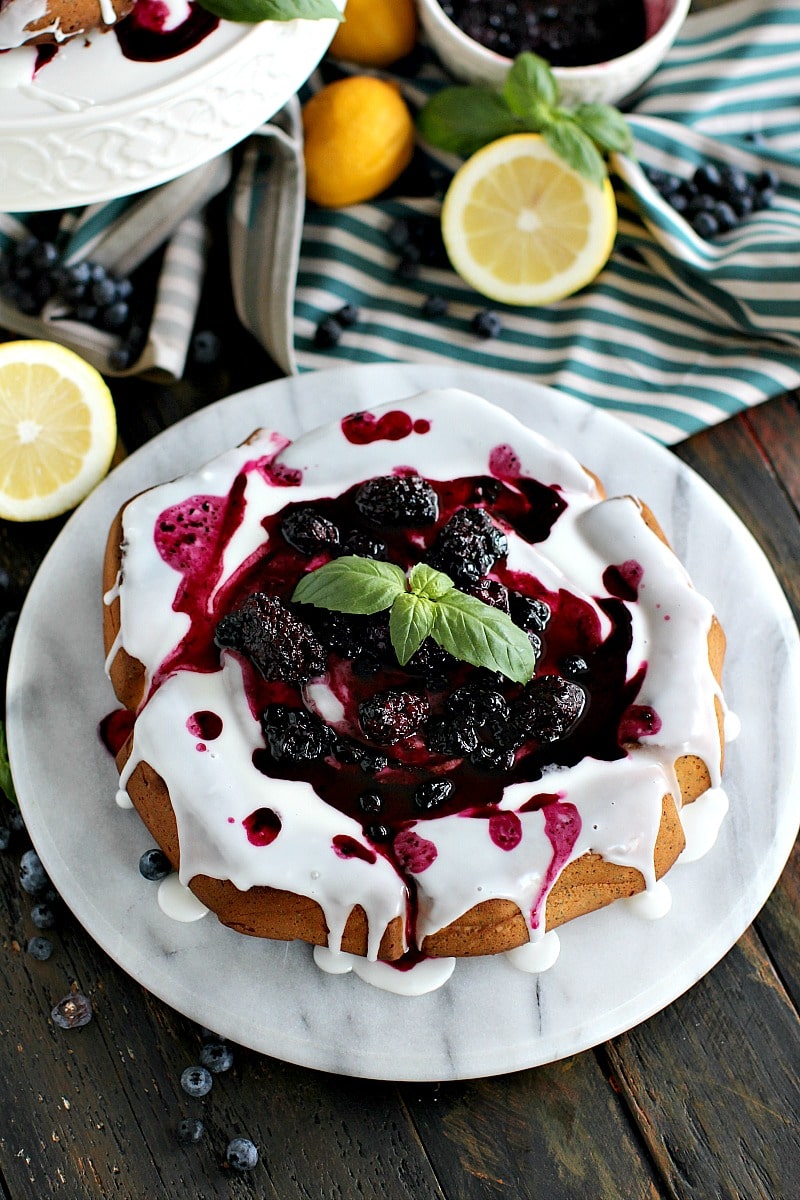 When life gives you lemons, be cool and make lemon cake! Lemon Poppy Seed Cake was our breakfast on Labor Day! Covered in a lemon glaze and brown sugar roasted berries, the cake was glorious!

I have been making this Lemon Poppy Seed Cake for years, it's a foolproof recipe, only you have to keep an eye on the baking time. I lost track of time when I started chasing my little guy, and suddenly realized that I have a cake in the oven. No biggie, I just slightly over baked it, still tasted amazing, but when you bake it, make sure not to forget to turn on the oven timer 🙂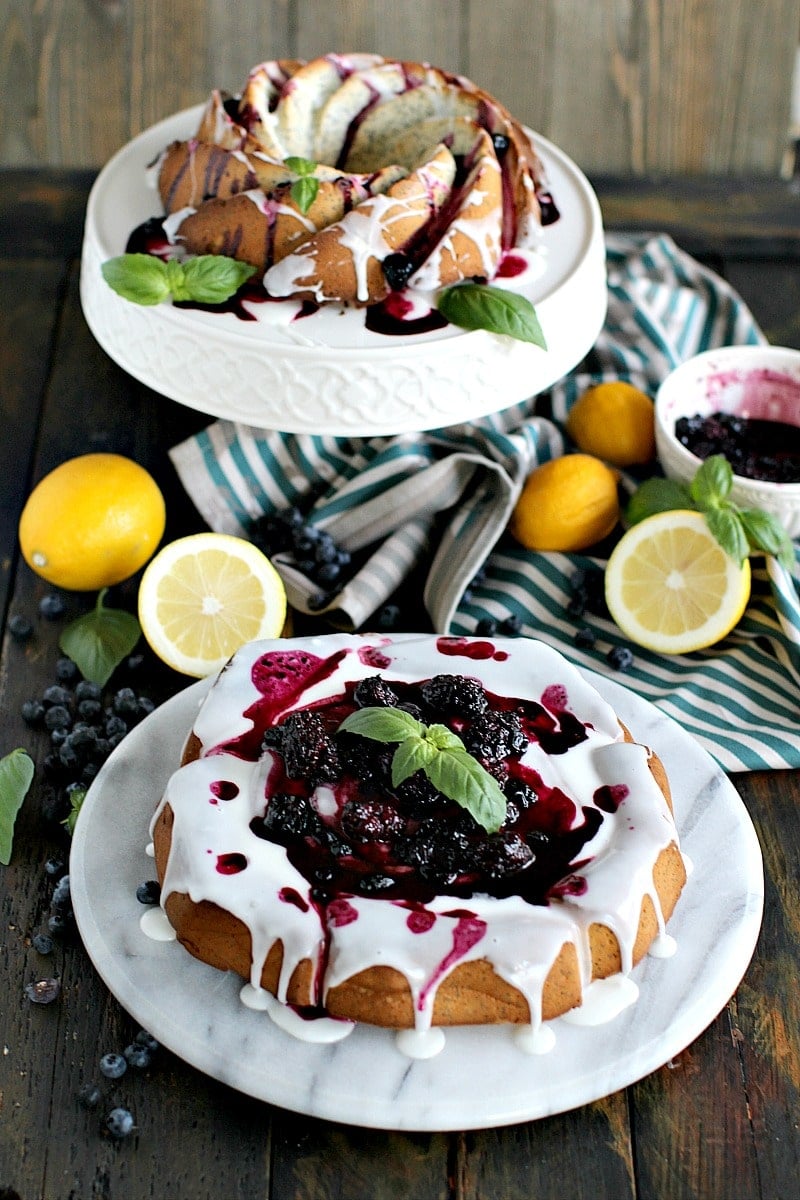 I love poppy seed desserts, they remind me of my childhood, I think the poppy seeds add such a nice crunchiness to silky desserts.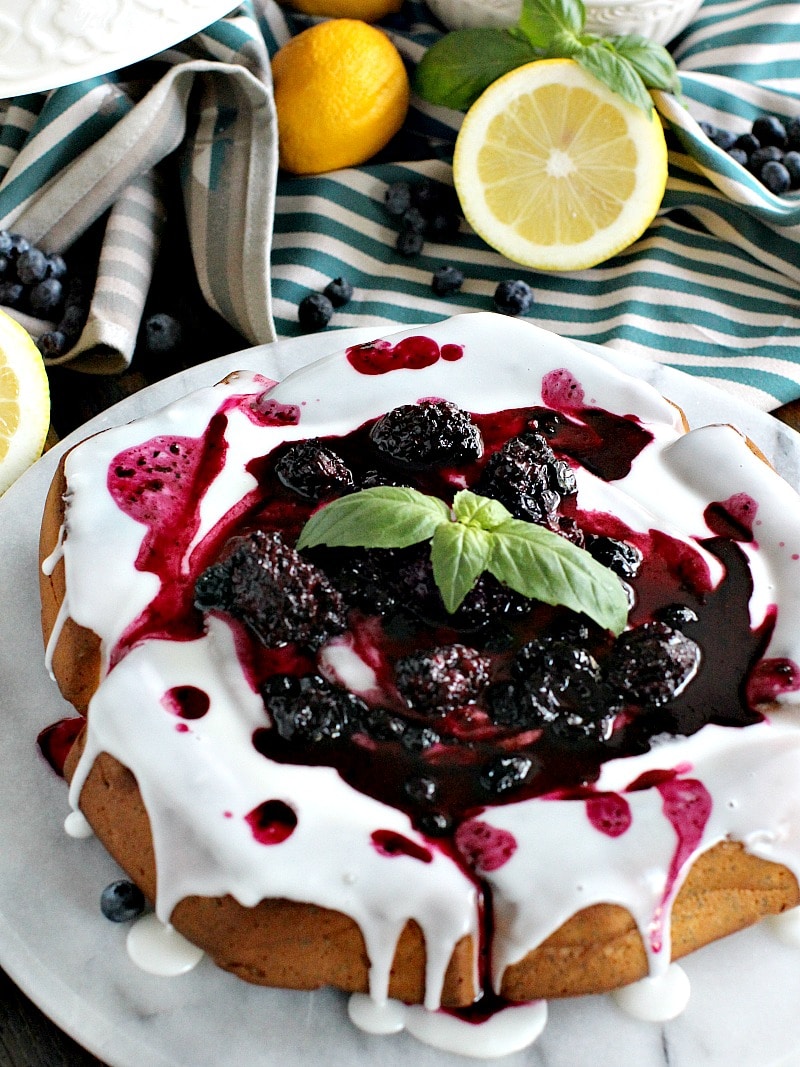 The cake is very simple to make, just a few ingredients, this is a dense and silky cake, made with cream cheese so its extra rich. No baking powder is added, to keep the cake denser.

MY LATEST VIDEOS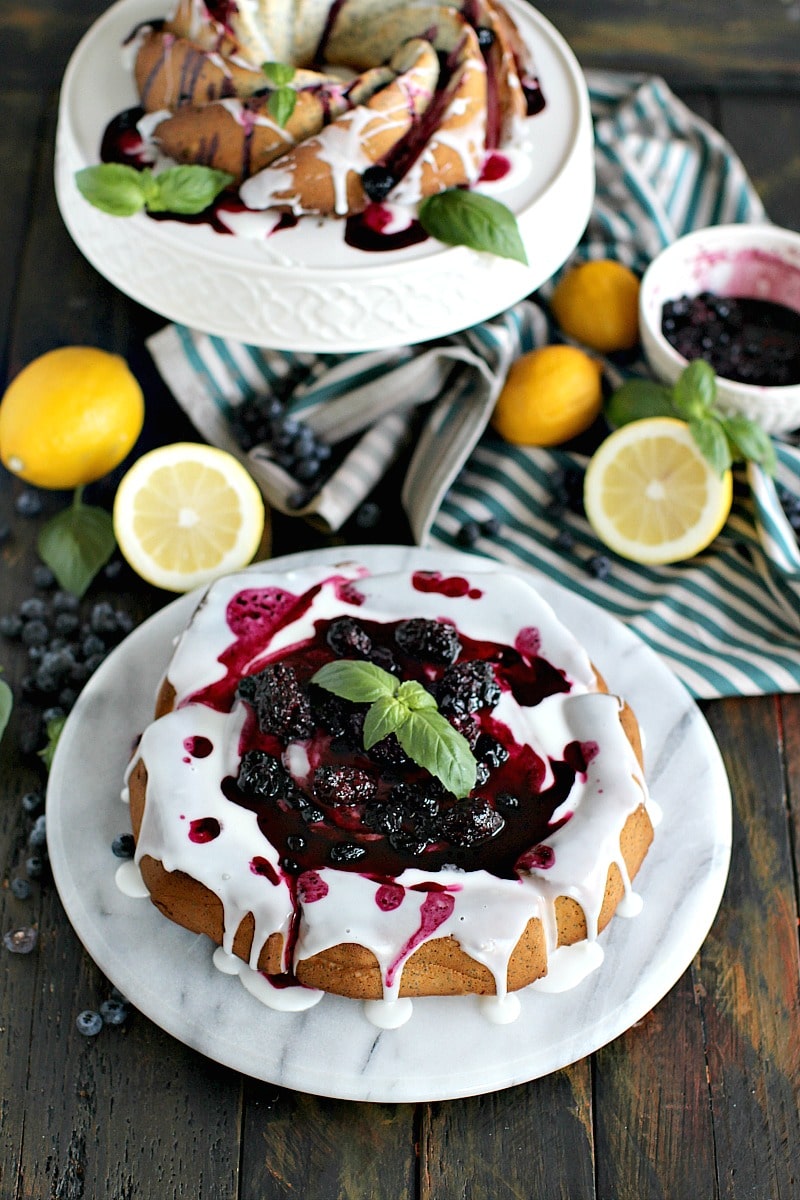 The cake is so flavorful, made with fresh lemon zest and lemon juice! When decorated it looks stunning, the simple vanilla glaze is the perfect bed for those roasted berries and the basil leaves add a pop of color and freshness.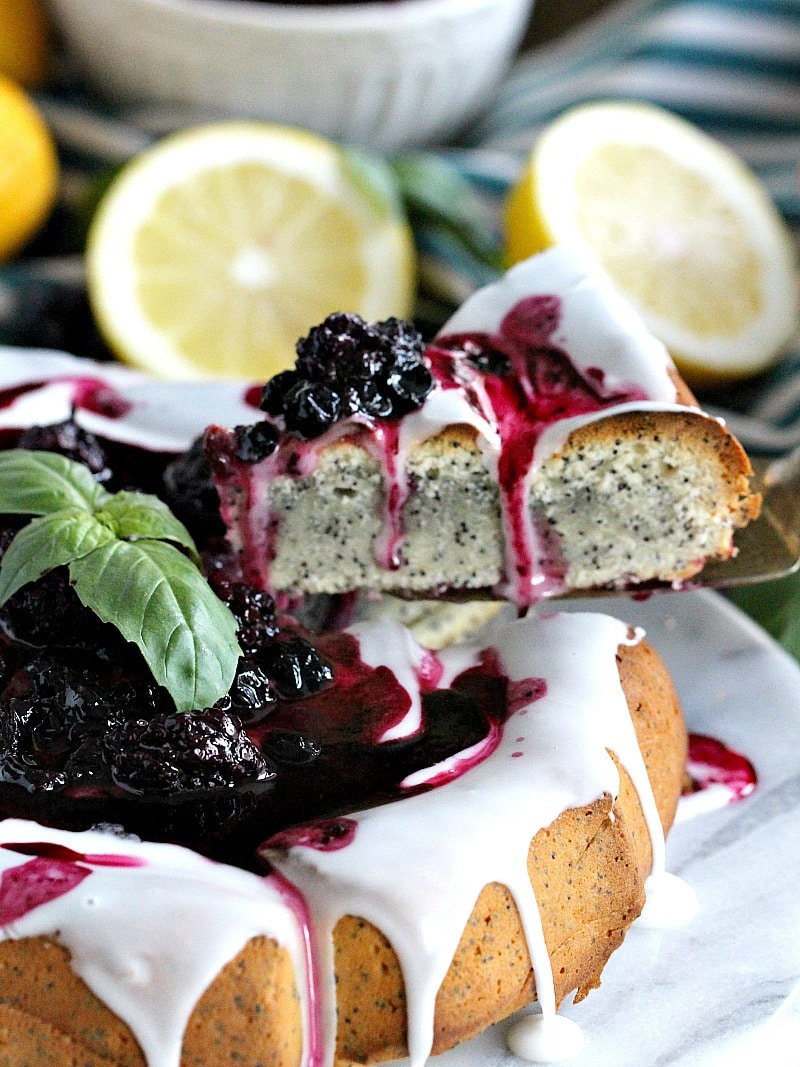 There is something about berries and lemon that is just perfect when combined!
Instead of one Lemon Poppy Seed Cake I decided to divide the batter and bake two smaller cakes, but if you have a big enough pan, feel free to bake a larger cake. Another option is to make Cream Cheese Lemon Poppy Seed Cake Muffins, you can also drizzle the muffins with glaze and serve with the brown sugar roasted blueberries and blackberries.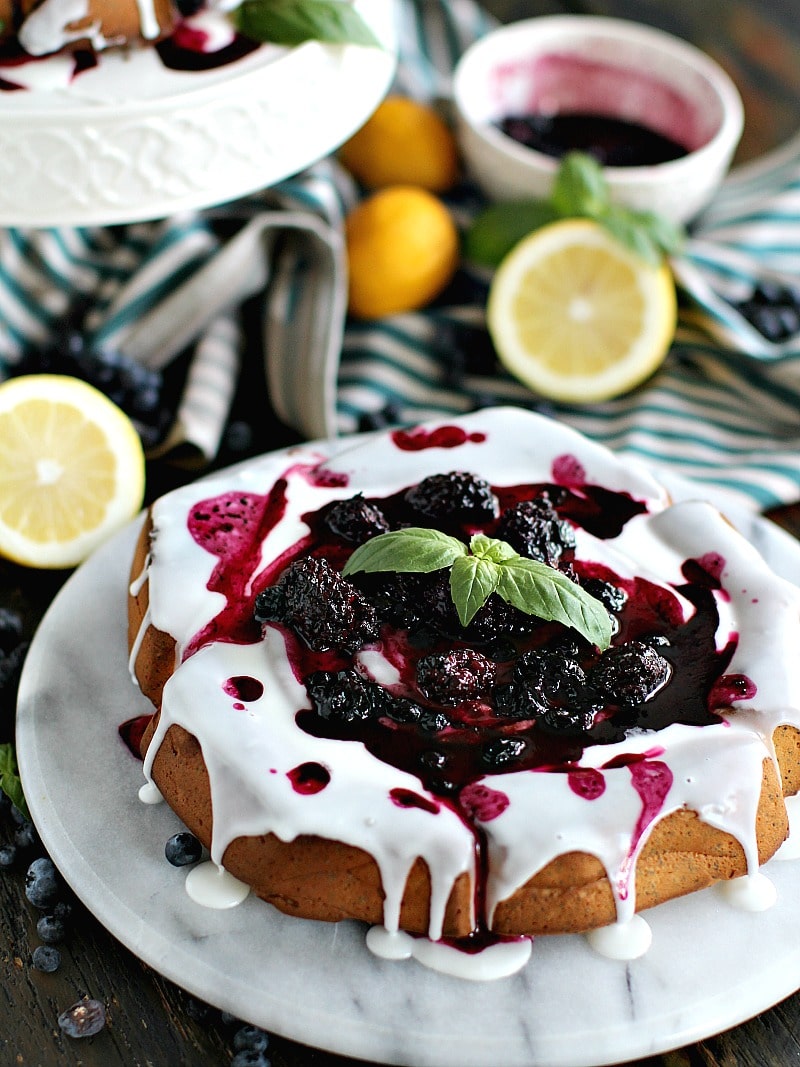 I am just happy I have leftovers 🙂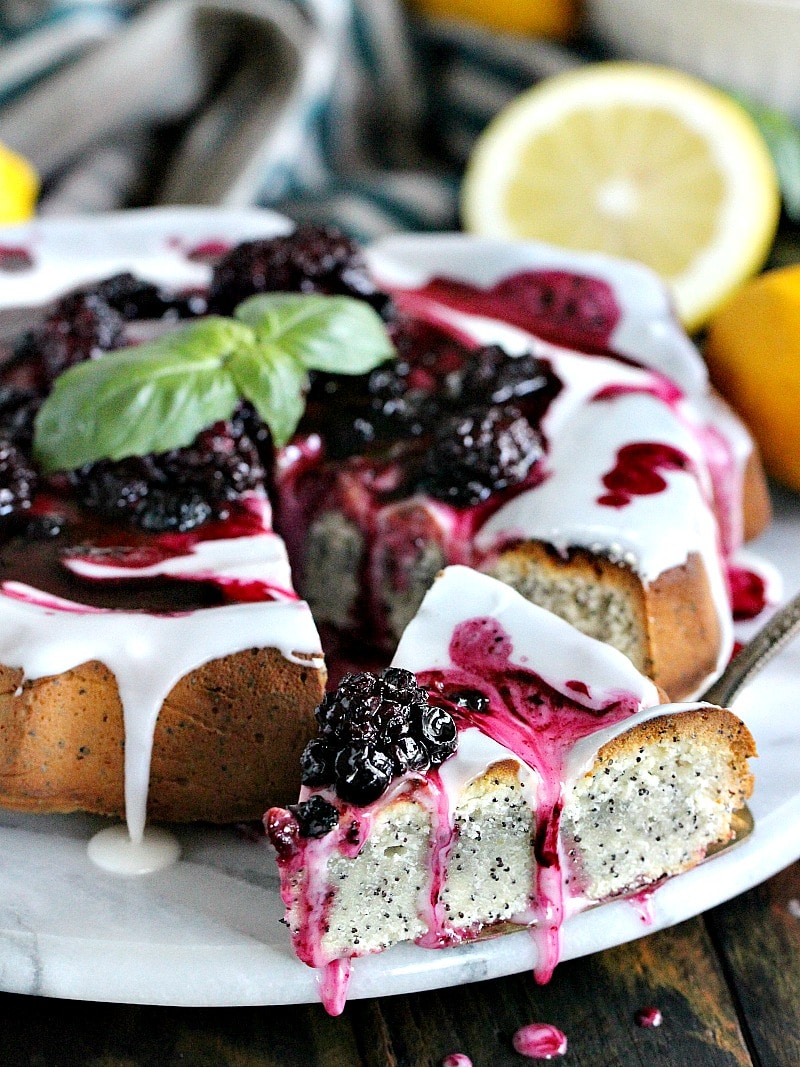 Cream Cheese Lemon Poppy Seed Cake
Cream Cheese Lemon Poppy Seed Cake is very easy to male, topped with lemon glaze, brown sugar roasted berries and a few fresh basil leaves.
Author:
Katalina Kastravet
Ingredients
16 ounces cream cheese, softened
3 cups sugar
5 large eggs
4 cups all-purpose flour
1 cup whole milk
1 tablespoon fresh lemon juice
1 tablespoon fresh lemon zest
3.5 ounces poppy seeds
Glaze
1½ Cup powdered sugar
2 tablespoon lemon juice
Roasted Berries:
1 tablespoon brown sugar
6 ounces blackberries
6 ounces blueberries
3 tablespoons coconut oil
Optional:
Fresh basil leaves for garnish
Instructions
Preheat oven to 350F.
Grease with butter or baking spray a bundt cake pan and set aside.
In the bowl of a stand mixer, beat cream cheese at medium speed until creamy for 5-6 minutes. Gradually add sugar, poppy seeds, lemon zest and lemon juice, beating at medium speed until light and fluffy. Add the eggs, 1 at a time, beating just until combined.
On low speed, add 2 cups of flour to the mixture, followed by the milk and ending with the remaining 2 cups of flour. Beat on low speed just until fully blended.
Transfer the batter to the prepared pan and level the surface with a spatula.
Bake 1 hour and 20 minutes or until a long wooden pick inserted into the center comes out clean, start checking for doneness after 60 minutes of baking. If dividing the batter into two smaller baking pans, start checking at the 50 minutes mark. For muffins, check after 25 minutes of baking.
Cool in the pan on a wire rack for 15 minutes, remove cake from pan, and cool completely on a wire rack.
Add the berries to a small sized baking dish (a pie dish works fine), sprinkle the berries with sugar and coat in coconut oil, gently mix everything to make sure all the berries are covered in coconut oil and sugar. Bake for 15 minutes.
Once the cake has cooled, add powdered sugar and lemon juice to a medium bowl and whisk until fully combined and smooth. If the mixture is too thick add 1 teaspoon of milk, the mixture must be thick but still pourable.
Pour the cooled glaze over the cake, let it stand for 10 - 15 minutes, top with the roasted berries before serving. Garnish with fresh basil.

I used a Silicone Bundt Cake Pan for my cake and you can find it here: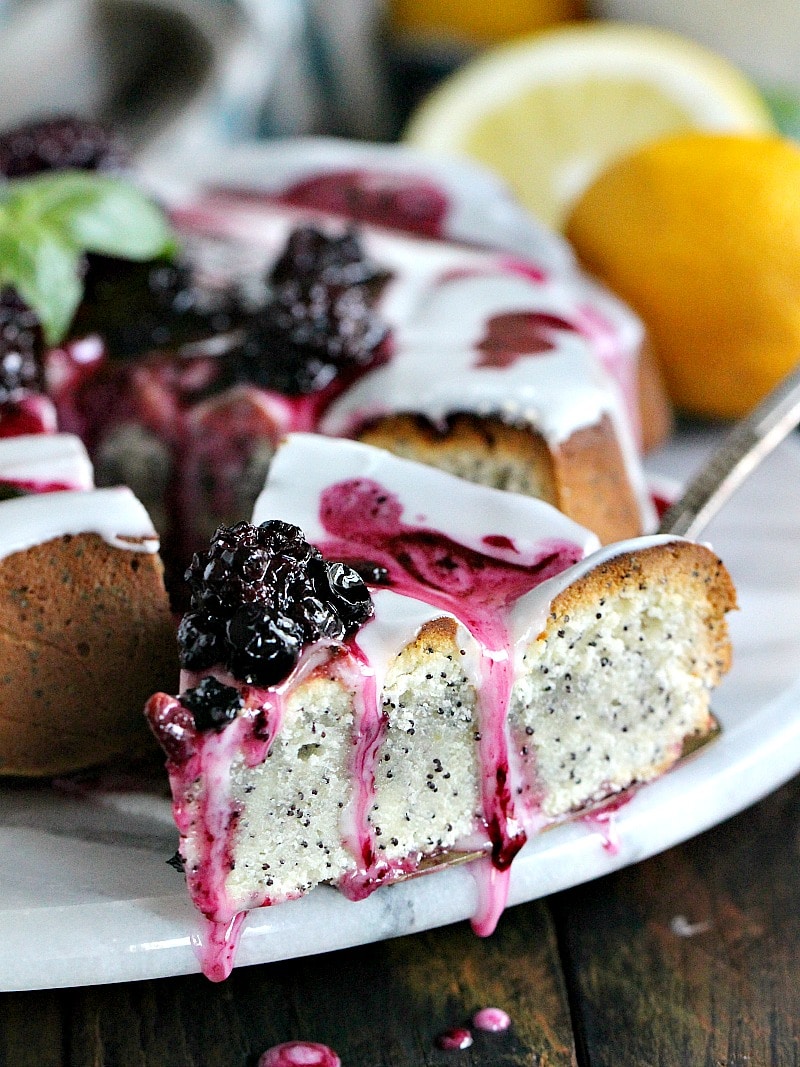 Yes! Worth every single calorie!

*This post may contain affiliate links, at NO extra cost to you.

Peas and Peonies, LLC. owns the copyright on all images and text and does not allow for its original recipes and pictures to be reproduced anywhere other than at this site unless authorization is given. If you enjoyed the recipe and would like to publish it on your own site, please re-write it in your own words, and link back to my site and recipe page. Copying and/or pasting full recipes to social media or personal blogs is strictly prohibited. Sharing this recipe is very much appreciated and encouraged. Read my disclosure and privacy policy. This post may contain affiliate links.