No-Bake M&M's Pie [Video]
No-Bake M&M's Pie with Oreo crust is creamy, nutty, and chocolaty! It is so colorful and festive that it makes for a great dessert for kids and the kids-at-heart!
The classic chocolate candy is the center of this dessert and others, too! Check out our other M&M's recipes for Christmas Oreo Ornaments, Twister Cookies, and Cookie Bars!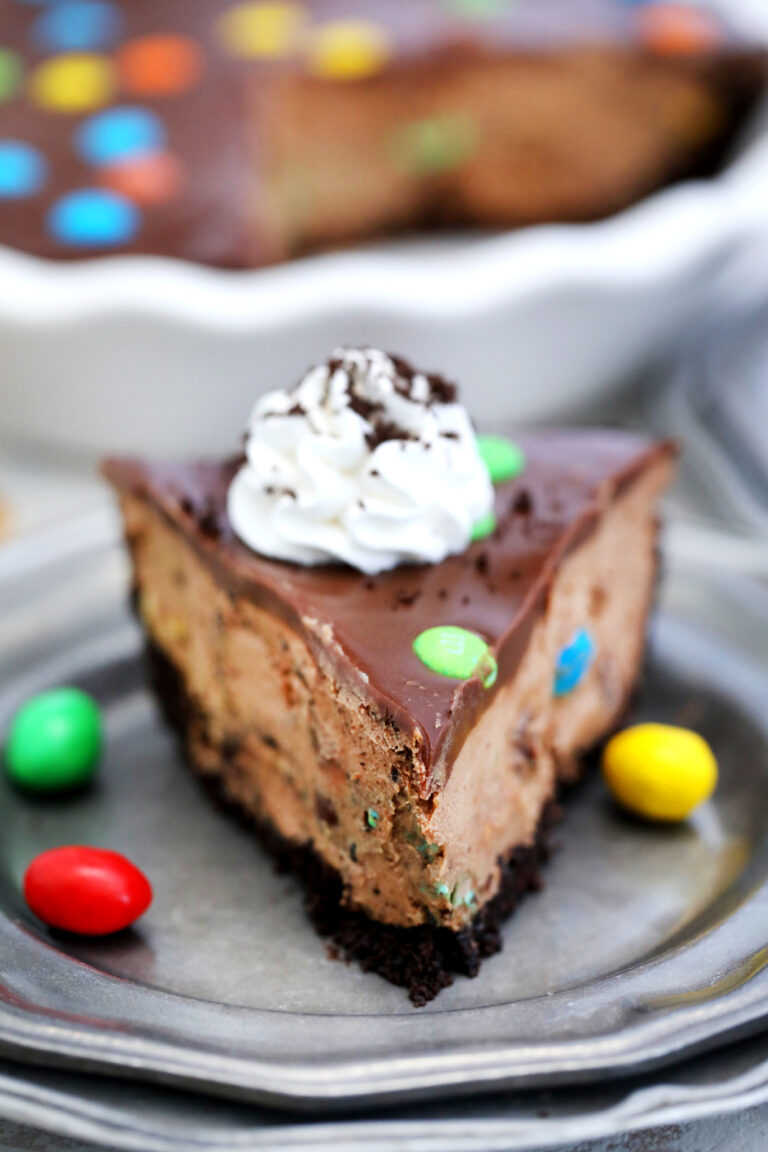 No-Bake M&M's Pie with Oreo Crust
No-Bake M&M's Pie is a dessert that is perfect for the festive holiday season! It is a nice take on everyone's childhood favorite and is perfect for Halloween!
Did you know that it has been 78 years already since the first M&M's rolled out? It has stood the test of time and that is proof that this is a great candy overall.
The candy layer on the outside of each piece houses the yummy milk chocolate inside. And it gives a nice crunch to every bite and this goes well with this dessert's creamy filling.
The ingredients are simple and the best thing about it is that you do not need an oven! All you need is a handful of ingredients that will satisfy your sweet tooth. The classic M&M's will never fail you, I promise!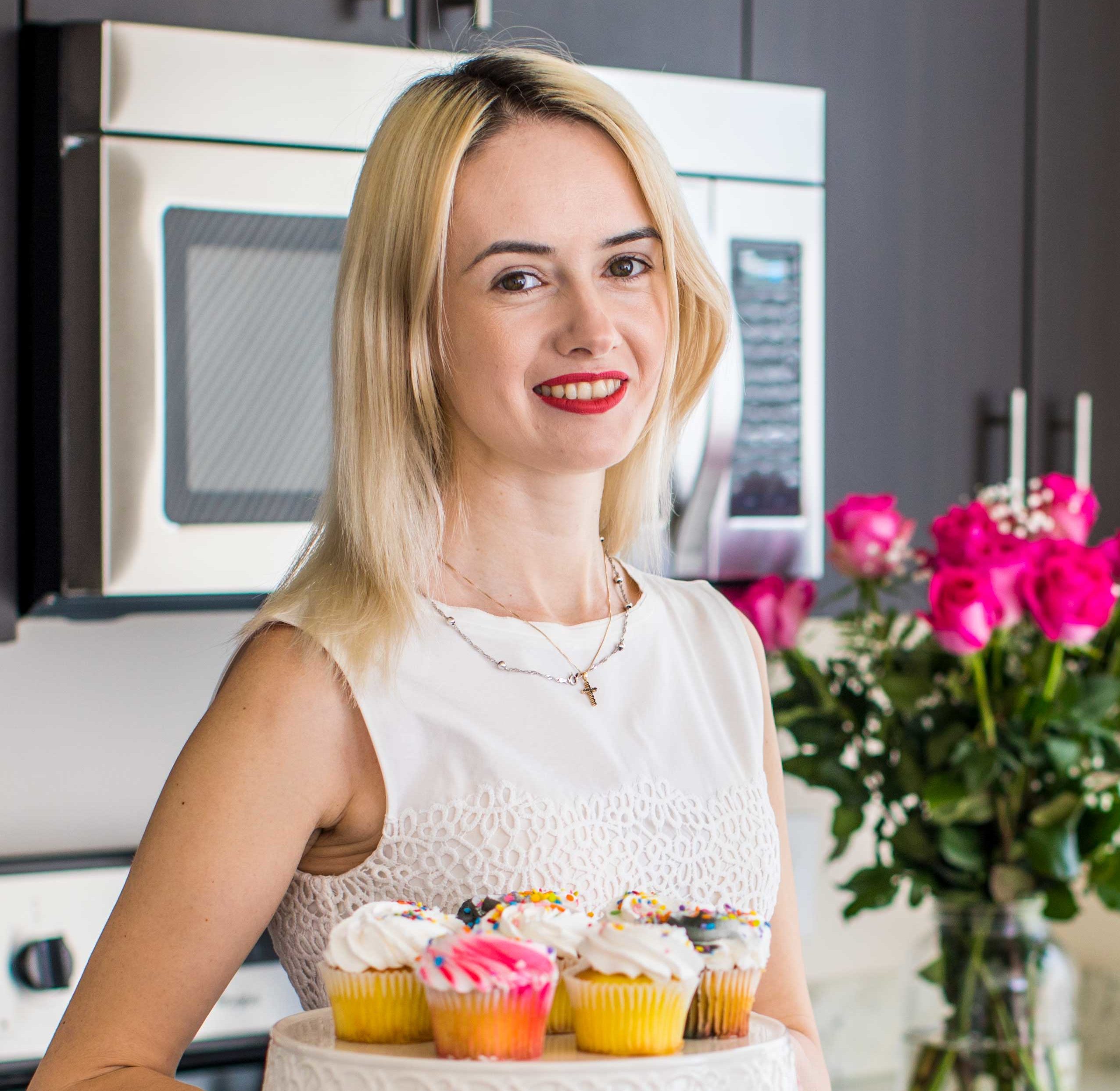 Follow us on Pinterest for more delicious recipes!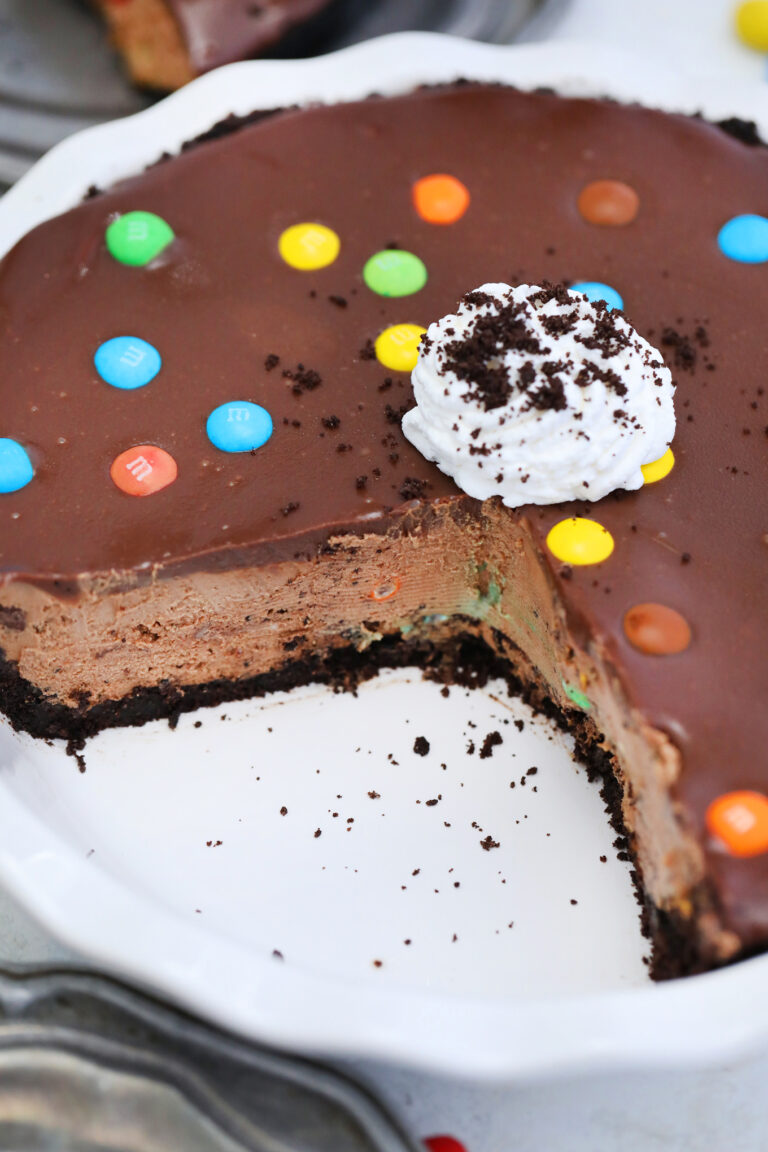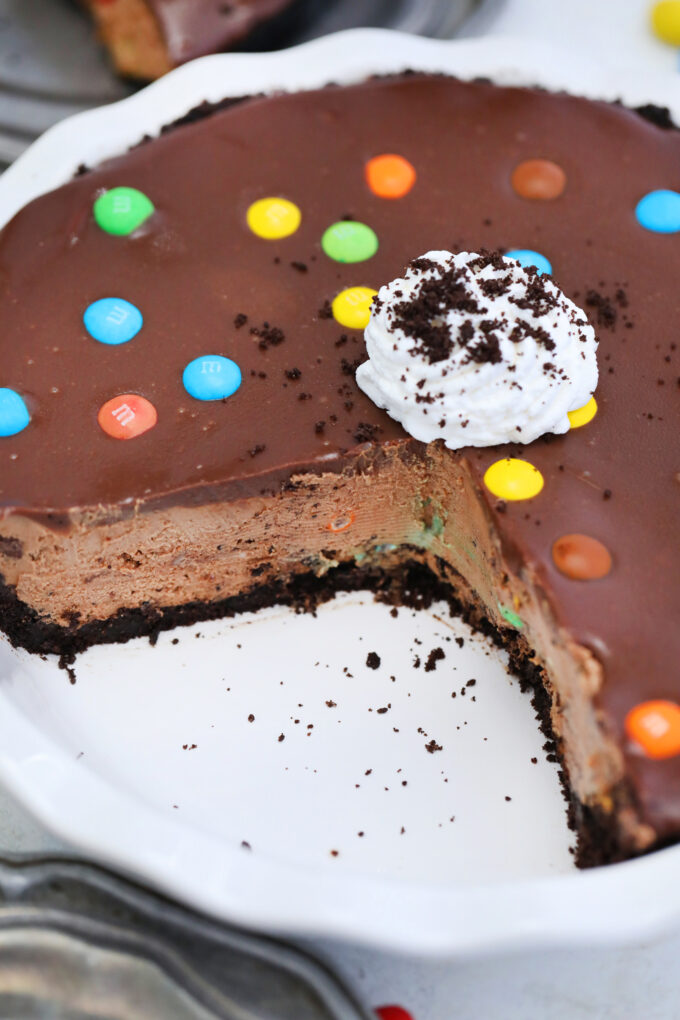 What do you need to make No-Bake M&M's Pie?
Aside from the chocolate candies, you will need the following basic ingredients:
whipped cream: can also be substituted with Cool Whip
cream cheese: this gives a nice tangy contrast to the filling for it not to be overly sweet but still creamy
peanut butter: this gives the nutty and buttery flavors that pair well with chocolate
cookies or crackers: for the crust, you can choose from Oreo cookies, graham crackers, pretzels, or anything that you like
unsalted butter: melt this and this will be the binder for the crust
toppings: to decorate, feel free to experiment
How to make No-Bake M&M's Pie
For exact measures, please see the recipe card below. Also, watch the recipe tutorial and see how easy it is!
Make the crust: Crush the Oreo cookies and then, mix in the melted butter. Once fully moist, press the crushed cookies at the bottom of the pan, preferably the springform type. Make the crust compact by pressing it with the bottom of a measuring cup. Refrigerate it and while it is in the fridge, prepare the filling.
Prepare the filling: Mix the cream cheese and the peanut butter, then, fold in the candies and whipped cream until fully incorporated. Pour this into the crust and level the top. Refrigerate or freeze it.
Make the ganache: If you want to put a layer of ganache on top, you can do so by melting chocolate chips in a heated heavy cream. Cool it down, and then, spread it on top of the pie.
Decorate the top: Pipe out whipped cream on the top and use the M&M's to decorate the top in whichever way that you want to.
Chill and serve: Cover the whole pie with foil and chill until set. Once ready to serve, let it warm up a little before slicing.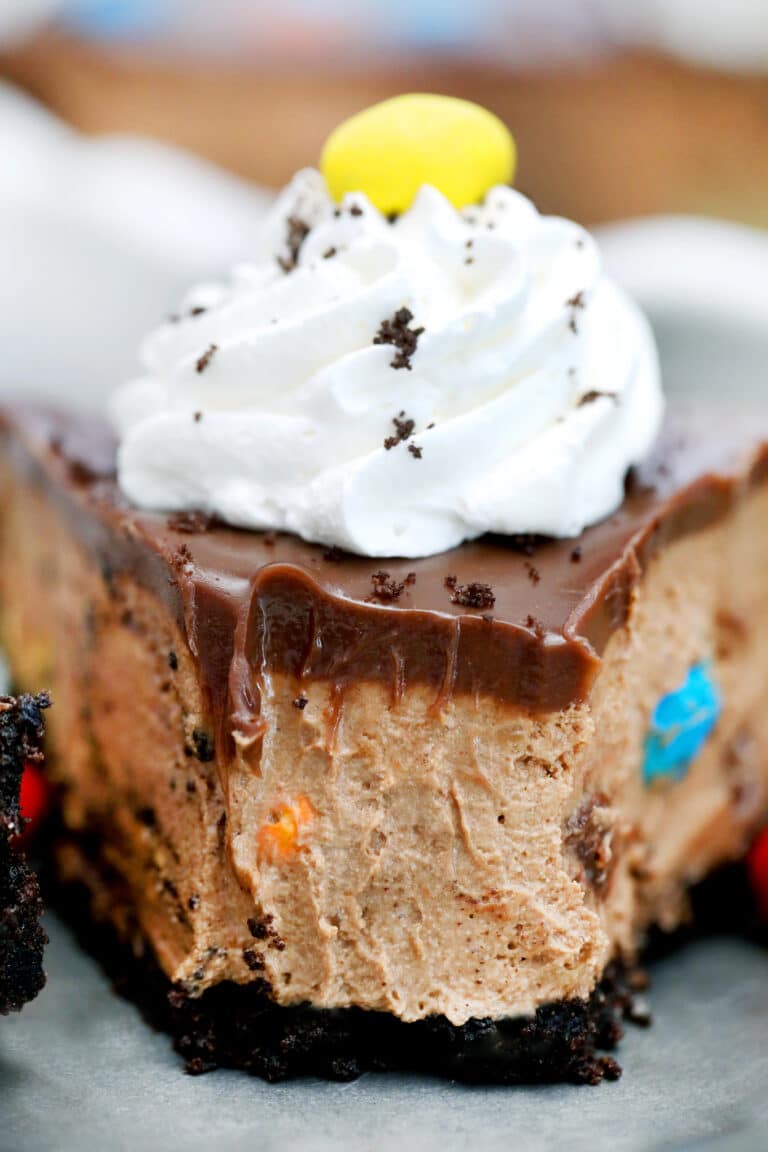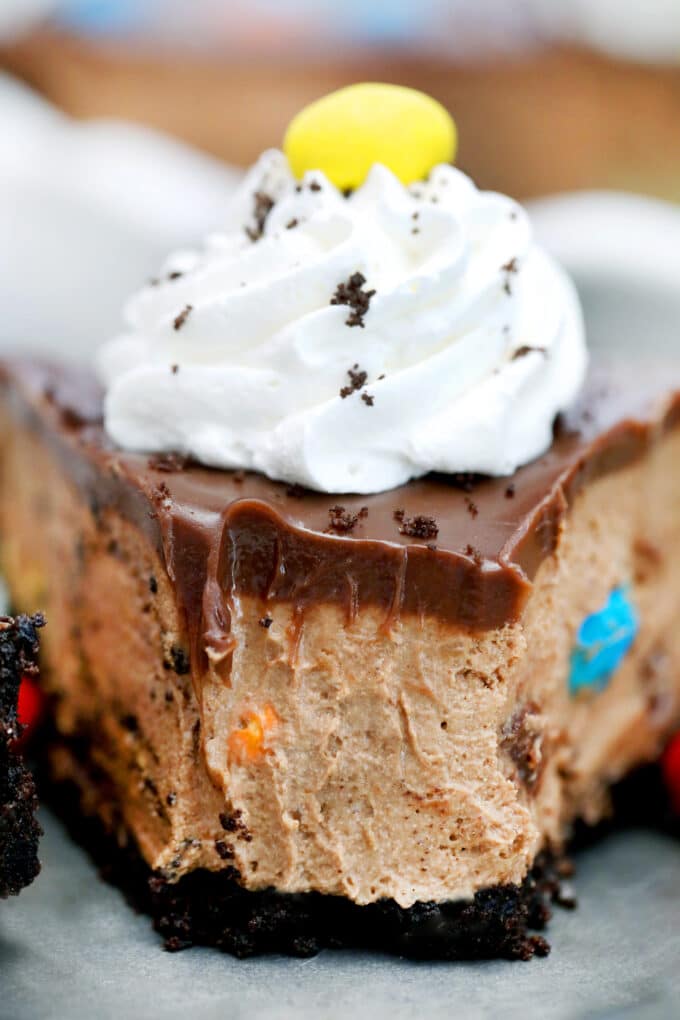 Can you make it in advance?
Yes, and this recipe demands that you do just that. Since you do not want to serve a gooey mess of peanut butter and cream filling, you need to plan when making this dessert. You must consider the following:
Take the cream cheese out of the fridge early because it needs to be at room temperature.
It takes about half an hour for the filling to set a little before you can top it with the ganache.
To let it set, you must chill it for at least 4 hours. For best results, let it chill overnight.
Considering this prep time, you may need to make this the night before. Besides, it keeps well in the fridge or freezer for some time. So, you can make it way in advance.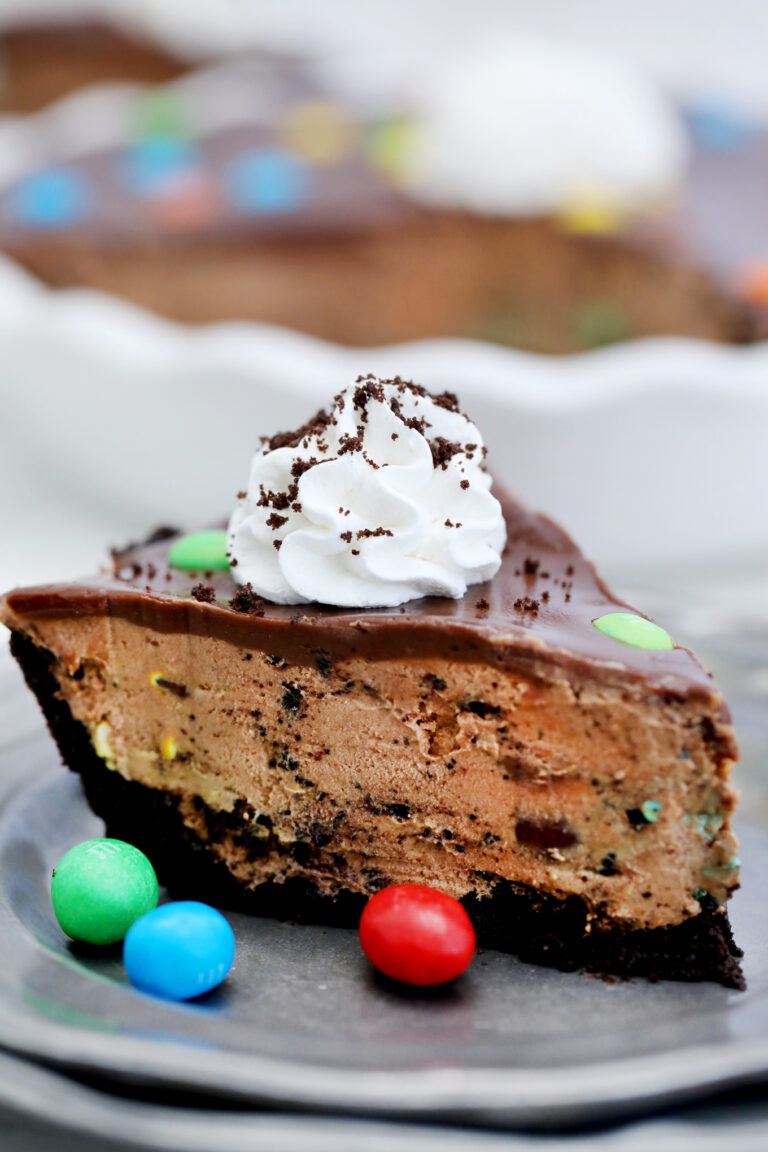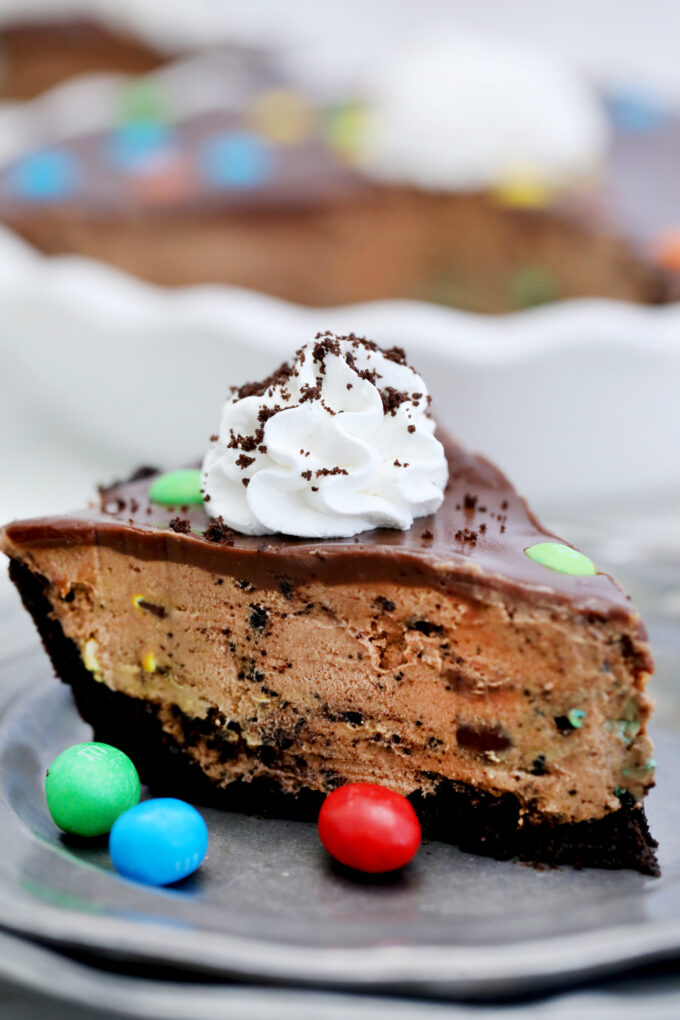 How to Store:
Refrigerate: You can keep it in an airtight container in the fridge for up to 5 days.
Freeze: Wrap it properly with foil or put in freeze-proof containers. Consume within 2 or 3 months.
Recipe Tips:
Other topping suggestions include chocolate shavings, other chocolate candies of your choice, or oats.
You can include crushed M&M's in the crust. Simply put them in a bag, then, pound with a mallet.
You can also have a target color that you want to decorate the top with for a themed party. For Christmas, you can separate the reds and greens and make a pattern out of these colors. For Valentine's Day, use only the red ones.
Save Recipe
Author: Catalina Castravet
Serves: 12 servings
Prep time:

1

hour
Total time:

5

hrs
Ingredients
No-Bake Oreo Crust:
3 cups oreo crumbs
6 tablespoons butter (melted)
No-Bake M&M's Chocolate Pie Filling:
1 1/2 cups heavy whipping cream
1/2 cup powdered sugar
1 teaspoon vanilla extract
16 oz milk chocolate (chopped)
1/2 cup unsalted butter (melted)
8 oz cream cheese (room temperature)
1 cup creamy peanut butter
1 cup M&M's
Chocolate Ganache:
1 1/2 cups chocolate (chopped)
3/4 cup heavy whipping cream
1/4 cup mini M&M's
Garnish:
1 cup heavy whipping cream
2 tablespoons powdered sugar
6 Oreo cookies
1/4 cup M&M's
Instructions
Grease a 9½ inch pie pan with butter or baking spray. Set aside.
No-Bake Oreo Crust:
In a medium-size bowl combine melted butter with Oreo cookie crumbs and mix until fully combined.
Press the cookie crumbs mixture into the bottom and up the sides of the pie pan; using a measuring cup, press the cookie crumbs into the pie pan shape. Place in the fridge for the crust to harden.
No-Bake Chocolate Pie Filling:
Add 1 cup of heavy whipping cream, the powdered sugar, and vanilla extract into the bowl of an electric mixer and whip on high until it begins to thicken and it holds its shape. Set aside.
Add chocolate, remaining ½ cup of heavy cream and butter to a microwave-safe bowl and microwave for 1 minute. Stir with a spatula and microwave for another minute, until the mixture starts to boil.
Stir until the chocolate is fully melted and the mixture is smooth and shiny.
Whisk in the cream cheese and peanut butter into the chocolate mixture until fully combined and smooth.
Fold the whipped cream into the chocolate mixture with a spatula, and stir until fully combined.
Pour chocolate mixture evenly into the chilled pie crust.
Chocolate Ganache:
Using a medium microwave-safe bowl, combine the chocolate chips, and heavy whipping cream
Place into the microwave in​ increments of 30 seconds until the chocolate chips start to melt
Use a whisk and whisk until chocolate is completely melted and the ganache starts to appear thick
Pour the ganache onto the top of the filling and spread evenly with an angled spatula
Sprinkle with the chocolate chips and mini M&M's
Place into the fridge for another hour or until the chocolate ganache has hardened
Garnish:
Add 1 cup of heavy whipping cream and the powdered sugar into the bowl of an electric mixer and whip on high until it begins to thicken and it holds its shape.
Add whipped cream to a piping bag fitted with the star tip and pipe whipped cream onto the pie.
Top with crushed Oreo cookies and M&M's.
Chill for 4-6 hours or overnight. Enjoy!
Calories: 984 Carbohydrates: 102 Protein: 15 Fat: 63 Saturated Fat: 29 Cholesterol: 38 Sodium: 588 Potassium: 557 Fiber: 7 Sugar: 78 Vitamin A: 775 Vitamin C: 1 Calcium: 176 Iron: 6
Save Recipe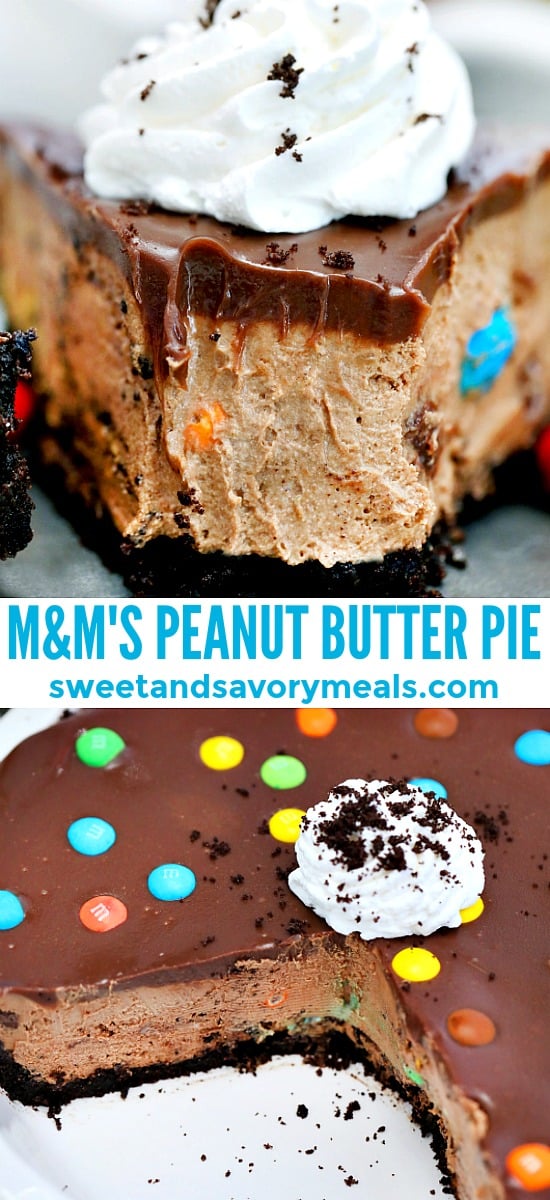 More recipes you might love