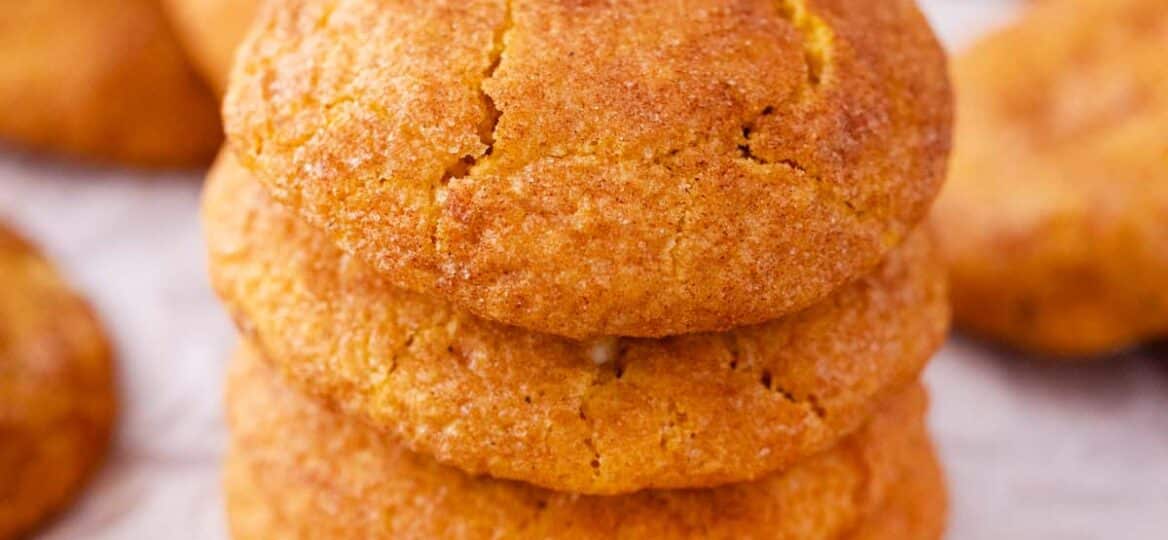 Pumpkin Snickerdoodle Cookies with White Chocolate Chips
Pumpkin Snickerdoodle cookies are incredibly soft and chewy, with fall spices, pumpkin flavor, and white chocolate chips. My family gave this recipe 5 stars and yours will too!
Also called snipdoodles or just cinnamon sugar cookies, this delicious treat has been around since the late 1800s. Expert foodies think it was brought to the United States by Dutch immigrants. Others say it came from the Germans. However, the first cookie recipe with cinnamon and sugar was printed by Nellie Campbell Bedford in 1891.
For this chewy pumpkin cookies recipe, all you need are a few ingredients including pumpkin puree and the basic baking ingredients like flour, sugar, egg yolk, butter, vanilla extract, and cream of tartar with some warm fall spices.
Even though they are cookies, the pumpkin has important health benefits like vitamin C, iron, potassium, and beta carotene so you can eat more than one and not feel guilty.
Ingredients needed:
Each one of these ingredients is important to the pumpkin cookie recipe for its unique flavor and texture. When you are ready to make pumpkin snickerdoodles, gather everything on this list and then find the recipe at the bottom of the page for the exact measurements and instructions.
All-purpose flour: Plain flour works best for this recipe. You do not want cake flour because it will make your cookies too cakey.
Pumpkin purée: Be sure to use pumpkin puree, not pumpkin pie filling. The filling has sugar and other additives you do not need in your pumpkin snickerdoodle cookies.
Light brown sugar tightly packed: Make sure your brown sugar is tightly packed for the richest flavor. If you want even richer cookies, use dark brown sugar instead.
Large egg yolk: Because pumpkin has so much liquid in it, you should only use the egg yolk to keep the cookies from being too cakey. You can use the egg white for other recipes.
Unsalted butter: Instead of creaming the butter and sugar, melt your butter and let it cool for at least 10 minutes. If you use salted butter, omit the salt from the ingredients.
White granulated sugar: You need the granulated texture of the sugar to get the right mixture of sugar and butter for chewy pumpkin snickerdoodle cookies.
Vanilla extract: It is best to use 100% pure vanilla extract for the best flavor. Imitation vanilla extract is just not the same no matter what the name brand is.
Cinnamon: Cinnamon is a sweet spice with a slightly citrusy flavor. It blends perfectly with nutmeg for a delicious fall taste.
Nutmeg: Made from the seed of the Myristica plant, nutmeg gives your cookies a warm, sweet, and a little spicy flavor.
Cream of tartar: This acidic powder is what helps your cookies become chewy instead of cakey.
Baking powder: Not baking soda. The powder has acid in it to release carbon dioxide and has a better taste than fresh baking soda for making baked goods.
Salt: You can use any kind of salt you like to balance out the sweetness in the cookies.
White chocolate chips: We thought a bit more sweetness would be good, so we added some white chocolate chips to the dough. You can leave these out if you are not a fan.
Topping:
White granulated sugar: The granulated sugar texture mixes with the ground cinnamon to make a sweet and crumbly coating on your cookies.
Ground cinnamon: Mixed with sugar, cinnamon gives these snickerdoodles their signature coating.
How to make pumpkin snickerdoodle cookies from scratch?
Mix wet ingredients: First, mix the brown sugar, white sugar, and melted butter in a large mixing bowl. Then, add pumpkin puree and stir until it is all mixed together. Stir in the vanilla extract and egg yolk.
Whisk dry ingredients: Now, in a different bowl, whisk the flour, cinnamon, nutmeg, baking powder, salt, and cream of tartar until combined.
Combine and chill: Then, add the dry ingredients to the wet ingredients a little at a time until it is all combined. Fold in the white chocolate chips, cover, and chill for at least 45 minutes.
Preheat oven: When the pumpkin cookie dough is almost done chilling, preheat your oven to 350 degrees F and prepare two cookie sheets with parchment paper.
Make cinnamon sugar mixture: While you wait, mix 1/4 cup of sugar with two teaspoons of ground cinnamon in a small bowl to make the cinnamon sugar coating.
Make the cookie dough balls: When the time is up, remove and scoop the dough into two-inch balls. Then, roll balls through the cinnamon sugar mixture and transfer to prepared baking sheets about two inches apart.
Let cookies bake: After, bake cookies for 10 to 12 minutes. Keep the remaining cookie dough in the fridge while they are cooking. Also, make sure you let your cookie sheets cool completely before placing more cookie dough balls on them.
Let the cookies cool: Finally, place baked cookies on a wire rack to cool completely while still on the lined baking sheet. Serve at room temperature.
Recipe variations:
Pumpkin pie spice: Add a teaspoon of pumpkin pie spice for pumpkin spice snickerdoodles. You can even add more pumpkin pie spice to the cinnamon sugar coating.
Browned butter: For even more buttery richness, brown butter in a small saucepan. But make sure it cools before you use it.
Almond extract: Try something different. Add a bit of almond extract to your cookies to give them a slightly nutty flavor.
Other flavors: Feel free to be even more creative with your extracts. Try lemon, strawberry, or maple flavors.
More spices: You can also add other spices like cloves, cardamom, mace, and anise.
Spicy cookies: Spicy food lovers would enjoy a pinch of red pepper flakes in the cookie dough.
How to serve:
You can make pumpkin snickerdoodles for holiday gatherings, birthdays, or just for a delicious snack anytime. They are chewy and sweet, perfect for an after-school treat. Try one of these ideas or share some of your own in the comments section.
All cookies go great with a glass of milk. These would be great for dunking.
For an absolutely decadent cookie, spoon a little bit of our keto caramel sauce on top.
Mix in some decorative colored sugar to the cinnamon sugar coating for a more festive look.
Another way to serve these yummy cookies is with a cup of hot cocoa. We have an awesome pumpkin spice hot cocoa bomb recipe you can try.
Crumble your leftover cookies to top ice cream, pudding, or yogurt.
Speaking of ice cream, these cookies also go great with ice cream. Try these with our easy and scrumptious 3 ingredient Oreo ice cream.
These would be great for a children's Halloween party. Set out some different colored frostings and candy decorations and let them decorate their own.
Frequently asked questions
What is cream of tartar?
Cream of tartar is an acidic powder made with the byproducts of fermenting grapes into wine. It is often used in whipping up egg whites to make meringue. It also adds a little bit of tang and gives your cookies a chewy texture. Without it, you will get a cakey pumpkin cookie. If you do not have any, you can use lemon juice or white vinegar instead.
Can I make the dough ahead of time?
Absolutely. You can chill your cookie dough up to three days in advance, keeping it wrapped and chilled in the fridge. Just let it sit at room temperature until it is easy enough to scoop. Freezing instructions are the same but put your dough balls into a freezer bag and you can freeze for up to 90 days.
Why are my cookies dry?
You may have used too much flour. When preparing your ingredients, do not scoop the flour with a measuring cup. Instead, spoon it into the measuring cup and level it with a knife so it is not packed. It could also be that you mixed it too much. Only mix until combined.
Why did my cookies spread out and flatten?
If the ratio of sugar, butter, and flour is off in any way, it can affect the size, shape, and texture of your Snickerdoodle pumpkin cookies. For example, if you use too much sugar, it can absorb the liquids, making them spread. Too much butter makes them greasy and flat.
More recipes with Pumpkin that you should try:
How to store leftovers:
Store: You can store your leftover pumpkin snickerdoodle cookies in an airtight container or baggie in the refrigerator for three to four days.
Freeze: You can also freeze your cookies. Wrap them in plastic and put them in a freezer bag in the freezer for up to 90 days.
Thaw: Thaw cookies overnight in the fridge for best results.
Baking tips:
Many recipes tell you to cream butter and sugar together while the butter is softened. I prefer to use melted butter that has been cooled because it makes a perfectly chewy texture.
Make sure the butter is not warm. If you add the butter while it is still warm, it will melt the sugar and make a greasy cookie dough.
Never put cold cookie dough on a hot (or even warm) cookie sheet! This will cook/melt the cookies prematurely and can cause them to spread too much, leading to flat cookies.
For the best pumpkin flavor, use homemade pumpkin puree. Do not use pumpkin pie filling if you want pure pumpkin puree.
You can also use silicone baking mats instead of parchment paper for your Snickerdoodle pumpkin cookies.
The baking time may vary depending on the size of the cookies and your oven temperature.
Looking for more pumpkin recipes? We have lots of absolutely delicious recipes on our food blog.
Pumpkin Snickerdoodle Cookies
Ingredients
1/2

cup

unsalted butter

melted and cooled to almost room temperature

1/2

cup

sugar

1/3

cup

light brown sugar

packed

1/4

cup

pumpkin puree

I used canned - but homemade is fine too

1

large egg yolk

1

teaspoon

vanilla extract

1 1/2

cups

all-purpose flour

1

teaspoon

ground cinnamon

1

teaspoon

ground nutmeg

1

teaspoon

baking powder

1/4

teaspoon

cream of tartar

1/2

teaspoon

salt

2/3

cup

white chocolate chips
Topping:
1/2

cup

sugar

2

teaspoons

ground cinnamon
Instructions
In a large bowl, using an electric mixer, beat butter and both sugars, until well combined. Scrape the sides and bottom of the bowl as needed.

Add pumpkin puree, egg yolk, and vanilla extract, and whisk to combine.

In a separate bowl, whisk together the dry ingredients: flour, cinnamon, nutmeg, baking powder, cream of tartar, and salt.

Next, gradually add the dry ingredients to the wet ingredients, and beat on low speed, until well combined. Scrape the sides and bottom of the bowl as needed.

Finally, add the chocolate chips and use a rubber spatula to fold them in.

Gather the dough together in the bowl, cover it with plastic wrap, and place it in the refrigerator for at least one hour.

Preheat the oven to 350F (175C). Cover two cookie sheets with parchment paper.

In a small bowl mix the topping ingredients and set aside.

Remove the dough from the refrigerator and scoop it into 1 ½ Tablespoon-sized balls or use 2 tablespoons for large cookies. Roll the balls between your palms to smooth them a bit and after that roll through the cinnamon and sugar mixture. Arrange them onto the prepared cookie sheet, at least 2" apart.

Bake in the preheated oven for 10-12 minutes.

If you are using only one cookie sheet, and need to wait to bake the other cookies, make sure you keep the rolled cookies or remaining dough refrigerated. Also, do not place cookie dough onto a hot baking sheet.

Remove the baked cookies from the oven and let them cool completely on the cookie sheet before serving.