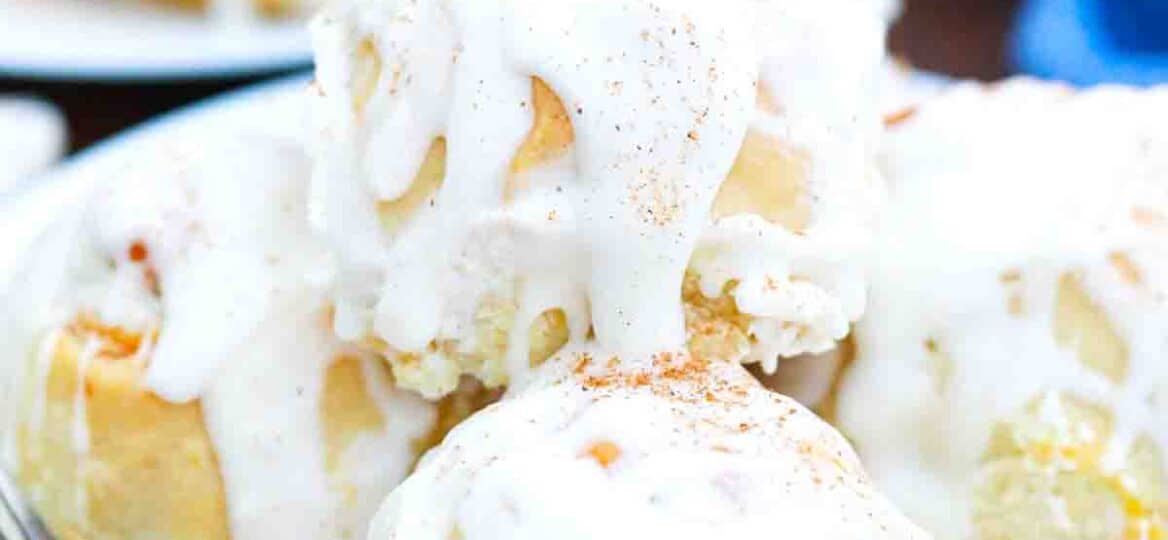 Pumpkin Pie Cinnamon Rolls [Video]
Pumpkin Pie Cinnamon Rolls are a unique way to enjoy a fall breakfast or snack. If your family loves cinnamon rolls, they will love the pumpkin flavor in these. Each pumpkin cinnamon roll is full of sweet warm spices and creamy maple cream cheese frosting for a flavor explosion in every bite! You can serve these for dessert at your next holiday meal and guests will be asking for the recipe for sure.
If your family loved these pumpkin pie rolls, try our Pecan Pie Cinnamon Rolls with a gooey sweet pecan pie filling and bourbon cream cheese icing. Or you could make this Fluffy Cinnamon Rolls with Cream Cheese Frosting recipe.
The cinnamon roll has been around for a long time. It all began when the Roman spice traders introduced cinnamon spice from Sri Lanka to the Europeans. But Sweden was the first to make an actual cinnamon roll.
They called it kanelbulle and even celebrate cinnamon roll day annually on October 4th. But all this would not have been possible if the ancient Egyptians had not created yeast bread in 1000 BC.
Pumpkin spice cinnamon rolls are the best thing that has ever happened to breakfast! But these delicious pumpkin pie cinnamon rolls are perfect anytime. According to my family, these are the best pumpkin cinnamon rolls ever. And they are easy to make with just a handful of ingredients.
Looking for more pumpkin recipes? Our pumpkin pound cake is buttery and sweet, made with a whole stick of butter and topped with white chocolate whipped ganache. Looking for something pumpkin-flavored for dinner? This savory pumpkin pot roast is tender and filled with the flavors of pumpkin, pineapple, and Worcestershire sauce.
Ingredients needed:
To make this pumpkin rolls recipe, you will need to gather all of these ingredients. Then, scroll down to our recipe card at the bottom of the page for complete instructions and exact measurements.
To make the dough:
Instant yeast
Granulated sugar
Eggs: At room temperature.
Whole milk: Warmed.
Unsalted butter: Melted.
All-purpose flour
Kosher salt
Filling:
Melted butter: Unsalted butter is best, but you can use salted butter if that is all you have.
Pumpkin puree: Not pumpkin pie filling.
Warm milk
Packed light brown sugar: Light or dark brown sugar will work here.
Ground nutmeg
Ground cinnamon
Maple cream cheese frosting:
Softened cream cheese
Powdered sugar: Or confectioners' sugar.
Pumpkin pie spice
Pure vanilla extract
Maple syrup
How to make pumpkin pie cinnamon rolls from scratch?
Preheat oven: First, preheat your oven to 375 degrees F then lightly grease two cake pans with non-stick cooking spray. We used 8-inch round cake pans.
Prepare your dough: While you wait, beat the butter, sugar, active dry yeast, salt, milk, and eggs on low speed in the bowl of your stand mixer fitted with a dough hook. Gently fold in the flour mixture of baking powder, salt, sugar, and flour and keep mixing until it is all combined. Then, turn it up to medium speed and let it mix for approximately three minutes.
Proof your dough: Next, oil a large bowl, set your dough inside, and cover it with plastic wrap to let it rest for about 60 minutes.
Make the filling: Meanwhile, make the filling by mixing the puree, milk, brown sugar, nutmeg, and cinnamon in a medium bowl.
Add the filling: Roll out the pumpkin cinnamon roll dough on a lightly floured surface until it is about 1/4 inch thick. Then, spread the filling evenly onto the rolled-out dough. Roll the dough and cut it into 15 pieces.
Bake the rolls: Afterward, arrange the rolls about an inch apart in the prepared cake pans or baking pan and let them rest. After that, bake until the tops are golden brown, about 15 to 18 minutes.
Make the maple cream cheese icing: While they bake, prepare your maple cream cheese icing. Put the softened cream cheese in the bowl of your stand mixer and cream for one minute. Slowly add in the powdered sugar and continue to mix until it is smooth and creamy. Mix in the maple, vanilla extract, and pumpkin pie spice until it is all combined. Do not overbeat.
Ice and serve: Finally, remove the pans from the oven and brush each roll with the maple cream cheese icing before serving warm.
How to make air fryer pumpkin pie cinnamon rolls from scratch?
Make the dough: To begin, make the dough, proof it, and let it chill. Preheat the air fryer to 350 degrees F.
Make the pumpkin pie filling: While you wait for the dough to chill, make the filling by mixing the warm milk, brown sugar, puree, nutmeg, and cinnamon in a small bowl.
Add filling: Then, roll out the refrigerated dough on a lightly floured surface until it is about 1/4 inch thick. Spread the filling onto the rolled-out dough before rolling it up and cutting it into 16 pieces.
Air fry the rolls: Afterward, place the rolls about an inch apart into several small cake pans, muffin trays, or a baking dish that will fit your air fryer basket. Make sure they are thoroughly oiled, so they do not stick. Air fry the pumpkin cinnamon roll dough for five minutes on each side.
Make the maple cream cheese icing: Then, prepare the icing by adding the cream cheese to the bowl of your stand mixer and combine for one minute before adding powdered sugar. Beat until creamy and smooth. Then add the syrup, vanilla, and spice until it is nicely combined. Do not overmix.
Ice and serve: Last, ice each pumpkin cinnamon roll with maple cream cheese icing and serve warm.
Recipe variations:
Canned pumpkin puree: We used canned pumpkin but you can make your own pumpkin puree if you have the time.
Regular frosting: You can omit the maple syrup if you would rather have regular cream cheese frosting.
Add dried fruit: Why not add some raisins or dried cranberries to your pumpkin filling for a unique flavor?
Bread flour: You can use bread flour for your dough if you like.
Almond milk: For those who cannot have dairy, use almond milk instead.
Other flavors: Instead of vanilla extract, try some almond, orange, or maple.
Chocolate: If your family loves chocolate, add some chocolate chips to the filling.
Go vegan: Use vegan butter and egg substitute for vegan pumpkin pie cinnamon rolls.
How to serve:
These delicious cinnamon rolls are the perfect snack for a movie night with the kids or just for a sweet treat any time you want it. Homemade cinnamon rolls are so much better than store-bought ones and almost as easy to make. Try one of our tasty ideas here or leave some ideas of your own in the comments below.
Add a dollop of strawberry or blueberry sauce to these to give them a fruity flavor.
Make them cinnamon buns by using crushed walnuts or pecans on top for a bit of crunchiness and nutty flavor.
Try this filling with other cinnamon roll recipes or muffins for a different flavor.
You could also top these with cinnamon sugar made with a half cup of granulated sugar and one tablespoon of cinnamon.
This would be a sensational dessert for a turkey dinner with pumpkin mac and cheese on the side.
Instead of icing, you can also top your rolls with vanilla ice cream.
Or, for something lighter, try our homemade whipped cream recipe.
Frequently asked questions
Why are my cinnamon rolls dry?
Dry cinnamon rolls are usually due to overcooking. But it could also be from adding too much flour. To keep pumpkin cinnamon rolls soft and moist, sift your flour and add it with a spoon when you measure it so it does not get packed down.
It is also important to make sure all of your ingredients are at room temperature, so they mix easier. Overmixing will cause dry cinnamon rolls as well.
How do I make my own pumpkin pie spice?
Making your own pumpkin pie spice is easy and you can alter it to your own preferences. The easiest way to make it is to combine two tablespoons of each cinnamon, ground ginger, and ground allspice with one teaspoon each of ground nutmeg and ground cloves.
What is the difference between a cinnamon roll and a cinnamon bun?
Both of these are made with a yeast dough filled with cinnamon sugar and sliced into rolls, but the cinnamon bun typically has pecans or some other nuts. Also, the bun is topped with butter, nuts, and sugar and placed face down.
When they are done, you flip them over out of the pan and the top is glazed and nutty. Cinnamon rolls are baked face up and frosted afterward.
What are the nutrition facts in this recipe?
Each of these individual cinnamon rolls has about 500 calories and 25 grams of fat including 15 grams of saturated fat, 2 grams of polyunsaturated fat, 6 grams of monounsaturated fat, and 2 grams of trans fat. It also has 85 grams of carbs, 290 milligrams of sodium, and 90 milligrams of cholesterol and 40 grams of sugar.
On the positive side, each one contains 5 milligrams of iron, 115 milligrams of calcium, 5 milligrams of vitamin C, and over 4,700 units of vitamin A. You will also get 3 grams of fiber, 230 milligrams of potassium, and 11 grams of protein.
How to store leftovers:
Store: You can store your leftover cinnamon rolls in an airtight container on the counter for three days or in the refrigerator for five days. If they last that long!
Freeze: If you have too many pumpkin pie cinnamon rolls left over, freeze them in an airtight container or freezer bag. They can last up to three months.
Thaw: Don't forget to put your frozen pumpkin pie cinnamon rolls in the fridge to thaw overnight before serving.
Reheat: These absolutely delicious cinnamon rolls are great when served chilled or at room temperature. If you want to heat them up, just pop them in the microwave for about 90 seconds.
More pumpkin recipes:
Cooking tips:
Keep a little bit of melted butter in a small bowl while you are working with the dough, so it does not stick to your hands. It also adds more buttery flavor.
This cream cheese icing is super thick, but it will melt quickly on hot buns. For thicker frosting, wait a few minutes until the rolls cool before frosting so it does not melt.
To make your filling thicker, use softened butter instead of melted butter.
If you do not have a stand mixer, you can use an electric mixer instead.
For the best cinnamon rolls, use whole milk. It makes a big difference in the flavor and softness.
Another important tip is to always use real butter when making both the dough and the filling.
To prepare the day before, make the recipe up until the baking step and then put them into the refrigerator. They can be chilled for up to 13 hours. Then, when you are ready to make, let the rolls come to room temperature and rise for one hour before baking.
Pumpkin Pie Cinnamon Rolls
Ingredients
Dough:
1/3

cup

water

warm

2 1/4

teaspoons

instant yeast

1 package

1 1/2

tablespoons

granulated sugar

2

eggs

room temperature

1

cup

whole milk

lukewarm

1/2

cup

granulated sugar

1/3

cup

unsalted butter

melted

4

cups

all-purpose flour

1

teaspoon

salt
Filling:
1/3

cup

unsalted butter

melted

1

cup

pumpkin puree

NOT pumpkin pie filling

1

tablespoon

milk

1/2

cup

brown sugar

packed

2

teaspoons

ground cinnamon

1/4

teaspoon

ground nutmeg

Pinch

of cloves
Maple cream cheese frosting:
8

ounces

cream cheese

softened

3

cups

powdered sugar

1

teaspoon

pumpkin pie spice

1

teaspoon

pure vanilla extract

2

tablespoons

maple syrup
Instructions
Make the dough:
Add instant yeast, 1 1/2 tablespoons of sugar, and lukewarm water to a medium bowl and whisk to combine. Let it rest for 5 minutes until foamy.

Whisk 4 cups of flour and salt in a large bowl and set aside.

Add the eggs, milk, remaining 1/2 cup sugar, and melted butter to the yeast mixture and whisk until well combined.

Add the yeast mixture to the flour mix and using a wooden spoon or spatula, stir until well combined.

The dough will be sticky. Cover with plastic wrap and let it rest for 60 minutes, preferably in a warm place.

Line a 9x13-inch baking pan with parchment paper and spray it with baking spray.
Roll the dough:
Flour a flat surface and roll the dough. You will need a good amount of flour, for your hands, a rolling pin, and to sprinkle the dough.

Roll the dough until it's about 16 inches long by 13 inches wide and it should be about 1/4 inch thick. It is important for the dough to not be very thin, as it won't be able to hold well the filling.

Spread the 1/3 cup of melted butter over the entire surface of the dough.

In a small bowl, mix together pumpkin puree, milk, brown sugar, cinnamon, and nutmeg.

Evenly spread the pumpkin filling over the rolled-out dough 1 inch from the edges of the dough.

Cut into 15 smaller rolls. Arrange the rolls 1 inch apart in the prepared baking sheet.

Let the rolls rest for 20 minutes, during which they will rise a bit.

In the meantime, preheat the oven to 350 F degrees. Place an oven rack in the middle of the oven.

Bake for 16 to 18 minutes, or until the tops are golden brown.
Make the frosting:
Add cream cheese to a large bowl and cream for 1 minute. Gradually add in powdered sugar and continue to beat until smooth.

Mix in pumpkin pie spice, vanilla, and maple mix until thoroughly combined.

Remove pans from oven and immediately top each roll with frosting.

Serve and enjoy preferably warm, with a sprinkle of cinnamon!
Deliciousness to your inbox
Enjoy weekly hand picked recipes and recommendations