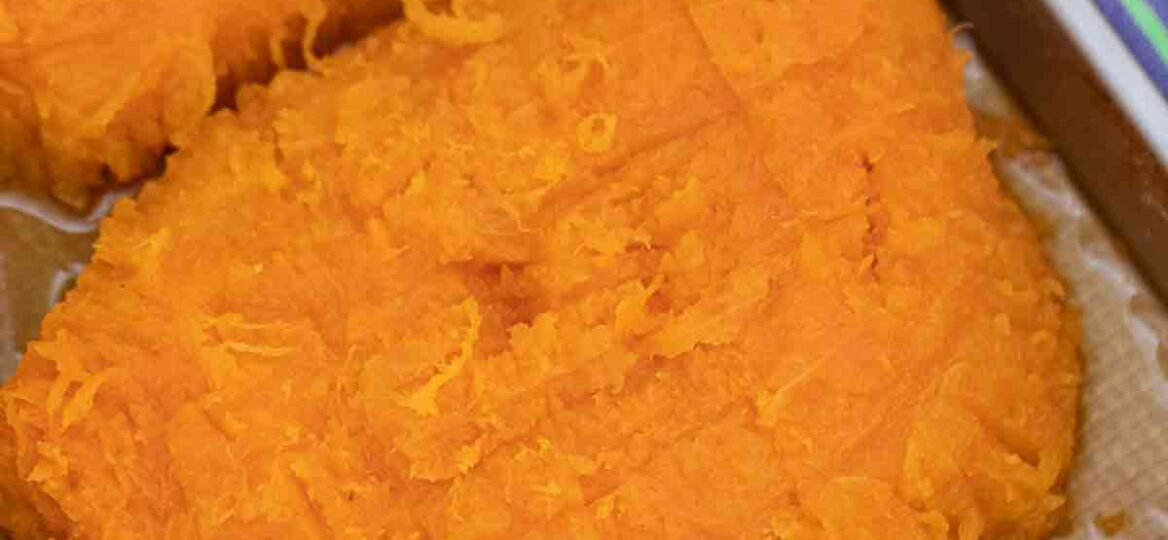 How to Roast a Pumpkin [Video]
Roasting a Pumpkin is a very quick and easy technique and will be super handy during the holiday season. Also, by learning how to bake the squash, you will save plenty of time and money buying the store-bought puree.
With autumn season stepping in, the homemade pumpkin recipes are some of the most desired ones on our blog. If you are looking for something special to make during the fall season, or for Thanksgiving, then try these Pumpkin Cheesecake Bars, Moist Pumpkin Bread, or Starbucks Pumpkin Latte.
Roasted Pumpkin is one of my favorite dishes to do during the fall season. I mean, the squash is healthy, easy to prepare, and can be utilized in tons of dishes, or as a healthy snack. Not to mention, it is delicious and nutritious!
With plenty of pumpkins available during autumn, you should learn how to quickly bake them. Then, utilize them in various recipes, such as pumpkin soup, or pumpkin cheesecake. Also, you can quickly puree the roasted pumpkin, and make the best homemade pumpkin puree.
It will taste amazingly delicious, and you will also save a lot of money by not buying it from the store. All in all, this is a super easy and versatile recipe. You simply need a sharp knife, whole pumpkin, and a few minutes of your time,
Baking squash is probably the easiest thing you can make. Following the below steps, and you will end up with crispy squash on the outside and tender in the middle.
Also, this is an easy side dish to include on your Thanksgiving menu. In addition, the same steps can be applied for roasting winter squash, butternut, kabocha, or even acorn.
Follow us on Pinterest for more delicious recipes!
Ingredient list:
You will only need three ingredients for roasted pumpkin:
Sugar pumpkin: You can use pretty much any type of pumpkin available at your local grocery store. I just tend to like the sugar variety as it is sweet and flavorful.
Coconut oil or avocado oil: This adds a bit of flavor, and helps with the baking process. However, if you don't want to use any oil, then simply use a bit of cold water.
Sea salt: I love using sea salt as it gives a nice contrast of flavors. Feel free to add some brown sugar or even cinnamon on top.
How To Roast Pumpkin?
Preheat the oven: First, set the oven to 350 degrees F. Also, feel free to preset it to a higher temperature like 400 degrees F, and the cooking time will be shorter.
Scoop out the seeds: Next, using a metal spoon, gently scoop out the seeds and pumpkin flesh. Do not throw the seeds out. Keep them for roasting.
Cut it: Then, using a sharp knife, cut it into slices about 1-inch thick.
Bake it: Place the slices on a baking sheet in a single layer. Next, drizzle some oil over the slices, and sprinkle with some sea salt. Then, bake.
Variations:
Seasoning: Feel free to use your favorite seasoning for baking. Some great addition would be chili powder, cayenne pepper, garlic powder, etc.
Maple syrup: For a sweet flavor, drizzle it with some maple syrup or brown sugar.
Boiled pumpkin: Alternatively, you could boil it in a dutch oven, instead of baking. Just cut it into smaller pieces, and boil for about 30 minutes until soft and tender.
How long does it take to bake a pumpkin?
At 350 degrees F, the cooking time should be around 45 to 50 minutes. This is the average cooking time for about 3-4lb pounds of squash.
Also, you can increase the temperature to 400 degrees F. Then, the cooking time would be reduced to about 35-40 minutes.
In addition, ensure to cut the slices evenly. This way, when you bake it, the heat is proportionate, and the cooking time is about the same.
Best pumpkin to use for baking
For roasting, I tend to go with smaller to medium-sized ones. Something between 2 to 5 pounds in size. They are perfect for baking and are the most flavorful.
Just remember that while the large and extra-large ones are perfect for Halloween and decorating, they should not be utilized in cooking.
The best to use would be sugar, pie, Japanese, butternut pumpkin, or kabocha pumpkin.
How to cut A Pumpkin?
First, place the squash on a kitchen towel to prevent it from slipping.
Then, using a sharp knife, insert the tip of the knife in the center.
Gently push the blade into the squash and it will naturally start to split. Cut it in half.
Next, using a silver spoon, remove the seeds and the flesh from inside. Save the seeds for roasting.
Lastly, cut it into smaller wedges, about 1-inch thick.
How to Make Pumpkin Purée?
After you have removed the seeds and the flesh from the skin, simply add it to a high-speed blender or food processor. Then, blend it until smooth. You could also use an immersion blender.
Add a bit of water if the consistency is too thick. On the other hand, if it is too runny, strain the puree in a sieve lined with cheesecloth over a bowl.
How to bake pumpkin so it is not soggy?
The secret to avoiding sogginess is to cook the pumpkin in a hot oven and at high heat.
You can also cube into smaller pieces, and arrange them into a single layer on the baking dish. This helps achieve crispy edges.
How to roast fresh pumpkin seeds?
The seeds are super healthy and nutritious. Roasting them is easy. Just follow the below steps:
Preheat oven to 300 degrees F. I like baking the seeds at a lower temperature for a little longer period. However, you can bake them at 350 degrees F as well. Just reduce the cooking time by about 10 minutes.
Next, wash the seeds in a colander to ensure there is no pulp and fibers. Then, using a dry paper towel, dry them out.
In a large bowl combine the seeds, some olive oil, salt, garlic powder, and black pepper to taste.
Next, transfer the seeds to an oil-greased pan, and evenly spread them over the pan.
Bake for 30 minutes until they get a golden color.
Let them cool, and enjoy!
Serving suggestions:
Anything goes well with this healthy dish.
Use it as a side dish by simply topping the roasted pumpkin with some cinnamon, honey, nutmeg, or brown sugar.
During the Thanksgiving holiday, use roasted pumpkin to make the following dishes:
Storing leftovers:
To refrigerate: Store leftovers in an airtight container in the fridge for up to 3 days.
To reheat: Use a microwave-safe bowl, and reheat leftovers at 50% power for 1-2 minutes until warm.
Cooking Tips:
Remember that small to medium size pumpkins work the best for roasting. However, feel free to use other types as well. Small pumpkins, butternut squash, or even giant pumpkin.
Also, the cooking times will vary slightly, depending on the thickness of the squash.
You can store leftovers using an airtight container, and refrigerate them for up to 5 days.
The best way to cut through the thick skin is by using a tip of a large knife to first pierce it.
How to Roast a Pumpkin
Ingredients
1 2-4

lbs

sugar pumpkin

1

tablespoon

coconut oil

1

pinch

sea salt
Instructions
Preheat oven to 350 degrees F.

Line a baking sheet with parchment paper and set it aside.

Using a sharp knife remove the top and bottom of the pumpkin and cut it in half lengthwise.

Using an ice cream scoop scrape out all of the seeds and strings from the inside.

Brush the pumpkin flesh with coconut oil, sprinkle with salt, and place flesh down on the prepared baking sheet.

Pierce skin all over the surface a few times with a fork, this is to let steam escape.

Bake for 45-50 minutes or until tender and a fork easily pierces the skin.

Remove the pan from the oven, and let the squash cool for 15-20 minutes, then scoop out the flesh and discard the skin.

If turning into purée, place the pumpkin flesh into a high-speed blender or food processor and blend until creamy and smooth.

Covered and refrigerate for up to 1 week, or freeze for 1 month.