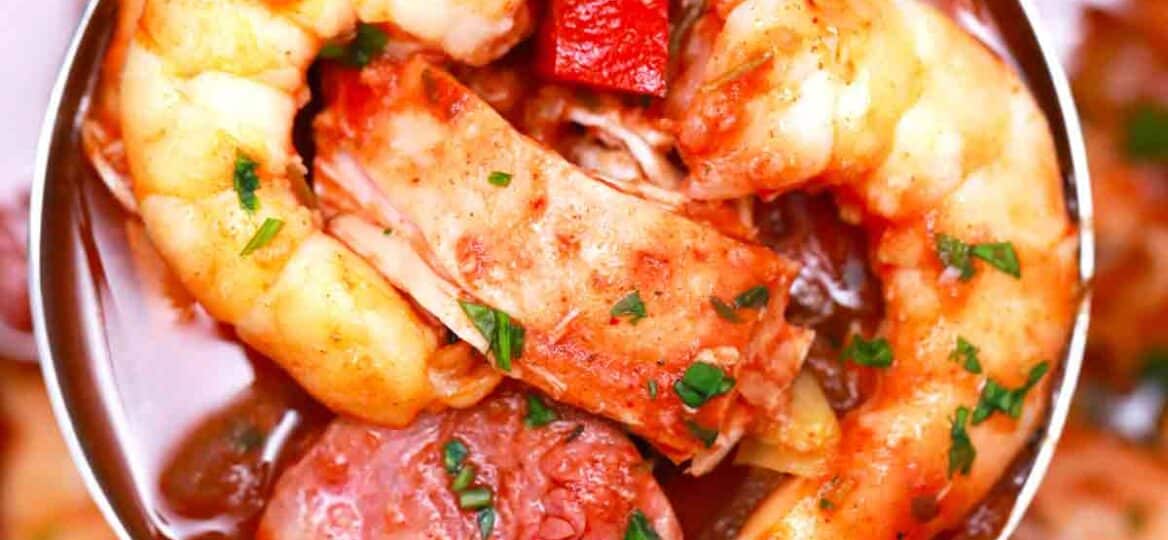 Slow Cooker Jambalaya [Video]
Slow Cooker Jambalaya is packed with meat, sausage, shrimp, and bursting with bold Creole flavors. Enjoy this hearty Louisiana classic with half the effort when made in the crockpot!
New Orleans is home to some of my favorite dishes. I may not be able to travel there all the time, but this Shrimp Creole and Dirty Rice Recipe satisfy the cravings so well! Cap off the meal with this sweet and colorful Mardi Gras King Cake!
Crockpot Jambalaya Recipe
Slow Cooker Jambalaya is a Southern staple. Every spoonful is loaded with meat, vegetables, rice, complex Creole seasonings, and the whole dish tastes like it takes hours to make. But with the help of the crockpot, it becomes a "dump and go" meal that takes minutes of active effort without compromising on the flavor!
Make this jambalaya in the morning before you go out, and come home to amazing aromas and a hearty, delicious Southern classic ready for the table!
What is jambalaya?
It's a rice-based Cajun dish that typically features sausage, vegetables, meats like chicken, and seafood. Very similar to Spanish paella.
How is jambalaya different from gumbo?
They taste very similar due to the Creole and Cajun seasonings, and both also have similar components like rice, sausage, meat, and veggies.
However, the grains are traditionally cooked along with the rest of the dish in a jambalaya. Gumbo is more of a stew, is made with a thickener or roux, and the rice is served and cooked separately.
Should jambalaya be soupy?
Not at all! It should be slightly wet and pasty while cooking, but once fully done, everything should be tender and saucy.
How do you make Slow Cooker Jambalaya from scratch?
Toss everything in the crockpot except the shrimp. No need to layer anything; just put all the components in the pot and stir them well.

Cook. Set your crockpot on low for 7 to 8 hrs., or 3 to 4 hrs. on high. Open the pot in the last 15 mins., and add the shrimp in.

Serve. Enjoy hot over some brown or white rice!
Crockpot Jambalaya Recipe Variations:
Add other meats and seafood: Try this jambalaya with pork, chicken thighs, crawfish, or scallops.
Use other sausages: Andouille, chorizo, smoked turkey for a lighter version, or kielbasa.
Make it spicier: Add chopped jalapenos or more cayenne if you like it hot!
Stir the grains into the dish: For traditional presentation, you can stir it into the jambalaya just before serving.
Can you make jambalaya with uncooked rice?
Sure, but it can be tricky to achieve the perfect tenderness in the crockpot. That's why I make it separately. If you prefer to cook it in the pot itself, stir it in about 2 hours before the time is done.
Can you cook frozen chicken in the slow cooker?
Yes, as long as the internal temp hits 165F after cooking.
Can jambalaya be made in the Instant Pot?
Yes, and it's even faster that way! Sauté the meat and aromatics in the IP, then deglazed with stock. Put all ingredients in the pot, including the grains. Set pressure to 7 minutes on high, then Natural Pressure Release for 5 minutes. Serve hot.
What goes into Creole seasoning?
It has a deep, herby flavor thanks to the dried thyme, basil, and oregano. There are also black and white pepper powders in there, along with cayenne and powdered garlic and onion. The beautiful red color is thanks to the paprika.
How to serve:
Aside from rice, you can also enjoy it with fresh-baked Southern cornbread! Try it with some okra, a tomato-cucumber salad to cool down the heat, or some steamed artichokes for a veggie boost.
How to store:
Once it's completely cool, transfer to an air-tight container. Consume no longer than 3 days if you're keeping it in the fridge.
How to freeze Slow Cooker Jambalaya:
Transfer the cooled dish into a freezer baggie or container. Freeze for about a month, and up to 3 months. I recommend one month to make sure the flavors and textures are still perfect! Reheat in the microwave or on the stove until hot.
More Slow Cooker Recipes:
Recipe Tips:
Brown the sausages before serving. Those brown bits bring the massive flavor!
Got some leftover roast chicken? Shred and use in this dish!
Shell the shrimp before tossing them in the pot to make them easier to eat.
When making this dish in the slow cooker I prefer to cook the rice separately and serve the slow cooker jambalaya on top. This way you will be sure that the rice is perfectly cooked.
Another reason why it's great to cook the rice separately is that if you store the dish for a few days, the rice won't soak all the sauce and become mushy. The great texture will be ensured every time you serve it!
Deliciousness to your inbox
Enjoy weekly hand picked recipes and recommendations