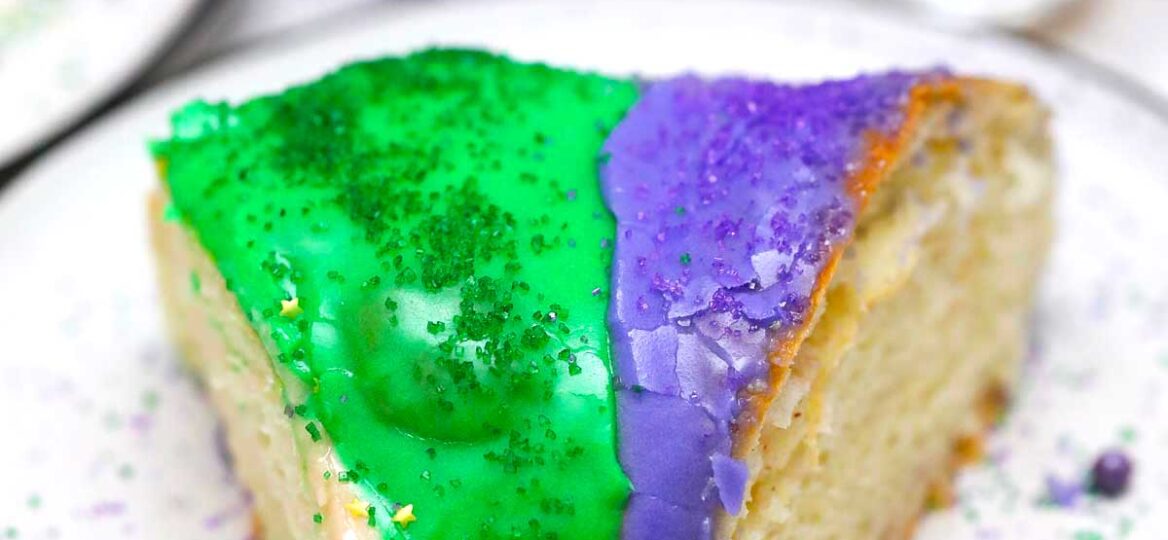 King Cake is festive, sweet, and is a favorite in many places because of its religious and cultural significance. Make it for Mardi Gras with this easy recipe!
Pastries like this have always been associated with celebrations. Parties are not complete without them! So, here is a recipe you can try as well as the recipes for Slow Cooker Rice and Beans, Buffalo Chicken Mac and Cheese Casserole, and Shrimp Creole!
Mardi Gras King Cake Recipe
Making King Cake is now both a tradition and an industry. And there is no other place like New Orleans in terms of consuming this pastry. Most likely, it is part of the French influence that started in the 18th century.
This cake is colorful, traditional, and exciting to serve at parties, particularly during the Mardi Gras season. But with this recipe, you will learn that you do not need to go across the country to New Orleans just to enjoy this. It is so easy to make at home, and you can even eat it on any occasion that you are craving for some.
Even when deliveries are possible, it is best if you can customize your own. Why not establish a new family tradition of making your king cakes? Start with this easy recipe!
What is the meaning of King Cake
It is a pastry that commemorates the three kings who found the babe in the manger. This representation makes it an ideal cake to serve this Lenten season. And unsurprisingly, it is the star of many Mardi Gras parties.
What is in a King Cake
It is shaped like a ring, and in the folds and rolls, you will find a sweet filling. On the outside, you will see that it is topped with sugar or a glaze in Mardi Gras colors.
Aside from these, you may be able to find a small figurine of a baby, or a pea, or a bean inside. These extras indicate that the person who finds these in their serving will hold the next party or bring the pastry next time. It brings another reason for guests to enjoy the party!
How to make King Cake
Prepare the dough: Combine the dairy ingredients, sugar, and salt in a saucepan and heat until the butter melts. Cool the mixture and set aside. In another cup, combine the yeast and warm water, add a bit of sugar and let stand for a few minutes. Using a stand mixer with the hook attachment, combine the two mixtures with egg and 2 cups of flour. Once mixed, add in the flour and mix some more until a soft dough forms.
Allow it to rise: Knead the dough for up to 10 minutes more at low speed, then, transfer to a greased bowl. Cover and allow it to rise for about an hour placed in a warm area. Expect it to double in size.
Put the filling: Divide the dough into two and roll each half into long rectangular strips. Spread butter on top, leaving an inch around the perimeter untouched. Sprinkle a mixture of sugar and cinnamon on top, too.
Assemble: Roll the dough strips into two long logs, with the seam facing the bottom of the lined sheet. Then, intertwine each log with each other until a ring is formed. Cover and allow it to rise again for about 20 to 30 minutes.
Bake: Put it in the oven preheated to 375 degrees. After 15 minutes, see if it is done. It should be golden brown. When done, allow it to cool.
Glaze: In a bowl, combine all the glaze ingredients. Make an individual bowl for each color.
Serve: Decorate with the glaze, then, serve.
Can you make it in advance?
Yes! It can withstand up to 3 or 5 days in the counter or left in a dry cool corner away from direct sunlight. Simply cover it loosely. So, you can make it a few days before the party and still have a great pastry to serve.
How to freeze:
Mardi Gras King Cake will last for at least 3 months, even up to a year. When ready, take it out of the freezer at least two hours before serving.
Recipe Tips:
You may hide the bean or a piece of pecan as you roll the dough into a log before baking. But if you are going to put a figurine, wait until you have finished baking.
Instead of intertwining, you may simply coil the dough into a simple spiral.
If you have leftovers, slice away and make French toast out of them.