Buffalo Chicken Mac and Cheese Casserole [VIDEO]
Buffalo Chicken Mac and Cheese Casserole combines the creamy richness of the cheese and the unexpectedness of the spice. We like this recipe because it adds a twist on the traditional baked mac and cheese. It'll leave a surprise for the entire family!
We greatly value our casserole recipes, because of how easy they are to make. They are perfect for freezing and are great to reheat or serve as leftovers. Similar casserole recipes include Best Mac and Cheese Casserole, Cheesy Crack Chicken Casserole, White Pizza Casserole, and Chicken Hash-brown Casserole.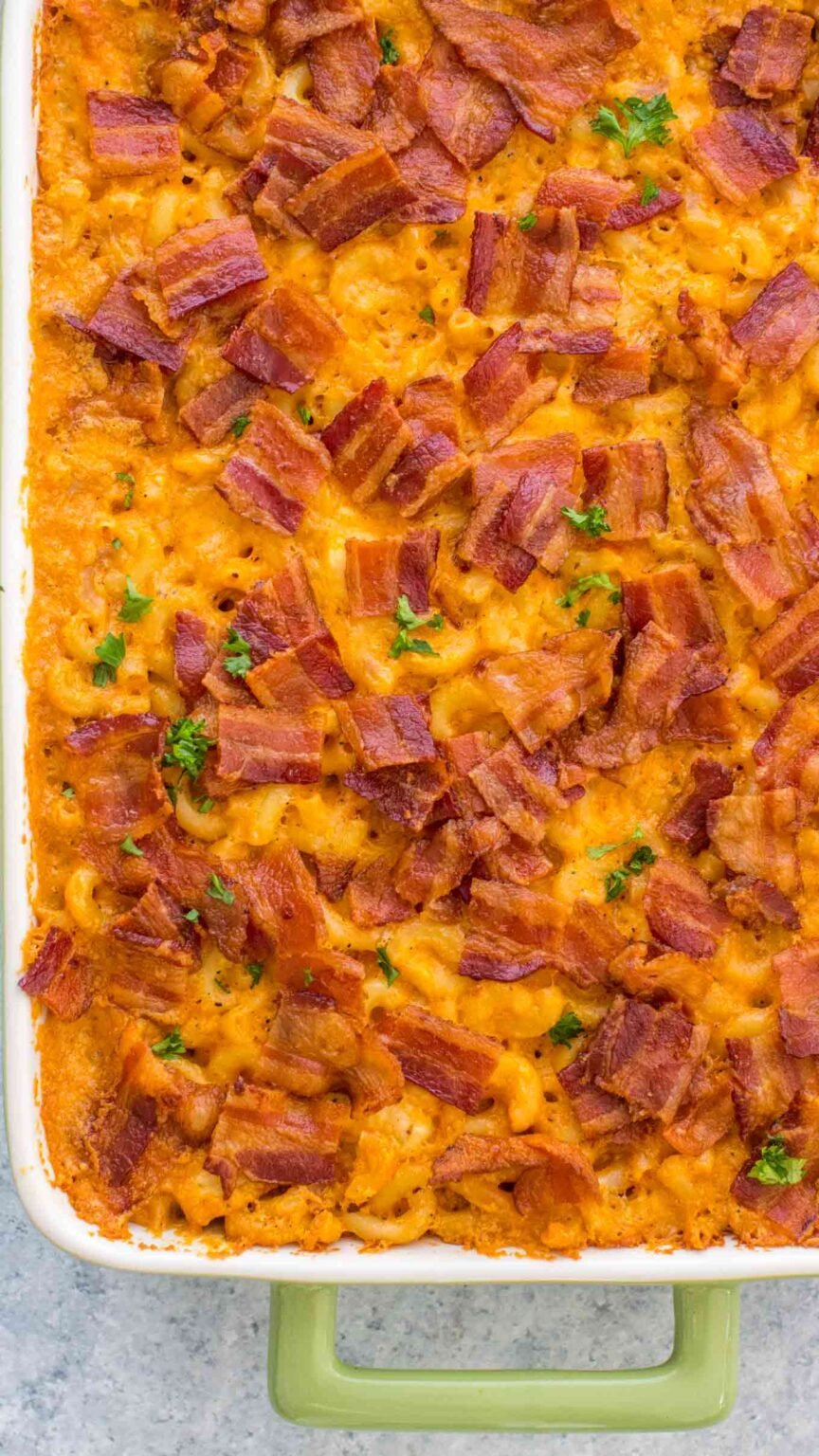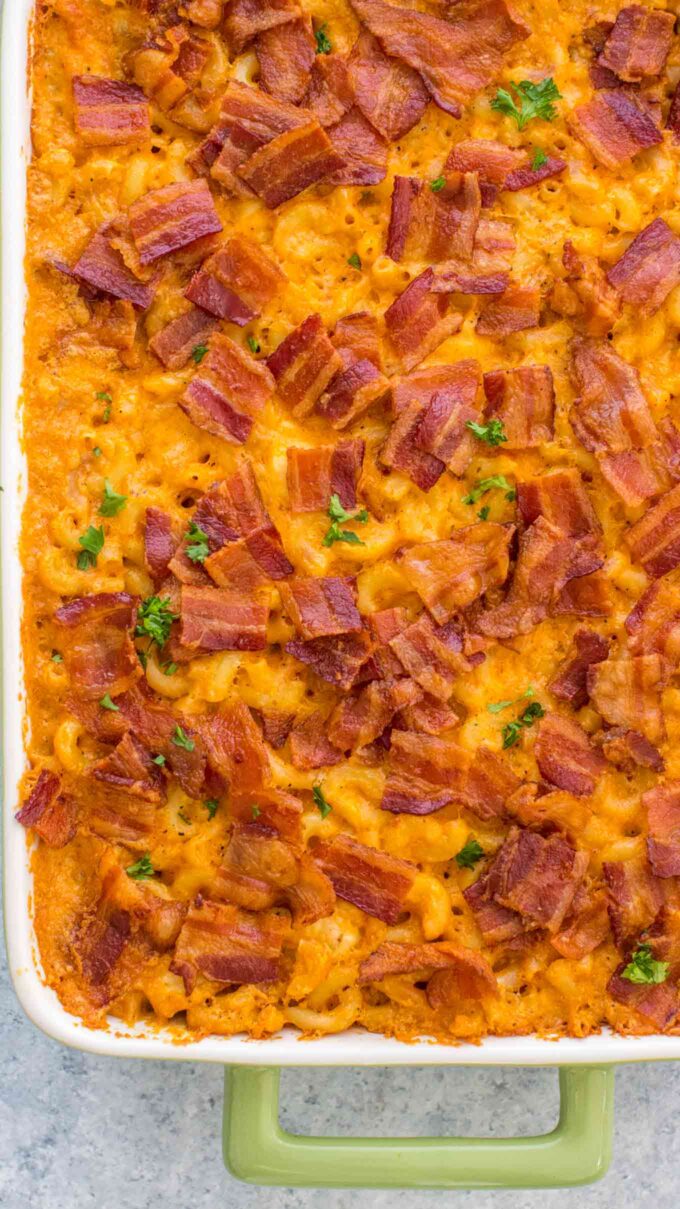 Easy Buffalo Chicken Mac and Cheese
Buffalo Chicken Mac and Cheese Casserole harness the power of multiple kinds of cheese, spiced sauce, and chicken to make the perfect family-friendly meal. This is also a great meal to serve at parties considering that the prep time is less than 45 minutes. Like a good traditional baked mac and cheese, it includes parmesan, mozzarella, cheddar, and cream cheese.
Make sure that the macaroni is cooked al dente because that will ensure that the pasta is prepared the perfect way so that it's moist and not over-cooked. The overall look of the dish will be stunning as well, I added crispy bacon on top to make it even better.
This is great for all ages, so if you have guests over it's the perfect thing to whip up if anyone is hungry! You no longer have to sit and wonder what the perfect dish for a little family gathering is because this is it.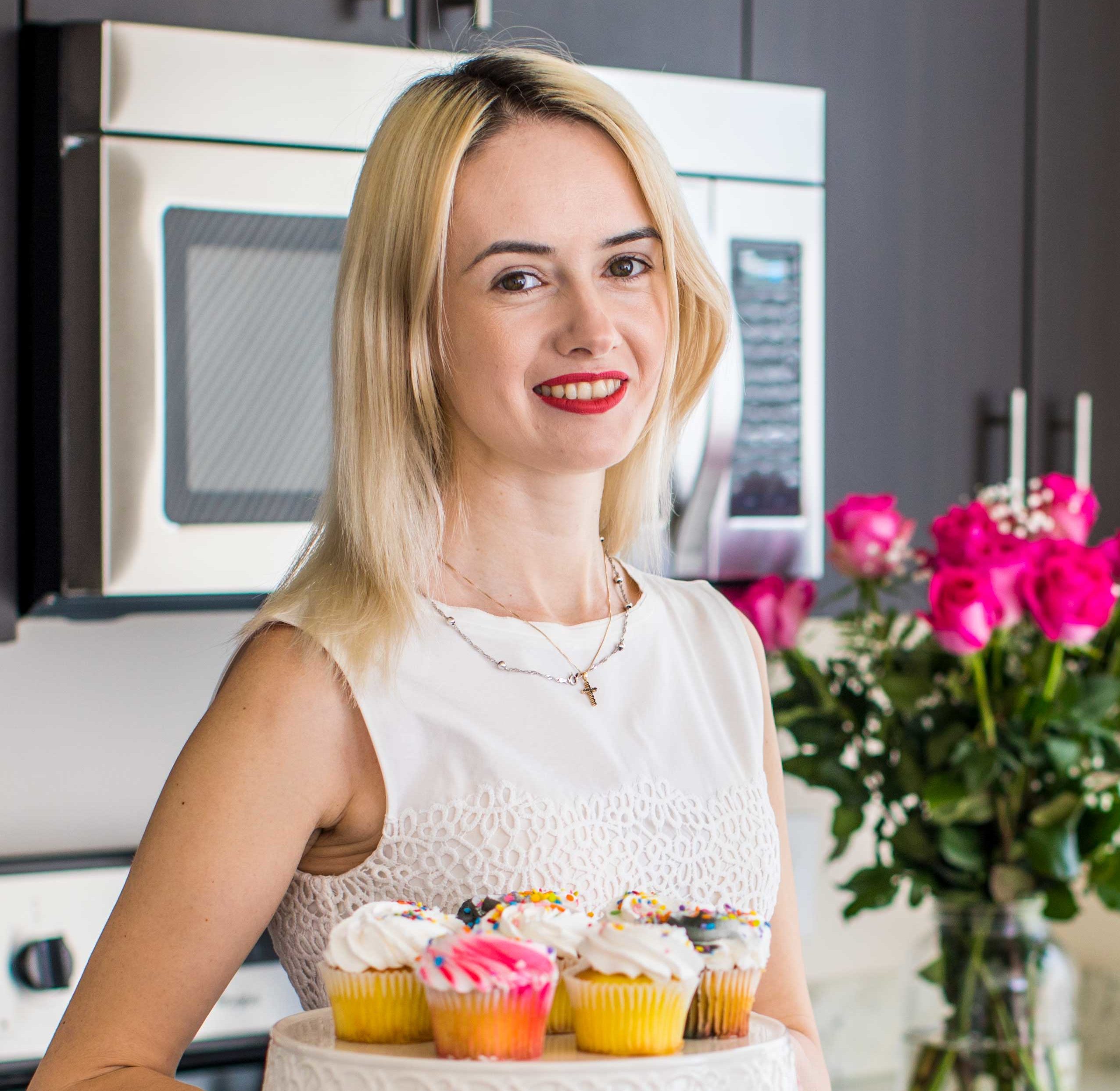 Follow us on Pinterest for more delicious recipes!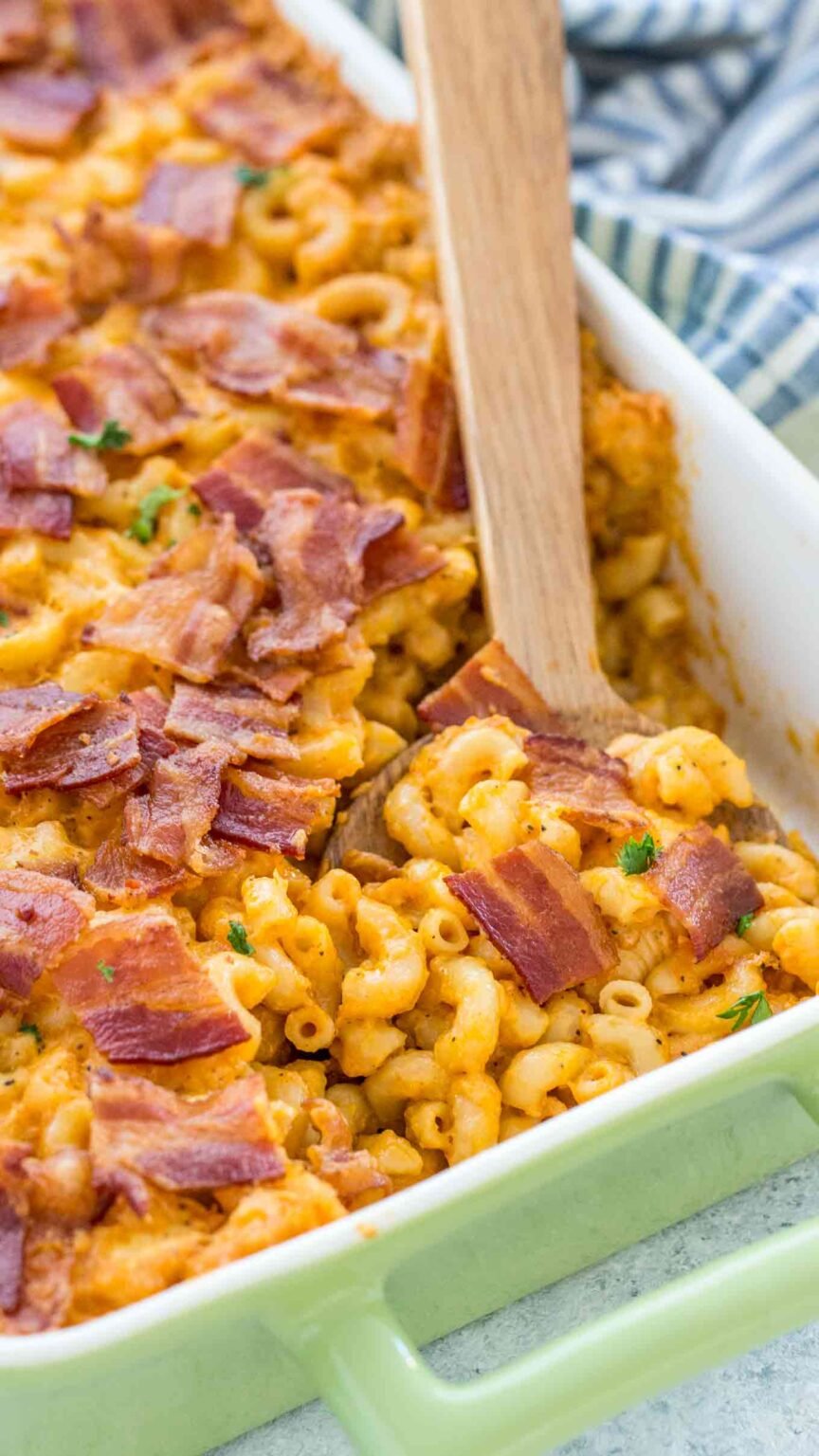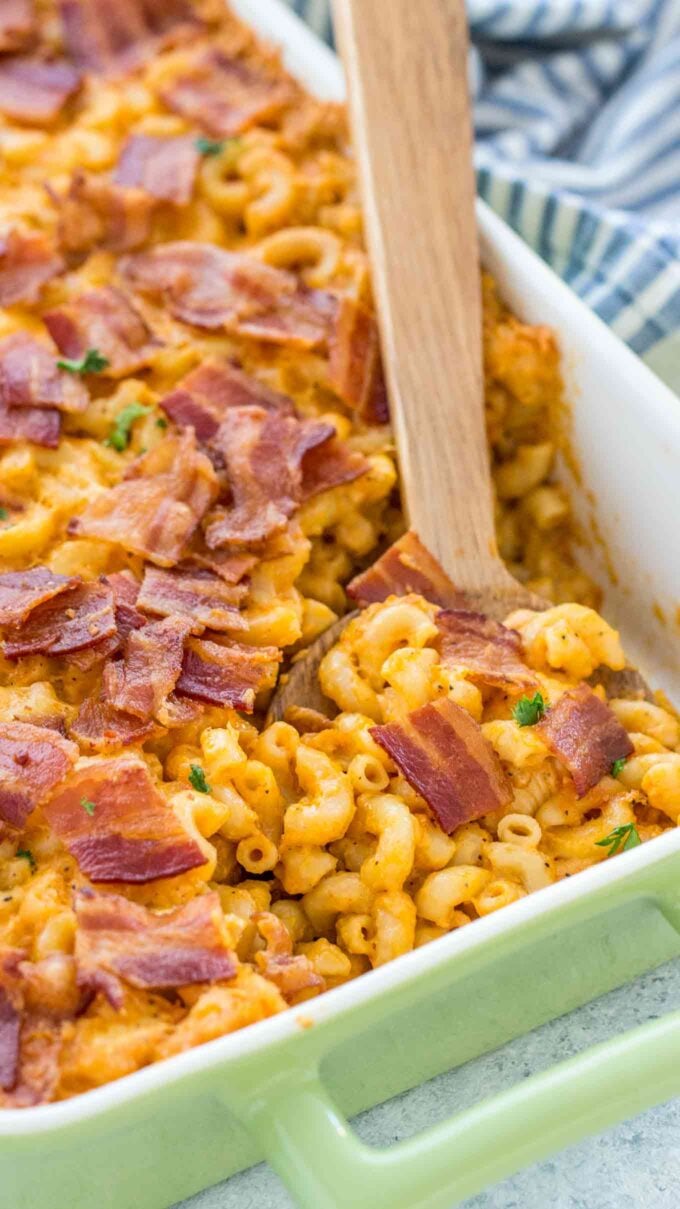 What is buffalo sauce?
Buffalo sauce is most commonly a mixture between melted butter, hot sauce, vinegar, Worcestershire sauce, and garlic.
What is the best cheese to use for a mac and cheese casserole?
Depending on the types of cheeses you enjoy, a cheese that melts easiest is the best option. I enjoy using cheddar, Monterey Jack, mozzarella, and parmesan.
They give this dish a nice color and a very rich and creamy texture. If you decide to go with a cheddar type, I recommend going with a medium sharp version. Also, aged cheeses tend to separate when they melt. For that reason, I tend to avoid using the aged version.
How do you make Buffalo mac and cheese?
This is one of the easiest, yet very delicious meal that you can quickly make at home. Please follow the steps below. Also, watch the recipe video attached, and see how simple this recipe is!
Preheat oven to 350 degrees and butter a casserole dish.
Next, cook pasta until just tender. Preferably al dente.
Melt the butter in a large saucepan and add the flour. Stir to combine.
Then, add the milk and heavy cream. Add seasoning.
Simmer and add the sour cream, buffalo sauce, and cheddar cheese.
Add the cooked pasta into it.
Season with salt and pepper to taste.
Pour into prepared dish and sprinkle with remaining cheese.
Bake for 25 to 30 minutes.
MACARONI AND CHEESE VARIATIONS
This is great comfort food that is super easy to make and can be enjoyed year-round. To rotate from it from time to time, feel free to adjust some of the ingredients. Some of our favorite variations of it are:
Other proteins: While chicken works great here, you can swap it with other meats. Some great alternatives would be, shrimp or beef.
Cheese: Alternatively, swap the cheeses from time to time. Gouda, Fontina, or Gruyere, are great as well.
Add some crunchiness: For a crunchier texture, you can add some panko breadcrumbs on top.
Use other pasta: This recipe works best with short pasta type, but feel free to go with what you have available. Pretty much any short pasta will work here. For example, use cellentani, macaroni, fusilli, penne or small shells.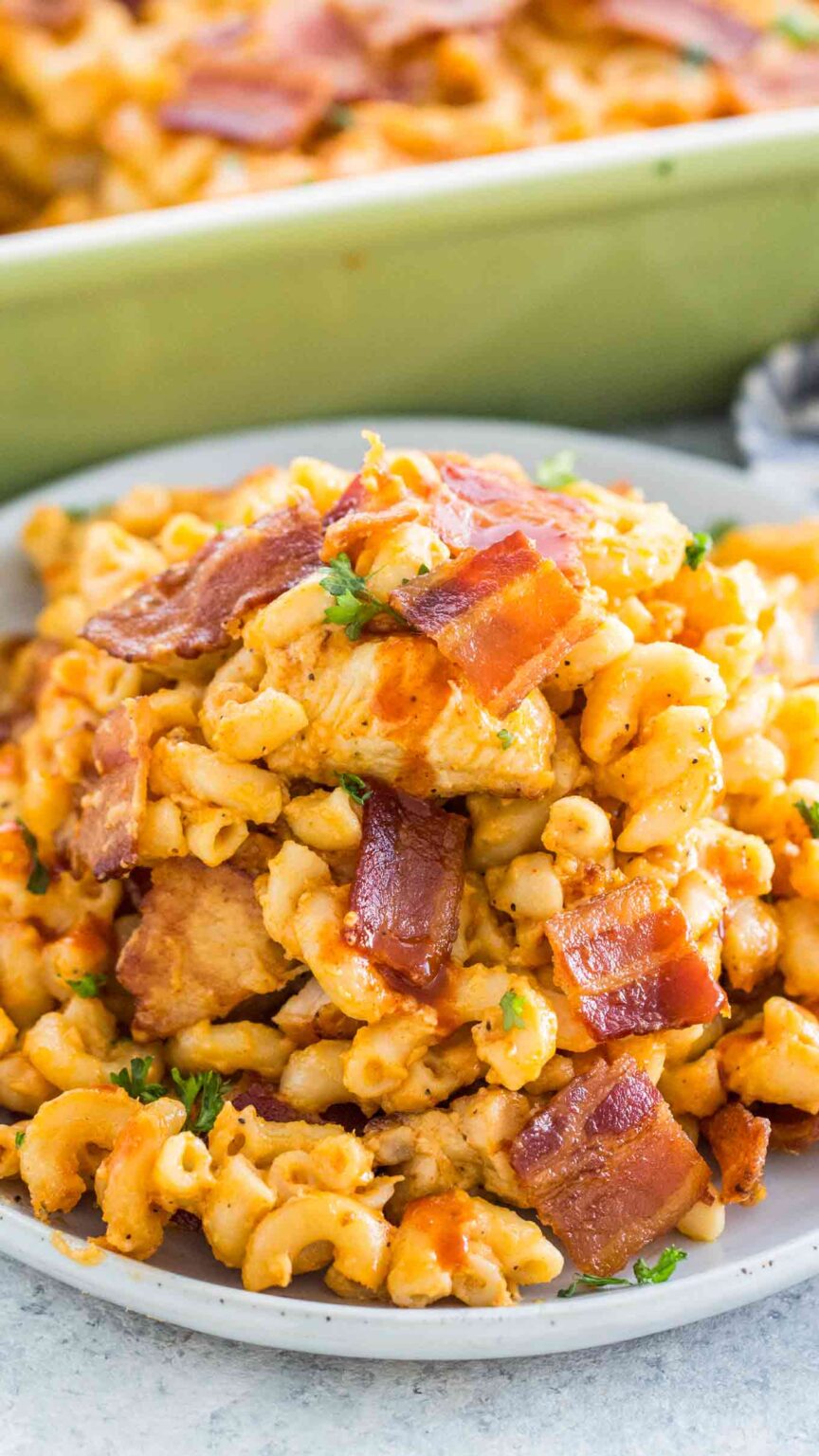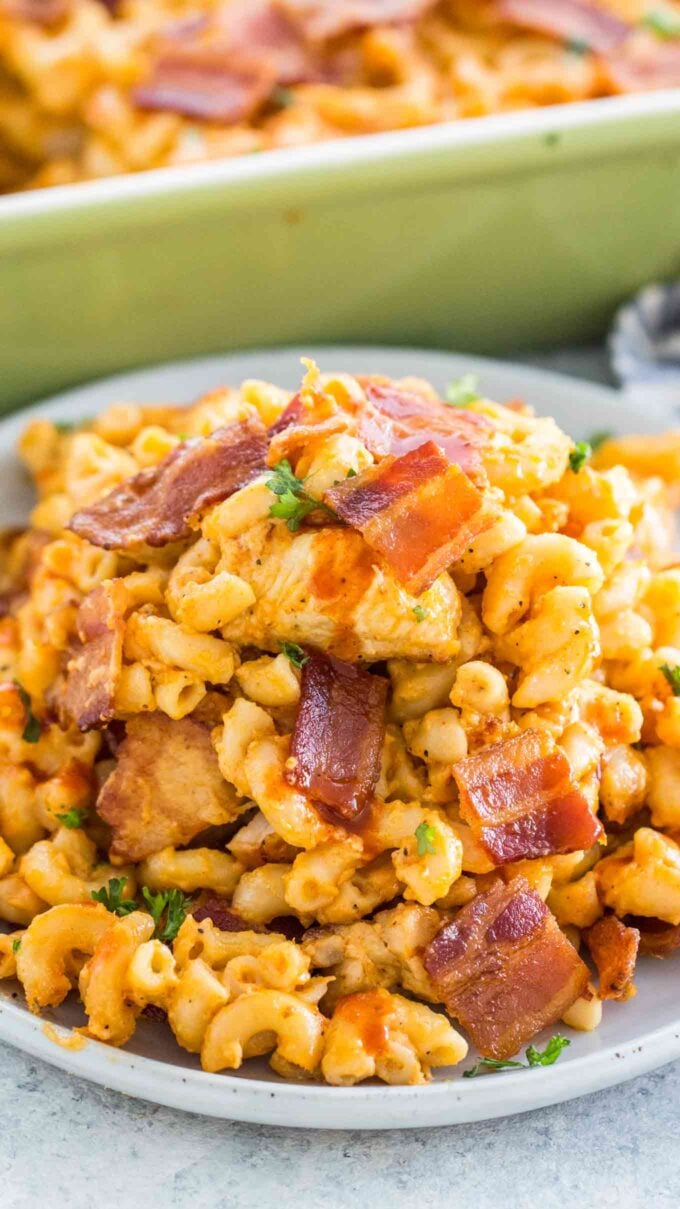 How do you keep the chicken moist while cooking it?
Be sure to not over-cook the chicken, it will taste rubbery. The internal temperature of the chicken should be about 165 degrees Fahrenheit.
Will the spice overpower the flavors of the chicken and the cheese?
It depends on how you want to make it, but if you stick to the recipe it will be the perfect balance of flavors.
WHAT SHOULD I SERVE WITH BAKED MAC AND CHEESE CASSEROLE?
This dish is very versatile, and can be served as it is, or with various pairings. Some suggestions would be:
HOW TO FREEZE it:
To freeze, transfer the mixture to a buttered 9-by-13-inch freezer-to-oven baking dish.
Then, cover tightly with aluminum foil and wrap in plastic wrap.
Freeze for up to 6 months.
Bake, frozen and covered with foil, at 350°F, for 1 hour.
Recipe Tips:
For the best flavor, go with freshly grated cheese. Also, you can combine a few types for a richer taste.
As stated above, you can use any short typed pasta. The best fit here would be cavatappi, elbow macaroni, or cellentani.
Similarly, you can use other meat. For an even quicker assembly, go with leftover or rotisserie chicken.
Our favorite sauces to use are Frank's Red Hot and Buffalo Wild Wings. However, you can use whichever sauce you love the most
Save Recipe
Buffalo Chicken Mac and Cheese Casserole
Buffalo Chicken Mac and Cheese Casserole combines the creamy richness of the cheese and the unexpectedness of the spice in a delicious, easy to make dish.
Author: Catalina Castravet
Serves: 8 servings
Prep time:

30

minutes
Cook time:

30

minutes
Total time:

1

hr
Ingredients
Cheese Sauce:
Instructions
Cheese Sauce:
Bake:
Nutrition information
Calories: 592 Carbohydrates: 53 Protein: 29 Fat: 28 Saturated Fat: 10 Cholesterol: 45 Sodium: 1652 Potassium: 427 Fiber: 2 Sugar: 8 Vitamin A: 640 Vitamin C: 0.2 Calcium: 415 Iron: 1.4
Save Recipe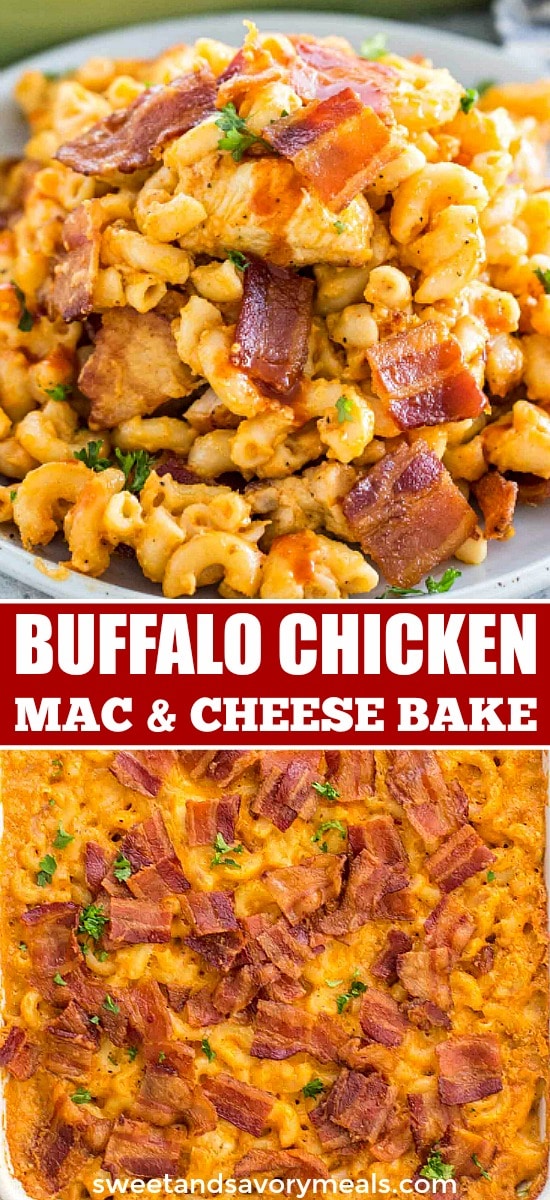 More recipes you might love
Categories: