Best Ever Instant Pot Pot Roast [Video]
Best Instant Pot Pot Roast that is so tender it melts in your mouth, with perfect veggies that are not mushy at all. Served with thick and flavorful gravy.
Instant Pot recipes are such a time saver, you can save so much time, making your favorite recipes in just a fraction of the time. We love hearty dinners, like this Mississippi Pot Roast, and now we are finally sharing with you our go-to Instant Pot Beef Pot Roast recipe with perfectly cooked veggies.
If you don't have a Pressure Cooker, this Slow Cooker Yankee Pot Roast, and this delicious Slow Cooker Red Wine Pot Roast. Both are great choices and you will love them.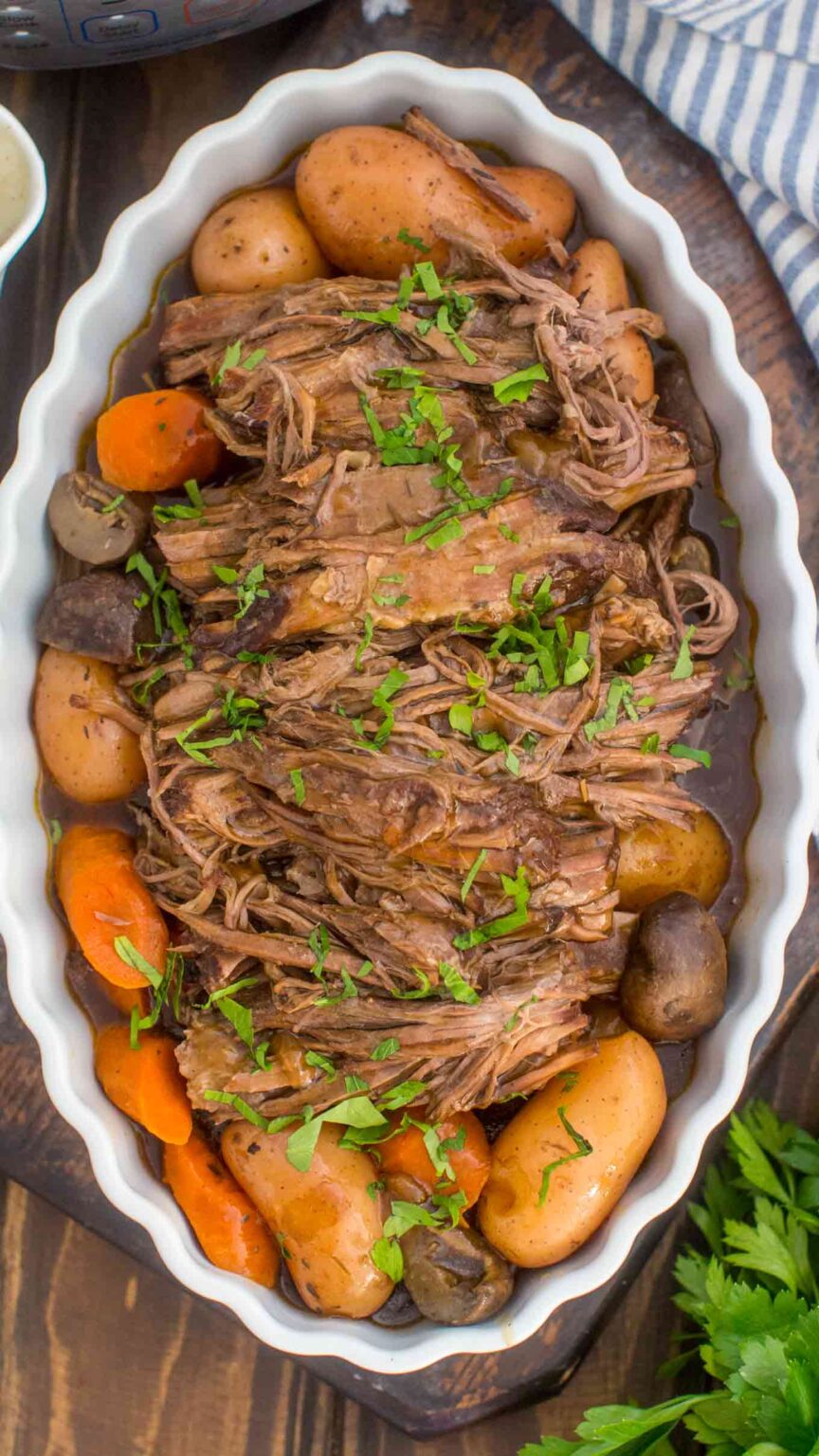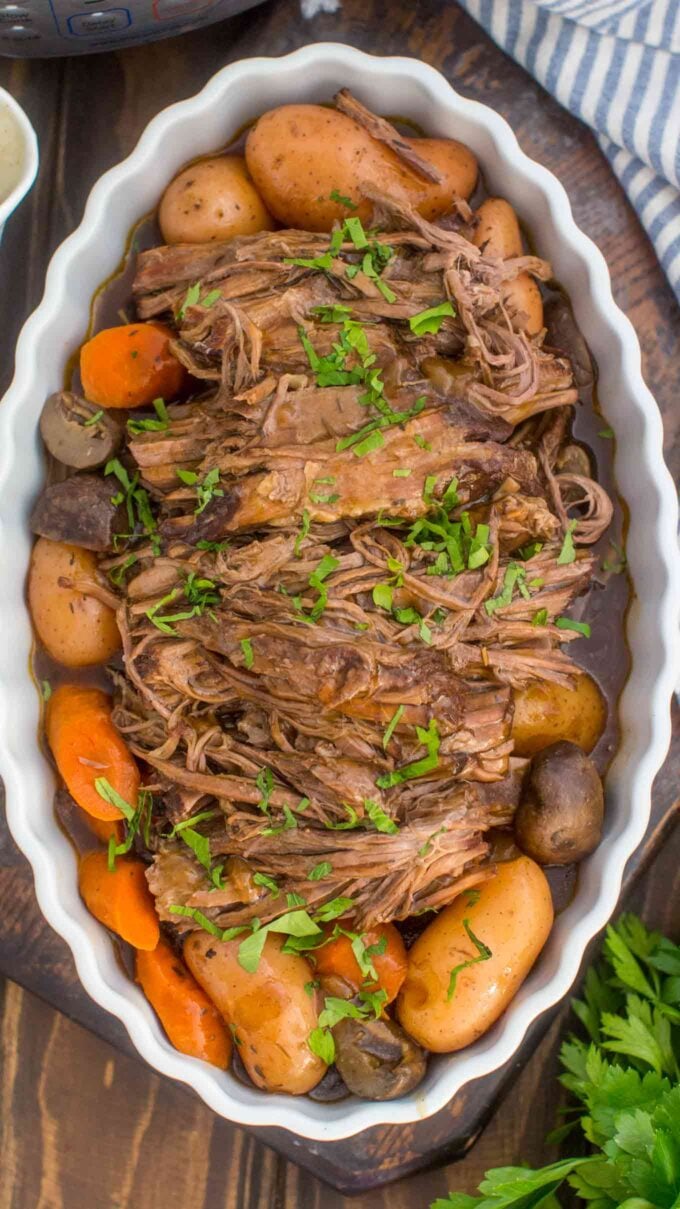 Easy Instant Pot Beef Pot Roast
I am very excited to share with you my recipe for the most amazing Instant Pot Pot Roast you will ever have. While I am a huge fan of pot roast, I am NOT a fan of mushy veggies. If you have tried a few recipes in your pressure cooker, you know that it cooks everything in a fraction of the time.
Also, if you add the veggies with the beef, as most recipes ask you to, you will end up with very mushy veggies. But not in this one! With my recipe, you first cook the beef to tender perfection. After this, you cook the veggies for a few minutes. Once the veggies are cooked, you quickly thicken the gravy, and you are done.
This dish is absolutely amazing and it's great as a hearty family meal or served for a special holiday dinner, or cooler fall and winter months. Just like my Meatloaf and Slow Cooker Corned Beef, this recipe is the ultimate comfort food. Perfect during colder winter months to enjoy with friends and family.
The flavors are out of this world, the beef is tender, the gravy is so good, and the veggies are just perfect. You will be lucky if you have any leftovers.
THE BEST CUT OF BEEF FOR INSTANT POT POT ROAST:
Chuck roast is the most commonly used cut of beef used in pot roast recipes. You want to go with marbled chuck roast which is widely available at most grocery stores. This results in a super tender and flavorful meal.
You can also go with other chucks, such as: chuck eye, blade roast, shoulder roast, shoulder steak, arm steak, arm roast, cross-rib roast, or seven-bone roast. In addition, brisket will be a great option for this recipe.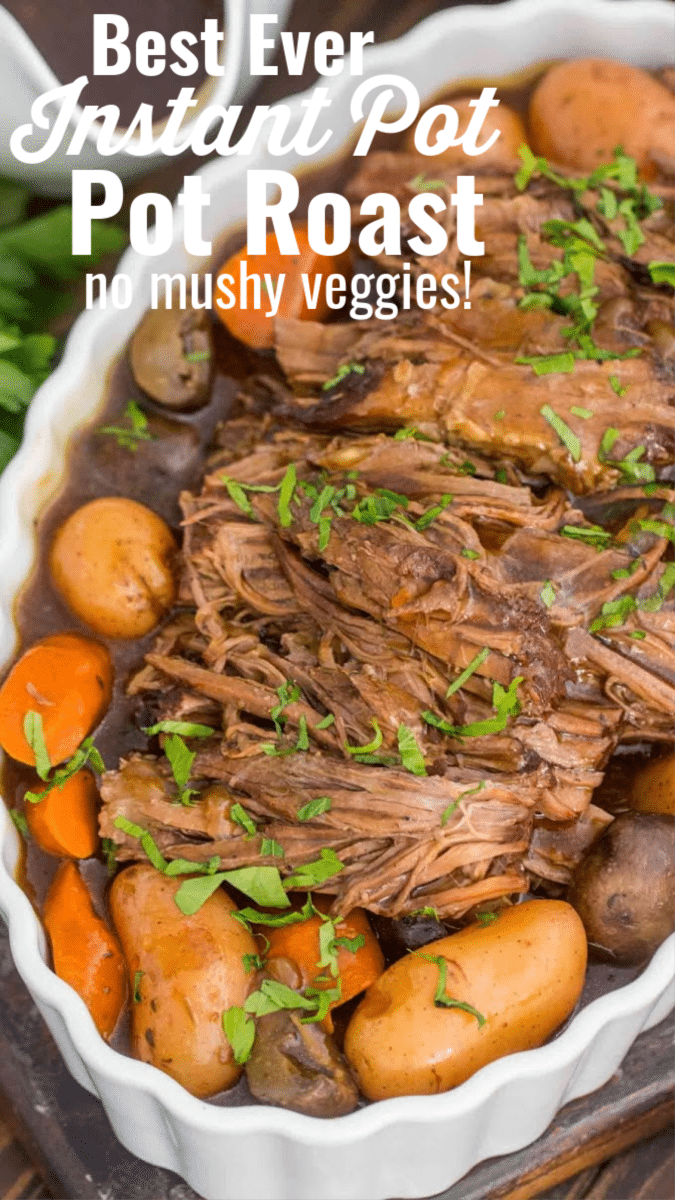 CAN YOU COOK A ROAST IN A PRESSURE COOKER?
Absolutely! This is probably one of the best ways to cook it, as you will end up with a juicy and tender roast. Also, it is convenient and super easy to prepare. Just season the meat, cover with beef broth, and set your pressure cooker.
Also, when it's done, you will end up with the most flavorful and easy to shred meat. It is guaranteed to be the BEST roast.
WHY BROWNING THE BEEF IS IMPORTANT?
Browning will lock in all the fantastic flavors and will give the beef that delicious, caramelized top on the outside, which reveals a juicy and tender inside. Also, I highly recommend that you cut the chuck roast in half, so it fits in the pressure cooker, and make sure you brown it well for a few minutes on each side without moving the beef.
While you can dump and cook all the ingredients, taking the extra few minutes to brown the beef, will make a huge difference in taste and texture.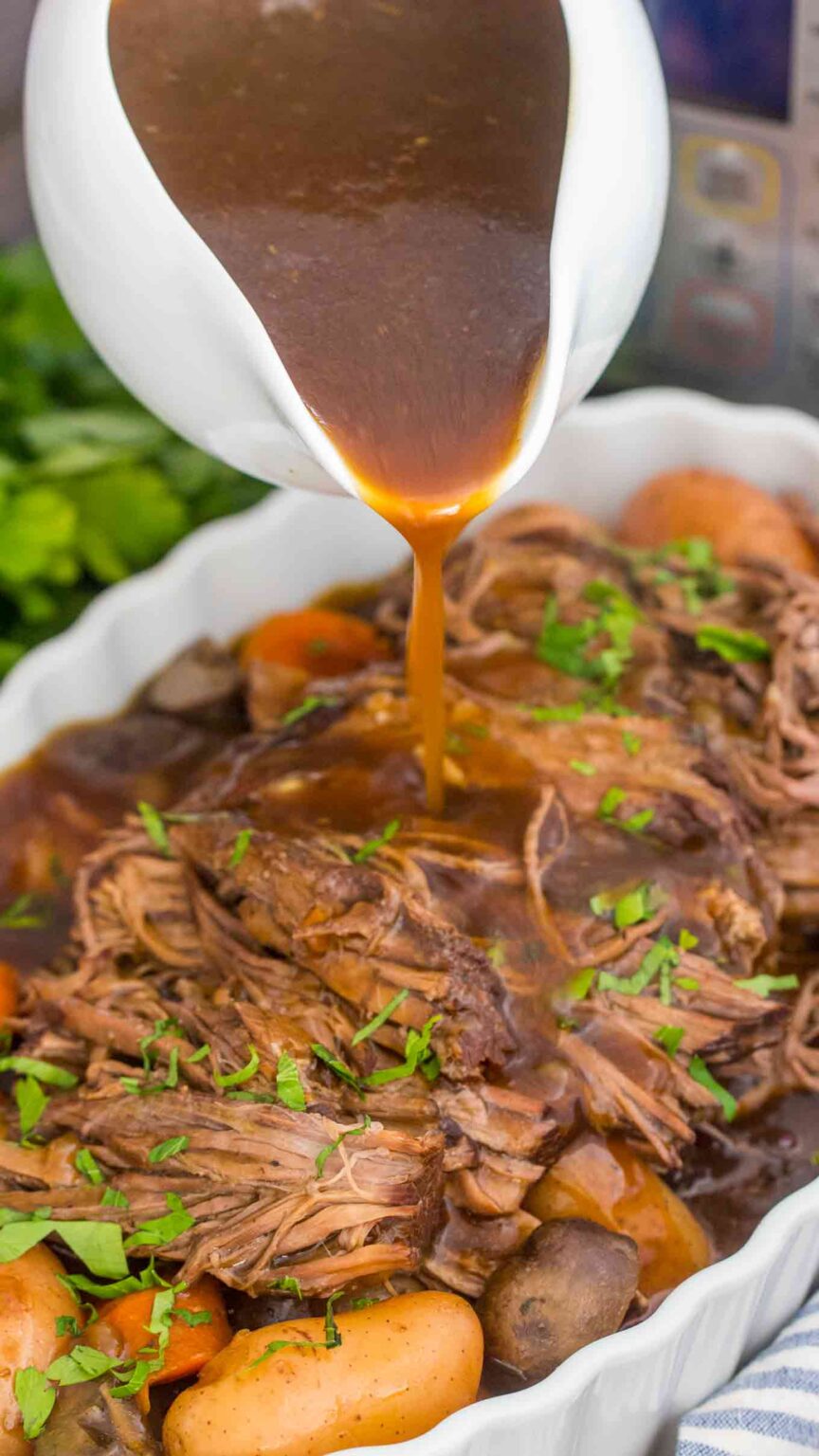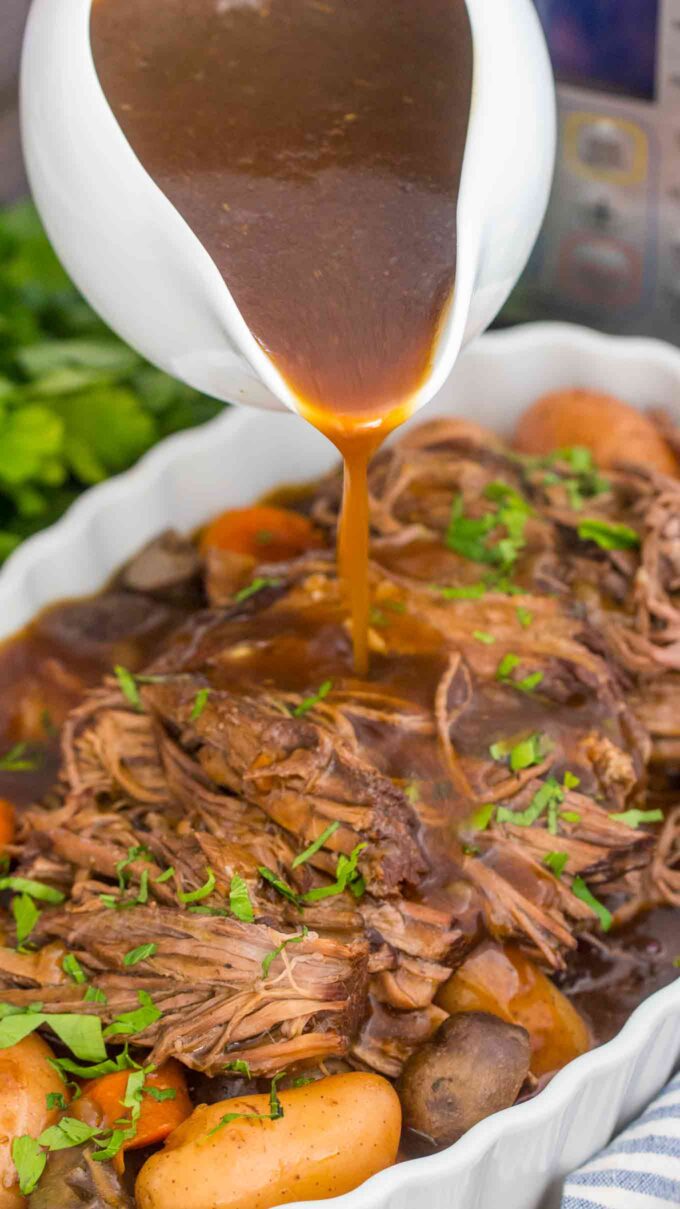 HOW LONG DO YOU COOK A ROAST IN AN INSTANT POT?
CAN I MAKE THIS POT ROAST IN THE SLOW COOKER?
Yes, you can. First, brown the beef and add it to the slow cooker. Add the rest of the ingredients to the slow cooker. Then, cover and cook on low for 8 hours or on high for about 5 hours.
Check on the beef roast to be tender. Cook for additional time if needed. You can find my other popular slow cooker beef roast here: Slow Cooker Pot Roast and also this incredibly delicious Slow Cooker Yankee Pot Roast.
WHAT ARE GOOD INSTANT POT SIDE DISHES?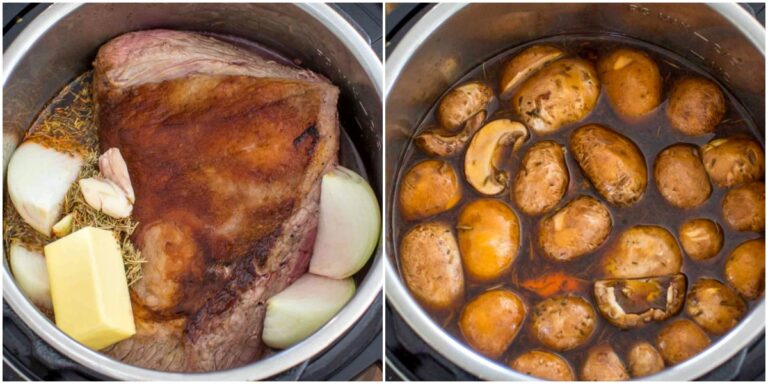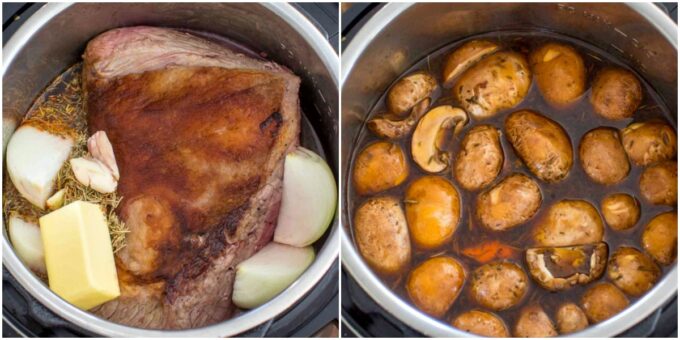 HOW TO REFRIGERATE THE INSTANT POT POT ROAST
First, make sure the dish is completely cooled. Then, store the shredded roast in a large airtight container in the fridge. Make sure that the gravy liquid covers at least partially the shredded beef, so it won't dry out. Store for up to 3-4 days.
WHAT IS A 15 MINUTES NATURAL PRESSURE RELEASE?
A Natural Pressure Release means that the pressure is released gradually. For a Natural Pressure Release, click on Keep Warm, and wait 10 minutes. After which you open the valve, and let any leftover pressure to release. Another option is to Turn Off/Unplug the pressure cooker and wait 15 minutes.
After that, open the valve and release the remaining pressure. A natural release is usually used when cooking soups, meat in a large amount of sauce, pasta or steel-cut oats. This method prevents any foam from the dish to shoot out through the valve.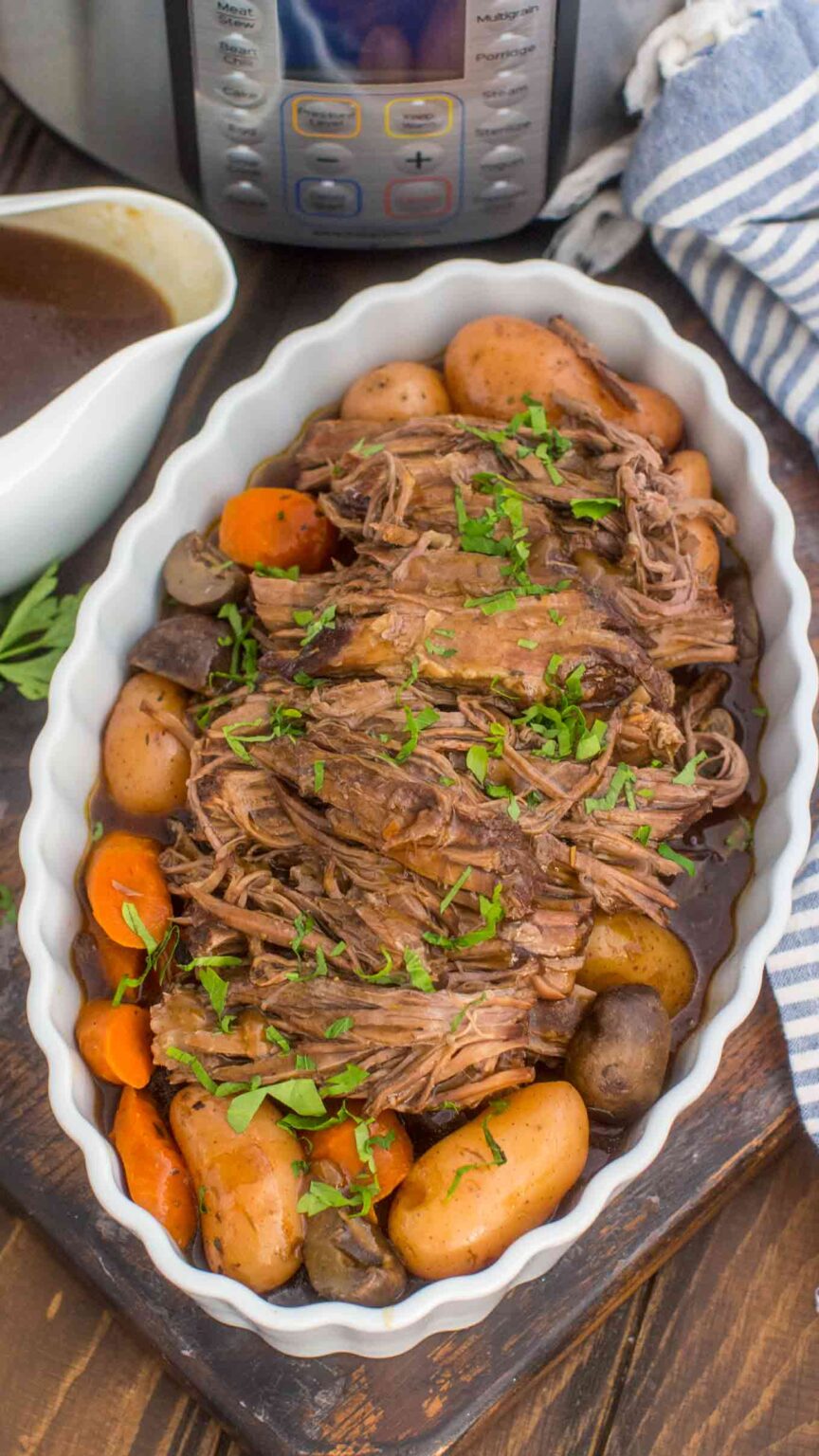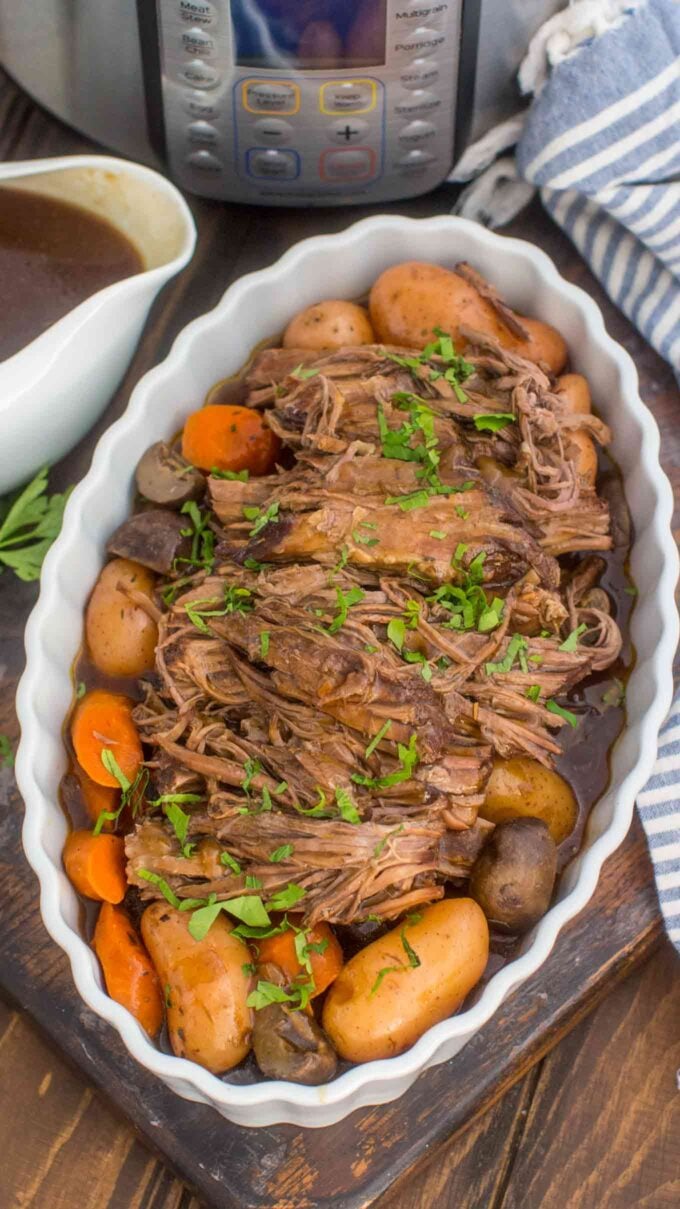 How to avoid mushy veggies in Pressure Cooker Pot Roast?
As much as I love a good pot roast, make on the stove, slow cooker, or instant pot, I can't stand the mushy veggies.
I feel like in the slow cooker if you add all the ingredients at the same time, you still have more control over the texture of the veggies that you add.
However, when you pressure cooker the meat, it's harder. If you add all the veggies at the same time, it is almost guaranteed that they will end up very mushy. It only takes minutes to cook them in the Instant Pot, while for the meat you need a much longer period of time, especially for a tender pot roast.
I prefer to take the extra step, and first cook the beef, after which I remove it to a plate, sieve the gravy, and only after that add the veggies and cook them for just a few minutes. While this step will take you 20-30 minutes, for the IP to come to pressure, cook, and Natural Pressure Release, it is definitely worth it.
Using this method, your beef and veggies will be cooked to perfection with a delicious gravy as well.
More popular Instant Pot recipes:
RECIPE TIPS: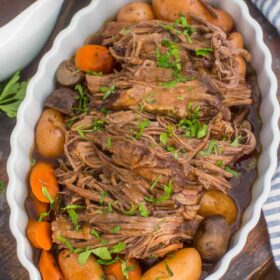 Homemade Instant Pot Pot Roast
Best Instant Pot Pot Roast that is so tender it melts in your mouth, with perfect veggies that are not mushy at all. Served with thick and flavorful gravy.
Save
Share
Print
Pin
Rate
Ingredients
For the Beef:
4-5

lbs

chuck roast

(if needed cut into 2 chunks that would fit in the pot)

3

tablespoons

vegetable or canola oil

1/2

cup

water

1

small onion

(quartered)

8

cloves

garlic

(crushed)

1

teaspoon

thyme

1

teaspoon

rosemary

1

teaspoon

oregano

1

teaspoon

paprika

1/4

teaspoon

ground black pepper

1/4

teaspoon

red pepper flakes

1

cup

red wine

(use water or broth if you want to avoid alcohol)

1

cup

beef broth

(low sodium)

1/4

cup

soy sauce

2

tablespoons

Worcestershire sauce

4

tablespoons

butter

(unsalted)
For the Veggies:
1

lb

mini red potatoes

(whole or cut in half, I prefer whole as they keep their shape better)

8

oz

baby Bella mushrooms

(whole or halved)

3

large carrots

(cut into 1 inch chunks)
Cornstarch Slurry:
1/4

cup

cornstarch

1/3

cup

water
Instructions
Brown the Beef:
Set Instant Pot to Sauté. When it reads "Hot" add the 3 tablespoons of canola oil and wait for the oil to heat up.

If need cut the beef in two and brown it in batches, so it fits in the pot. Cook each piece on EACH side for full 5 minutes without turning, until its nice golden brown.

If needed, add a bit more oil to the pot when searing the rest of the pieces.

Remove browned beef to a plate and cover with foil to keep warm.

Once all the beef has been browned and set aside its time to deglaze the pot.

Add the 1/2 cup of water to the pot and using a wooden spoon scrape the bits and pieces that stuck to the bottom and sides of the pot until its cleared.

Turn off the sauté mode.
Cooking the Pot Roast:
Add the beef back to the pot.

Add the remaining ingredients, starting with the onion and finishing with the butter.

Close the lid and seal the valve.

Cooking: if you have a pot roast that has been cut into pieces, and the pieces are no more than 2 inches thick, cook for 75 minutes on High Pressure. If the beef is thicker than 2 inches, mine was 4 inches at center, cook for 100 minutes.

Once the Instant Pot beeps, do a 15 Minute Natural Pressure Release. Release manually the remaining pressure.

Open the lid and check if the beef is tender enough to shred. If its not, cook for another 15-20 minutes on HP with a 15 min NPR.

Remove beef from the pot and add it to a large serving deep dish.

Place a fine mesh over a mixing bowl and sieve the cooking liquid from the pot. Add one cup of liquid to the beef and return the rest to the pot.

Shred beef and cover with aluminum foil, place a towel on top to keep it warm.
Veggies:
After you added the sieved cooking liquid to the pot, add the prepared veggies to it.

If you cut the potatoes in half, cook on HP for 4 minutes, followed by a Quick Release. If you used whole mini potatoes, cook on HP for 6 minutes, followed by a Quick Release.

Open the lid, and using a spider strainer, transfer the veggies from the pot to the dish with the beef. Arrange veggies through the sides of the beef.
Make Gravy:
Select Sauté and wait for it to read Hot.

If you want the gravy to be thicker, mix cornstarch and water in a small bowl until fully combined and cornstarch is fully dissolved.

Add the mixture to the pot and gently stir. Let it simmer for 2-3 minutes. The sauce will thicken more as it cools off as well.

Transfer the gravy to a gravy boat.
Serve:
Drizzle the gravy over the shredded beef and garnish with freshly chopped parsley.

Serve and enjoy!
Nutrition
Calories:
425
kcal
|
Carbohydrates:
17
g
|
Protein:
43
g
|
Fat:
32
g
|
Saturated Fat:
17
g
|
Cholesterol:
126
mg
|
Sodium:
640
mg
|
Potassium:
1140
mg
|
Fiber:
2
g
|
Sugar:
3
g
|
Vitamin A:
4255
IU
|
Vitamin C:
8.2
mg
|
Calcium:
76
mg
|
Iron:
6.1
mg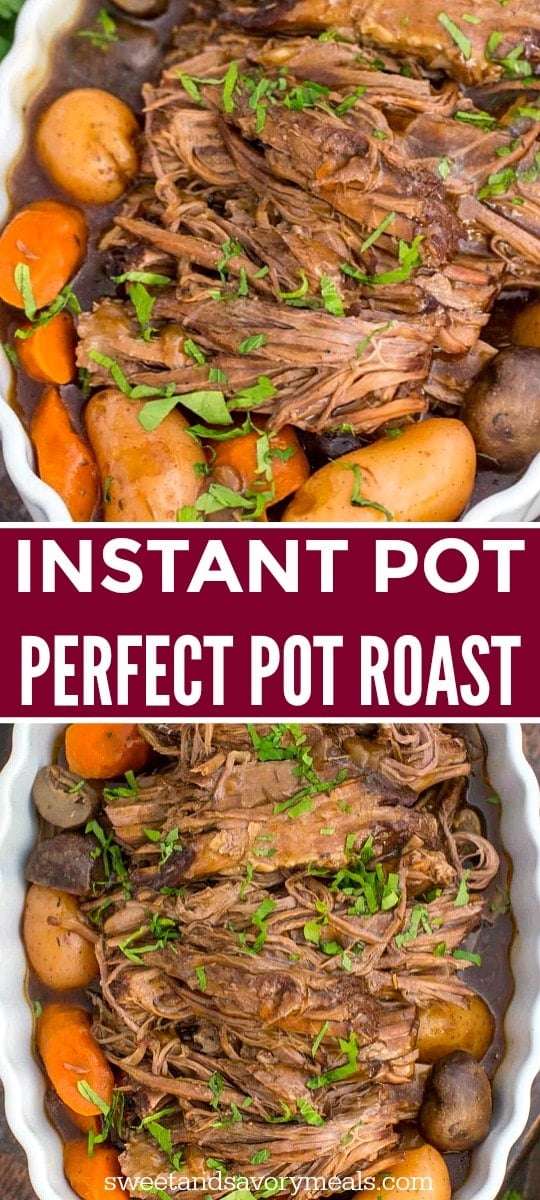 More recipes you might love