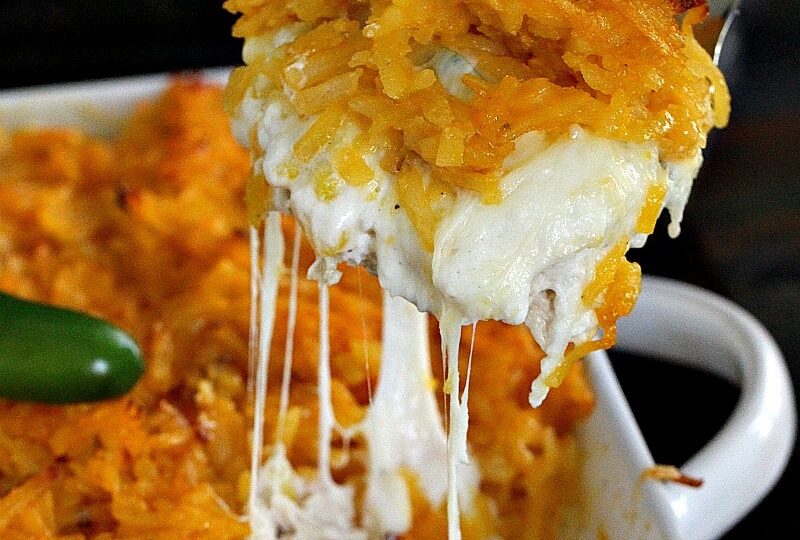 Hash Brown Chicken Jalapeno Casserole
Hash Brown Chicken Jalapeño Casserole is loaded with spicy jalapeños, sweet corn, tender chicken, lots of cheese and topped with a thick layer of hash browns.
We love making delicious Casseroles at our place. Like Cheesy Crack Chicken Casserole and Chicken Spaghetti Casserole, this is the ultimate comfort food to make at home.
Hash brown Chicken Jalapeño Casserole
Hashbrown Chicken Jalapeno Casserole is the epitome of comfort food. Spicy, creamy, loaded with cheese and topped with golden brown hash browns. I knew that the hash browns would make the perfect casserole topping, so I jumped into using them without hesitation. This Hash Brown Chicken Jalapeno Casserole became a family favorite! Layers and layers of delicious things like tender shredded chicken breast, sweet corn, spicy jalapenos, lots and lots of cheese, with a thick and cheesy hash brown layer.
Hash Brown Chicken Jalapeno Casserole Recipe Tips:
To make this dish even easier, you can use rotisserie chicken. Also, the casserole can be made with leftover turkey, it turns out delicious.
If you prefer the casserole super spicy, add more jalapenos and you can also add some hot sauce into the ricotta cheese mixture.
Cook the hash browns per package direction and 5 minutes before the casserole is done, turn on the broiler for a crispy finish.
This meal is loaded with cheese, don't skip it, its what makes it so creamy and comforting.
Mozzarella cheese can also be substituted with provolone cheese or sharp cheddar. Also, spicy Pepper Jack cheese would be a great substitute.
The sweet corn is optional, you can skip it if you don't like corn, but it adds a nice texture and sweet flavor.
Pin This Hash Brown Chicken Jalapeno Casserole Recipe to your Favorite Board
Can you use other meats to make this Casserole?
Absolutely! You can substitute chicken with turkey, pork, or beef. Also, if you are short on time, you can even use rotisserie chicken or cooked ham. The cooking time might vary as well.
How to freeze and thaw this Hash Brown Chicken Jalapeno Casserole?
Before freezing makes sure the dish is completely cooled. Then, cover pan tightly with plastic wrap and foil and freeze for up to 6 months. When ready to cook, thaw in refrigerator overnight. Remove cover and bake at 350 degrees for about 30-45 min.
Love Casseroles? Check these out:
Deliciousness to your inbox
Enjoy weekly hand picked recipes and recommendations