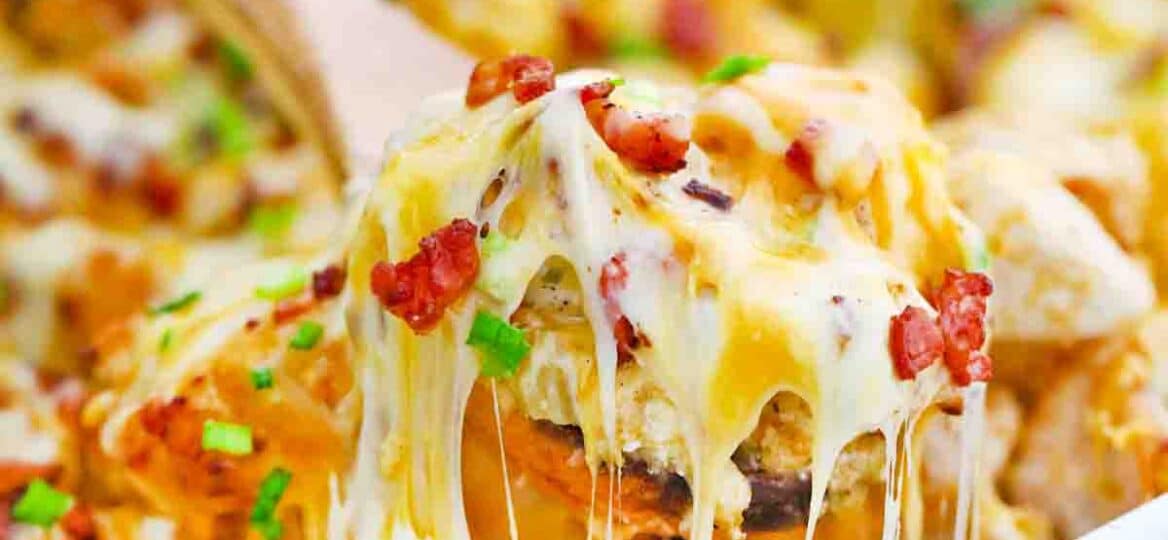 Chicken Bacon Ranch Casserole with Potatoes [Video]
Chicken Bacon Ranch Casserole with Potatoes is a delicious and hearty meal, loaded with chicken, bacon, and obviously lots of cheese. Made with baby potatoes, skinless boneless chicken breasts, crispy bacon, and creamy ranch dressing, your whole family will love it!
If you like this easy recipe, you will love our Instant Pot Chicken Bacon Ranch Pasta dish. It is so easy and fast to make with shell pasta, heavy cream, spinach, bacon, and ranch seasoning. You can have it on the dinner table in 30 minutes! For something really cheesy, try this Cheesy Crack Chicken Casserole made with macaroni, bacon, chicken, and bell peppers.
Experts believe that the first casserole was made in the early Greek days when they baked dishes with meaty filling and rice. The first recipe showed up around 1866 made from pounded rice and chicken. It was made by Elmire Jolicoeur from New Hampshire. She came to the US to be with her husband in 1865 and made the dish for her women's club.
For this yummy bacon ranch potato bake recipe, all you need are a few ingredients including chicken breasts, potatoes, garlic, smoked paprika, and ranch dressing. Then it is topped with two kinds of melted cheese, crumbled bacon, and green onions.
You get a burst of flavor in every bite! The entire casserole is a blend of ranch flavor with hints of bacon, garlic, and smoked paprika with creamy melted cheese and tender chicken. This is going to be your new family favorite.
Looking for other great dinner cuisine recipes? This great recipe for short ribs and beans is another one-pan meal with meat so tender it is falling off the bone. Baked in a sweet tangy sauce with beans for the perfect combination. If you want to try something different, this meatball stuffed cabbage is outstanding! For a fancy presentation in an easy recipe, this is the one you need.
Ingredients needed:
Here are the basic ingredients for this chicken bacon ranch potato casserole recipe. When you are ready, find our printable recipe card at the bottom of the page for detailed instructions and measurements.
Boneless, skinless chicken breasts: Cut into one-inch cubes.
Diced potatoes
Chopped green onion
Crispy cooked and crumbled bacon
Pepper jack and cheddar cheese: Shredded.
Creamy ranch dressing: Divided.
Minced garlic cloves
Smoked paprika
Kosher salt
Black pepper
How to make chicken bacon ranch casserole with potatoes from scratch?
Preheat your oven: First, preheat oven to 450 degrees F and lightly grease a large baking dish with non-stick cooking spray.
Mix up potatoes: While you wait for the oven to heat, cut potatoes into one-inch cubes and mix them in a large mixing bowl with 1/4 cup of the ranch dressing, paprika, garlic, salt, and pepper.
Bake: Then, bake for 30 minutes, stirring after 15 minutes to make sure they cook evenly.
Assemble chicken mixture: While potatoes cook, mix chicken with the rest of the ranch dressing.
Bake again: When the potatoes are done (they should be fork tender), spoon the chicken mixture over the top of them and bake for another 20 minutes covered with aluminum foil.
Add the toppings: After, take the casserole dish out of the oven and top with green onions, cheese, and bacon.
Bake one more time: Lastly, bake for 10 more minutes until the cheese is bubbly and melted.
Garnish and serve: Finally, garnish with more green onions and serve.
How to make crock pot chicken bacon ranch casserole with potatoes from scratch?
Cook the potatoes: To begin, chop the potatoes and mix with paprika, garlic, salt, pepper, and 1/4 cup ranch dressing in a large bowl. Put this mixture into the bottom of your lightly greased slow cooker. Cook on high for two hours.
Chill the chicken: Meanwhile, in another bowl, mix the chicken with 1/4 cup of the dressing and let it chill in the fridge covered with plastic wrap.
Add chicken: Then, after two hours, put the chicken on top of the potatoes and cook for another hour.
Melt the cheese: After, add the cheese, green onions, and bacon and cook for another hour on low until the cheese is melted.
Serve with green onions: Last, serve with green onion as garnish.
Recipe variations:
Another cut: Feel free to use whichever cut of chicken you like such as chicken thighs or drumsticks.
Different meat: Instead of chicken, try this recipe with cubed turkey, pork, or beef for a different flavor.
Other cheeses: You can also substitute or add other cheeses like mozzarella or Colby jack.
Extra crunchy: Make your bacon ranch potato bake crunchy by adding some breadcrumbs or crumbled crackers on top right before baking.
Spice it up: If you like spicy food, add cayenne pepper to the potato mixture before baking.
Cream cheese: Give this casserole even more creaminess by adding 1/2 a package of cream cheese to the chicken mixture.
Thanksgiving: Make this dish with chopped turkey and sweet potatoes for a Thanksgiving casserole.
How to serve:
This ranch chicken bacon potato casserole recipe is delicious with melty cheese, crunchy bacon, and ranch-flavored chicken and potatoes. Give one of these awesome serving ideas a try or share your own in the comments section.
Add a scoop of sour cream on top for extra creaminess.
Serve with a side of homemade breadsticks to soak up the creamy sauce.
This is a great way to use up leftover chicken from the night before.
Another way to top this yummy casserole dish is with our homemade barbecue sauce to make barbecue chicken bacon ranch casserole with potatoes.
Sprinkle some extra bacon and shredded cheese on top just before serving.
Use leftovers to make another delicious casserole like our creamy chicken and mushroom casserole.
Add a scoop of the casserole to a hoagie bun to make a chicken bacon ranch sandwich.
Frequently asked questions
What kind of potatoes are best for this recipe?
You want a potato that is firm so it will not turn into mashed potatoes when you bake them. The best kind would be white or red potatoes because they hold their shape better. In fact, leave the peel on when you chop them to keep them together. Irish round potatoes or Yukon golds are also good choices.
Why is my casserole runny?
Sometimes, no matter how hard we try to follow the recipe to the letter, a dish can come out different than we expect. If your casserole is watery, it could be that you used too much liquid. In this case, it would be the ranch dressing. Be sure to use just enough to coat your potatoes and chicken. They should not be swimming in it. Let it sit for a while and see if it thickens up. If not, place a cover over your dish and drain the excess liquid.
What makes a casserole?
A casserole usually consists of some kind of meat, chopped vegetables, starch like potatoes or pasta, and a liquid such as broth, cream, milk, or soup. But you cannot forget the topping! Some say the most important is how you top your casserole and we agree! There should be something crunchy, cheesy, or crunchy AND cheesy on top.
What are the nutrition facts in this recipe?
If you are worried about nutrition, calories, or fat, here are the average amounts in each of the American servings of this dish. You will get 601 calories, 18 grams carbs, 41 grams fat, and 10 grams saturated fat. It also has 1,100 mg sodium, 112 mg cholesterol, and 3 grams sugar. But you also get 17 grams protein, 2 mg iron, 550 mg calcium, 26 mg vitamin C, 650 units vitamin A, and 1,190 mg potassium.
How to store leftovers:
Store: You can store your leftover chicken bacon ranch casserole with potatoes in an airtight container for up to three days.
Freeze: If you have not eaten your casserole in a few days, we recommend freezing. Just put it in a freezer-safe container and it will last for several months.
Thaw: It is best to thaw your frozen leftover chicken bacon ranch casserole overnight in the fridge before serving.
Reheat: To reheat, put it in a microwave-safe dish and heat it in the microwave for one to two minutes.
More Casserole recipes:
Cooking tips:
For shorter prep time, use a rotisserie chicken instead of raw chicken so you do not have to cook it.
Another way to save time is to use frozen cubed potatoes and store-bought bacon bits.
If you do not have any prepared ranch dressing, you can use dry ranch seasoning if you have.
Also, you can use garlic powder instead of garlic cloves.
For best results, try to chop potatoes and chicken into bite-size pieces that are the same size.
The cooking time may vary depending on the size and type of potatoes you use.
Shredding your own cheese is recommended. Pre-shredded cheese often has added ingredients to keep it from clumping.
Chicken Bacon Ranch Casserole with Potatoes
Ingredients
1.5

lbs

yukon gold yellow potatoes

or any other potatoes you have on hand

2

lbs

skinless boneless chicken breasts

cut into 1-inch cubes

Salt and pepper to taste

1

teaspoon

smoked paprika

4

cloves

garlic

minced

1/2

cup

creamy ranch dressing

divided

1

cup

pepper jack cheese

shredded

1

cup

cheddar cheese

shredded

1

cup

crispy bacon crumbs

store-bought or homemade

1/3

cup

diced green onion
Instructions
Preheat oven to 450F. Grease a 9x13-inch casserole dish with oil spray and set it aside.

Peel, wash, and cut the potatoes into chunks. Dry them with a paper towel.

In a large mixing bowl, combine the potatoes with ¼ cup ranch dressing, salt, pepper, smoked paprika, and garlic. Stir with a spatula to combine and evenly coat the potatoes.

Transfer the potatoes to the prepared casserole dish and distribute them in an even layer.

Bake for 30 minutes, mixing one time through cooking to ensure even cooking.

Meanwhile, mix the chicken pieces with the remaining ¼ cup ranch dressing and marinate while the potatoes cook.

After 30 minutes, place the chicken on top of the potatoes, cover it with aluminum foil, and bake for 20 mins more or until the chicken is done.

Take the casserole dish out of the oven, for better results, give everything a good stir, and top with crumbled bacon, shredded cheese, and finally green onions.

Bake for 10 more minutes, uncovered until the cheese is melted and bubbly.

Garnish with more green onions, and dollops of sour cream, and serve.
Deliciousness to your inbox
Enjoy weekly hand picked recipes and recommendations