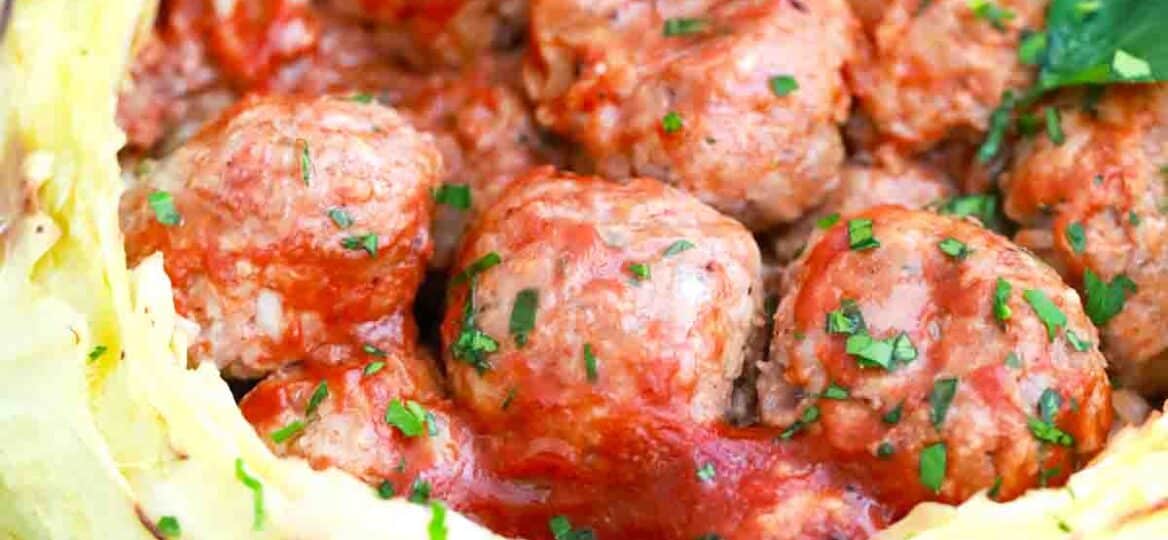 Meatball Stuffed Cabbage Recipe [Video]
Meatball Stuffed Cabbage is a uniquely delicious dish of baked cabbage filled with juicy, homemade meatballs in a tangy tomato sauce. And when it is done, it looks like it came from a fancy restaurant.
If you love cabbage, try our Stuffed Cabbage Rolls made by stuffing each cabbage leaf with ground meat and cooking in a pan of homemade tomato sauce. You can also make this Slow Cooker Stuffed Cabbage Rolls recipe with brown sugar and red wine vinegar.
Cabbage was brought to America by Jacques Cartier in 1541 when he planted it in Canada. But stuffed cabbage dates back over 2,000 years to Europe when they were served in the Torah fall festival. It is believed to have been invented in the Middle East during ancient times and then spread into Europe on trade routes.
This recipe is a unique twist on traditional stuffed cabbage rolls but instead of filling the leaves with beef, you make it into meatballs. With subtle flavors of garlic, paprika, coriander, and cilantro, everyone will love this for dinner and again for lunch the next day if you have any leftovers.
You have all you need for dinner in one pot, no need for side dishes. My family loved every bite and yours will too! Make it your own by changing the type of meatballs, sauce, and rice as you prefer.
If you are not in the mood to make things precisely right or if your meatballs keep falling apart, try these unstuffed cabbage rolls with ground sausage and white wine vinegar. Or you can make our easy slow cooker cabbage and bacon made from fresh bacon, chicken broth, and apple cider vinegar.
Follow us on Pinterest for more delicious recipes!
Ingredients needed:
To make this delicious dish, all you need are these basic ingredients. Then, scroll down to our recipe card for complete instructions and exact measurements when you are ready to begin.
Meatball ingredients:
Cooked rice
Ground beef
Chopped onion
Freshly ground black pepper
Kosher salt
Paprika
Chopped coriander
Parsley leaves: Chopped.
Tomato sauce ingredients:
Tomato paste
Cloves garlic: Minced.
Coriander
Dried basil
Salt and pepper: To taste.
Water
Salad ingredients:
Chopped cabbage: From the inside.
Diced tomatoes
Fresh cilantro: Roughly chopped.
Minced garlic
Vegetable oil
How to make meatball stuffed cabbage from scratch?
Boil the rice: First, pour the rice into a large pot full of boiling water and cook according to package directions. Drain and set aside.

Preheat oven: Then, set the oven to 350 degrees F and spray a baking dish with cooking spray.

Cut the cabbage: While you wait for the oven to heat, cut the core off the bottom so it is flat, and then flip it over. Hollow out the inside to make a large bowl with sides about an inch thick, setting the inner part to the side for later.
Make the meatballs: After, combine the meatball ingredients in a large bowl and roll them into golf ball-sized meatballs. Add them to the inside of the cabbage bowl as you go until all the meat mixture is gone.
Pour on the sauce: Now, in a large bowl, combine the sauce ingredients and pour 1/2 of it over the top of the meatballs and the remaining sauce into the sides of the baking dish. Put the cap back on top.
Cover and bake: Next, cover with cheesecloth and then aluminum foil, until the cabbage is tender.

Make a salad: While it cooks, chop up the cabbage and stir it and the rest of the salad ingredients in a separate bowl and place it in the fridge.
Check and prep: After 90 minutes, remove the dish from the oven and take off the cap. Check the temperature of the meatballs for doneness. If they are done, slice a few petals about three inches on the side and pull a few meatballs out onto them for guests to get to. If not, cover it up and put it back in the oven for another 10 to 15 minutes.
Serve with salad: Finally, serve with the chilled salad you prepared.
How to make slow cooker meatball stuffed cabbage from scratch?
Make the rice: First, pour the rice into a large pot or dutch oven full of boiling water and cook according to the package instructions. Drain and set it aside.

Make a bowl: Then cut the bottom of the cabbage so it is flat, and then flip it over. Cut it into a bowl with one-inch sides and scoop out all of the inner flesh. Set it inside an oiled crockpot or slow cooker.

Fill the bowl: Next, mix the meatball ingredients together and form them into balls, setting them inside the hollow cabbage as you go.

Mix the sauce: After, mix the sauce and pour it on the meatballs and into the sides of the pot before putting the cap back on.

Cover and simmer: Add 1 cup of chicken broth to the inside of the crockpot and put the cover on. Simmer on low for eight hours or on high for six hours.

Chop the salad: In the meantime, chop up the leftover cabbage and mix it with the salad ingredients in a separate bowl and place it in the fridge.

Check and cut: After the time is up, check the temperature of the meatballs for doneness. Once they are done, carefully remove the cabbage and place it on a serving platter with the cabbage salad around the edges. Remove the cap and cut a wedge in the side so guests can get to the meatballs.
Recipe variations:
Another oil: Feel free to use any other oil you like such as olive or canola oil.

Any rice: You can also use any kind of rice you like such as white, whole grain, or brown rice.

Other ground meat: Instead of ground beef, you could try ground pork, turkey, veal, or chicken.

No meat: In fact, if you are vegetarian, try using plant-based meat.

Lemon juice: Add 1 teaspoon of lemon juice to the sauce for a tangier taste.

Hot meatballs: Add 1 tablespoon of cayenne pepper to the mixture for super spicy meatballs.

Medium heat: If you would rather have less heat, try a pinch of chili powder instead.

In the middle: For medium-high heat, try a teaspoon of chopped jalapenos.
How to serve:
Whether you are preparing a meal for a party, family dinner, or a hearty game-day appetizer, this meatballs and cabbage recipe looks and tastes great! Try one of these serving ideas or share one of your own in the comments section.
Sprinkle some parmesan cheese and one teaspoon of oregano on top for Italian cabbage meatballs.

This dish goes great topped with cheese. Just sprinkle some on top and broil for a minute, or serve the dish topped with freshly grated parmesan cheese.

You can also top this delicious cabbage bowl with a dollop of sour cream.

If you want to add some spiciness, pour a bit of buffalo sauce or our 5-minute chipotle sauce on the meatballs before serving.
Instead of pouring sauce on, you could also place small bowls of dipping sauces on the table for guests to choose what they like.

Have leftovers but not enough to save? Turn them into your favorite cabbage stew or soup.
Another way to serve this is with a topping of fresh chopped veggies like green onions, shredded carrots, or sliced tomatoes.
Frequently asked questions
How do I choose the best cabbage?
When buying your cabbage, look for ones that are firm when you squeeze them but not soft. They should also be bright in color and have crisp leaves. You do not want to see any brown spots or blemishes, soggy leaves, or a browned core. The best time to buy cabbage is between November and April.
What are the different types of cabbage?
There are four main cabbage varieties. Green cabbage is what we used for this recipe. It looks similar to a head of iceberg lettuce but is a bit rubbery. It has a peppery flavor when raw but tastes sweeter when cooked. Red cabbage is not as delicate and is most often used for pickled raw shredded cabbage recipes and salads.
From China, Napa cabbage is a green-yellow color and is oblong in shape with crisp stems and frilly leaves. It is usually eaten raw because it is softer and milder than the others. The Italian Savoy cabbage has dark green wrinkly leaves and is the sweetest and most tender. It is often used for stuffed cabbage rolls.
Why are my meatballs falling apart?
To keep your meatballs together, consider adding one lightly-beaten egg to the mixture. It is a binder that helps keep everything together. If you cannot eat eggs or do not have one, soak fresh bread in milk with one teaspoon of salt for five minutes. Then squeeze out the milk and add to your meatball mixture. If they are mushy, try breadcrumbs instead.
What is the nutrition information in this recipe?
Each serving has approximately 350 calories, 33 grams fat with 14 grams saturated fat, and 44 grams carbs. It also has 1,410 mg sodium, 17 grams sugar, and 125 mg cholesterol. But on the good side, you get 1,150 units of vitamin A, 35 grams protein, 112 mg vitamin C, 201 mg calcium, 11 grams fiber, 1,540 mg potassium, and 6 mg iron.
How to store leftovers:
Store: You can store any leftovers in an airtight container in your refrigerator for up to four days.
Freeze: It is also safe to freeze your leftover meatballs for up to 60 days. Simply put the entire head and meatballs together in a freezer-safe container or a freezer bag.

Thaw: Always thaw your leftovers in the fridge overnight before serving.
Reheat: To reheat, put the whole thing in a microwave-safe bowl and reheat for one to three minutes, depending on how much you are serving. Or place it in a baking dish, cover it, and bake at 350 degrees F for 15 to 20 minutes.
More cabbage recipes to try:
Cooking tips:
The cooking time may vary depending on the size of the cabbage and the number of meatballs.

Use a dutch oven to make this simple and easy.

Make sure the cheesecloth is wrapped around the head tightly, so it does not fall apart.
If you do not have cheesecloth, you could use cotton fabric or muslin instead.

Also, make sure the aluminum foil covers the entire pan.

Ground beef should read 160 to 165 degrees F on an instant-read thermometer when it is done.

To make 1.5 cups of cooked rice, you need 1/2 cup of uncooked.

We used a 9×9-inch baking dish but you can use whatever size you like.

Did your meatballs fall apart? That's okay. just crumble them all up and call it stuffed cabbage.
Meatball Stuffed Cabbage
Ingredients
Meatballs:
1/2

cup

cooked rice

you can use any rice that you like

1

lb

ground beef

any ground meat will work

1

small yellow onion

diced

1/2

teaspoon

sea salt

or to taste

1/4

teaspoon

ground black pepper

or to taste

1

teaspoon

smoked paprika

1/2

teaspoon

coriander
Sauce:
3

tablespoons

tomato paste

4

cloves

garlic

minced

1/2

teaspoon

coriander

1/2

teaspoon

dried basil

Salt and pepper

to taste

2

cups

water

or chicken broth
Side salad:
2-3

cups

cabbage

from inside the cabbage

4

Roma tomatoes

chopped

2

cloves

garlic

minced

Fresh cilantro

chopped

Vegetable oil

or olive oil

Salt and pepper

to taste
Instructions
Preheat the oven to 350 degrees F and spray a baking dish with cooking spray. Set it aside.
Cut the cabbage:
Cut the core off the bottom to make it flat, then flip it over. Use a very sharp knife to hollow out the flesh inside of the cabbage to make it resemble a large bowl. Leave the sides about 1 inch thick and add the cabbage flesh to a large bowl.
Make the meatballs:
After that, in a large bowl, combine the meat with rice.

Add the rest of the meatball ingredients and stir to combine.

Next, measure 1-2 tablespoons of the meat mixture and roll it into a ball. Repeat with the rest of the meat and arrange the meatballs inside the cabbage bowl.
Make the sauce:
Now, in a large bowl or measuring cup, combine the sauce ingredients.

After that, pour 1/2 of the sauce on top of the meatballs and the remaining sauce into the prepared baking dish.

Put the cap cabbage back on top.

Next, cover with cheesecloth and then with aluminum foil and bake for 70-90 minutes, until the cabbage is tender.
Make a salad:
Chop the remaining cabbage and mix it in a bowl with the rest of the salad ingredients. Place it in the fridge until ready to serve.
Serve:
Once the cabbage is tender and the meatballs are cooked remove it from the oven. Let it rest for 10 minutes before serving.

Slice an opening through the cabbage side and serve the meatballs and cabbage leaves. Serve with mashed potatoes and salad.